16 Best Free Driver Updater Software For Windows 10, 8, 7 in 2020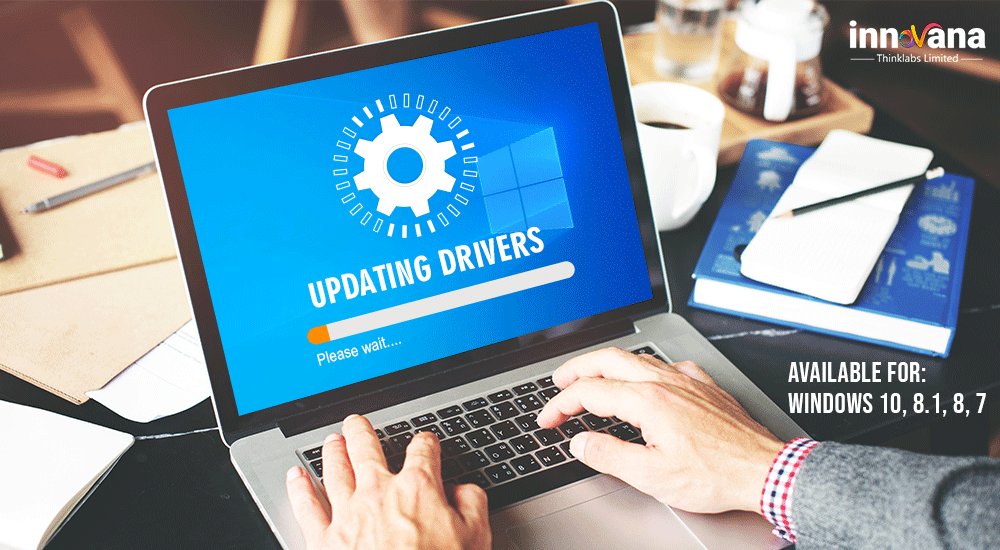 Device drivers are a piece of software that helps hardware and the operating system of your PC to communicate properly and ensure the completion of all the tasks. But sometimes these drivers can become outdated or corrupted. And that's major bad news. And this is why you need the best free driver updater software. They treat your system drivers and update them to get your PC running like new. The driver update software is required for hassle-free troubleshooting of your computers. You may find a number of tools online to resolve driver issues. However, it is recommended you choose the best driver update software from the list discussed here.
What are the Best Free Driver Updater Tools for Windows in 2020?
Below-mentioned is a list of the 16 Best driver update software that seeks to help your hardware devices, make PC function in an optimal condition, boost its performance, make it stable, and fix other annoying computer errors.
1. ITL Driver Updater
Support: Windows 10, 8.1, 8, 7.
Let's begin this list with the best free driver update software, ITL Driver Updater. This amazing utility tool detects all the broken, corrupted, and old drivers in your PC that are leading to system crashes and hardware issues. It then finds all the latest drivers to ensure an optimum and peak performance for your PC and attached devices.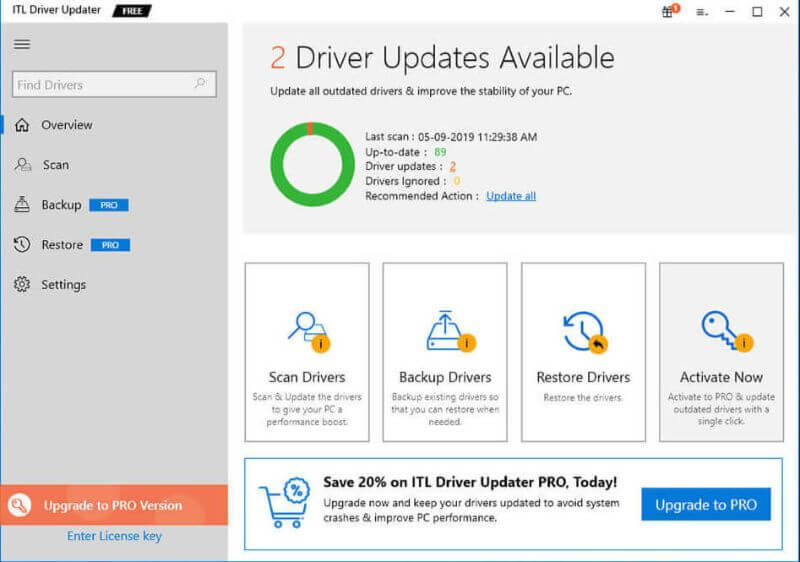 Feature of ITL Driver Updater
Free and Pro version
It boasts both the Free and Pro versions. With the Free version, you can easily scan your system for any damaged or corrupted drivers and update them. While with the PRO version you can unlock many advanced features like Backup and Restore.
Faster Startup time
By removing all the corrupted drivers and updating all the outdated ones, ITL Driver Updater makes the startup time 50% faster.
Enhanced System Performance
ITL Driver Updater stabilizes the system as well as increases the speed. Following this, the performance of the system also becomes optimal.
Schedule Scans
With the Scheduler feature, you can very easily schedule scans for driver updates. They can be scheduled as per your preferred frequency, days, date, and time.
One-click Update
After the automatic scan, ITL Driver Updater downloads all the latest drivers and updates the outdated drivers in just a single click.
Ignore drivers
You can easily select the drivers that you want to exclude from any future scans by simply adding them to the Ignore list.
Overview
With the Overview section, you can stay updated about all the scans of your system, their findings, and the necessary actions to be taken.
High compatibility
It supports all the recent versions of Windows as well as offers support to multiples of device drivers. This is the reason why the tool is considered to be one of the best Windows free driver updater tools.


2. Driver Magic
Support: Windows 10, 8, 7, Vista, and XP
As its name sounds, Driver Magic performs real magic to your system drivers by updating and rebuilding them to their latest versions. The tool has gained fame in quickly searching and fixing any outdated driver on your system.
Driver Magic is also recommended for those who are set a little farther from the computer technology. Its intuitive interface ensures that you don't have to beat your brain out just to make your system work properly.
You can simply download the tool from the download button below and get every outdated and corrupt driver updated to the latest edition and ensure optimum PC performance.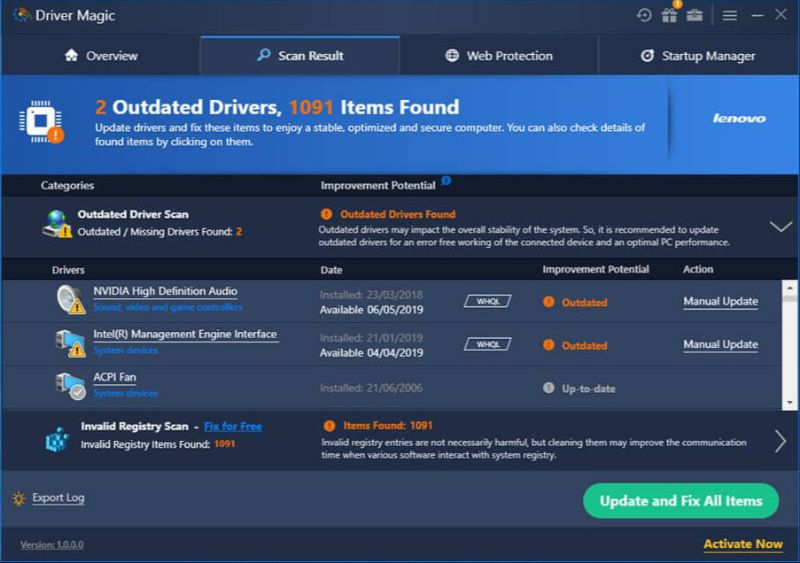 3. Smart Driver Updater
Support: Windows 10, 8, 7, Vista, and XP
Smart Driver Updater is quite intuitive and easy to use. It is an incredible software to keep the drivers updated and running optimally. This program only sources OEM drivers. The software stands amongst the best free driver updaters and shows the source and information for your existing drivers as well as for newly downloaded updates.
It also makes it easier to schedule scans, so that you don't have to keep a regular check on each and every one of your drivers to see if an update is available or not.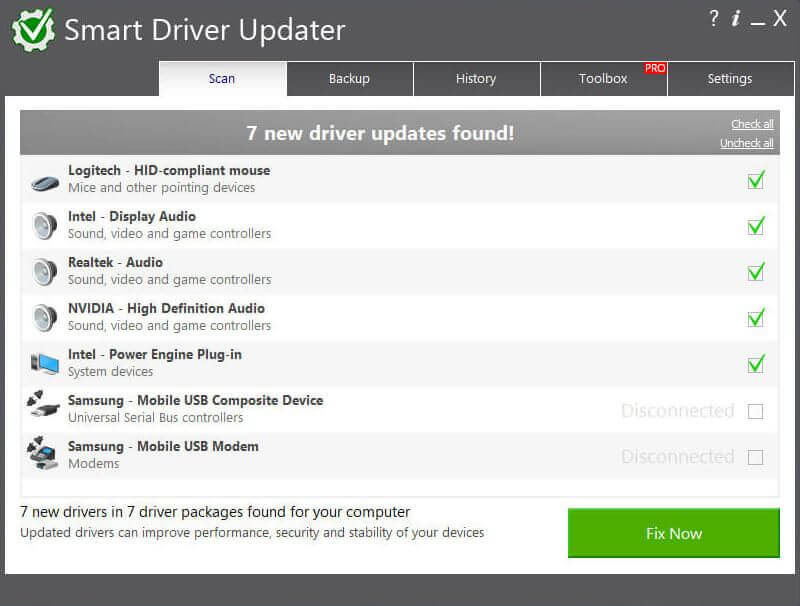 4. Driver Booster
Support: Windows 10, 8, 7, Vista, and XP
Driver Booster is one of the most powerful updater tools in the market. Regarded as the best driver updater software by many users around the world, it lives up to its name.
It doesn't direct you to any other web page or website as you can easily download all the drivers from within the program. And good news, there's no limit on driver updates and downloads.
It also creates a 'restore' point before updating a driver in the event something goes wrong with the installation.
And before installing any driver, you can check how the new version fares as compared to the currently installed driver.
However, you always require an internet connection to scan for driver updates, and sometimes the Driver Booster might install other programs during setup.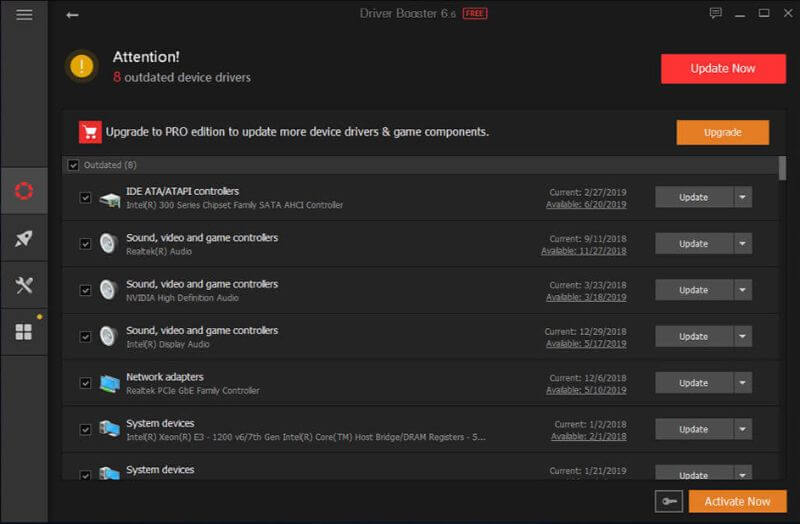 Read More: How to Update Drivers on Windows 10 Easily
5. Driver Easy
Support: Windows 10, 8, 7, Vista, and XP
Driver Easy is again one of the best free driver update software that helps you locate outdated drivers and update them easily and automatically in just a single click.
It bears a search feature that helps find you any driver that you are looking for. And also boasts a huge database of drivers that the user can browse through as well.
Along with that, you can even backup and restore drivers as well as uninstall deleted hardware driver. And the drivers are installed from directly within the app.
You can also schedule driver scans (they are relatively quicker) with or without an internet connection. These scans can be made to run according to you, and even when your PC is idle.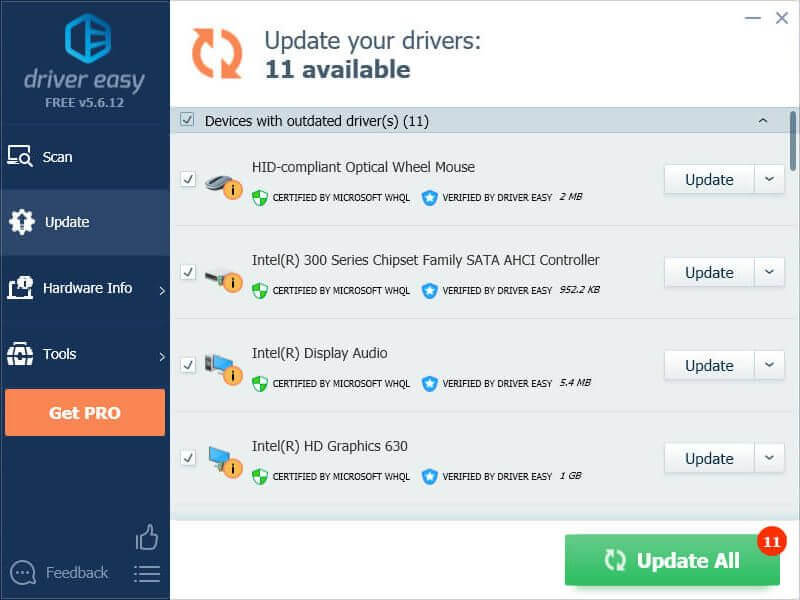 6. Driver Genius
Support: Windows 10, 8, 7, Vista, and XP
Driver Genius runs a scan on the PC to detect all the outdated drivers on the system. This free driver update utility automatically updates those drivers to ensure peak performance of the system.
This driver updater doesn't accommodate an intuitive and easy-to-use interface, albeit it's easier to install than other software. But still, the novice users might not be able to benefit from this program. On the other hand, the advanced users would most definitely be able to navigate through all the program's tools.
The software also allows the user to back up the existing drivers and restore them too in one-click.
Although, you can't uninstall unwanted or corrupted drivers in the utility software.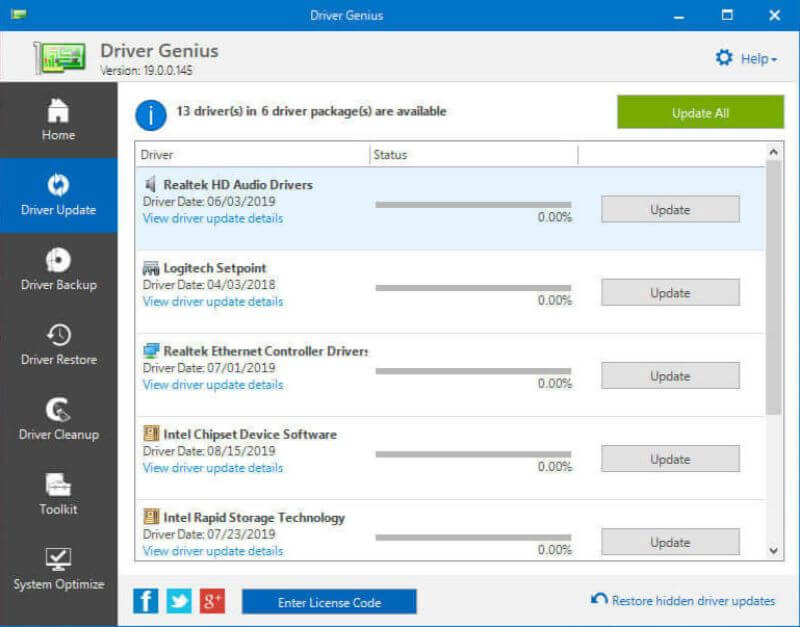 7. AVG Driver Updater
Support: Windows 10, 8, 7, Vista, and XP
Now, who hasn't heard about AVG Driver Updater? It is considered the best driver updater software by lots of computer users around the globe.
It boasts a classic interface and holds a driver database of drivers more than 127,000.
It scans the system in real-time and offers all the latest updates. Not just that, it easily cures all common PC problems like connectivity issues, PC crashes, PC freezing, and a lot more. It even backs up the existing drivers and assists in restoring all the unwanted changes in a single click of the button.
Once you install this program, it instantly assesses the hardware profile to present the most compatible and correct drivers for your system.
And hence, you can easily rely on AVG Driver Updater for fixing driver errors, getting all the latest drivers for your PC, and ensuring an enhanced performance of your PC.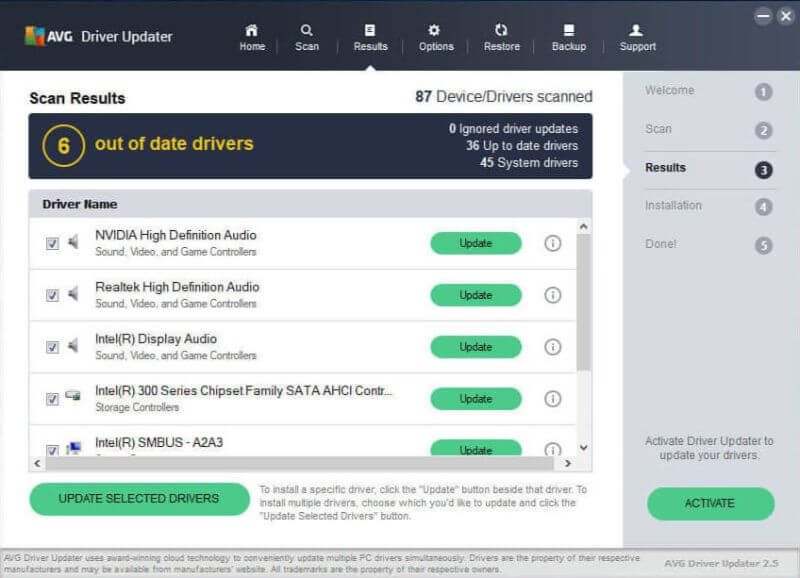 8. Driver Reviver
Support: Windows 10, 8, 7, Vista, and XP
Driver Reviver is a fairly intuitive updating software that has a clutter-free interface with only a few tabs and clearly labeled buttons on the portal. This makes it easier for the user to navigate across the program.
It accumulates a large database of drivers, the chosen from which are ideally compatible with all the PC hardware and connected peripheral devices.
It is basically a mixture of optimization features that lets you maintain your system's wellbeing by first making sure that your system has all the essential drivers. And further keeps it in an optimum state by simply scanning the current drivers and updating the ones which are corrupted or outdated.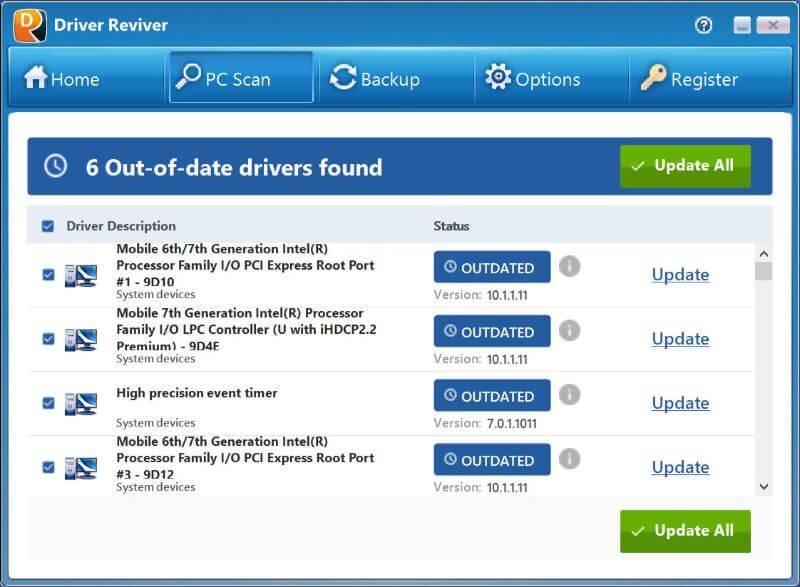 9. Advanced Driver Booster
Support: Windows 10, 8, 7, Vista, and XP
If you're looking for a dedicated tool that can give your PC a boost with its performance then Advanced Driver Booster is for you.
This utility ensures that your system drivers are always up-to-date and error-free with its 3-step performance-boosting process that includes scan, download, and backup.
What makes Advanced Driver Booster stand as a part of the best driver updater tools is its one-click update of drivers that result in improved PC speed.
Another major perk of Advanced Driver Booster is that it lays down the foundation of ultimate gaming performance on your PC by keeping the graphics drivers aligned and updated.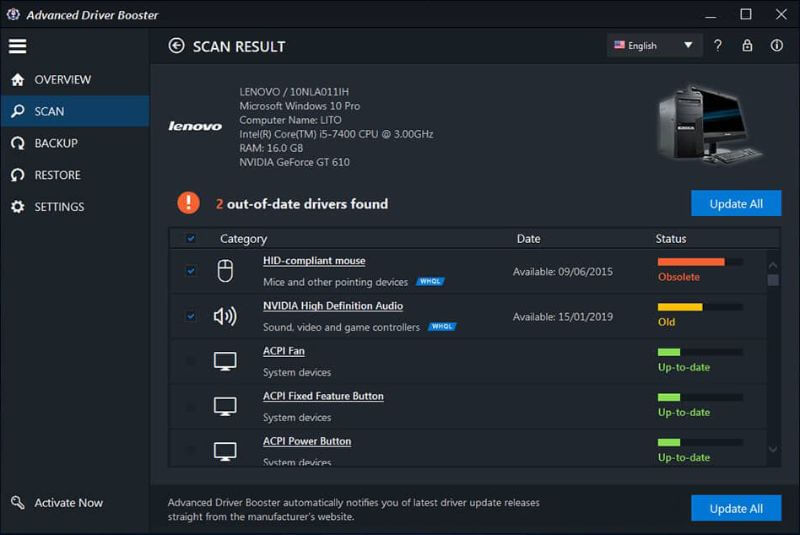 10. Avast
Support: Windows 10, 8, 7, Vista, and XP
Avast is extremely easy and fast to set up. And, it has marked its name in the list of the best driver updaters in the market. It is free from malware and bloatware and poses no prompts for any other programs.
With a single click, it completely scans your PC and forms a list of drivers that need further attention. And there's a plus for advanced computer users, as Avast has a few advanced tools as well.
It also showcases the source details of every driver it downloads so that you can rest assured about the authenticity of the driver.
But there's only one issue with this; there is no feature to schedule driver scans in the system.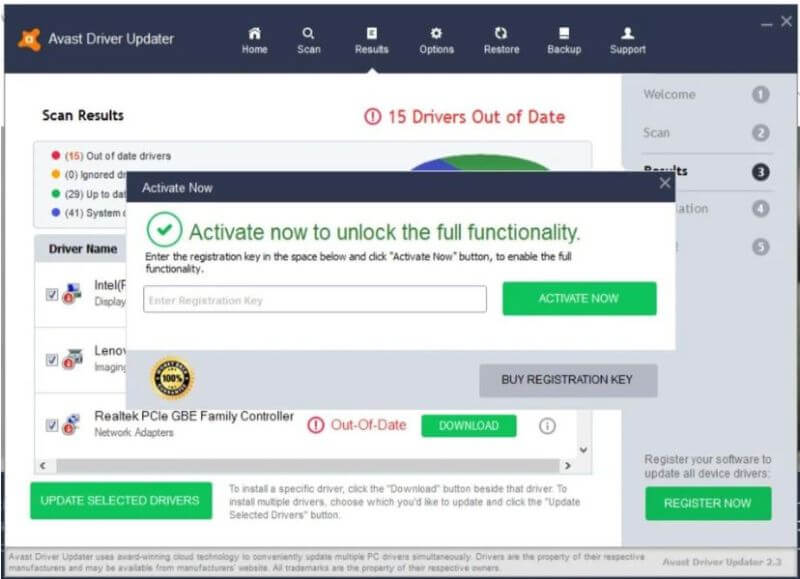 11. DriverPack Solution
Support: Windows 10, 8,8.1, 7, Vista, and XP
When it comes to the best driver updaters, DriverPack Solution is a popular driver update utility that makes the job of locating and automatically installing drivers a delight. It is a completely portable software that can be launched both from a USB flash drive and a hard drive.
Although the program is not enriched with a lot of options, it'll be a great choice for those who need a simple tool and don't require any backup or restore functions.
You can opt to manually install drivers. There exists a list of all the drivers which are outdated, and there are toggles for each of them. That means when you don't want to download and install one, you can just disable it.
The most loved aspect of this software is that with its help, you can download driver updates even without an internet connection.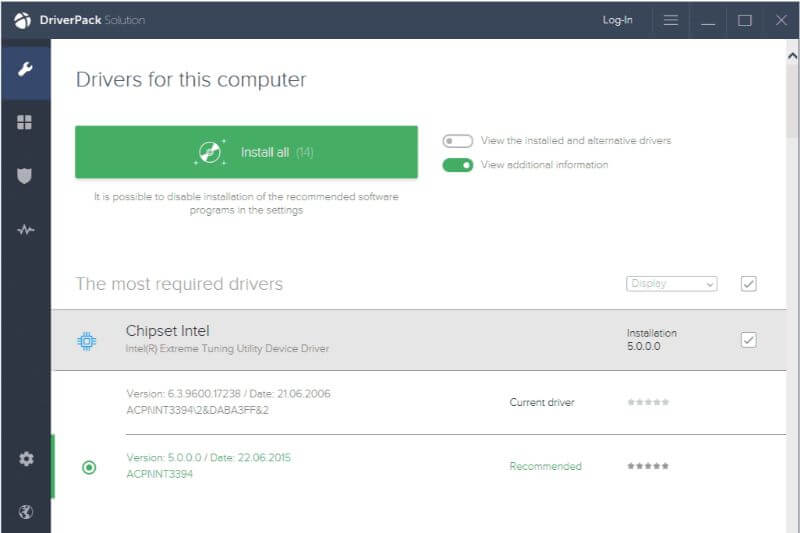 Read More: How to Update Graphics Drivers on Windows 10 Easily
12. Driver Talent
Support: Windows 10, 8, 7, Vista, and XP
Driver Talent is an extremely easy-to-use software that isn't required to be installed in the system.
It allows you to install and update drivers on your PC using driver packs. One of the best aspects of this software is that it lets you download multiple drivers for different kinds of systems at the same time. And after downloading, you can install those updates even without internet connectivity.
This all-in-one free driver updater software offers numerous themes, multiple languages option, for better user experience. You can manage your drivers without even installing this program in your system. You'll only need the help of Flash drives to update them.
You can download multiple drivers at once for many different types of devices. After they're downloaded, the program gives you immediate access to install the updates…with or without an internet connection.
It doesn't entertain any advertisements, doesn't slow down the download speeds, and poses no limit to the number of drivers installed.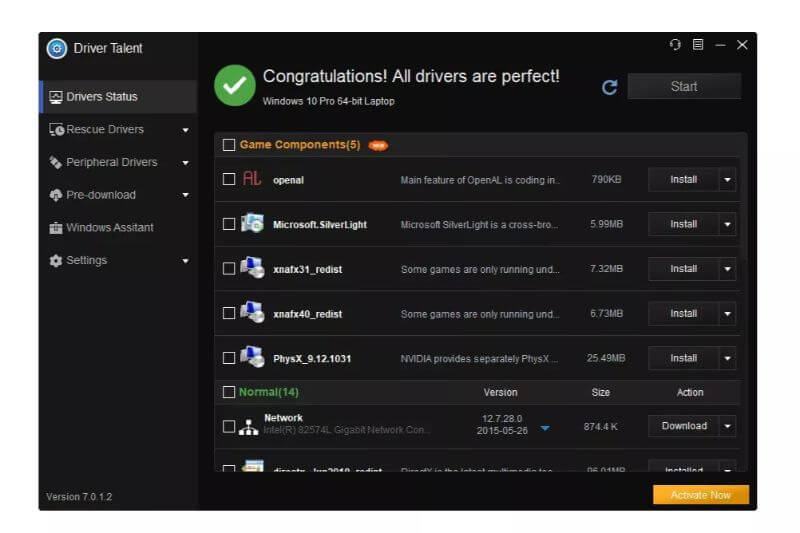 13. TweakBit Driver Updater
Support: Windows 10, 8, 7, Vista, and XP
TweakBit Driver Updater is another automatic completely free driver updater that thoroughly scans the hard disk and finds out any new updates for the drivers in the system if required. It can either be used as a regular program or a portable one. All the new drivers are downloaded from inside the program, without external assistance.
It is really easy and simple to use. There are hardly any settings, and none of the actions or tasks are confusing to comprehend.
And it doesn't stop there. Even when your computer is idle, it still checks the system for outdated drivers.
The huge minus to this program is that it limits the driver downloads to only one per day, not even updating the driver automatically after download. And doesn't even show the driver's version number and date to verify that the update is newer than the current one.
Along with that it also showcases constant ads on its portal.
But if you don't have a problem with that, then go for it.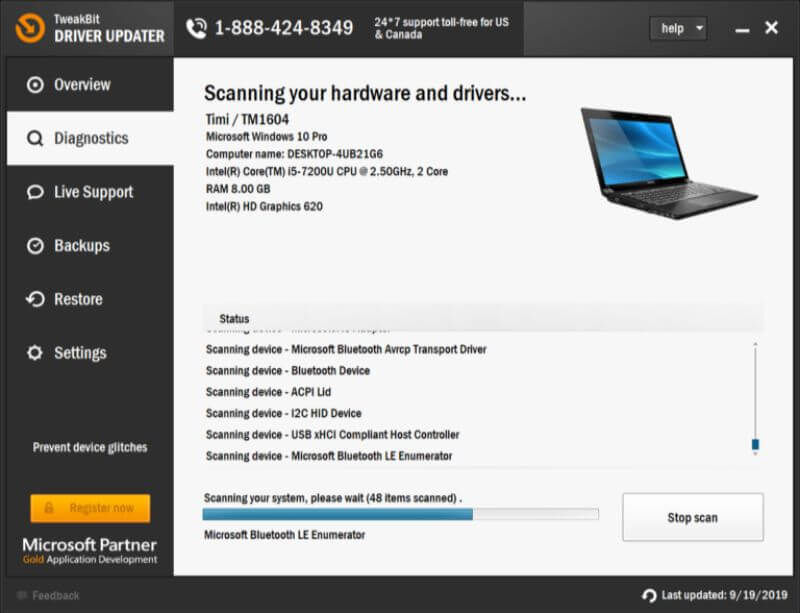 14. DriverMax
Support: Windows 10, 8, 7, Vista, and XP
DriverMax is another best Windows free driver updater software that is truly automatic. It locates and detects all the updates, and then further downloads and installs them without the user's input.
It has a backup and restores option too (nothing new), like every other similar tool. But one of its amazing features is the OS Migration Tool. This feature allows you to download all the necessary drivers and save them on a portable device before you move to another PC.
Although you need to be careful during installation as since it is free software, it has adware in the installer.
Also, it doesn't track all the drivers in your system, so there will always be some that you'll need to update manually.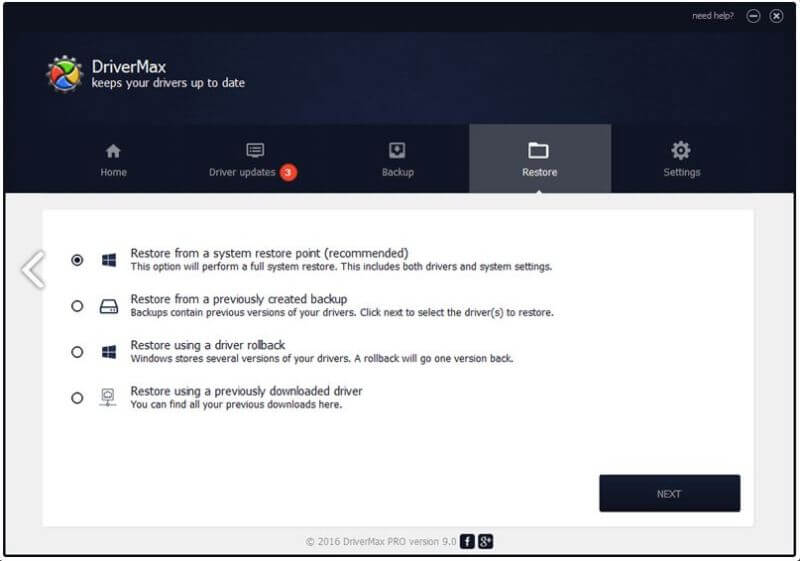 15.Driver Identifier
Support: Windows 10, 8, 7, Vista, and XP
DriverIdentifier is the best driver updater program to be used when you don't have an internet connection. This driver update utility even offers a portable version of itself.
It scans your system for any old or corrupted drivers, and after the scan, it gives a list of the drivers that need attention. All these drivers are saved to an HTML file which can be easily stored on a USB driver and opened on another computer. But you'll need to sign-up for a free account before beginning with downloading these drivers.
The process is extremely easy to understand and perform, plus you also get helpful information about the drivers.
However, all the drivers need to be downloaded and installed manually from your web browser (no automatic update option). Also, there is no feature to schedule scans, which means that the update process can only be completed when you're right there.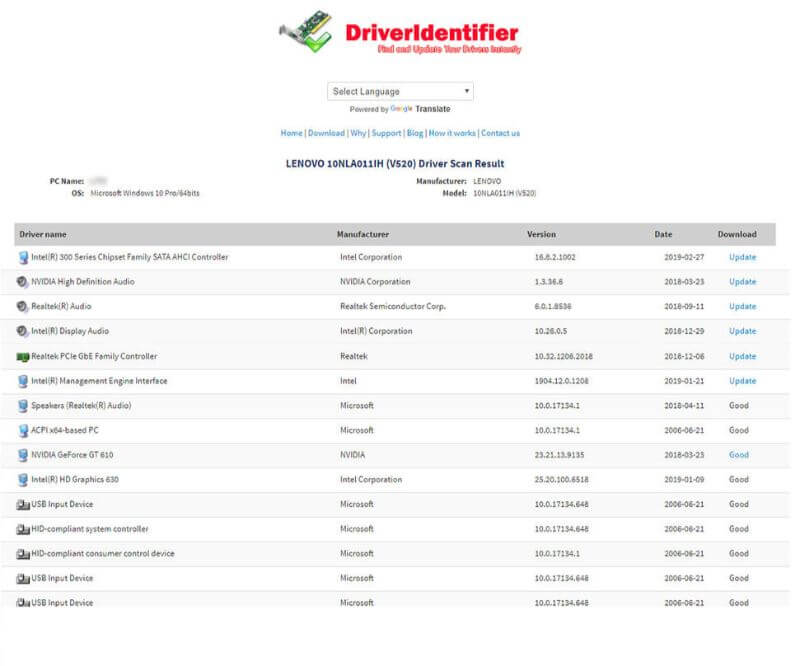 16. SlimDriver
Support: Windows 10, 8, 7, Vista, and XP
SlimDriver is a fairly intuitive driver updating software that has a de-cluttered interface with a few tabs and neatly labeled buttons. It's features make it easy to use for a user to navigate across the program.
It works with a huge database of different drivers that you may ever come across. Another reason for using SlimDriver is that most of its drivers work with almost every Windows version available till now. 
It is indeed a combination of multiple optimization features that lets you manage your system's health by ensuring your system has all the essential drivers working in order. And, it further keeps them in an optimum status by examining the current drivers and updating the  corrupted or outdated ones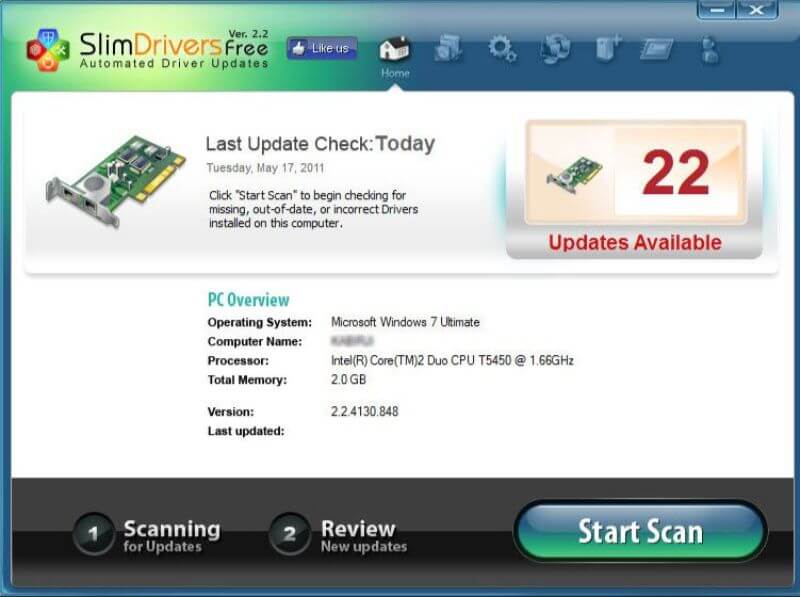 Now that you have the list of the best free driver updater software, its time that you download any one of them and update drivers for free. The above list comprises the best tools, which ensure enhanced PC performance and the latest driver versions for your Windows PC. So what are you waiting for? Get the best Windows driver updater tools from the list and boost your PC performance instantly.
Sign up for our Newsletter and stay informed