Now iWork is supported in all the Apple iPhones, iPads, and Macs to improve the productivity of the user and take it to the next level. Here's everything you need to know.
You may already know what iWork is. For those of you who don't, iWork is a suite of productivity apps on different Apple devices. The main purpose of the suite is to ease up the workflow. With the help of iWork, you can work on the documents quite easily and manage them on the go.
Recently, Apple updated this set of iWork apps. The tech giant tried to include more features and better utilities to ease your work up. Not only that, but now you can also use the Pages app of the suite to automatically display text and images which will come in handy on iPhones. And that's not all. Whether you are a professional, businessman, or even a student, Apple brought in the feature-packed iWork suite for all of you.
What are the Major Introductions and Improvements Made in Recent iWork?
A lot is happening with iWork. More power and capabilities are provided to the suite and all of this with one motto, make your working easier. Below are some of the major introductions and improvements made to the iWork to make it better than ever!
All New Keynote with Front Camera Presentations and More
As you may know, Keynote is a presentation and management app for Apple devices. The new iWork suite has revolutionized Keynote to the next level. Now you can add live videos from the front camera to your presentation on iPhone, iPad, and Mac.
Apart from this, you can also edit and modify the shape and size of the objects in the live video as per your requirements. If you are using a Mac, then you can add the video from one or more external cameras as well. Add effects, text, manage masks, frames, and much more all while presenting to others.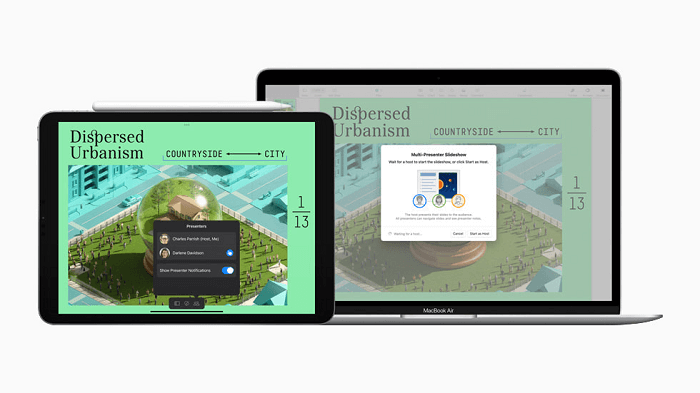 Whether you are presenting remotely or physically, you can hand over the charge of the presentation and/or manage it yourself.
Read More: Apple Finally Makes Available iOS 15
Revolutionary Pages App for iPhones and Other Apple Devices
iPhone users of the Pages app are more than on any other Apple device. Taking this point in head, the developers added a new experience to the Pages app to ease up document editing and viewing.
The developers added a new feature to Pages called Screen View that will allow you to put all the elements of the document in a single column for quick access and a continuous flow.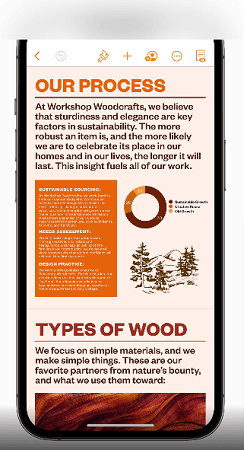 Text matters and hence its size is improved in the app to improve readability. No need to slide left and right to view the infographics and other data as it will fit your screen right away.
And as the Screen View feature is an addition to the app, you do not need to install a separate one. Remember, this feature in no way affects the existing editing and working tools but just optimizes them. You can switch it on and off as required and scroll the tables to view the complete data.
Read More: Apple Unveiled the All-New iPad Mini With All-Screen Design and Much More
Much Accessible and Easy Working Numbers
After word and presentations, let's talk about sheets. Numbers is the app for different Apple devices that manages the sheets for you. The new iWork suite has introductions to this as well.
Numbers now brings to you pivot tables that will allow easy analysis of data, patterns, and much more quite effectively. You can select the data, methods to display and create new pivot tables with multiple optimizing options. The layout of the table and its data will be more clear, synchronized, and lined up than ever before.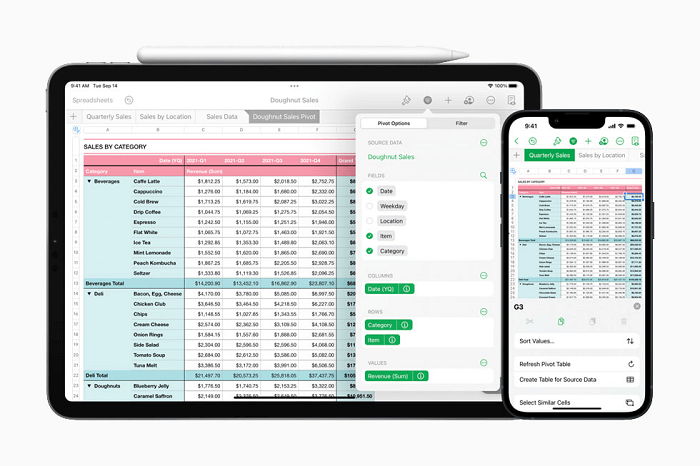 You can also create charts, bars, and more from this table and present it for a better understanding of the facts. Moreover, you get the power to change the viewership and details anytime you want.
Apart from all this, here's the best part. Apple has taken a new initiative that allows you to import and export data from pivot tables to Microsoft Excel very easily. All the new features added in the Numbers app are available on iPhones, iPads, and Macs as well.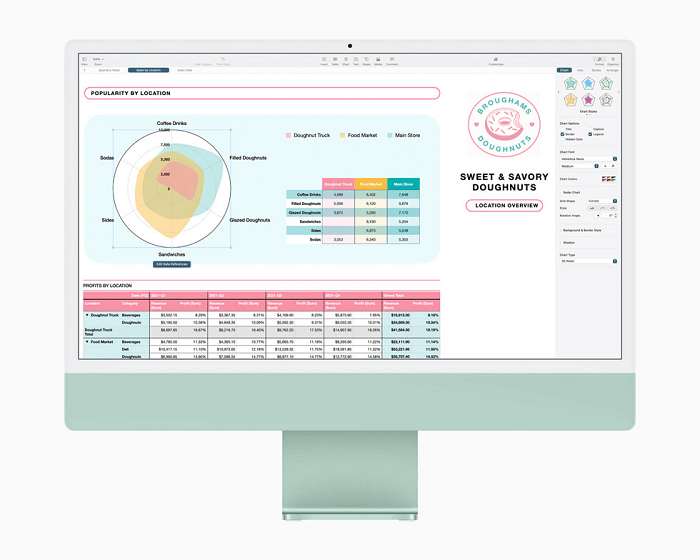 Instead of or along with pivot tables, you can also use the Radar charts to present your data perfectly. These charts will help you analyze the similarities and differences between each level of the data. You can always use the filter options to find duplicates, hide and show any entry, and do a lot more as you want very easily.
Read More: Apple iPhone 13 and iPhone 13 Mini Touches the Floor with Advanced Features
Summing Up the Brand New iWork Updates
With the new introduction of iOS 15, iPadOS 15, and macOS Monterey, there's something in store for their iWork integration as well. If talked about collectively, Keynote, Numbers, and Pages have multiple translation options as well.
To access this integration, all you have to do is select the text from the app and use your device's OS to translate it all quickly, hear it out, and replace the data with the translated script, right away.
There's more to behold. The developers at the tech giant, Apple, are constantly under work. Trying for the betterment of features and accessible options to make working easier with advancements.
Subscribe to Our Newsletter
Keep yourself updated with the latest technology and trends with Innovana Thinklabs Limited.