After much anticipation, iOS15 is finally out. Read on to know the complete details about it. 
As Apple promised in its California Streaming event held on Sep 14, 2021iOS 15 is available for free download. You can update your phone to the new and better iOS starting from today, i.e., Sep 21, 2021.
The new iOS brings a variety of features to help you connect and collaborate using your iPhone in a better way. Let's take a tour of all that it has to offer.
What iOS 15 has in store for you
Below are the additions and improvements Apple has made in its newly launched iOS 15 to delight the users.
FaceTime goes Natural
Many users had complaints about them looking a bit unnatural while using FaceTime. Luckily enough, Apple has heard them and made FaceTime a whole lot lifelike and natural.
Improvements have also been made to the GroupFaceTime calls. The voice in them now seems to come from the direction of the person's position on the screen. Furthermore, there is a Voice Isolation feature for intelligent background noise cancellation during calls.
There are other features too, such as the portrait mode that blurs the background to keep you in focus. You can use Voice Isolation, portrait mode, and other features in conjunction with applications, such as Webex, Zoom, and WhatsApp. Further, Group calls show participants as tiles of the same sizes in a grid view for effortless communication.
You can now use FaceTime on Android or Windows devices as well. All that you need is a web browser to do it.
Apple is also all set to bring the benefits of SharePlay to FaceTime. With SharePlay, you can enjoy listening to songs, watching videos/movies, working out, and performing other fun activities with your friends. SharePlay supports many applications, such as Apple Music, Apple TV+, and Apple Fitness+, Disney+, ESPN+, HBO Max, Hulu, MasterClass, Paramount+, Pluto TV, SoundCloud, TikTok,  and Twitch.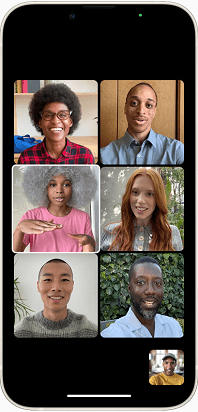 Better Communication with Messages
iOS15 has a Shared with You section that displays all the photos, music, and other kinds of content your friends/family shared through messages. It works with all the applications, such as Photos, Safari, etc. You can view all the shared content in the corresponding application. Further, there are many new emojis to spice up your conversations as well.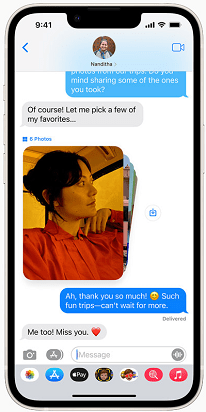 Focus to Filter Notifications
Sometimes notifications take our attention away from the important tasks at hand. Therefore, iOS 15 comes with Focus. This feature lets you filter notifications based on what task you are engaged in. For example, during work hours, you can only allow notifications from coworkers. And, while taking the much-deserved break from work, you can allow notifications from friends and family.
Furthermore, with Focus, you can create dedicated home screen pages that contain only the needed applications and widgets.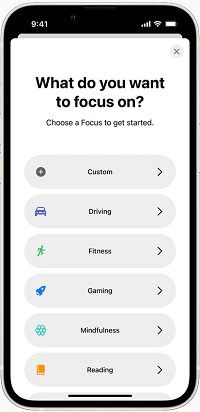 Revamped Notifications
Notifications are no longer that boring popup strip. iOS15 has completely changed how the notifications look on your phone. The notifications now show photos of people and apps where they are coming from. You can also mute any application or messaging thread if it seems to disturb you.
Moreover, it also delivers a notification summary to let you view all the notifications at a scheduled time. The summary arranges the priority notifications on the top depending on what applications you use the most.
It delivers urgent notifications, phone calls, and messages instantly, so you never miss them.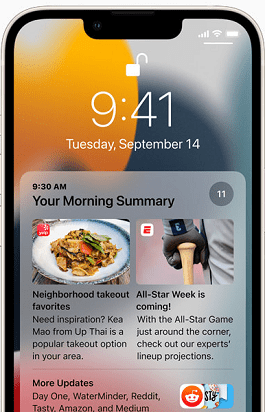 Text Recognition in Photos
iOS 15 boasts the power of artificial intelligence that recognizes text in images. Live Text recognition helps you in various tasks, such as looking up information like landmarks, translation, making calls to numbers on images, etc.
Direct access to Spotlight
Spotlight lets you start searches on iPhone. And, now you can do that directly from the lock screen itself. You can search for anything ranging from location to objects via Spotlight directly from the lock screen.
Fresh new Memories
iOS 15 has entirely revamped the look and feel of Memories. It now has an attractive interface, compatibility with Apple Music to take you down memory lane.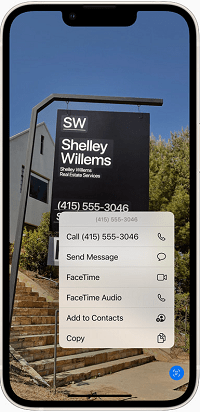 Powerful and Personalized Safari
Apple has also made significant improvements in its browser to make your browsing experience a lot better. Safari now positions the new tab bar at the bottom of the browser's screen to make it easily accessible with a single hand.
Furthermore, with Tab Groups, you can organize your tabs effortlessly and access them from any Apple device at any time.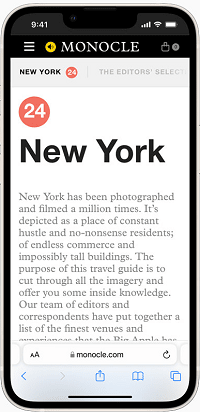 iOS 15 also comes with many advanced improvements in Apple Maps. It now shows a whole lot more detailed view of everything ranging from neighborhood to custom landmarks.
Apart from this, there is a night-time mode having a moonlight glow. Furthermore, the Maps now give you a three-dimensional view of the road, so you can easily detect turn lanes, medians, crosswalks, and sidewalks to drive safely.
For transit riders, it supports one-tap access to every nearby departure. You can even keep track of selected transit routes through Apple Watch.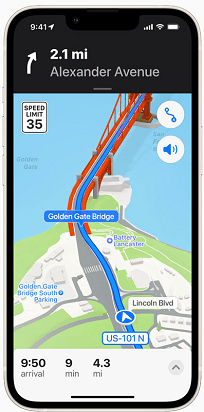 Apple Wallet Becomes even Bigger
iOS 15's Apple Wallet supports many new keys and state IDs. It supports Ultra-Wideband technology to let you lock/unlock your vehicle securely. Along with vehicles, you can also use Apple Wallet to lock or unlock your home/office/hotel room.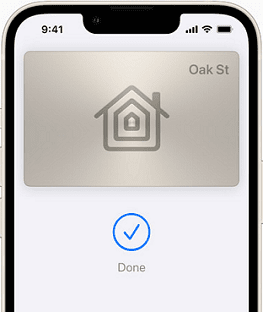 Beautifully Animated Weather
The Weather application now boasts a beautiful animated interface that offers you full-screen maps, condition-based layouts, and a graphical view of weather data. Further, the backgrounds now show the sun's position with more precision.
It also notifies you when the weather is going to turn rainy or snowy to help you plan your day accordingly.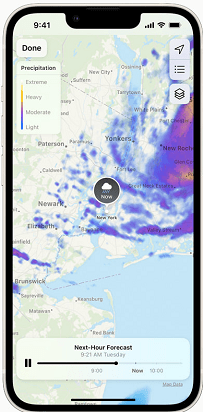 Quick Notes to Organize and Collaborate
iOS 15 also has the Quick Notes application to let you categorize, organize, and share important information in the form of notes. You can view and edit Quick Notes created on Mac and iPad as well.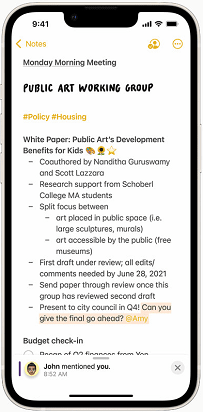 Better Privacy Controls
Multiple privacy protection options are available in iOS15. For instance, you get mail protection that shows whether someone has opened a mail or not. It also hides the sender's IP address so that anyone cannot know his/her location.
Siri now comes with on-device speech recognition to process your audio requests completely on the device for added privacy.
Other Improvements
Apart from the ones mentioned above, Apple has also introduced some other noteworthy features in iOS15. Let's take a look at them.
You can now use Siri on accessories, like HomePod and HomePod Mini.
iCloud+ brings iCloud's premium features, such as Hide My Email, iCloud Private Relay, etc.
The Health app gets a new sharing option to share your health status with family, friends, and well-wishers. Moreover, you can also use it to store COVID-19 vaccination records and test results.
You get an auto-translation feature that translates speech instantly when the speaker begins to speak.
The new setup makes it much easier for you to migrate to the whole new iOS15.
With its accessibility feature, you can access detailed information about people, objects, text, and tables within photos conveniently.
Above was everything about iOS15. You can now upgrade to it for free from its official website.
For more information about Apple products and other tech updates, keep reading our blog.
Subscribe to Our Newsletter
Keep yourself updated with the latest technology and trends with Innovana Thinklabs Limited.