After much wait, Fitness+ comes to more countries with new workouts. Read on to know all the details about it.
At Apple's event held virtually on 14 September 2021, Apple came with a piece of good news for all fitness enthusiasts. The first-ever Apple Watch-centric fitness service now expands availability to 15 new countries, including Austria, Brazil, Colombia, France, Germany, Indonesia, Italy, Malaysia, Mexico, Portugal, Russia, Saudi Arabia, Spain, Switzerland, and the United Arab Emirates.
Now, more people can get the benefits of Fitness+ as the service will be available in English along with subtitles in six languages.
Here is what Jay Blahnik, Apple's senior director of Fitness Technologies has to say about the updated Apple Fitness+, "Whether you're just getting started, trying something new, or switching up how you train your mind and body, the amazing and welcoming Fitness+ trainer team is here to help users live a healthy lifestyle, no matter where they are in their fitness journey. We are excited to be introducing new workouts that bring Fitness+ users more options to stay active and motivated, plus immersive guided Meditation experiences that are approachable for all and easy to fit into your day. With new ways to work out together or alone — and coming to more countries later this year — we can't wait to welcome even more people to experience Fitness+."
As said above, Apple Fitness+ offers more countries access to it along with many new features. Let's take a look at all the improvements in this service to keep your fitness in check.
What the updated Apple Fitness+ has to offer
Below are all the improved and new offerings of Apple Fitness+.
Meditation led by experts
Apple Fitness+ now offers guided meditations to help you relieve stress and rejuvenate yourself. You can choose from any of the nine available theme options, namely Purpose, Kindness, Gratitude, Awareness, Creativity, Wisdom, Calm, Focus, and Resilience.
Each expert-guided meditation session is of 10 to 20 minutes duration to help you regain the energy for life's challenges.
If you prefer the audio form of meditation, you can access it through the Mindfulness app on Apple Watch. The Apple Watch comes with an all-new audio session called Reflect and meditations led by Fitness+ experts. You can pair your Apple Watch with Bluetooth headphones and AirPods to play these sessions directly.
Further, it also allows you to combine workout activities with meditation. The guided meditations are led by some of the best trainers, such as Dustin Brown, Gregg Cook, Jessica Skye, and Jonelle Lewis.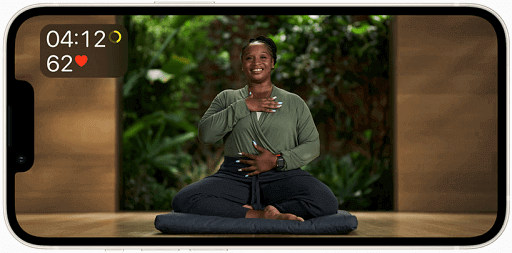 Pilates to boost strength and flexibility
Fitness+ now includes Pilates, i.e., a low-level workout that significantly improves your strength and flexibility. The Pilates will be led by two highly experienced trainers, namely  Marimba Gold-Watts and Darryl Whiting. And, each Pilates session will last for approximately 10 to 30 minutes.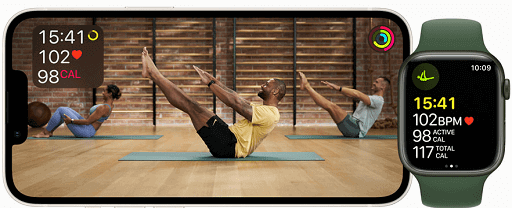 Workouts to prepare you for the winter sports
If you are interested in winter sports, such as snowboarding, you will be delighted to have Fitness+ with you. These exercise sessions are led and designed by an experienced trainer Ted Ligety. He is also a five-time world champion and two-time Olympic champion.
These workouts offer you a combination of various exercises, such as HIIT, Strength, Yoga, and Core, to help you attain your fitness goals.
Here is what Ted Ligety said about this program, "I spent the last 17 years of my life training as a professional athlete, and now more than ever, I know how important it is to continue training in an accessible and realistic way so I can stay on the slopes longer, prevent injury, and have fun with my family. I hope people enjoy the workouts Anja and I put together, with some moves inspired by how I used to train as a professional athlete, and some that reflect life as a dad, carrying my kids' skis, my skis, and my kids through the parking lot. This program is about fitness, but it's also about finding ways to bring fitness into the areas of life that you enjoy the most."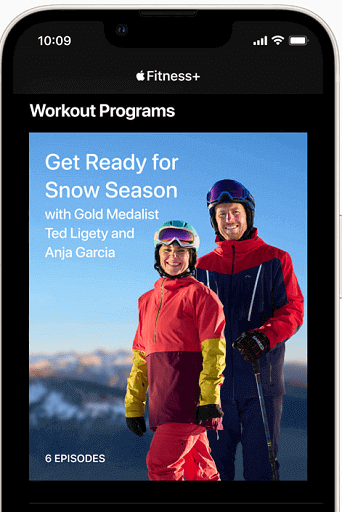 Workout with top artist's music
Working out is fun if you do it with music. Therefore, to keep your energy levels and motivation high during the workout, Fitness+ boasts  Artist Spotlight. The Artist Spotlight brings you music from various artists, such as Billie Eilish, Calvin Harris, Imagine Dragons, and Nicki Minaj.
Every Monday for four weeks, you get a new workout with music from these artists. The various workout types that you can do in this category are Cycling, Rowing, HIIT, Strength, Yoga, Dance, and Treadmill.
Apple Music and Apple One subscribers can also take the advantage of the Artist Spotlight of Fitness+.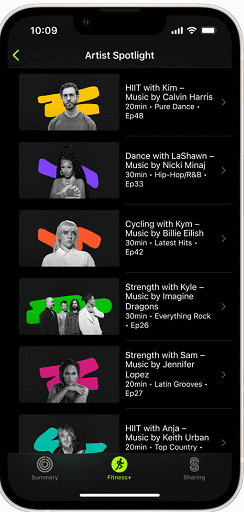 Time to Walk with Fitness+
Walking boosts the flow of oxygen in the body. Hence, it is considered one of the best forms of exercise. However, if you still need the motivation to do it, here comes Time to Walk with Fitness+. In this series, some highly influential people, such as Bebe Rexha,  Camila Cabello, Reba McEntire, etc. share their experiences in the form of photos, stories, and music to encourage you to walk.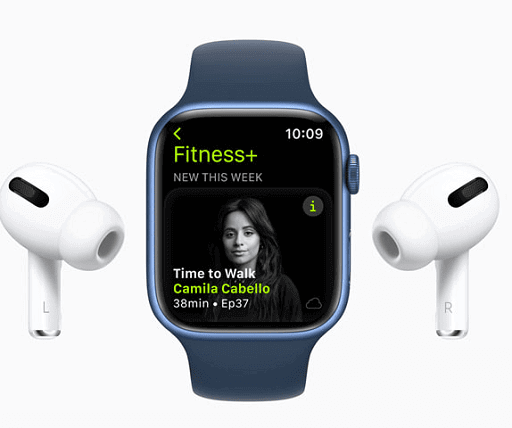 Working out alone becomes boring at times. Thus, Fitness+ allows you to work out with friends and family using its SharePlay feature. It allows you to do a group workout with over 32 people through a group message thread or FaceTime on your phone. You can rejoice together when you or your friends close their Activity ring.
Talking about the availability of Fitness+, almost everyone can use it everywhere.
Availability of Fitness+
You can use Fitness+ in many countries around the world, including Australia, Canada, Ireland, New Zealand, the UK, the US, Austria, Brazil, Colombia, France, Germany, Indonesia, Italy, Malaysia, Mexico, Portugal, Russia, Saudi Arabia, Spain, Switzerland, and the UAE.
You can pair Fitness+ with Apple Watch Series 3 or later having watchOS 7.2. And, it is also possible to pair it with an iPhone 6s or later having iOS 14.3.
Subscribe to Our Newsletter
Keep yourself updated with the latest technology and trends with Innovana Thinklabs Limited.