Thailand is soon to witness the grand opening of Apple Central World, i.e., Apple's largest retail store. Below are all the details.  
In a move to make its products more accessible, Apple previewed its largest retail location in Thailand, Bangkok. The store nests within the heart of always cheerful and lively Thailand city. In the words of Deirdre O'Brien, Apple's senior vice president of Retail & People "With our future Today at Apple sessions and a phenomenal team ready to welcome the community with exceptional service and support, we can't wait for our customers to experience Apple Central World".
Talking about the store's design, the glass wall building is beautifully designed under a tree canopy roof. Once inside, you can travel between its two mesmerizing floors through a majestically crafted spiral staircase that is wrapped around a timber core. Moreover, you can also use the cylindrical elevator made of stainless steel. The entrance of the store is also well planned, you can enter either through the ground or upper level that connects directly to the Skytrain and the shopping center. Furthermore, there is also an outdoor plaza having benches for you to relax and mingle with other visitors.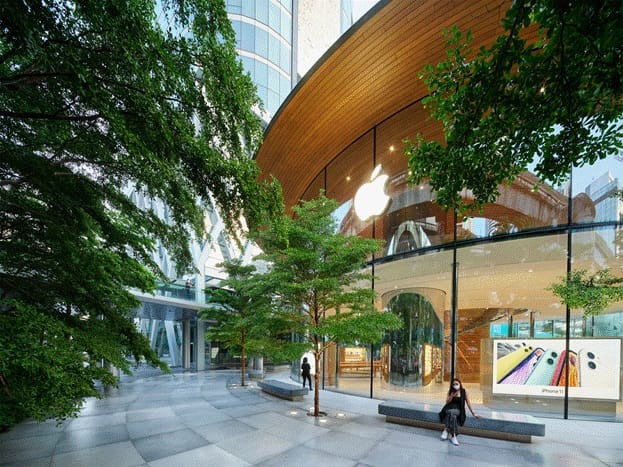 Elaborating more on the Apple Central World's design, here's what you will find unique and special in it. 
Also Read: Apple WWDC 2020 Keynotes with a Complete Roundup of the Event
The Unique Features of Apple Central World's Design
Below are some noteworthy design features of Apple Central World that make it a must-visit place for all Apple fans and techies. 
Forum: Apple Central World hosts a forum where Apple's sessions with famous artists, musicians, and creatives will be held.


Store's Forum: Home to future today

Boardroom: If you are an entrepreneur, developer, or local business owner, then the boardroom is your place to receive advice from the Apple team and learn from them.
Freestanding displays: There is a freestanding display on the first floor located all around the circular store layout for you to discover exciting products and accessories. 
Thailand is all set to welcome the new Apple retail store on Friday, July 31 at 10 a.m. ICT. At the launch event, more than 130 members from Apple's team speaking 17 languages will greet the customers. If you want to witness the new retail milestone of Apple, then book your time slot from Here . Remember that the reservations are non-transferable and you need to wear a mask, get your temperature checked, and follow social distancing considering the current pandemic situation. And, for more such updates on new tech events and releases, keep following Innovana Blog.
Subscribe to Our Newsletter
Keep yourself updated with the latest technology and trends with Innovana Thinklabs Limited.