Apple Watch Series 7 is here for all the fans of Apple Watches. Read on to know everything about it. 
After much anticipation, Apple has finally released the Apple Watch Series 7 at its California Streaming Apple event, held on 14 September 2021. The highlight of this newly launched watch is its always-on retina display with a significantly more screen area and thinner borders.
Here is what Jeff Williams, Apple's chief operating officer, said on its launch: "Apple Watch Series 7 delivers significant improvements — from our largest and most advanced display, to enhanced durability and faster charging — making the world's best smartwatch better than ever before. Powered by watchOS 8, Apple Watch brings useful new capabilities to help customers stay connected, track activity and workouts, and better understand their overall health and wellness."
The look and feel of this watch make it outshine all the other Apple Watches. It features an appealing refractive edge and an interface optimized for a larger display, better readability, and ease of use.
This is not all, and the watch is packed with many other useful features as well. Let's go through them.
What Apple Watch Series 7 has in Store for you
The newly released Apple Watch Series 7 is all set to be the top choice for the best smartwatches for its incredible features. Here they are.
Esthetic Design
The all-new Apple Watch Series 7 is designed esthetically with borders of only 1.7 mm, i.e., much thinner than the Apple Watch Series 6. Despite the innovative design, Apple has not compromised with the overall case size. The Apple Watch Series 7 is available in two size variants, i.e41mm and 45mm.
And, in indoor conditions, its always-on display does wonders. It makes it easier for you to see the watch by increasing the brightness up to 70% than Apple Watch Series 6.
Optimized User Interface
The UI of the Apple Watch Series 7 is also significantly optimized. It boasts a QWERTY keyboard that you can tap, swipe with QuickPath, or slide a finger to type.
Apart from this, it also comes with better on-device machine learning-based word anticipation powers. It makes text entry a much easier and faster task.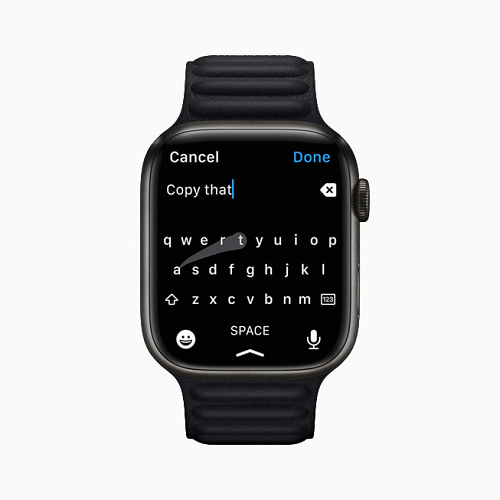 There are also helpful buttons in applications, such as Stopwatch, to make the watch even more convenient.
Solid Durability
Series 7 is among the strongest and the most durable Apple Watches. Its newly designed crystal is over 50 percent thicker than its predecessor, i.e., Apple Watch 6. Hence, it shows greater resistance to cracks.
Further, since the watch is IP6X dust resistant, it can withstand almost all adverse environmental conditions. It also has a water resistance rating of WR50, making the watch a perfect companion for your swimming sessions.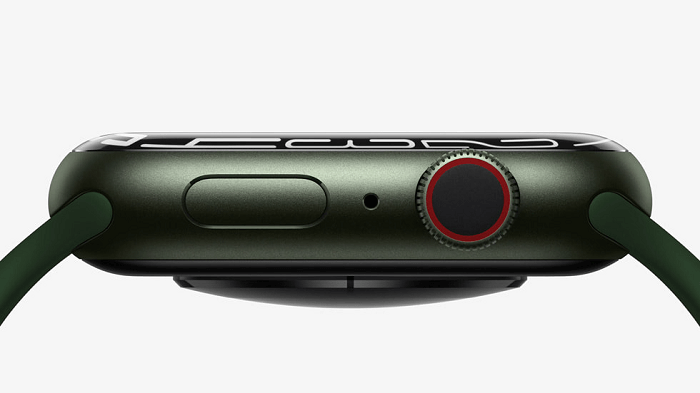 Jet-fast Charging
With a single charge, Apple Watch Series 7 can run for over 18 hours. And, after it gets discharged, you can charge it 33 percent faster than Apple Watch Series 6 using its magnetic fast charger USB-C cable.
All-New WatchOS 8
Apple Watch Series 7's watchOS 8 boasts multiple features to make using the watch a whole lot easier.
Its contour face moves the dial to the display's right edge and keeps on animating to emphasize the current hour.
Modular Duo face makes the best use of the available screen area with two large, data-loaded centre complications.
The World Time face keeps track of the time in 24 time zones around a double dial.
With the depth abilities of the iPhone's portrait mode, the watchOS gives you a more personalized and beautiful experience.
To keep your overall wellness in check, it offers many applications, such as the Mindfulness app, sleep respiratory rate tracking, and Tai Chi and Pilates workout types.
The new Wallet and Home app features help you access the car and your frequently visited places conveniently.
watchOS 8 also features an improved Messages and Photos app to make it easier to stay connected with near and dear ones.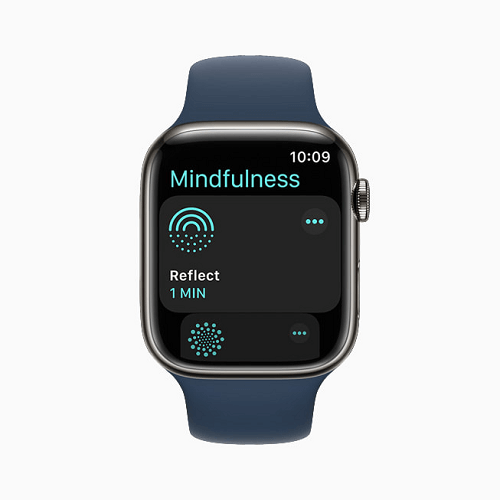 Cycling, Workout, and Fall Detection Features
In addition to the above features, watchOS 8 also boasts many cycling, workout, and fall detection features. We share them below.
It boasts high-end GPS, heart rate, accelerometer, and gyroscope data to know when you are riding a bike.
It prompts you to begin a cycling workout if you have not already done so.
watchOS 8 shows you the complete metrics of your cycling workout from the time when you started it.
The watch automatically pauses and resumes workouts when you stop at a stoplight or perform such other activity.
It can also measure active calories when you ride an e-bike, using improved cycling workout algorithms to evaluate your GPS and heart rate.
To keep your focus intact while running or performing any HIIT exercises, it announces workout milestones and activity ring status automatically.
It comes with improved fall detection to detect falls during workouts like cycling.
watchOS 8 also recognizes the unique motion and impact of falls from a bike and other kinds of workouts.
Unique Colors and Bands
Apple Watch Series 7 comes in five exciting aluminum case colors, i.e., midnight, starlight, green, and a new blue and (PRODUCT)RED. You also get a wide choice of bands that are compatible with all Apple Watches.
Furthermore, Apple Watch Series 7 is also compatible with Apple Watch bands released earlier.
Apple has also introduced new bands for Watch Nike and Watch Hermès. The Nike Sport Loop is available in three different colors with features, like Nike Swoosh and logo text.
Moreover, Apple Watch Hermès brings two new styles. The Circuit H boldly and graphically represents the signature anchor chain design. Whereas, the Gourmette Double Tour pays tribute to the Hermès collars.
Apple Fitness+
Apple Watch 7 also comes with Apple Fitness+. It is a fitness service that introduces guided new body-conditioning workout types.
Till the end of this year, Fitness+ will expand to over 15 new countries, including Austria, Brazil, Colombia, France, Germany, Indonesia, Italy, Malaysia, Mexico, Portugal, Russia, Saudi Arabia, Spain, Switzerland, and the United Arab Emirates.
Apple Watch Series 7 and Environment
To delight the environment enthusiasts, Apple Watch Series 7 comes with 100 recycled rare earth magnet elements, including Taptic Engine. It also boasts 100 recycled tungsten and 100 percent recycled aluminum model cases.
Further, Apple Watch Series 7 has no harmful chemicals like mercury, PVC, beryllium, and BFRs.
Lastly, talking about the price, Apple Watch Series 7 is expected to be quite affordably priced. Below are the complete price details.
Apple Watch Series 7 Price
Though Apple has not made any official announcement about the price of Watch Series 7, its price is expected to start at $399. Apple Watch Series 7 will be available later this year on the Apple Store. You can also buy Apple Watch SE with USB-C charging cable, new Apple Watch bands, and Apple Watch Nike bands from there.
Above was all the information on Apple Watch Series 7. To know more about this and all other products from Apple, stay connected to this blog.
Subscribe to Our Newsletter
Keep yourself updated with the latest technology and trends with Innovana Thinklabs Limited.