This ASUS monitor drivers download, update, & installation guide is all you need to get suitable driver software for your ASUS monitor. Read on to know more about helpful methods to install drivers for your ASUS screen on the Windows system. 
Monitor is one of the prominent output devices for the computer. It shows every task that you perform on your PC. Hence, any issue with your PC's monitor can affect your work, productivity, & performance. Even a minor monitor glitch can annoy you while performing any task. That's the reason why it is essential to take care of the device. You should always keep your monitor and its drivers healthy & updated. And to help you with it, here we have came with the ASUS monitor drivers download & update guide.
ASUS is one of the prominent manufacturers of PC peripherals in the world. Its monitors are quite popular among computer users, and hence, we have decided to come up with this guide to download, install, and update ASUS monitor drivers on Windows PC. So, without further ado, here we are going to proceed with the methods to get the right drivers for ASUS monitors.
Quick & Easy Methods To Download ASUS Monitor Drivers On Windows 10
Below are the methods that can help you to download ASUS monitor drivers on your Windows 10 PC quite quickly and effortlessly.
Method 1: Download ASUS Monitor Drivers from ASUS Support
The most authentic source from which you can get the latest driver for your ASUS monitor is the manufacturer's support or download center itself. Hence, the first way that we would like to mention in our ASUS monitor drivers download, update, & install guide is downloading the driver from ASUS support. Here is the step by step guide to help you get the suitable driver for your ASUS screen.
The first step is to visit the official support or download center page of ASUS. You can do it by clicking here. 
After visiting the ASUS download center enter your product information, i.e., its model name or the product series, type, etc.

Then you'll get the entire information about your monitor, including the FAQ, Manual & Document, Driver & Utility, etc. You have to choose the Driver & Utility option.

Now, choose the operating system of your computer.

Once you select the OS, you'll get the appropriate driver for your ASUS monitor. You can download it by clicking on the Download option available.
Install the driver by running the downloaded driver setup. Or if the downloaded file comes in a compressed format, then to install the ASUS monitor driver on the PC, you first have to extract the driver files.
After extracting the monitor driver files to a specific location, open the Device Manager tool of your Windows system.
In the Device Manager, expand the Display adapters.
Choose the ASUS monitor driver and right-click on it.
Select the Update driver/device option.
Then after that, choose Browse my computer for driver software and browse to the location where you have extracted the ASUS monitor driver file.
Start the driver installation by clicking on the Next button.
Also Read: How to Download and Install Asus Drivers on Windows 10
Method 2: Update & Install ASUS Monitor Drivers Using Windows Device Manager
However, after knowing the above method to download ASUS monitor drivers, some of you might find it quite tiresome. And hence, you might be looking for some more automatic method. If yes, then here we have an effortless way of upgrading the ASUS monitor driver as compared to the above one. You can use the Windows default Device Manager utility to get the latest ASUS monitor drivers on your operating system. Here we have provided all the required instructions below.
Open the default Device Manager tool of the Windows operating system. You can access it by multiple means. One of them is using the Windows search function.

After opening the Device Manager, scroll down to the Display adapters & expand it.
Now, choose the ASUS Monitor driver and then right-click on it.
Once you do a right-click on the driver, you get a context menu. Select the Update driver/device option from the context menu.
Then after that, choose the Search automatically for updated driver software option and initiate the automatic update process for your ASUS monitor driver via Device Manager.

However, it's not an entirely automatic method. Hence we suggest you monitor the driver update and installation method. And once it gets over successfully, then restart your system.
Also Read: How to Download and Update ASUS Motherboard Drivers on Windows
Method 3: Download ASUS Monitor Driver Using Windows Update Feature
Windows operating system comes with an update feature using which you can update all your apps, settings, operating system, drivers, etc. Hence, you can also use it to download the latest ASUS monitor driver on your PC. It doesn't require you to perform many efforts as compared to the above methods. However, it is not that effective when it comes to providing the most recent version of the drivers. If you want to try it to download ASUS monitor drivers, then here are the steps that you can follow.
Open the Windows Setting by using the shortcut, i.e., right-clicking the Windows Start icon.
Then, after opening the Setting window, go to the Updates & Security option and select it.

In the Update & Security settings, select Windows Update.
After that, choose the Check for updates tab.

Once you do this, the operating system will start looking for all the available updates for your PC. If it gets any, then it will download & install the update on your computer automatically. 
Although, you may require to provide a few permissions to the system. Hence, be there in front of your PC while Windows downloads and installs the available updates.
Also Read: Asus Laptop Drivers Update For Windows 10, 8, 7
Method 4: Use Bit Driver Updater To Download & Update ASUS Monitor Drivers
Despite knowing multiple ways to download ASUS monitor drivers for Windows, some of you may still be looking for that one flawless method, as all of the above ones have a few cons. Hence, here we have brought the solution with which you can effortlessly download the latest drivers for your PC and that too without any issue. And its name is Bit Driver Updater.
Bit Driver Updater is a program that helps you update your hardware drivers with minimal clicks. The tool is entirely automatic and doesn't require any of your efforts. Hence, if you are looking for an option to download & update your PC drivers snappily, then you must try Bit Driver Updater. The app offers a lot of other advanced features as well, with which you can enjoy a premium driver updating experience. Below we have listed a few of them.
Backup Creation For Currently Installed Drivers
Driver Backup Restoration 
Option To Schedule Scans For Driver Issues
Updates Multiple Drivers With Single Click
Driver Ignore List
The installation and use of Bit Driver Updater is also pretty easy. Here we have listed the steps involved.
Click on the below download button.

Once the setup file gets downloaded on your PC, run it and install the Bit Driver Updater.
After installing the app, run it and then select the Scan Drivers option.
You'll see a list of driver issues present on your PC. Scroll down to the ASUS monitor driver and click the Update Now button to update it.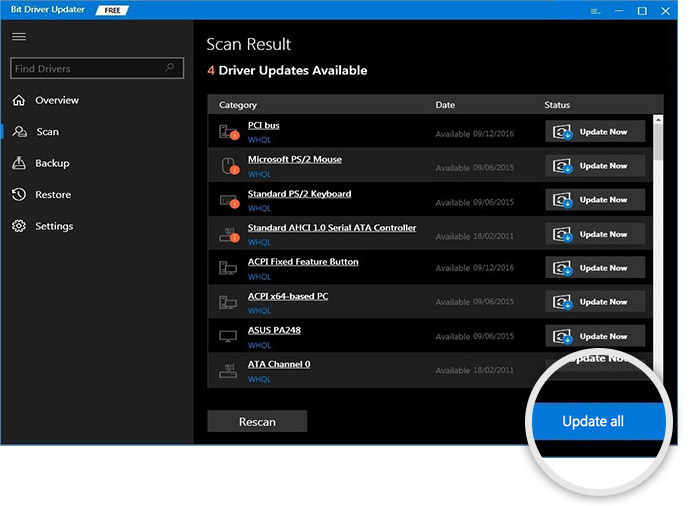 Conclusion For The ASUS Monitor Drivers Download Guide
So, that was all about downloading the drivers for your ASUS screen on your Windows PC. It is quite important to maintain the monitor of your PC as even a minor issue can annoy you a lot. Hence, you must keep your monitor drivers healthy & updated. We hope that the above ASUS monitor drivers download, update, & installation guide has helped you in getting the suitable driver for your PC's screen.
If you liked the post, then subscribe to the Innovana blog. Furthermore, if you have any suggestions for us, then please share them by using the below comments section.
Subscribe to Our Newsletter
Keep yourself updated with the latest technology and trends with Innovana Thinklabs Limited.