In this post, we have genuinely reviewed Awesome Duplicate Photo Finder and shared complete details about this software so that you can decide whether it is worth your time or not. 
Do you remember the childhood game of spotting the difference between two identical or similar pictures? It was indeed tough to win it. Even after using a hundred percent of your brain, some differences were still undetectable. And the same is the case with duplicate photos and similar photos, it is difficult to spot them in a picture-filled gallery. No matter how hard you try to find and delete all the twin shots, a few may still linger. Therefore, many users search for the best duplicate photo finder tools to remove such shots. If you have also gone on a hunt for such software, then Awesome Duplicate Photo Finder must be among the top names that popped up on your screen.
Now, the question is whether this software is what it claims to be, i.e., awesome or not? Here, in this genuine review, we have answered this question so that you can decide whether it is the perfect choice for you or not. So let's dive right into the review. 
Let's begin with answering the question that almost every novice user has, i.e., why delete duplicate photos? Well, the answer is quite simple. Wherever there is clutter, inefficiencies follow. Duplicate photos, when left undeleted, make the gallery chaotic and snatch away the PC's ability to perform even the simplest computing tasks with speed and precision leave alone playing graphic-intensive games. Therefore, it becomes inevitable to find and remove such pictures, before they become a parasite that eats up your computer's resources and makes it buggy. And, to do that, we need a specialist such as Awesome Duplicate Photo Finder. 
Coming to this software, we have thoroughly examined it from all the possible angles and have looked at its complete lengths and breadths. Here are what it is and its key specifications.
What is Awesome Duplicate Photo Finder
Awesome Duplicate Photo Finder is a software to find and delete duplicate as well as similar pictures from a Windows computer. With this app at your fingertips, you can declutter the picture library and free up GBs of space on your PC with ease. Below are the core specs of this program. 
Key Specifications of Awesome Duplicate Photo Finder
OS Requirements: Microsoft Windows 2000/XP/2003/Vista/Windows 7/8/Windows 10
Size: 1 MB
Price: Free 
Latest version: 1.1.1
CPU: 400 MHz or above
RAM: 512 MB or more
Above was all about the technical specifications of this software. Now coming to the features that it offers, we must say that it has quite an impressive feature set. Below are its prominent offerings that impressed us the most.
Recommended: Best Duplicate Photo Finders and Cleaners for Windows 10, 8, 7
Remarkable Features of Awesome Duplicate Photo Finder
The tools and features offered by this software are enough for anyone who needs robust software to get rid of the duplicates that have made the computer no less than an irritating machine. We share them below. 
Beginner-Friendly Interface 
Not every user is a tech wizard. Many of the users are amateurs, struggling to free up the disk space from the clutches of duplicate photos. The developers of Awesome Duplicate Photo Finder understand it quite well. Hence have kept the UI minimalistic and easy to use. 
Detection of Edited Pictures 
Nowadays, users don't stop at just clicking pictures. They edit and resize them, and then it becomes even more of a headache to find and delete dupe shots. Therefore, this software boasts the ability to find edited/resized photos and delete them. Moreover, it can also detect and delete images with corrected colors. 
Not all pictures are meant to be deleted. Sometimes, we may want to keep some photos safe, even if they are a copy of some other image. If you also do not wish to delete any picture, then you can preclude it from the scan. Moreover, it also allows you to send photos to the recycle bin instead of deleting them permanently. 
Shows Similarity Percentage 
Every duplicate photo is not an exact duplicate of the original. Therefore, while looking at seemingly identical images, the question that comes up is how much similarity is there between the two images. Awesome Duplicate Photo Finder answers this question by showing the similarity percentage. 
It can be a cumbersome process to add the folders containing the duplicates to the scan pane for some users. Thus, it boasts a drag and drop feature that lets you add the folders requiring a scan to the window with ease. 
A duplicate picture finding tool is meant to free up and not hog the device space. This is why it also boasts a portable version of itself. With the Awesome Duplicate Photo Finder portable version, you can delete duplicates without installing the software. 
Deletion of Duplicates from Removable Devices 
Not every deduplication tool has this feature. With this software, you can even delete duplicates from removable devices such as a USB flash drive. 
Moving pictures to another location
Sometimes, it may happen that instead of deleting the duplicates, you may want to move them to another location. With this software, you can do that too. 
Minimum picture size selection 
If you do not want to scan small pictures, then you can use the option to select the minimum picture size for the scan. 
We agree that the features of this software are tempting. But, what makes a program truly awesome is how easy it is to use these features. Therefore, next, we take a look at how to use this software. 
How to use Awesome Duplicate Photo Finder on Windows 10
Below are the steps that we need to take to use this software. 
Step 1: The first step is to, obviously, launch the software. 
Step 2: After launching the software, specify the folders where duplicate photos have taken a hideout by clicking on the "plus" icon or dragging and dropping them. 
Step 3: Click on the "Start Search" button for locating the duplicate pictures.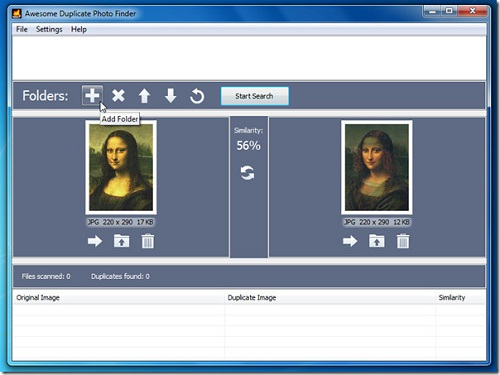 Step 4: Click on "OK" when a prompt appears showing you the number of similar pictures present on your computer.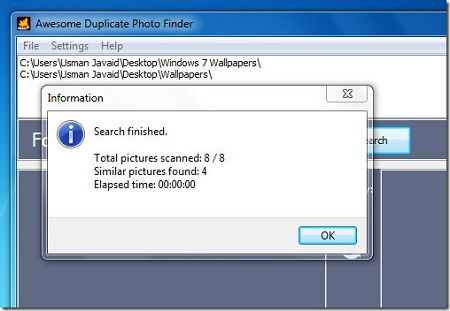 Step 5: Now, the wizard shows the first duplicate photo that it has found. Here you can also see the similarity percentage between the images. Moreover, double-clicking on the image opens it in the default image viewer. 
Step 6: Take any of the three actions, i.e., either move the image to another location, view its current location, or delete it by clicking the respective button.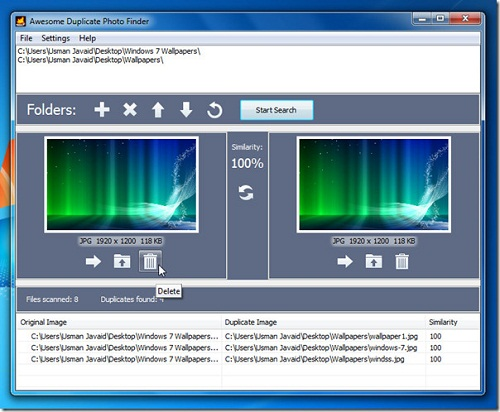 Above was how this software is to be used. Moving towards the next part of our Awesome Duplicate Photo Finder review, we believe that all programs have their highs and lows. The same is true for this software. It also has truly impressive strengths and a few weaknesses that are a bit depressing. So, here is what have liked about this program, i.e., its pros, and what we have not liked that much, i.e., its cons. 
Things we have liked about Awesome Duplicate Photo Finder
We first try to look at the bright side of things. Therefore, while reviewing this software, we first took note of its pros. Here, we share them all. 
With this software, you can send pictures to the recycle bin if you do not wish to delete them forever.
It supports quite a lot of image formats, such as JPG, BMP, GIF, PNG, and TIFF.
Detecting duplicate photos with corrected colors is a tough job, but this software makes it easy. 
Unlike other freeware, it does not trouble the user with pop-up ads, spyware, and malware. 
The user interface of this software is such that even novice users won't have any problem while using it. 
It works seamlessly with removable devices and network drives.
There is no limit on the number of folders that you can add to the scan pane. 
It employs robust mechanisms to search for duplicate photos.
The drag and drop feature makes it convenient for users to add folders to the scan area.
It performs quick scans and lists out the duplicate/similar images in an instant. 
The similarity percentage makes the picture comparison easy. 
It is portable and completely free software.
Things we have not liked about Awesome Duplicate Photo Finder 
After the bright side, comes the turn to look at the not so rosy picture. Thus, below are all the cons of this software. 
There is no help menu if ever you need any assistance to remove duplicates.
You must have a lot of time and patience to install this software.
It does not offer any high-end configuration options.
Other similar software provides more features. 
It does not allow you to bulk delete duplicates. 
Now that you have the complete details about this duplicate photo finding software, we believe that it has become fairly easy for you to decide whether you should use it or not. If you have decided to give it a shot, then here's the link from where you can download Awesome Duplicate Photo Finder for free on your Windows 10 computer. 
However, if you are still confused, then go through the below FAQs section to clear all your doubts. 
Read More: Best Duplicate File Finders & Removers for Windows 10
Frequently Asked Questions
Q1. Is Awesome Duplicate Photo Finder safe?
We understand that many freeware are a disguise that notorious minds use to invade the user's privacy and harm his/her computer. But, the same is not true for Awesome Duplicate Photo Finder. It is completely free but a reliable tool that you can use to eliminate space-hogging duplicates. 
Q2. Can Awesome Duplicate Photo Finder delete all duplicate photos? 
While reviewing the software, we found that it takes a little longer to list out all the duplicates. But, once it finds them out, you can delete them all with ease. 
Is Awesome Duplicate Photo Finder Really "Awesome"
In the final analysis, we can say that Awesome Duplicate Photo Finder is a great software to try out if you want a decent duplicate remover for free. It offers an exciting set of features. However, it also has a few shortcomings that we have discussed above. We should consider all its offerings, pros, and cons before making the final decision. And if you have found this review useful, then do tell your friends about it and keep visiting Innovana blog for more such software reviews. 
Subscribe to Our Newsletter
Keep yourself updated with the latest technology and trends with Innovana Thinklabs Limited.