Undoubtedly, every smartphone whether it is Android or iPhone has come up with an in-built file manager application. But, this is also true, that they are equipped with the basic functionalities and features than other third-party file managing applications. These third-party file managing applications offer many advanced functionalities such as hidden selective files, organized folders, transfer data fastly, and enough more. The robustness capacities of these applications are beyond the in-built file managing application. So, you should give a try to these third-party applications just to enhance the ways of managing files. Therefore, we are here suggesting you the best Android file manager apps, which you could download instantly just by hitting the link!
10 Best Android File Management Apps
Third-party apps have been constantly expanding its features and rich-functionalities. Over the years, the below-mentioned best android file management apps have enhanced their quality & functionalities. So, let's commence the discussion to know the best file manager apps for Android!
1. File Manager – Team Amaze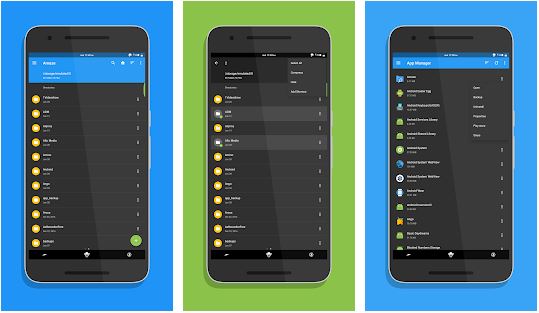 For the individuals who are looking for a smoother and an open-source best file explorer apps then File Manager by Team Amaze fits in the bill. However, it is new in the market. The user interface for the files is quite impressive. The most sophisticated and unique thing about the Amaze File Manager is – its built-in SMB file sharing feature that provides your junk and cache data cleaning facility. The highly advanced features of the Amaze File Manager are-
Features-
Lets you uninstall any app directly.
Backup & Restore functionality.
Lets you run multiple tabs simultaneously.
Offers navigation drawer for fast navigation.
Ad-free.
Provides a lot of fascinating themes.
2. MI File Manager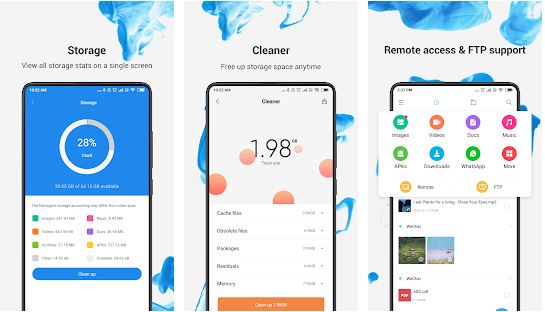 Now, next comes the Mi File Manager app which is completely a free and secure utility tool. It lets you organize files easily without any sort of hindrance and detects files quickly. The user interface of the Mi File Manager is so clear and super crispy that changes the file sharing experience completely. Top on all, Mi File Manager supports multiple file-formats including music, videos, documents, games, zip-files, and APKs. Among all, Mi File Manager is the best android file manager apps which is loaded with a ton of advanced features.
Features
Lets you organize files into the numerous categories.
Quick access.
Allows you to share files offline.
Dark Mode.
View overall storage stats and manage files accordingly.
3. Files by Google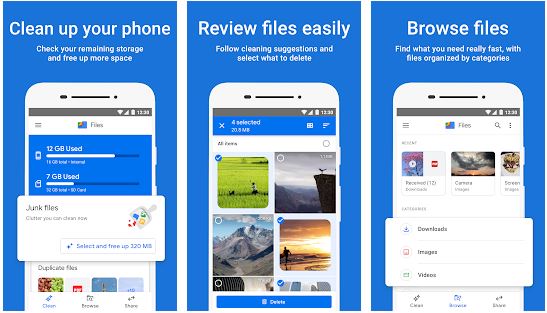 Files by Google is the app for managing files which helps you a lot. With the help of Files by Google, you can manage and find files more effortlessly. Moreover, it also equipped with an in-built smart cleaner tool that views overall storage stats and frees up space frequently. Files by Google keeps your files or documents safe all the time by letting you backup files to the cloud. Files by Google offers tons of coolest and advanced features. Below are the features of it!
Features
Lets you share files offline with others.
Detect files faster.
Checks your storage stats regularly.
Enhances device performance.
Effortlessly manage files.
Quickly transfer files.
 Also Read: 7 Best PDF File Locker Apps for Android Phone

4. Solid Explorer File Manager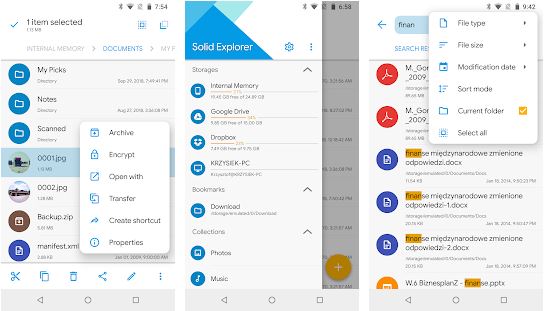 Solid Explorer File Manager is the best file explorer app that is inspired by the traditional file managing applications and gives the innovative touch. This application turns the table, by blending the functionalities of the traditional and latest advanced technologies. If your phone has become a big mess and doesn't know how to manage it, then this application could prove a big help for you. Here are the advanced features of it!
Features
It keeps your file protected with powerful AES encryption.
Manage storage.
Allows you to manage files remotely.
Cloud storage.
Offers premium customization themes and icons.
5. Smart File Manager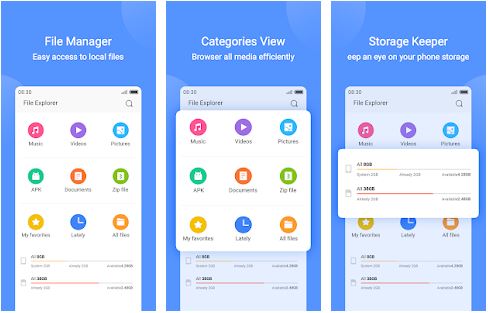 So, we've come across towards one more advanced file manager application that is – Smart File Manager. It is good enough to use a tool that contains totally advanced and innovative features just like Smart File Manager. So what? if it too mild. If you are searching for the best free file manager apps android then you might be love this application.
Features
Quick & simple access to local files.
Storage Organizer.
Lets you personalize your device.
The category view helps you to find files easily and quickly.
6. ASTRO File Manager & Storage Organizer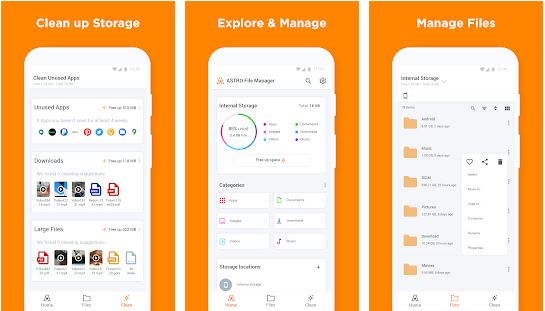 ASTRO File Manager is the leading file managing apps in the market. This application is not only well enough in keeping your files organized but also good enough in boosting the performance of the device. Its impressive and easy user interface lets you navigate your files quickly. ASTRO File Manager's advanced core features help you in control all your digital files effortlessly.
Features
Clean-up phone's memory.
Speed-up phone's performance.
Analyze the storage stats frequently.
Supports back-up & restore facility.
Trusted by more than 150 million users across the world.
7. X-Plore File Manager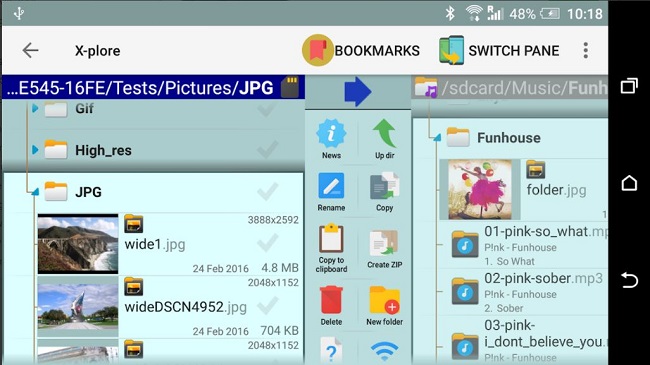 Pretty accurate and a little bit professional approach user interface makes X-Plore File Manager the best ad-free file manager apps. It encourages a multi-tasking fluency via its dual-pane equipment that lets you run two different windows simultaneously. X-Plore File Manager is the appropriate file managing application that offers more advanced features including PDF viewer, video player, zip unpacker, and many more.
Features
Completely Ad-free.
Root explorer.
Supports USB OTG.
Lets you organize file from the PC web browser.
Built-in video player with subtitles attachments.
The multi-tasking facility lets you run two windows at a time.
8. Moto File Manager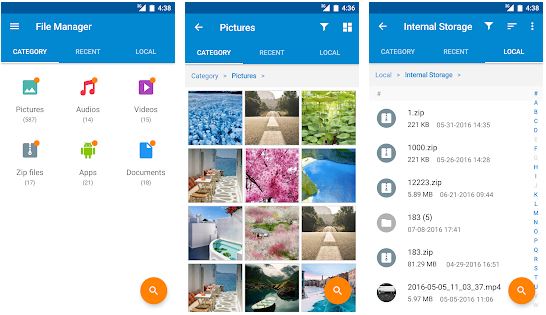 Now, it becomes so easy to deal with all sorts of files with the Moto File Manager utility app. Whether your files are stored in the main internal storage or external SD card, Moto File Manager effectively and accurately lets you manage files. You can browse files easily by categorized them according to their nature. Moto File Manager is the free file manager apps android and loaded with the ton of effective core features that have been mentioned below!
Features
Maintains the overall storage information.
Lets you manage files remotely.
Offers a single-tap transfer facility.
Finds files easily according to their category.
Keeps files secure by creating encrypted zip files.
9. File Manager +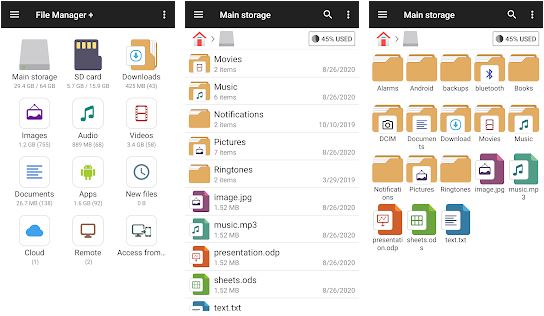 Yet another most powerful file explorer apps is – File Manager +. It is a completely free and effective file management app for Android. With the help of File Manager +, you can effortlessly and fearlessly manage your files. File Manager + is highly compatible with almost all major file formats. You can easily perform any file management operations such as copy, paste, rename, move, share, compress, decompress, and so on.
Features
Cloud storage.
Manages files from both external and internal storage.
Remote management.
Level-up the performance.
Overall storage analysis.
10. FX File Explorer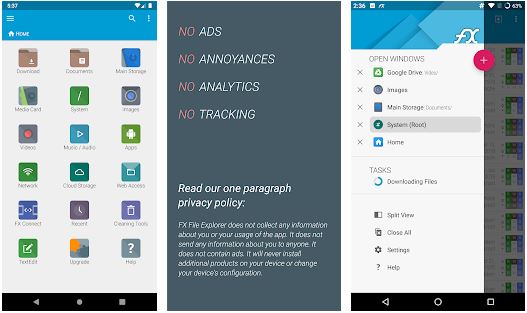 If you are looking for the file managing app which protects your privacy as well, then choose FX File Manager without a blink of an eye. Its material user interface design offers you new approaches or methodologies for how you can share files between two devices or even with the computer as well. With FX File Manager, you can fearlessly transfer files and seamlessly organize them too.
Features
Shields your privacy.
Best ad-free file manager apps.
Offers built-in text editor.
Image viewer.
Supports a multi-window facility.
Which is the Most Useful Android File Management Apps?
In sum, the list we shared with you contains the best android file manager apps. But, if you want our suggestions then we urge you to use File Manager – Team Amaze and Files by Google. Both the file management tools come with robust and supreme quality functionalities. Through this penned note, we've brought the 10 best file managing applications in front of you.
Along with this, we've also told you which is the best one. Therefore, make your device better than the best just by installing the ultimate file management application. That's all as of now, will be back shortly with another engaging yet informative article. Till then, stay tuned with us and do subscribe Innovana blogs to get the latest tech stories directly.
Subscribe to Our Newsletter
Keep yourself updated with the latest technology and trends with Innovana Thinklabs Limited.