The writeup focuses on some of the best Android optimizer apps. You can do a lot if the performance of your smartphone is well optimized and fast. You might be wondering, how can a well-optimized smartphone can affect your life. The reason is quite simple; we have become entirely dependent on our smartphones.
Nowadays, your smartphones have replaced many things in your lives. There is an app for everything. From shopping to board games, you have an app installed for almost everything. In this situation, a slow smartphone can also slow down your life. It doesn't matter if you have a smartphone with more RAM and more storage space. There are various other factors as well that can affect your smartphone's performance. Those factors include junk files, app cache, large media files, background apps, etc. Hence, using some best Android booster apps to boost your smartphone's performance becomes quite necessary. However, there are so many Android performance booster apps available in the market. It might get difficult for you to select the best one from them. But, you don't have to worry about it, we are here for your rescue. We have handpicked some of the best optimization apps for Android. So, without any further ado, let's move straight to the list of some best phone booster apps.
6 Best Android Optimizer and Booster Apps in 2020
Below we have listed some of the best Android optimizer apps. These apps can provide a magical boost to the performance of your Android device.
1. Safe Security – Antivirus, Booster, Phone Cleaner
The first name on our list is Safe Security. It is one of the most preferred Android boosters. Along with optimizing the performance of your Android phone, Safe Security also possesses various other features including, protection from malware, app manager, etc. This one of the best Android boosters can boost the performance of your phone with just one tap. It completely cleans all the junk and unnecessary files. Hence, you can also install this app to free up some space on your phone. Safe Security is an all-in-one app that also takes care of the battery life of your phone. You can even optimize your phone from the lock screen itself without even opening the app. This is also considered the best game optimizer for Android because of its ability to optimize your mobile gaming experience. All these features make Safe Security so famous that it has around 100 Million+ downloads on the Play Store with an exceptional 4.6 rating.
Features of Safe Security
Effective Speed Booster options
Battery saver
Smart virus remover
Multi-function lock screen
SMS & Call Filter
Real-time Protection to your Privacy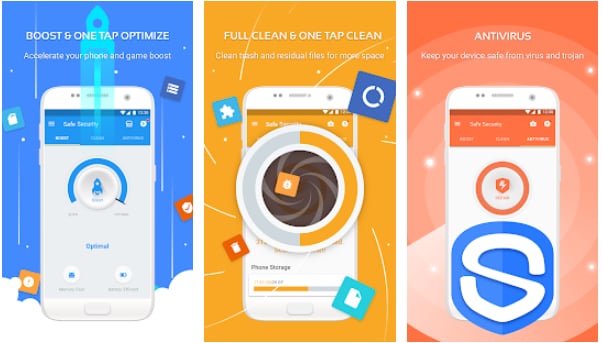 2. CCleaner: Cache Cleaner, Phone Booster, Optimizer
CCleaner is another popular phone optimization app. It can be used to optimize the performance of your phone by cleaning up the junk files. This best Android optimizer offers various other features as well, such as cleaning up unnecessary files, optimizing RAM, etc. The app also helps you to remove the large files that are unused for a long time. You can even clean your browsing history with the CCleaner. This one of the best booster apps for Android comes with an app manager and allows you to uninstall the undesired applications. It also helps you to keep a check on your battery usage and helps you to hibernate apps the battery-draining apps.
Features of CCleaner
Saves storage space
Speeding device options
User-friendly
Monitor's your system
Optimizes and keep the device free from junk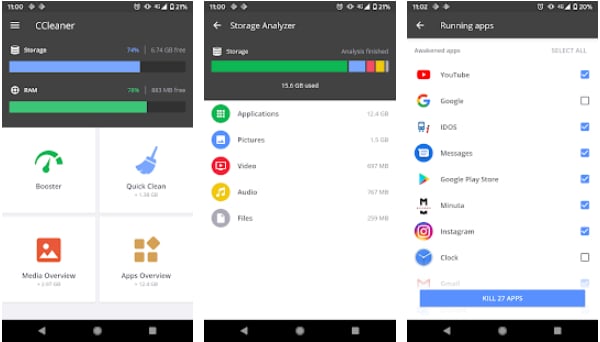 3.  AVG Cleaner – Junk Cleaner, Memory & RAM Booster
AVG is a well-known name in the industry of antiviruses. The leading antivirus provider also offers a phone booster software for Android. AVG Cleaner is one of the famous optimizers for Android phones with around 50 Million+ downloads and 4.6 ratings on the Play Store. The app offers features such as optimizing performance, cleaning junk, etc. Along with these basic features, this one of the best Android boosters offers many unique and advanced features as well. Its app manager feature allows you to uninstall the undesired apps. The app even optimizes the battery life of your phone and hibernates the background running apps. AVG Cleaner helps you to optimize your photo gallery as well. It can detect duplicate images and helps you to free up some extra space.
Features of AVG Cleaner
Easy to use
Clean up storage space
Battery saver
One-time setup
Restricts resource hogs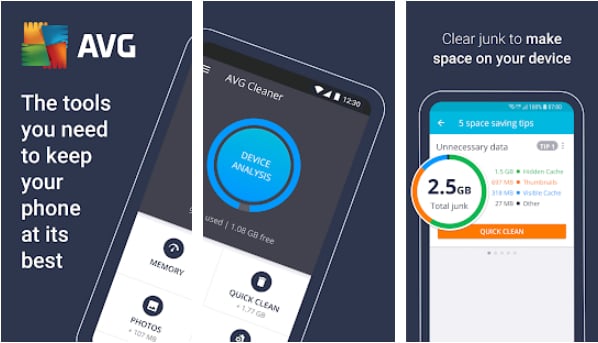 4. Avast Cleanup & Boost, Phone Cleaner, Optimizer
Here comes another famous antivirus name. Avast is primarily known for its antivirus services, however, the company also offers an exceptional phone optimizer for Android. Avast Cleanup & Boost is one of the multifunctional booster apps for Android. You can optimize your phone's performance with one of the best Android optimizers. The app helps you to free up the storage of your phone by cleaning all the junk files and cache. It also helps you to filter your photo gallery by removing the bad and duplicate photos. This best booster app allows you to enhance your battery life by shutting down the background running apps. Avast Cleanup also offers various other advanced features in its paid version.
Features of Avast Cleanup
Cleans your photo gallery
Boost performance
Saves battery
Free up the storage space
Various app and media overview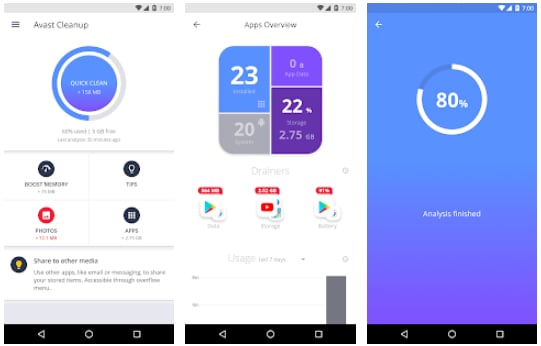 5. Norton Clean, Junk Removal
Who doesn't know about Norton? One of the oldest antivirus program manufacturers also offers an Android booster application with the same name. Norton Clean helps you to optimize your device storage by cleaning junk files. You can also remove the .apk files of the apps that you have previously installed on your smartphone with Norton Clean. This one of the best Android boosters helps you to boost your device by clearing the cache files. The app helps you to stop other background running apps and eventually provides a boost to the performance of your Android phone.
Features of Norton Clean
Analyzes and removes the junk safely
Cleans cache individually
App manager
Optimizes device memory
Understandable interface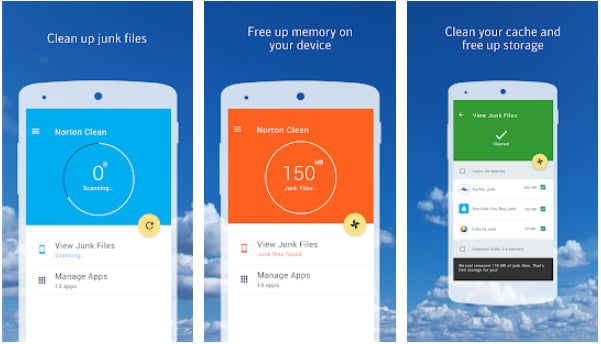 6. Droid Optimizer
At last, we have mentioned Droid Optimizer. As the name suggests, Droid Optimizer helps you to optimize your Android device performance. It is considered among the best Android optimizer apps because of its ability to optimize and boost the performance of Android devices. Droid Optimizer can stop the background running apps and can free up space on your phone's RAM. It can also be used to enhance the battery life of your device. Along with all these features, it can also optimize the gaming performance of your device. Hence, Droid Optimizer can be considered as the best booster for PUBG mobile and other heavy mobile games. Moreover, the booster app also comes with an application manager.
Features of Droid Optimizer
Optimizes and cleans the system
Restricts foreground automatically
App manager
Cleans app cache
Easily cleans big files
Automatically carry out cleaning tasks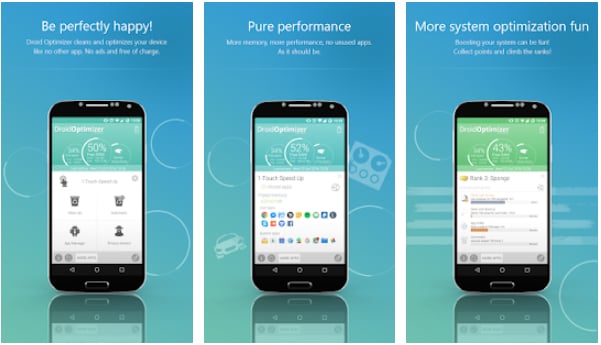 Common Queries: Best Android Optimizer and Booster Apps in 2021
Q1. What is the best optimizer for Android?
Some of the best optimizers for Android are mentioned below:
Smart Phone Cleaner
Droid Optimizer
CCleaner
AVG Cleaner
Q2. How do I optimize my Android phone?
There are multiple ways to optimize your Android phone and some of them are mentioned right below:
Eliminate all the bloatware
Organize your home screen
Make your display useful
Enable only relevant notifications
Blast out the junk
Keep your device up to date
Q3. Do Optimizer apps work?
There are a lot of proven optimizer applications that can help you to clean, boost and optimize your Android phone with ease. Check out the best Android Optimizer and booster applications and see which one works for you the best.
Q4. Are cleaning apps necessary for Android?
As cleaning apps claim to clean up your Android phone to speed up the performance. Not only this but they also help you to clear the junk cache out of your device. Hence, you must have an optimizer application in your system to keep your Android phone sound.
Q5. How do I deep clean my Android phone?
The significant ways to deep clean your Android phone are as follows:
Open the 'Settings' of your Android device.
Click on the Apps Settings category.
Now tap the application you want to clean.
Simply select and Clear Cache and remove the temporary data as well.
Wrapping Up: Top 6 Best Android Optimization App [2021]
So, these are some of the best Android optimizer apps. You can use any one of them for the complete optimization of your phone. However, you can also optimize your phone manually. You can do it by cleaning the app cache from app settings, uninstalling and removing unnecessary apps, etc. These methods don't seem to be effective every time. Hence, we recommend you use an android booster app. It doesn't only helps you to save time, but it also provides you with an efficient solution to your phone's performance-related problems.
For more information about various other Android apps, subscribe to Innovana blogs, and also bookmark the page.
Subscribe to Our Newsletter
Keep yourself updated with the latest technology and trends with Innovana Thinklabs Limited.