Below we enlist some of the advanced and best Android OS for Windows 10, 8, 7 PC to run any system as an Android device. 
Android is one of the most compatible and flexible operating systems available. The OS is handy and organized. If you are an Android lover and want to run your Windows system like an Android smartphone, then this article is for you.
You may already know, that Andoird has a lot more apps as compared to any other operating system. On the demands of Android lovers, some developers created Android OS for Windows. With the help of such operating systems, you can run different apps and perform different functions just like Android devices.
In the coming parts of this article, we will list some of the 100% free best Android OS for Windows for you. These OSs are safe as well as easy to use and set up. With these tools, you can make the whole process you can make your devices fun. Install any of these tools and run different apps on Windows just like Android.
7 Best Android OS for Windows 10 and Older Version [100% Working]
Let's have a look at the top-rated best Android OS for Windows PC that can help you in running and installing different Android apps and games on the system. This list contains both bootable OS and Android emulators for you.
1. Prime OS
The first name on our list of the safe and best Android OS for Windows is the Prime OS. Although, the Prime OS is a new introduction to the tech old, still is better than all other similar tools. Just like any Android smartphone, Prime oS provides complete access to different applications. Below are some features of the software.
Features of PrimeOS
As PC has more features, you can play high-end games easily.
You can add home screen widgets and do a lot more with PrimeOS for Windows.
The software has combined features of Android OS as well as Windows.
As the tool is cross-platform, you can install it on Windows and Mac.
You can map different keystrokes with the games for ease of playing.
The software is quite fast and reliable as compared with other similar tools.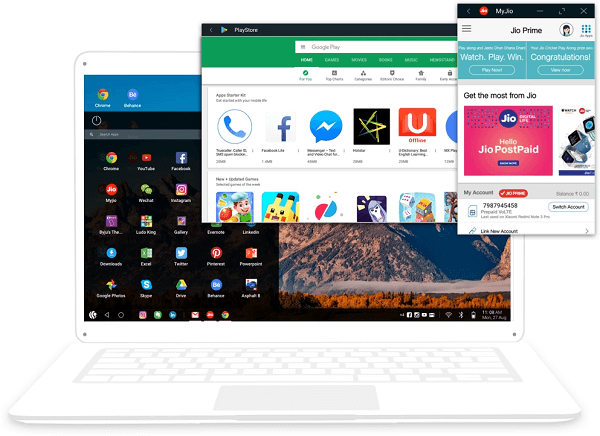 2. BlueStacks
If you want an Android app and game emulator for PC, then we recommend the BlueStacks software. BlueStacks is one of the best and most popular emulators that allow you to play Android games on Windows PC in optimal graphics. Let's have a look at the features of this high-end best Android OS for gaming on Windows PC for insight:
Features of Bluestacks
The software allows you to map keys to the games as per your preferences.
You can play multiple games and handle multiple profiles with BlueStacks.
One of the best features of the tool is that you can record the gameplay.
If you want, you can also use the gamepad to play.
The software is lightweight and does not take up much RAM to run.
You can also change the language of the games as per your needs.
The shooting mode of Bluestacks provides the best gaming experience on shooting games.
You can script and run different repetitive tasks with BlueStacks.
The FPS rate of the graphics in the tool is one of the best and higher than ever.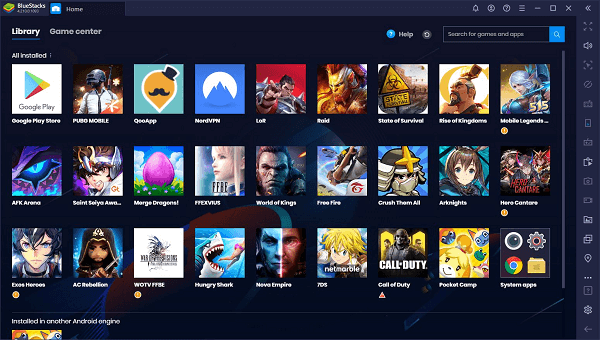 3. Android-x86
The next reliable best Android OS for Windows is Android-x86. Android-x86 is a lightweight, easy to use, OS for your PC that can run different apps on your device. As the software is open-sourced, you can edit its specifications as you want. Here are some of the most attractive features of Android-x86.
Features of Android-x86
The software allows you to connect to Wifi and Bluetooth.
Android-x86 has a better disk installer as compared to any other software.
On Laptops, the software shows the battery percentage at all times.
For a better user experience, the tool suspends other unnecessary programs.
You can use the mouse cursor and wheel to perform different functions.
The tool allows you to use the keyboard just as you want.
Android-x86 is a great tool based on Lineage OS to provide the best results.
You can even multitask and run multiple apps with Android-x86.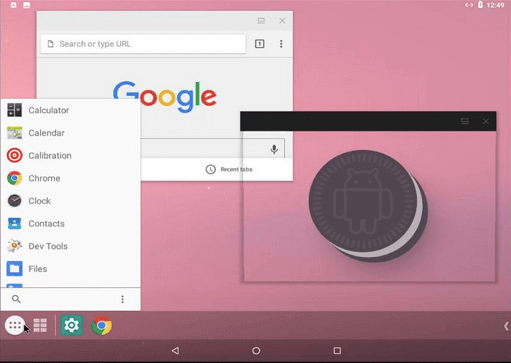 4. PhoenixOS
PhoenixOS is a great tool that brings the joy of gaming and apps from Android to your PC. the software actively supports popular games like PUBG, Call of Duty, Contra,  and a lot more. Just like any other effective tool, PhenixOS allows you to map the keys of the keyboard as you want. The software offers a lot of different features that make it the fully secure best Android OS for low-end Windows PCs to download.
Features of PheonixOS:
With PhoenixOS, you can play games, as well as install social media and chatting apps too.
The software supports ethernet and Wifi connections to run different applications.
You can use the keyboard shortcuts to perform different functions.
If your PC has multiple users, you can clone apps for every user as well.
Just like any Windows software, you can minimize and resize the PhoenixOS.
The software has an integrated notification center so that you never miss a notification even while playing.
The universal search function allows you to search for desired apps and games easily.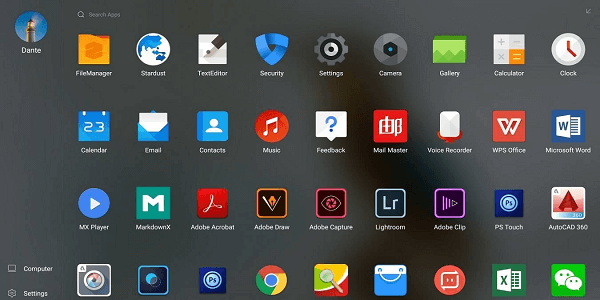 5. BlissOS
Looks matter a lot and we think that the same was the motto of BlissOS. The tool has the best UI graphics you will ever see. The software allows full control over the design with multiple customization options for all. This is the most compatible and best Android OS for multiplayer gaming on Windows PC with added security and privacy options. Let's go through the features of BlissOS for more.
Features of BlissOS
Unlike other similar tools, BlissOS does not take extra battery power.
You can change the layout of the software according to big and small screens.
BlissOS provides a great speed with an even greater app and game stability.
The software allows you to select between tablet and PC modes as you need.
BlissOS is open-source which means that you can edit the properties and coding of the tool.
You can download and install this cross-platformed app on multiple devices.
The tool allows you to map and use a gamepad for games and more.
BlissOS supports devices with at least x86 and ARM.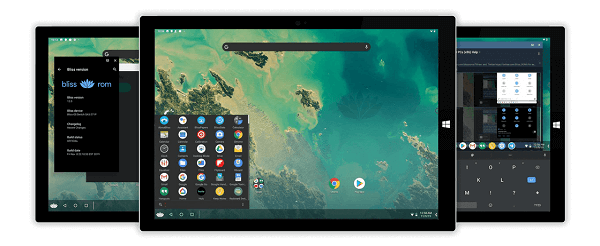 6. ChromeOS
If you own a Chromebook and want to run multiple Android apps on it, you can trust ChromeOS for the same. The OS is developed by Mircosoft and hence, is 100% reliable. The Microsoft ChromeOS is quite fast yet very simple to use for beginners and pros. Let's dive into the features of this attractive and best Android OS for Windows.
Features of ChromeOS
The OS has an Everything button that allows you to find apps, games, files, and more easily.
As the OS is super light in weight, it does not take up an extra battery charge.
The OS allows you to access files and data even when you are offline.
With every startup, the ChromeOS launches a verified boot to check the device for malware.
You can install as many apps you want and use them just like an Android device.
With the built-in virus protection firewall, you don't need to worry about virus attacks.
The developers of the OS provide regular updates for the apps as well as the OS build.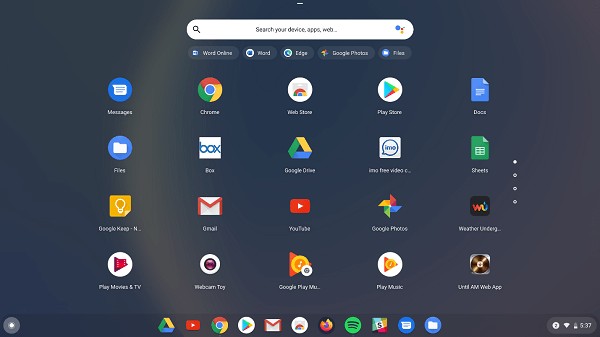 7. GenyMotion
GenyMotion is another great emulator and the powerful best Android OS for Windows PC. What makes the software different is that you can add as many apps as you want with GenyMotion. Here are some of the best features of the emulator that will attract you the most.
Features of GenyMotion
Whether it's social media, chatting, games, or any other types of applications, GenyMotion supports all.
The app is so perfect that it does not require any maintenance.
You do not have to worry about security as it protects your data from third parties.
The software is available under four variants viz. Free, premium, cloud, and on-demand.
GenyMotion uses less amount of RAM storage as compared to other tools.
You can change and configure the GenyMotion emulator as you want.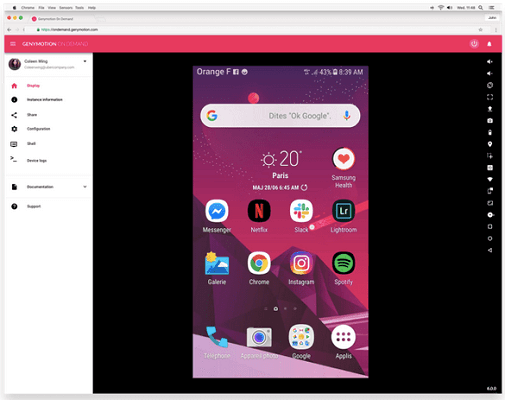 Concluding Notes on the Intelligent Best Android OS for Windows
After extensive research, we found and listed 7 different products that are the highly recommended and best Android OS for Windows 10, 8, and 7 PC. with the help of these tools, you can download and install Android apps and games on your computer and have fun just like a smartphone.
If your main focus is on playing Android games on PC, we recommend the BlueStacks and GenyMotion tools. For apps and games, you can download any of the rest. These tools do not take much space on your computer yet work as an OS effectively.
Some of these detailed best Android OS for low-end Windows PC provide ISO images for their products as well. You should run these images and boot your device to run it like an Android smartphone permanently.
If you have any doubts related to the article, you can ask them in the comment section below. Do subscribe to the Innovana Thinklabs Blog and stay connected for the latest blogs, tutorials, and a lot more.
Subscribe to Our Newsletter
Keep yourself updated with the latest technology and trends with Innovana Thinklabs Limited.