Best animated video maker is all you need to visualize your story & ideas. Here we have come up with a list of some best paid & free animated video maker tools that you can use to create 2D/3D cartoons, infographics, or explainers. Read on to know more
We can convey our thoughts and ideas to others pretty easily with the help of animated videos. Several studies have shown that individuals prefer animations over text & audio to understand something. Hence, in this digital age, if you want to share something with your audience, then it's better to do it with intuitive animated videos. And to make them, you require the best animated video maker. With the help of these programs, one can easily visualize his/her story & ideas.
However, not everyone is a pro animator. Hence, going for a costly paid cartoon or animation video maker program is not a good option for beginners. But, there are also several free animated video makers available in the market that amateurs and learners can use to learn to create the 2D or 3D animations. In this post, we have brought both paid & free animation maker tools. So, without much delay, let's check out the animated movie maker tools programs that we have hand-picked for you.
Top 10 Free/Paid Animated Video Maker Tools Available In 2021
Below we have described some of the best paid & free animated video maker tools. You must have a look at them if you are looking for some software to create cartoons, infographics, explainers, or other animated videos.
1. AnimationStudio
Compatibility: Windows | macOS
Developer: Bravinn Technologies
Available Languages: 25
Price: $47
Free Trial: No
The first name on our list of some best animated video maker programs for Mac & Windows PC is AnimationStudio. The reason for listing this tool on the top is it's extremely simple functionality. Even a beginner can use it to create some exceptional & best explainer videos. It offers plenty of ready-made video templates that you can use to create marketing animated videos for any niche. This explainer video maker can do a lot of other things as well. Here are the other salient features of AnimationStudio.
Features:
For the animators who prefer to create animations from scratch, AnimationStudio offers an open canvas along with multiple useful props, themes, characters, and many more inbuilt assets.
You get the advanced Text-To-Speech feature to create accurate voiceovers as per your video's script.
AnimationStudio also helps in creating quick animated videos with the help of its pre-built templates. You can make explainers, marketing videos, or animated movies of any other niche using the ready-made templates of this best animated movie maker.
It also offers one-click translation and provides support for 25 different languages.
Users can also claim a refund within 30 days after purchasing this animation software as it provides a 30-days money-back guarantee.
You can create voiceovers targeting your audience as the tool offers 50+ male & female voices that too in multiple accents.
2. Powtoon
Compatibility: Windows | MacOS (Browser Based Software)
Developer: Powtoon Ltd.
Available Languages: 9+
Price: $19 (Pro Plan) | $59 (Pro+ Plan) | $99 (Agency Plan)
Free Trial: Yes
Here we have one of the most popular software for animated video production. Powtoon is a browser-based animation tool equipped with a hefty of features. One of the things that make this free animated video maker stand out from the other alternatives is its user-friendly interface. Along with being a beginner-friendly tool, Powtoon offers several advanced features as well, including a vast template library. Here we have discussed all the prominent functions of this web-based software that make it one of the best programs to create animated videos.
Features:
It provides royalty-free objects that you can use in your movies, infographics, explainers, & other animation videos and make them more expressive.
You can also export your infographics and other animated creations using this infographic video maker to YouTube, Facebook, Vimeo, or even PDF format.
Powtoon provides customized styles and themes for explainers, infographics, marketing videos, or any other type of video. Hence, it's easier for beginners to create an animated movie on any niche using this best video animation software.
New users also get guidance on how to use the program correctly.
It even gives the option to select from different aspect ratios.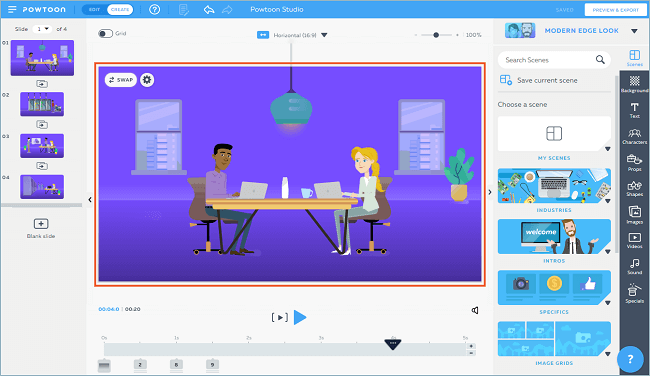 Also Read: Top 10 Best Powtoon Alternatives
3. Pencil2D
Compatibility: Windows | macOS
Developer: Patrick Corrieri, Pascal Naidon, & Matthew Chang
Available Languages: 12+
Price: Free
Pencil2D is one of the best free animated video maker tools that helps its users to create the desired animations, just like one can draw his/her imagination using a pencil. From intros to infographics, you can make a wide range of animations with this free intro maker. Unlike several other names on this list, Pencil2D is an entirely free and pretty flexible & customizable program. Despite being a freeware, this animated intro maker offers a plethora of handy functions. Below we have described the prominent ones.
Features:
One of the most helpful features of Pencil2D is the descriptive tutorials. You can use this animation maker program quietly efficiently, even if you are using it for the first time.
Another commendable trait of this animator software is its ability to switch from vector workflows to raster & vice versa.
It helps you to sketch your animations and ink or paint them as well. So, if you have any unique idea and want to create it from scratch, then Pencil2D is one of the most suitable tools that you can use.
The program is open-source. Hence anyone can personalize it as per their preference.
Some other helpful functions of this best animated video maker is its ability to import pictures & audios, customize export formats & frame rates.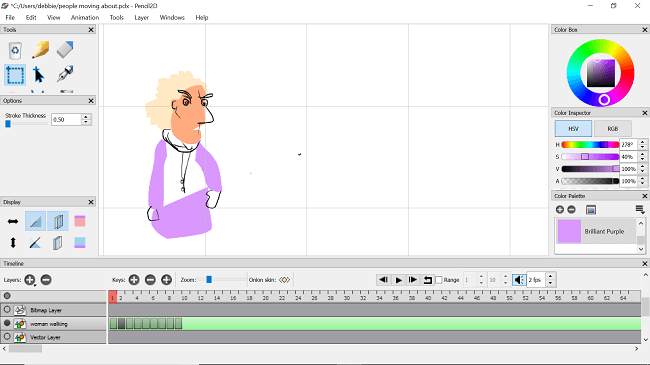 4. Animaker
Compatibility: Windows | macOS (Browser Based Software)
Developer: Animaker
Available Languages: 50+
Price: $10/Month (Basic Plan) | $19/Month (Starter Plan) | $39 (Pro Plan) | Custom Pricing (Enterprise Plan)
Free Trial: Yes
Here comes another browser-based animation software on this list of best animated movie maker tools. Animaker is all that its name suggests. It helps you to make shape your creativity via animations. And for this, the program offers plenty of tools to its users, including inbuilt graphics and other pre-animated objects. Not just this, you can also create fresh animations from scratch. It also offers layouts for horizontal and vertical videos. Below are some other praiseworthy highlights of this animated movie maker.
Features:
You can create your animated characters using the character builder tool of this program. It offers 15 unique facial features that can help you to build several animated characters.
Along with building characters, you can also make them talk automatically. Animaker comes with an auto-lip sync feature that allows you to synchronize voice-overs automatically with the character you have created.
You can also add movement to your animation pretty easily using the smart move tool of this best animation software.
It even helps in live video editing allowing you to edit, select and upload videos at the same time and in one place.
Another major advantage of using Animaker is that it comes with more than 100 Million stock assets and hundreds of royalty-free music & audio clips.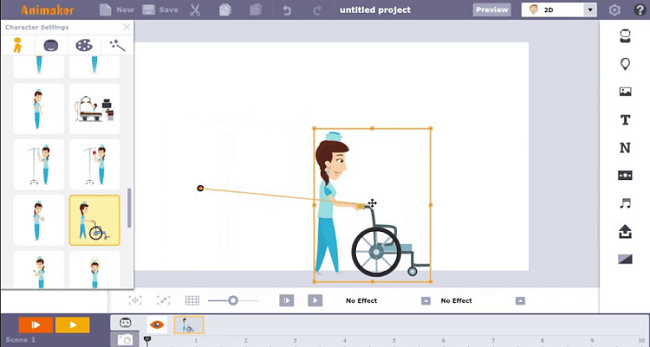 Also Read: Best Video Editing Apps for YouTubers
5. Blender
Compatibility: Windows | macOS | Linux
Developer: Blender Foundation
Available Languages: 5+
Price: Free
If you are in search of an advanced free 3D animated video maker, then Blender is one of the best options for you. It is a free tool that you can use to create some pro-level animations. Along with being free, the software is also open-source. Hence, you can make customizations to it as per your requirements. Blender offers multiple video editing and animation features, including simulation, motion tracking, 2D animation pipeline, and rigging that you can use to create great explainers, intros, and other videos. Now, let's discuss the prominent features of this free software to make some unique animated video explainers.
Features:
You can edit the animation models with curves, sculpting, retopology, and other modeling functions of this free animation maker.
It also helps its users in rendering the video with its several render engines, including Cycles, which is a ray-trace-based production render engine, and FreeStyle, which is an edge and line-based non-photorealistic rendering engine.
Blender also features multiple character animation tools such as non-linear animation and IK forward & inverse kinematics. Using these tools, one can efficiently create 2D and 3D animated videos.
It even allows its users to draw 3D art and then merge it with the 2D art.
You can also use Blender for post-production as it offers several VFX features, including masking, motion tracking, etc.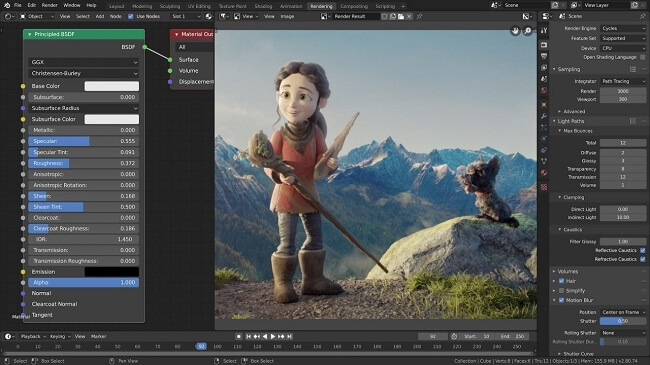 6. OpenToonz
Compatibility: Windows | macOS | Linux
Developer: Dwango
Available Languages: 8+
Price: Free
Are you are 2D animator and want competent software to create cartoons and other 2D animations? You should check this one of the best cartoon video maker tool. OpenToonz is a free and open-source program that helps its users in making some great anime content. However, despite being free, it has a lot to offer to the animators and hence one should not underestimate this program. Below we have discussed some of the features of OpenToonz that users find quite helpful.
Features:
You get more than 100 animation effects in this free animated video maker tool. Hence, it is pretty easy to spicy up your videos with OpenToonz. All you have to do is to use a suitable effect such as masks, blurs, wraps, etc.
It also provides several digital drawing options, including the bitmap & vector drawing tools.
This animation app also comes with functions to do frame-by-frame animation and even offers a personalizable onionskin.
You can also insert rain, dust, or various other particle effects to your video with OpenToonz's particle systems.
The program also helps in merging the animations with video clips. It comes with several motion tracking options that help you in doing so.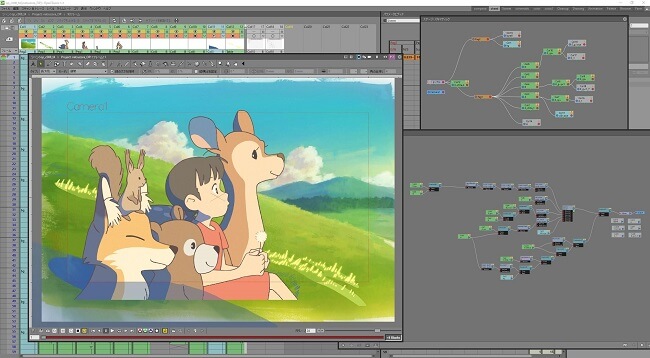 7. Stykz
Compatibility: Windows | macOS | Linux
Developer: Sons of Thunder Software
Price: Free
Some of you may just want a software that can help you in creating some basic 2D stick animations. If you are also one of them, then you should try Stykz. It is one of the best animated video maker software to create evergreen stick animations. And as one cannot use it for advanced animation purposes, hence it offers pretty simple functionality. Stykz is one of the simplest software to create stick animated video. Here we have discussed some of the highlights of this free animation maker that are quite praiseworthy.
Features:
Stykz is one of the most compact animation tool that offers onionskin features. Hence, despite being a program to create some basic stick animations, it helps its users to tweak every frame of an animated video.
It is also an open-source tool. Hence, just like any other open-source program, it also allows you to personalize its functions and interface.
You can also preview your creation while editing, or we can say developing it on this best stick cartoon video maker.
Along with creating stick figures, Stykz also allows you to manipulate them. You can rotate them, flip them, or also align them as per your wish.
After creating a figure, you can even save it to your library and reuse it in other creations without much effort.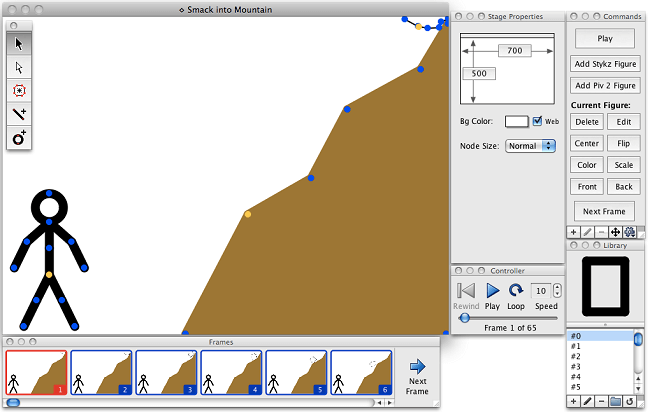 Also Read: 5 Best Free Screen Capturing Software for Windows 10, 8, 7
8. Synfig Studio
Compatibility: Windows | macOS | Linux
Developer: Robert Quattlebaum
Available Languages: 26+
Price: Free
Synfig Studio is free yet comprehensive video editing and animation software for both Windows, Mac, and Linux computers. And unlike Stykz, which is also a free animated video maker, this program offers plenty of advanced features. It allows you to make timeline animations based on vector graphics. You can create some best animated video explainers using this 2D animation program. Synfig Studio helps its users in several ways. Below we have discussed the prominent things that it offers and can help you to create great animations.
Features:
You can do vector tweening and change the shape of a vector into another one. Not just it allows the vector tweening but also helps its users to command all the vector artwork that you have created.
It only requires you to configure the key positions of your vector artwork, and after that, it calculates the in-between frames automatically.
You get almost or more than 50 different layers that you can use to make your artwork and animate videos no matter how complex it is. All you have to do is to set the filters, transformations, geometry, distortions, and a few other things to create some unique & great artwork.
The program also helps in selecting or cropping animation objects of bitmap images.
It even allows you to create some futuristic animation characters quite easily using mathematical expressions and linking the multiple layer parameters.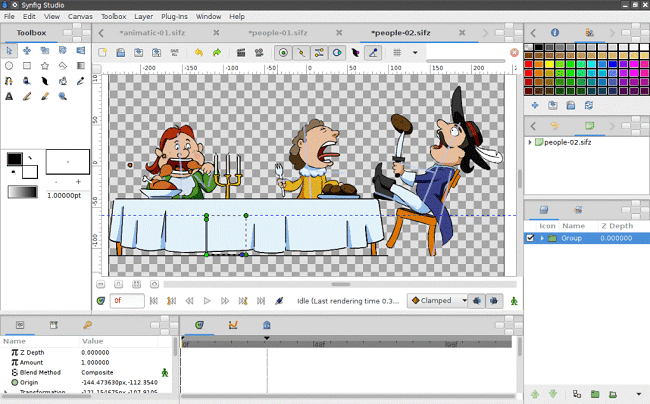 9. Autodesk Maya
Compatibility: Windows | macOS | Linux
Developer:  Autodesk
Available Languages: 3
Price: $205/Month | $1,620/Year | $4,375 (For 3 Years)
Free Trial: Yes
Now, let's discuss one of the professional tools to animate videos on Windows, Mac, or Linux PC. Animators use it as a competent counterpart for the Adobe video editing and animation programs. It offers a plethora of options that can help the users to create some professional & quality animated videos. This program has contributed to the post-production of lots of big movies and web shows. Hence, it is a must to discuss it while talking about some best animated video maker tools. Here we have described some of its highly commendable functions.
Features:
It is not like any random animation tool. It comes with multiple dynamics effect features that help the animators to create some vivid & realistic graphics.
Along with this, the software also helps in shading scenes. You can use vast libraries of the program and perform boolean on the polygon geometry of your animated video.
The functionality of Autodesk Maya is not just limited to animation or video editing. It also helps its users to perform the motion graphics work. For example, you can easily create animated logos, marketing videos, textual explainers using this comprehensive animation software.
You can even enhance the streaming speed of a video using this program.
Another helpful thing that this tool offers is that it lets its users to create any complex animation figure in quite less time as compared to other counterparts.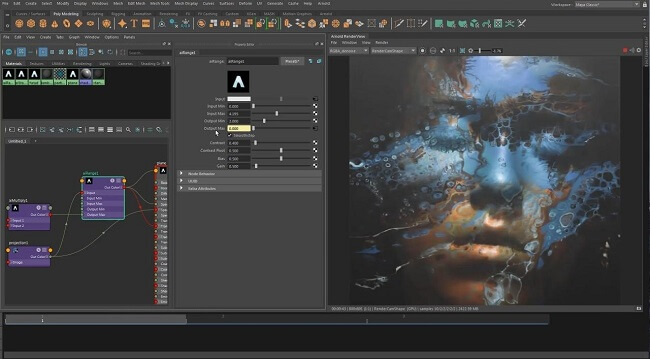 10. Aurora 3D Animation Maker
Compatibility: Windows | macOS
Developer:  Aurora3D Software
Available Languages: 9+
Price: $69.95
Free Trial: Yes
Aurora 3D Animation Maker is the last name on our list of some best animated movie maker tools for Windows PCs & Mac available in 2021. And it deserves to get featured in the list. The software offers a multitude of video editing and animation tools that can boost the quality of your video content, whether it is a marketing video, intro, explainer, or infographic as well. One can efficiently use this infographic video maker to create informational yet amazing and exciting infographics. Below we have provided a short description of most of the salient features of Aurora 3D Animation Maker.
Features:
What makes Aurora 3D Animation Maker different from its counterparts is its key-frame animation. One can easily configure all the elements of the created animation, such as playback speed, range, etc., with one timeline.
It also offers a 3D manipulator tool, which helps you to manipulate the video objects such as texts, images, etc. You only have to drag the 3D manipulator tool button to the right-bottom side of the object that you want to manipulate.
Users of the Aurora 3D Animation Maker program even get multiple helpful templates for 3D titles & logos that help them to design creative 3D animated titles.
Along with the templates, you also get a collection of graphics and animation objects. The video animation tool offers a graphic library that has thousands of objects.
You can even make configurations to the background of your movies and videos using this program. It provides support for vibrant & dynamic backgrounds.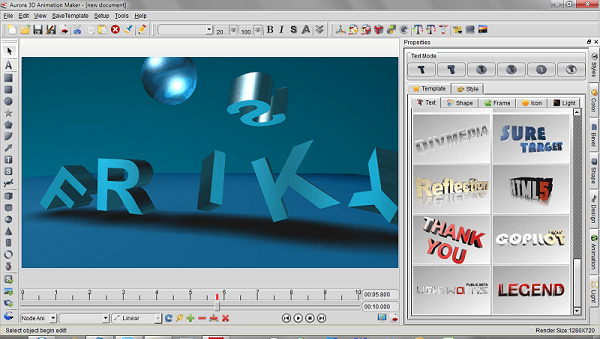 Final Words For The Best Animated Video Maker (Free/Paid)
Now, as we have discussed all the best animated video maker tools available for Mac & Windows PC in 2021, hence we would like to conclude the post. Every animator requires suitable software to create some great animated videos and other graphics. However, while selecting one, he/she should consider his/her skill level, requirements, and system hardware & configurations. And depending on all these factors, one should decide whether he requires a free animated video maker program or an expensive & advanced software. We hope that the above list has helped you in making the correct decision.
That was all for the day. Now, if you have enjoyed reading the post or have some thoughts to share on it, then you can use the below comments section. And if you want more such software lists, then subscribe to the Innovana blog.
Subscribe to Our Newsletter
Keep yourself updated with the latest technology and trends with Innovana Thinklabs Limited.