Despite being so powerful, gaming PCs require some special care. Read this to provide that special care to your PC with some of the best antivirus for gaming PC.
Playing video games is not the same as it used to be a couple of decades ago. At that time, people only used to play video games to pass their time or for entertainment. Now, it has an entirely different meaning. People have even started becoming professional gamers. It has become a whole new profession. After observing this trend, PC manufacturers have started making PCs solely dedicated to gaming. These PCs or we can say Gaming PCs offer quite heavy configurations. However, you require some best antivirus for gaming PC to maintain its performance. Here in this write-up, we have mentioned a list of antivirus software designed specifically for the gamers and their PCs.
So, without any further addition, let's check some of the best antivirus software for gamers. All these antivirus software assures to enhance the performance of your gaming PC.
How we Picked the Best Antivirus for Gaming PC in 2020
Before proceeding to some best gaming PC antivirus, we would like to tell you that we have hand-picked all of them. We have tried numerous antiviruses on a gaming PC. And here are the ones that qualified as the best antivirus for gaming PC.
1. Bitdefender Total Security (Best antivirus software for multiple gaming PCs)
Bitdefender Total Security is a robust antivirus software of Windows PCs. You can even use this best antivirus for gaming laptops and PCs on your multiple devices. Let's discuss some more features of Bitdefender Total Security that makes it so popular among the gamers.
Features:
This best antivirus software for gaming PC is also compatible with many other platforms including, Android, iOS, Mac, etc.
The database is quite vast as compared to other antivirus software.
It offers quite diversified ransomware protection.
Bitdefender also offers a feature to detect and update outdated software and Windows.
The software also comes with an Autopilot mode. Hence, you do not need to do much after installing it.
Along with the features, we should also consider the notable pros and cons of Bitdefender Total Security before installing it.
Pros:
Enhances the battery life of your gaming laptop.
Lets you browse the web without being traced.
Quite affordable as compared to other premium antivirus programs.
Cons:
Do not provide many features in the free version.
Lacks many advanced features.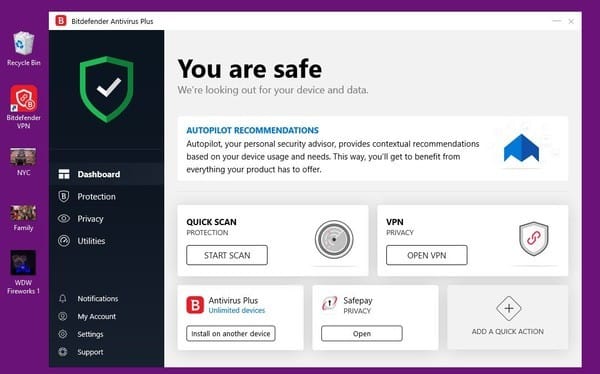 2. Kaspersky Anti-virus 2020 (Fully featured antivirus for gaming PCs)
Kaspersky Anti-virus 2020 is a feature-packed anti-malware software for Windows. The software is quite big and multidimensional. Hence it is best for heavy configuration PCs such as gaming PCs. Let's have a look at the features of this best antivirus for gaming performance.
Features:
Kaspersky Anti-virus 2020 accompanies an effective Firewall.
Not just for gamers, it is beneficial for parents as well. You can get a parental control feature in this best antivirus for gaming PC.
You can keep your privacy safe with its multiple features such as VPN changer, Dark Web detector, etc.
It also lets you optimize your PC. Hence, you can easily enhance the gaming performance of your device with this antivirus.
We always look for the positive and negative sides of a product before using it. Hence, let's check the pros and cons of Kaspersky Anti-virus 2020 as well.
Pros:
It allows you to choose from a lot of features.
Provides advanced malware protection.
Cons:
Relatively expensive as compared to other alternatives.
Occupies RAM space more than most of the other antiviruses.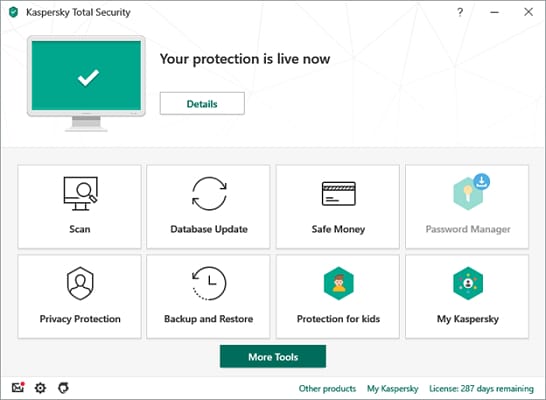 3. McAfee Gamer Security (Most economical antivirus for gaming PCs)
Here comes a famous name in the security software industry. McAfee is a leading antivirus software company. It also provides an efficient antivirus for gaming PCs. The name of the antivirus is McAfee Gamer Security. Below are the detailed features of this one of the best antivirus options for gamers.
Features:
The antivirus software is solely dedicated to gaming and offers a separate game booster.
The software can efficiently deal with any kind of disturbances and issues that can hinder your gaming experience.
It mutes all the notifications and streamlines your PC solely for gaming when you play games.
McAfee Gamer Security allows you to keep a realtime watchful eye on the performance of your PC.
Along with the features, you must know the positive and negative sides of McAfee Gamer Security. So, here we have mentioned them.
Pros:
Quite pocket-friendly gaming antivirus.
Enhances the gaming performance of the PC for real.
Providing exceptional gaming experience is the first priority.
Cons:
It does not focus much on the security aspect of your PC.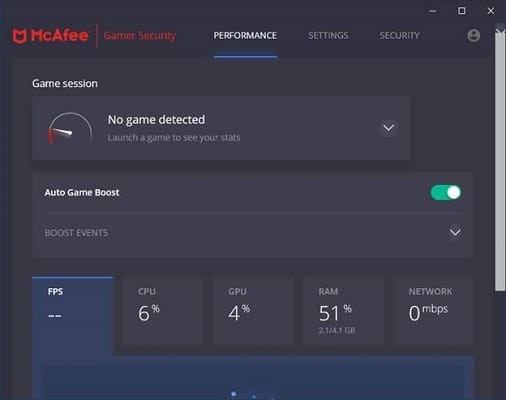 4. Webroot SecureAnywhere (The most compact antivirus for gaming computers)
If you do not want the antivirus to use much RAM on your gaming PC, then you can opt for the Webroot SecureAnywhere antivirus. The antivirus offers quite decent protection and performance optimization features. Here we have listed them below.
Features:
The most prominent feature of Webroot SecureAnywhere is its minimum RAM utilization.
It comes with a system optimizer.
The software also provides your system with the webcam protection so that hackers can not hack your webcam.
The antivirus even provides network protection feature to safeguard your PC.
We have also examined the pros and cons of Webroot SecureAnywhere. You can find them below.
Pros:
It has a cloud-based database. Hence, the software gets regularly updated when you stay online.
Webroot SecureAnywhere does not hamper your system performance. It even enhances the performance of your PC unline many other antivirus software.
You have to pay less for this software as compared to its substitutes.
Cons:
It does not have a powerful security system.
You have to stay online as it works on a cloud-based database. Hence, if you are looking to download the best free offline antivirus for PC, then we recommend you to avoid it.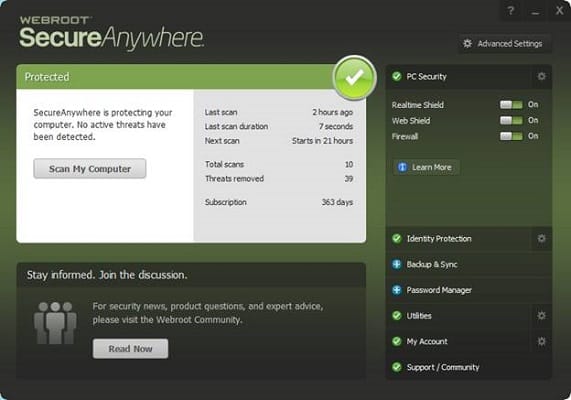 5. Avira Free Antivirus (Best free antivirus for gaming PC)
Avra Free Antivirus is another anti-malware software that we consider as one of the best antivirus for gaming PC. As the name suggests the software is free to use and offers some great features. Below are some salient features of Avira Free Antivirus.
Features:
The software offers a lot of customizable features. You can set most of the features as per your requirements.
You can decide which type of scan you want to run on your PC using Avira. It offers a couple of scanning options.
It can detect and remove the potentially unwanted programs installed on your PC.
You can be anonymous on the web using the browser tracking blocker feature of this antivirus software.
Here are some of the pros and cons of the software that we have observed while using it on our PC.
Pros:
One of the best advantages of Avira is that it is entirely free and offers quite decent functionality.
The antivirus software is compact hence do not hinder your PCs performance.
If you are online, then it offers real-time updates and malware protection.
Cons:
It is not as powerful as compared to other options mentioned on this list.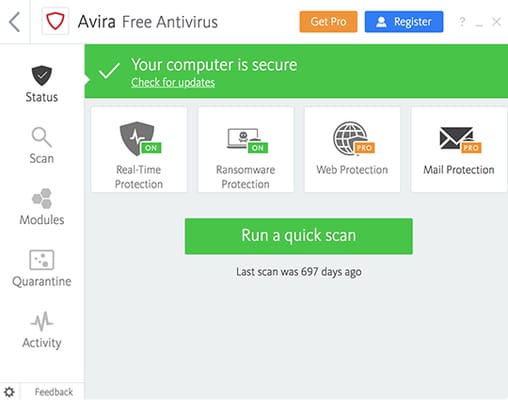 So, these are some best antivirus for gaming PC with their detailed analysis. So before selecting an antivirus for your PC, consider all the points that we have mentioned. We hope that the above guide has helped you to select an appropriate antivirus for your gaming PC. Each of the above-mentioned antiviruses is capable enough to enhance your PCs gaming performance along with providing the necessary security.
Let us know if you want us to include any other software to the list of some best antiviruses to enhance the gaming performance.
Subscribe to Our Newsletter
Keep yourself updated with the latest technology and trends with Innovana Thinklabs Limited.