Memories are an eternal part of everyone's life as it has related to sometimes beautiful and sometimes saddest incidents. We always want to keep those memories with us forever. However, there are some memories which are very dear to us, we don't want to share it with all. We just want to keep them a big mystery. And now you can hide your secrets with the use of tech. Are you looking for an app that hides your secret pictures, videos, calls, and messages? Then, this write-up is for you, in this, we've collected some top-notch and best apps to hide photos and videos. There are so many apps available to hide photos and videos and also keeps them safe to no limit. Let's take a dive into the vast ocean of software.
Top 5 Best App to Hide Photos and Videos on Android/iPhone
In this write-up, we've gathered TOP-5 fantastic and best app to hide pictures and videos on android/iPhone. All these apps are highly-standardized and well-designed and keep your secrets always a mystery. Also, it provides limitless security to your hidden photos and videos so no one can chase them.
1. Hide Photos, Video and App Lock- Hide it Pro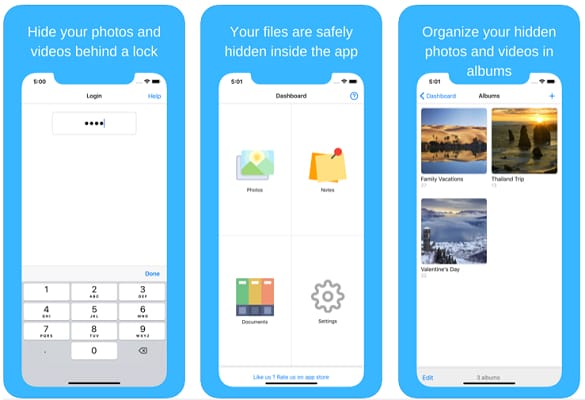 The most desirable app to hide private photos and videos on android & iPhone is – Hide Photos, Videos and App Lock- Hide it Pro. Hide your private, personal pictures and videos from your picture gallery with a secret PIN, Password, Fingerprint. This app appears as Audio Manager in your App Box rather than Hide it Pro. With this app, you can also hide your calls, messages, and apps. This app is also accessible for creating app lock to your apps via PIN, Fingerprint and passwords. By installing Hide it Pro app you can share your phone without bothering about your privacy.
Features-
It also offers free cloud backup of your files.
No one can track you as it automatically vanished from your recent apps list.
Its in-built encryption tools protect your files.
Set lock in different forms- PIN, Fingerprint, Password.
 Also Read: 15 Best Free Movie Apps For Android and iOS (Legal Authorized)
---
2. LockMyPix Secret Photo Vault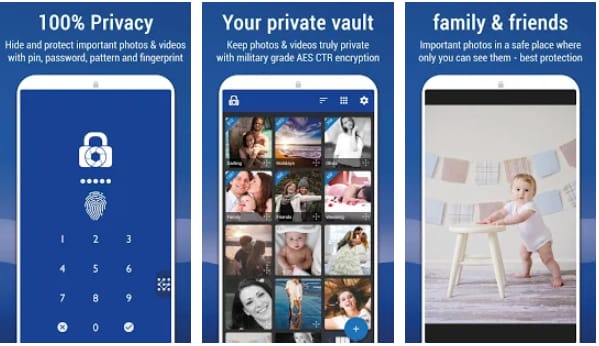 Push your photo gallery's limits by hiding your secret photos and videos into a secret vault. Now no one can hinder your privacy because LockMyPix keeps your secrets hidden or locked. With the LockMyPix app, your pictures and videos are not only hidden but also safe with high-security AES Encryption. Just like other apps, LockMyPix has not limited, you can hide unlimited pictures and videos with it. Cheerlessly! LockMyPix is not available for iPhone/ iPad users.
Features-
You will be able to find out who is trying to open your secret lock Vault.
Hide unlimited photos and videos with high security.
You may also create AES encrypted backups of your files.
You may also hide the LockMyPix app icon from your home screen so by this nobody doubts on you.
---
3. Vault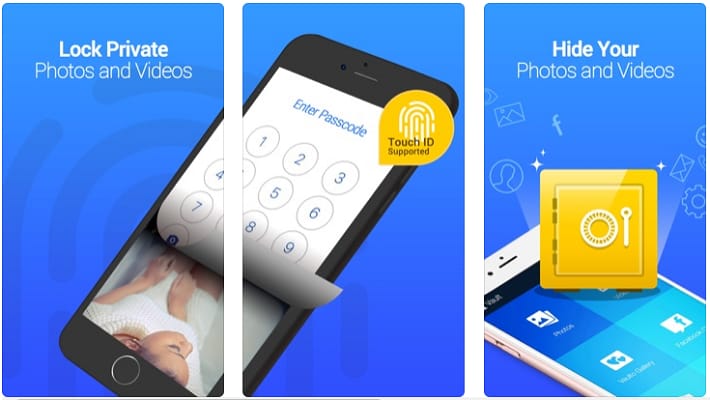 Vault is the best app to hide photos and videos on iPhone/android and keeps all hidden files safe to no end. Presently, Vault is used by more than 100 million users all over the world. Vault has been awarded by a 4.4 average rating, which is appreciatable. By using Vault, you can create backup all your important files on the cloud, so they never get deleted. Vault creates a secure or private universe for your secret photo, videos, audios, calls, and messages. iPhone/iPad users can also set Touch ID to unlock Vault.
Features
Apart from hiding your photos videos, calls, Vault also allows you to lock your apps with PIN, Password, and Fingerprint so there would be no chances of secret leaks.
You can also set a password recovery option as email, name or anything by which if you have a problem remembering the password you can easily track it.

Its private cloud storage feature allows you to transfer your data on your device. Cloud back up feature automatically backed up your files, just turn on auto-renewal feature.

With its private browser, whatever you search or visit on the internet will keep private and secured.
---
4. Gallery Vault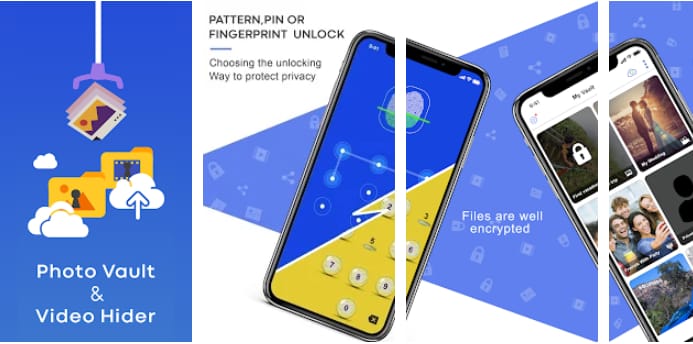 In the growing age of photography, everyone wants to keep their pictures and videos safe from hackers. For hiding your photos and videos Gallery Vault is one of the most convenient and useful apps on this list. Gallery Vault takes responsibility to keep always your photos and videos a big secret.  You can keep your pictures and videos from the Gallery to the cloud. You can set a PIN, password, and fingerprint to hide your photos and videos. Gallery Vault also allows you to lock your apps via a digital protection password.
Features-
Manage your important document with Gallery Vault.
Set multiple passwords for your Gallery Vault and keep hidden pictures and videos secure to no end.
Its cloud storage offers up to 17 GB storage, so you can hide unlimited photos and videos.
Create folders and sub-folders to organize your memories as much as possible.
Also Read: How To Download iPhone Apps Not Available in Your Country

---
5. Secret Photo Vault Lock Photos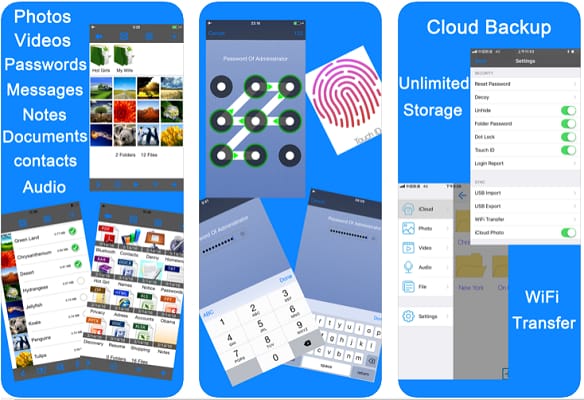 Worried, about the privacy of your secrets now its time to get stress-free as Secret Vault-Hide Photos protects your privacy. It the most notable and best app to hide pictures and videos on iPhone. It is the one for all solution to keeping you safe all time. With this app, you can hide photos, videos, audios, confidential calls, messages and voice recordings, notes and more with a single password. You can manage all folders with one password. It also allows you to set the password as per your requirement i.e., via PIN, text-up passwords, Fingerprint/Touch ID. Sadly, this magical app is not available for android users.
Features-
Create folders and sub-folders and manage them as it gives you various options i.e., cut, copy, paste, rename, delete and search.
You can deal with more than one folder, files, and documents at a time.
Access one password for all accounts.
Supports a vast variety of formats (jpg, png, mov, mp4, mpv, mp3, bmp, tiff and more).
You can view and save files in PDF, text, Excel, PowerPoint ( edited and created).
---
Nowadays snaps and videos have become an imperative part of our day-to-day life. Who doesn't like to click pictures or record videos? I think every individual loves to click snap, there is no issue in clicking pictures and record videos but keep them safe from prying eyes is the most crucial task. But, no worries, by installing the above-referenced apps can hide your pictures and videos in just a few seconds. Above-suggested apps are the best apps to hide pictures and videos on iPhone/android. Now nobody can spoil your privacy, as your secrets are now in safe hands.
Subscribe to Our Newsletter
Keep yourself updated with the latest technology and trends with Innovana Thinklabs Limited.