Auslogics BoostSpeed is a good PC cleaner. However, some of you may want to replace it with some other tool due to its unavoidable cons. Hence, here in this write-up, we have discussed some of the best Auslogics BoostSpeed alternatives available in 2020. Read on to know more.
Are you facing performance issues on your PC? If yes, then you might be thinking that it is because of your limited storage and system resources. And this is where you went wrong. It's not always about the system resources or your PC storage. Constantly accumulating junk, corrupt registries, and several other factors are also equally responsible for deteriorating performance. Hence, one should always use a decent performance optimizer like Auslogics BoostSpeed. The program helps to maintain the overall speed and functionality of your PC.
However, despite being such a useful tool, Auslogics BoostSpeed possesses some undeniable cons. That's the reason why some of its users are unhappy with the program and continually look for some best Auslogics BoostSpeed alternatives. If you are also one of them, then relax as your search ends here. Today we are going to share and discuss some similar software like Auslogics BoostSpeed with you that can easily replace it. Before that, let's understand the cons of the tool, or we can say the reasons that made you come to this post.
Reasons for Searching the Best Auslogics BoostSpeed Alternatives
Below are the reasons why an Auslogics BoostSpeed user looks for some of its best alternatives.
The program has quite complex functionality. Hence, you have to perform several efforts only to find a particular function or tool in it.
The free version may disappoint you as it barely offers any basic features as well.
Another irritating and annoying thing about Auslogics BoostSpeed is that it opens a different window for all the monitoring tasks.
The users face quite difficulty in observing the effectiveness of its functions and tweaks. And when they fail to notice any helpfulness, they seek for some best Auslogics BoostSpeed alternatives.
The features are quite less as compared to other available counterparts.
You may also feel that the price is quite more as per the features that the program offers to its users.
After using the tool, you may think that the developers have overestimated the functions of the software.
The user-interface is not for novice users. One must require some time to understand the functions and features of Auslogics BoostSpeed.
You might have also got annoyed with any of the above cons of Auslogics BoostSpeed. Hence, without further delay, let's proceed to the list of software alternatives that we have brought for you.
Best Auslogics BoostSpeed Alternatives for Windows 7, 8, & 10
To ease your search, we have handpicked some of the best  Auslogics BoostSpeed alternatives available in 2021. Below we have described all of them.
1. Iolo System Mechanic
Just like a mechanic fixes the problems of your machines, Iolo System Mechanic repairs your system performance. It helps you to resolve all the major system issues, including system crashes, sluggish performance, etc. The program can also optimize and boost the functionality speed of your PC in no time. Along with all this, below are some other things about the Iolo System Mechanic program that make it one of the best Auslogics BoostSpeed alternatives.
Prominent Features of Iolo System Mechanic
The software has a dedicated function to remove bloatware from Windows PCs.
Along with the performance of your system, you can also boost the internet connection speed on your system.
The tool offers various internet protection functions as well.
You can also overclock your PC's processor with this best Auslogics BoostSpeed alternative.
One can even clean the data of an entire drive using this similar software like Auslogics BoostSpeed.
Along with cleaning the data, one can also use it to recover the mistakenly deleted data. However, the feature is only available in the paid version of the program.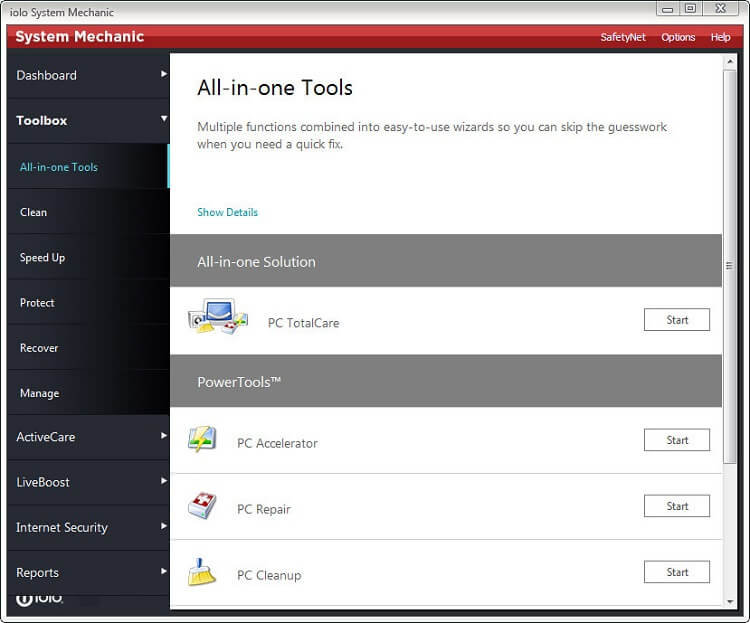 Also Read: 7 Best Iolo System Mechanic Alternatives for Windows 10
2. Piriform CCleaner
This is one of the names that almost all of you have heard for cleaning the system junk. The software is quite famous and old as well. At a time, it was the most used system cleaner and single-handedly dominated the PC optimization industry. It helps its users with lots of useful system optimization functions. Here we have discussed the prominent ones below.
Prominent Features of Piriform CCleaner
The utility helps to stabilize the performance of your system by repairing the corrupt registries and other system settings with its PC stabilizer feature.
It protects your privacy by removing the browsing traces such as browser history and internet cookies. This feature makes it a similar software like Auslogics BoostSpeed.
You can also control and boost the startup or booting process of your Windows computer with the help of its startup program manager feature.
It also takes care of your faulty drivers with its driver updater
Piriform CCleaner comes with an internet speed booster feature as well.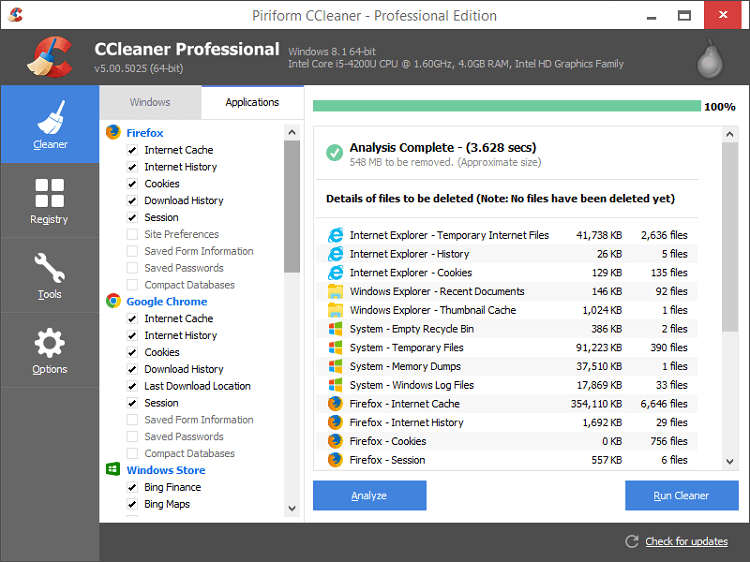 3. AVG PC TuneUp
Here comes another popular Auslogics BoostSpeed alternative on this list. AVG PC TuneUp is quite famous for its name as AVG is one of the leading security software provider. The goodwill of the developers in the PC care domain makes it one of the most trusted system optimizer on this list. However, it's not just about the name. The program indeed offers quite useful features to optimize the computer. Here we described them below.
Prominent Features of AVG PC TuneUp
The junk cleaner feature of the program is quite efficient. It can even remove the application residuals and help you to gain some additional storage space.
It not only boosts the performance of your PC but optimizes other installed software ass well. The tool comes with a software updater to update and enhance the performance of a software.
Not just the updater, but this one of the best Auslogics BoostSpeed alternatives also offer a software uninstaller function to remove the unneeded apps and boost system performance.
You can also enhance the battery life of your Windows laptop with this multi-purpose system optimizer.
It also helps you to disable some specific programs during the startup of your PC and enhances the booting performance of your system.
The program also cleans the invalid registry on your PC and ensures seamless performance.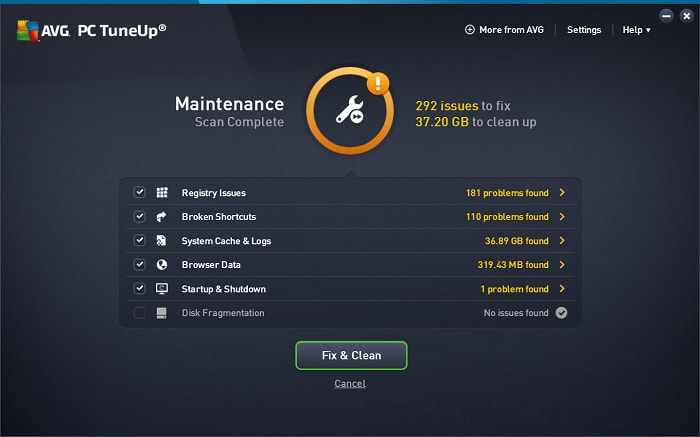 Also Read: 7 Best AVG Tuneup Alternatives for Windows 10, 8, & 7
4. PC Optimizer Pro
Are you looking for a comprehensive solution to speed up your system performance? If yes, then you must keep PC Optimizer Pro in your top picks. The program offers a bunch of helpful and performance-enhancing features, which makes it one of the complete system optimizer. It offers a plethora of advanced features. Below we have elaborated them.
Prominent Features of PC Optimizer Pro
The tool offers a universal fixer function, which includes features like system junk cleaner, internet junk cleaner, registry cleaner, etc. This alone function is equivalent to the overall functionality of a lot of PC optimizer programs.
You can also improve the speed of your internet connectivity with the help of this ultimate system optimizer tool.
It also comes with a built-in uninstaller to remove the unneeded programs accumulating on your system storage and other resources.
You also get a startup process manager feature in this Auslogics BoostSpeed alternative.
The major difference between this similar software like Auslogics BoostSpeed and other PC optimizers is that this program has quite a simple interface.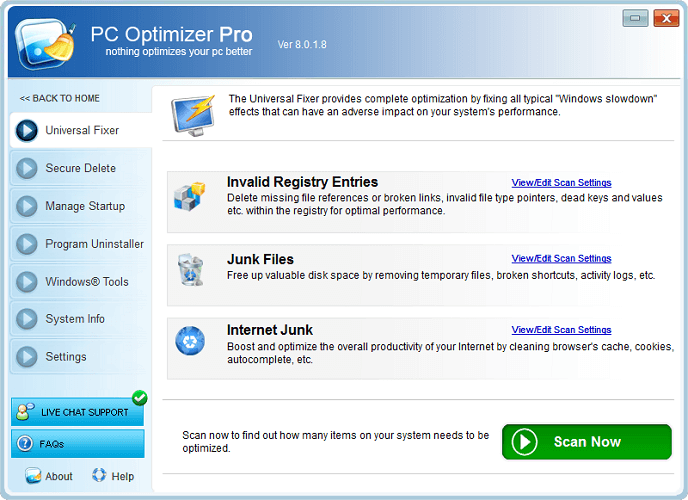 5. Norton Utilities
Another super popular name on this list of the best Auslogics BoostSpeed alternatives is Norton Utilities. Just like AVG, Norton is also a prominent security software provider. Along with the security software, it also offers various PC care programs, and one of them is Norton Utilities. The software provides several features to clean storage and boost the performance of your PC. Here we have elaborated the prominent ones below.
Prominent Features of PC Optimizer Pro
You can easily clean all kinds of junk from your PC with this comprehensive junk remover tool. Hence, it helps you to regain your lost storage and boost the system performance.
It also ensures your data privacy with features like file shredder. You can completely delete your private files without leaving any trace behind using this feature.
Along with deleting the files, you can also recover the lost files as well using this tool. The tool offers a feature to retrieve the mistakenly deleted files and apps on your system.
The tool also boasts a function to detect & remove similar or duplicates files from your system. So, you do not have to waste your time and effort looking for the duplicates. Just use this program and snappily remove duplicate images, videos, and other files.
Norton Utilities provides real-time system optimization by constantly working in the background. Hence, we consider it as one of the best Auslogics BoostSpeed alternatives.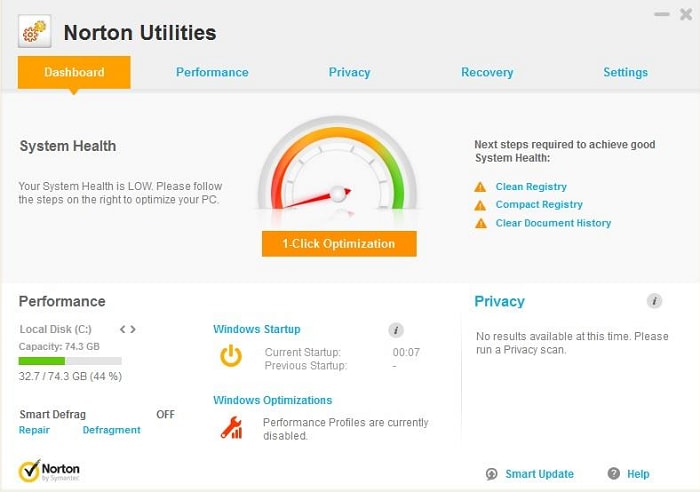 Also Read: 7 Best Norton Utilities Alternative For Windows 10, 8, & 7
Deciding the Best Auslogics BoostSpeed Alternative
All of you have seen the alternatives that we have mentioned here for Auslogics BoostSpeed. Now, you might be wondering which one is best. It depends on several factors like the cons of Auslogics BoostSpeed that annoyed you, features offered by the alternative, and your preferences. Hence, you have to consider all these things before choosing any one of the above mentioned best Auslogics BoostSpeed alternatives.
As per our evaluation and opinion, Iolo System Mechanic is the software that you should consider as the best alternative for Auslogics BoostSpeed. It offers almost everything and that too, with the least cons. Hence, you should give it a priority above all the other options mentioned in this post.
However, if you have some better suggestions, then share it with us and all other readers using the comments section. And do not forget to subscribe to Innovana blogs for more such posts.
Subscribe to Our Newsletter
Keep yourself updated with the latest technology and trends with Innovana Thinklabs Limited.