Instead of ignoring the messages, reply to them automatically using the great auto-reply text apps for Android/iOS. Read this post to know about them.
Sometimes, while composing a post, our loved ones bombard our phones with messages/calls. And, we wonder if there is a way to reply to them without actually replying to them, so they don't feel ignored. Well, these thoughts led us to the best auto-reply text apps for Android.
You can also use the safest text auto-reply apps when your phone buzzes while you are driving or performing any task with utmost concentration. If you are wondering about which app to try, then continue reading this article.
Through this post, we share the best auto-reply app for WhatsApp and other apps on Android/iPhone that we curated after deep research.
Thoroughly Researched List of the Best Auto-Reply Text Apps for Android
Below are the top 10 best auto-reply text apps that you can use on Android/iPhone to reply automatically.
1. Drivemode
You should not drive while talking on the phone. But, sometimes we cannot ignore an important call. In such cases, you can use Drivemode. As it is evident from the app's name, it helps you manage calls and messages while you are engrossed in driving.
With its voice commands and large buttons, you can safely answer calls and messages without taking your attention off the road. There is a lot that this application can do. For instance, it can even let you set up text message auto-replies.
Moreover, you can also ignore calls and messages when you are on a highly congested road with its "Do not disturb" mode. And, if you are a music enthusiast, you can overlay your favorite music app on a navigation app, like Google Maps, with this application.
Drivemode automatically launches or closes with Bluetooth pairing. And, you can also configure the application to open on its own when you start driving. Apart from that, the app also lets you view your driving history and get customized recommendations based on the activities you perform.
To top it all, the simple interface of this application can integrate many navigation, music, messaging, and voice assistant applications.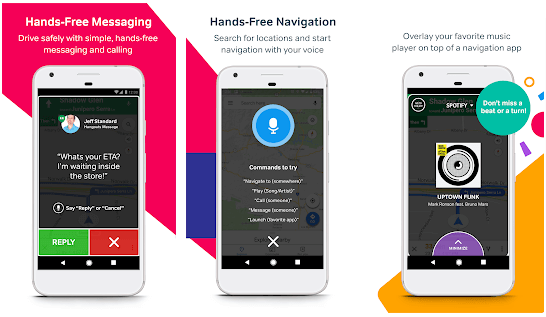 2. Auto Message
As it is evident from the name, with this application, you can send an auto-text reply on Android. In addition to messages, you can also use this app to automatically reply to a missed/rejected call with an automated text message.
However, it is you who drives the automatic messages. You create the text of the message and schedule the time when it should be sent. Furthermore, the application also allows you to send scheduled emails, switch WiFi/volume on or off, and share alarms with family/friends/teammates for group tasks.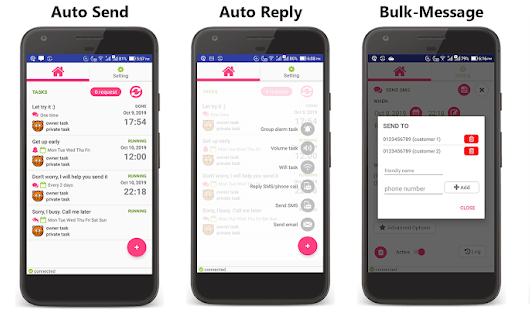 Read More: Best Fake GPS Location Apps For Android
3. Do It Later
You often forget to send important messages when you say "I will do it later" to yourself, right? Well, the same won't happen anymore. With that application, you will actually "Do It Later" as it lets you send messages/emails/chat replies automatically according to a set schedule.
You can schedule the messages on an hourly, daily, weekly, monthly basis, or choose a custom time frame. Furthermore, the scheduled message can be sent to multiple people at the same time.
You can select whom you want to send automatic replies to and define the message with location addresses or the sender's name. Moreover, the app also allows you to set voice reminders for the tasks you wish to remember.
Do It Later has this one unique and interesting feature that allows you to escape from awkward situations. You can simulate a fake call to leave from a place.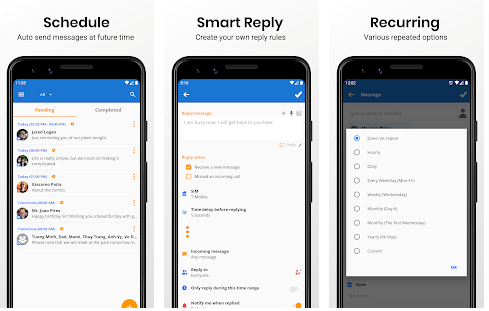 4. SMS Auto Reply Text Messages/ SMS Autoresponder
This application is not just a regular app that responds to text automatically, it is much more than that. With this app, you can set up multiple text auto-replies depending on the activities you perform, like sleeping, driving, etc.
You can respond to a single or group of contacts with personalized messages. You can even add unwanted contacts to the block list to avoid replying to them. Furthermore, instead of plain and boring replies, you can use this app to send pictures, emojis, audio, and your GPS location.
The PRO version of this application allows you to send automatic replies on applications, like WhatsApp, Signal, etc. Further, with its text-to-speech feature, you can read out incoming messages, adjust reading speed, and read without replying.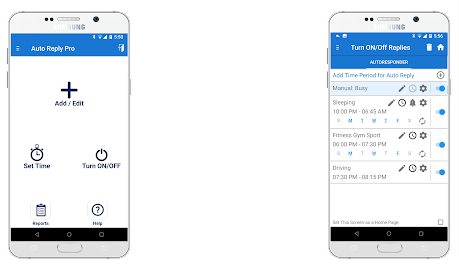 5. AutoSender – Auto Texting SMS via Virtual Number
This application on our list is also among the great auto-reply text apps for Android/iPhone. It provides quite a lot of features to justify its position in this post. For instance, with this app, you can send already-designed eCards or self-design text content automatically/manually.
If you reside in the US or Canada, you can use this application to send messages automatically using a private phone number. Furthermore, the app provides you unlimited cloud storage with no limits on group messaging.
Other top features of this application include the option to send the same message to multiple people according to a set time schedule. If you choose to get the app subscription, it gives you additional benefits, such as permanent cloud storage for sent messages, no credit expiry, etc.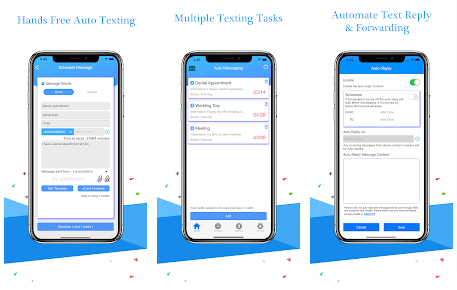 6. IM Auto Reply
With this application, you can send instant replies to messages automatically on almost every chat platform. It supports many social media applications, such as WhatsApp, Facebook Messenger, Telegram to name just a few.
The application makes replying easy with its unique features, such as an option to specify contacts you wish to include/exclude from the recipients. Furthermore, you can send customized messages using this application based on what the sender has sent.
In addition to the features mentioned above, the application also allows you to specify whether you intend to reply to a person once or every time he/she messages you.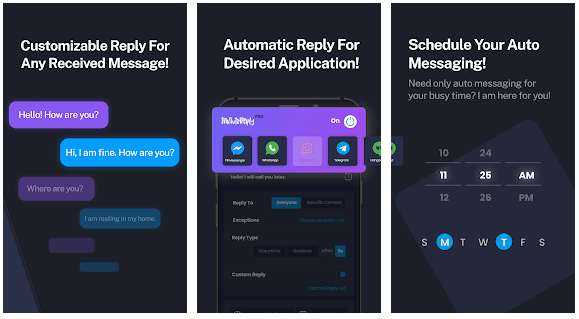 7. WhatsAuto
If you are looking for the best auto-reply text apps specifically for WhatsApp on Android, WhatsAuto can be a perfect choice. The app lets you set up automatic replies with a single touch for various situations.
Along with individual chats, this app allows you to send automatic replies in group chats as well. Apart from this, you can also choose the contacts you want to automatically reply to.
With this application, you can even create your own chatbot and back up bot messages effortlessly to your phone or Google Drive storage. Moreover, the app also allows you to customize the reply time and set a schedule to turn the application on/off automatically.
There is also a driving mode that informs message senders that you cannot attend to their message as you are driving.  Further, you will be glad to know that WhatsAuto supports almost all popular social messaging applications.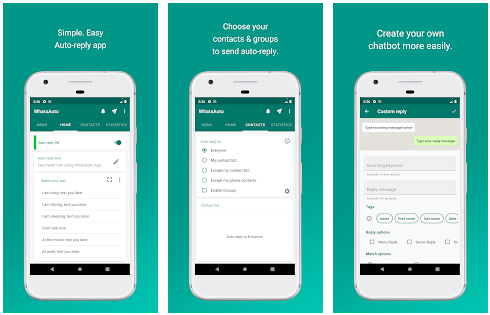 8. AutoResponder for WhatsApp
Here comes another one of the must-have auto-reply text apps for WhatsApp Android. AutoResponder for WhatsApp comes with a variety of features to take care of your WhatsApp or WA Business messages when you are busy.
With this application, you can send customized messages to each individual, react to all messages, and reply to only specific messages. Moreover, you can also set welcome messages for new chats, live answer replacements, and even send multiple replies in one rule.
The application works perfectly with contacts, groups, and unknown numbers. You can also ignore/specify the contacts or groups you wish to reply to automatically. Further, it also allows you to schedule the reply to send it after a delay.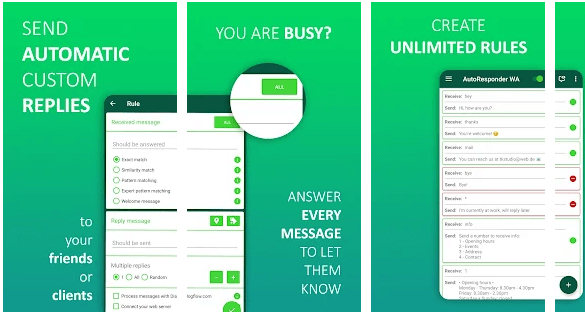 Read More: Best Ad Blocker Apps for Android Phone
9. TextDrive
You should never text and drive. But you can "TextDrive" to ensure your near and dear ones don't feel ignored. It is an application that you can use to automatically respond to messages while driving, sleeping, or performing any other activity.
The features like reading incoming text messages, the option to send customized replies automatically, etc. make it one of the best apps to auto-reply text messages. You can use this app to set presets for various purposes, such as driving, meetings, etc.
Moreover, the application also allows you to read and reply to messages using your voice. Furthermore, you can choose whether you want to reply only to/only not to your contacts.
The premium version of this application offers additional features, like automatic activation via Bluetooth device connection, ad-free experience, and easy app activation/deactivation.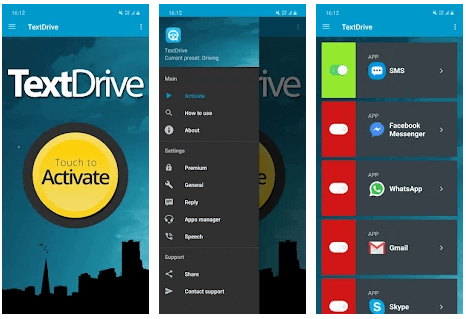 10. Messenger
You may be surprised or shocked to see Messenger on this list, but we have included it for a reason. This one of the most popular messaging applications provides an auto-reply feature that you can use to reply to messages automatically according to a predetermined schedule.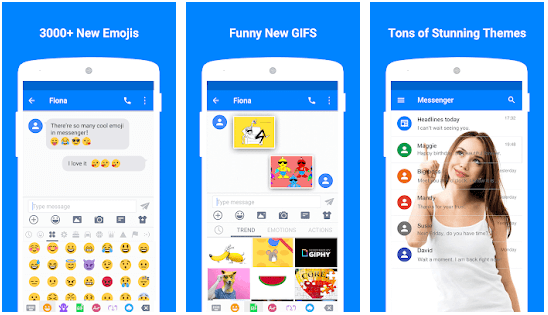 Concluding the Best Auto-Reply Text Apps for Android and iOS
Through this article, we discussed some of the best and safest auto-reply text apps for Android and iPhone. You can pick any of these applications to reply to important messages and calls even when you are busy.
If so many options confuse you, we recommend Drivemode and Do It Later for their features. If you have any other favorites, you can give them a shout-out through the comments section. To get more software and recommendations for Android/iOS, stay tuned to this blog.
Subscribe to Our Newsletter
Keep yourself updated with the latest technology and trends with Innovana Thinklabs Limited.