Nowadays we do not use references and connections to market our business. Business cards are handy tools to share contact details and market our business in the most professional manner. With the help of smart business card scanner apps, we can anytime digitize our business cards or visiting cards.
Moreover, digitized cards can be easily shared with your handheld device. Do you want the best card scanner apps? We have carefully tested many renowned apps and made a curated list of excellent business card scanner apps in 2021.
Top 10 Business Card Scanner Apps in 2021
Physical forms of business cards can be misplaced easily. While digitized visiting cards are more professional and can be shared to anyone just with a single tap. Here is the list of reliable business card reader apps.
1. FlashScan – PDF Scanner, Scan Document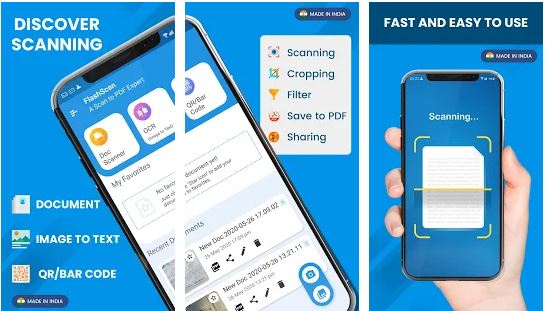 It is the best Android document scanner app. This app offers so many features for free that you will never require any other app after using FlashScan.
Features of FlashScan
Every paper, bill, photo, book, etc can be easily digitized with FlashScan.
This Android business card scanner scans business cards professionally by detecting edges precisely.
You can use this app for batch scans and generate multiple scans for free.
It scans QR codes and Barcodes as well.
The OCR is a profound tool that helps to extract any text from the image. It also translates recognized text from English to other languages.
FlashScan offers top-notch filters for post-scan editing.
It is also a PDF creator and a PDF Viewer that offers password protection, and Anti-counterfeit for PDF files.
You can easily scan your signature and use it on any PDFs.
Users can easily share, delete, save, and rename any file and folder.
2. Business Card Scanner And Reader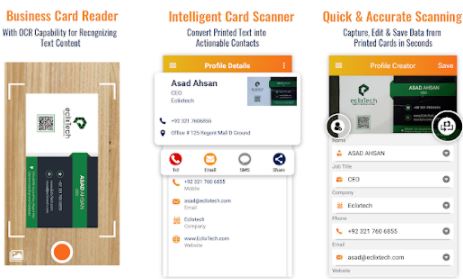 It's a dedicated app to read and scan business cards. Users can easily share contacts or digital business cards with sales agents and other business-related people with this app.
Features of Business Card Scanner And Reader
It offers the facility to create a digital business card manually.
You can also scan QR Codes with this app.
It offers auto sync of contacts with your Google account.
Its auto-backup support is robust.
Users can export contacts to google, or outlook contacts with just a few taps.
Also Read: Top 10 Best PDF Scanner Apps for Android
3. ScanBizCards Lite- Best Business Card Scanner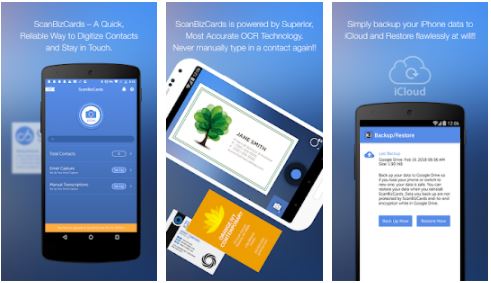 Are you bored with keeping a record of your business cards? This smart business card scanner and organizer app for Android devices will let you keep all of your business cards in your pocket through the app.
Features of ScanBizCards Lite
It is an easy-to-use app powered by a straightforward interface.
This app lets you edit the contact info side-by-side along with the business card image.
You can easily organize your cards with custom folder names through this professional card scanner app.
It lets you generate new contacts on your device, or merge with existing entries.
You can even scan double-sided business cards instantly.
4. Adobe Scan- Free Business Card Scanner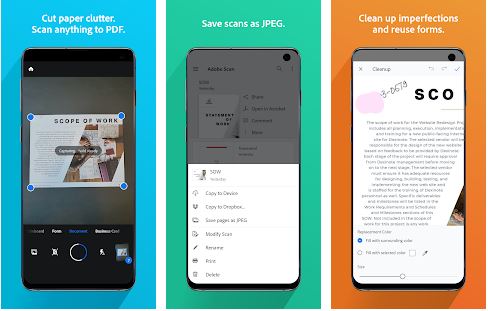 Adobe Scan is the most popular name when it comes to scanning useful documents. Here are some of the main features of this best free business card scanner app.
Features of Adobe Scan
You can scan books, bills, business cards, vouchers, etc with this free scanner app.
Post-scan editing helps you to improve the quality of the scans.
The OCR lets you reuse your scanned content by creating a high-quality PDF that you can work with Adobe Acrobat Reader.
You can easily remove and edit any imperfections. It lets you erase stains and unnecessary marks to generate crystal clear scans.
Also Read: 7 Best PDF File Locker Apps for Android Phone
5. Card Scanner- Free Card Scanner App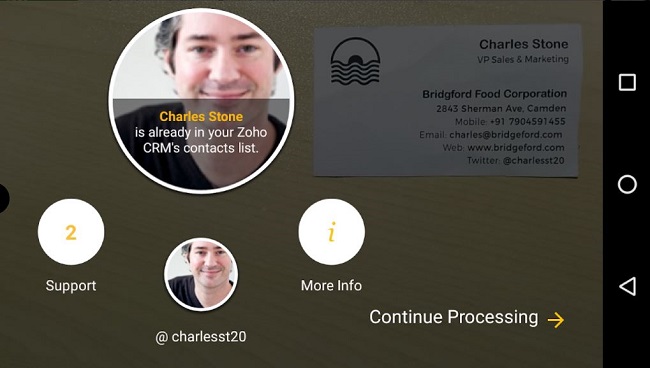 Next on the list of reliable business card scanner apps for Android devices is Card Scanner. It is a simple app with multiple features.
Features of Card Scanner
It lets you scan business cards and save them to Zoho CRM as contacts and business leads.
After extracting details of the cards, this app smartly fills contact fields automatically.
The OCR is a robust tool and supports English, Dutch, Swedish, Russian, French, German, Spanish, etc languages.
It lets you edit contact details, and supports multiple corrections.
6. ABBYY Business Card Reader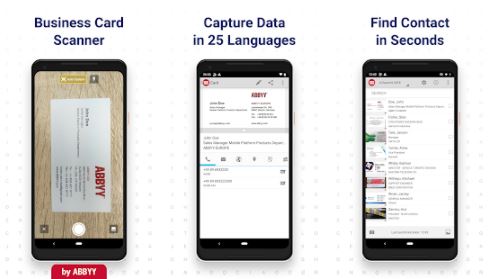 It is a brilliant business card reader app with remarkable features. Here are its main functionalities.
Features of ABBYY Business Card Reader
It is one of the quickest business card reading apps for Android devices.
You can anytime save your new contacts into the address book.
It helps to edit contact details and easily splits out names and locations.
For better text recognition it also offers the Zoomed-in view.
Also Read: Best Document and PDF Scanner App to Replace Chinese Scanners
7. Wantedly People- Best Business Card Scanner for iOS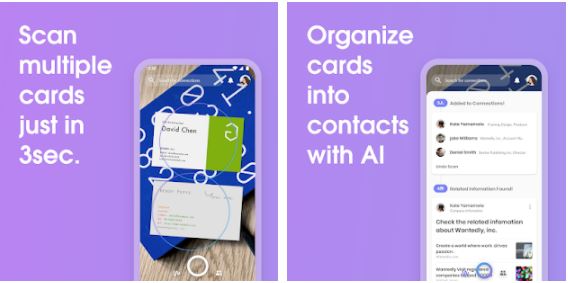 Wantedly people- one of the lightest business card scanner apps, is just too good to be true. It offers impressive features with a user-friendly interface.
Features of Wantedly People
It is a simple app that picks the text from photocopied business cards and scans it promptly.
Users just need to tap the camera button and the app takes a photo of the business cards.
It also imports all the cards directly from the device's galaxy or media section.
8. Tiny Scanner- Business Card Scanner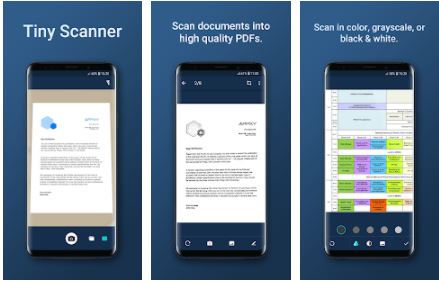 Tiny Scanner is another business card scanner app with effective functionalities. It is a popular scanner app with a simple interface.
Features of Tiny Scanner
It scans all sorts of documents for free.
You can easily scan bills, vouchers, business cards, invoices, etc with this app.
It is an excellent Android business card reader app, especially for the monochrome text that implies up to 5 levels of contrast.
It offers varied colors, filters, and graphics scales for better scans.
Also Read: 12 Best PDF Reader for Android Phone
9. BizConnect- Free Card Scanner app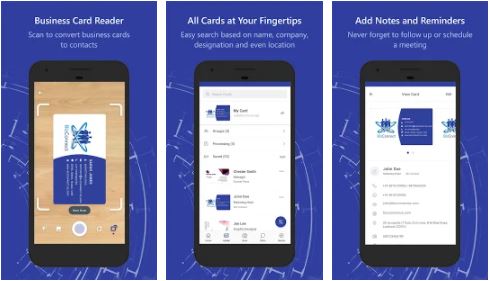 Biz Connect is a professional business card reader app and is worth every try. It digitizes business cards with the highest accuracy and efficiency.
Features of BizConnect
Scans business cards, papers, photos, ID cards, etc precisely.
It also scans QR codes and barcodes.
All the digitized data can be exported to excel, google, and outlook with a single tap.
This free business card scanner app offers easy navigation and a straightforward interface.
10. DigiCard- Business Card Scanner App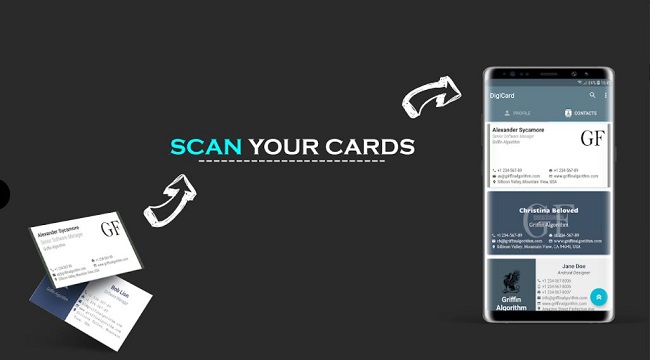 DigiCard is the lightest business card scanner app that can be used on Android devices and on tablets.
Features of DigiCard
It lets you scan visiting cards, bills, etc, and save them to your device or tablet.
You can crop cards manually or automatically with this app.
OCR recognizes text and you can also add more information to the extracted text.
It lets you save your cards and share them easily with friends and clients.
11. Google Lens – Best Scanner App
Google Lens is the best scanner application you can rely on. It allows you to search for what you see and get the job done in a blink of an eye.
Features of Google Lens
It does the scanning quickly by just using your camera or a photo.
This is the most reliable business card scanner out there.
Google lens is capable of translating the words that are being scanned through your camera.
Frequently Asked Question about Business Card Scanner Apps
Q1. What is the best free business card scanner app? 
Some of the best free business card scanner applications are as follows:
Tiny Scanner
BizConnect
Google Lens
DigiCard
Adobe Scan
Business Card Scanner
Q2. How can I scan business cards for free?
There are plenty of free applications available through which you can easily scan your business card. You can download free applications like Adobe Scan, Google Lens, DigiCard, and many more.
Q3. Is there an iPhone app to scan business cards?
You can download the ABBYY Business Card Reader application for your iOS device and scan your business card for free. As this application is multilingual, you can translate the text into 25 different languages.
Q4. How do we choose the best business scanner apps?
There are certain features that you should look for while choosing a Business Scanner application including Quick scanning, text translation, multilingual, easy to use, and lightweight.
Q5. How does a business Card scanner work?
Business card scanners are powered by Optical Character Recognition (OCR) technology. Such scanners work by using your smartphone's camera to save contact information and read it automatically from the card.

Q6. How much does a business card scanner app cost? 
Business card scanners like PenPower WorldCard Color Business Card Scanner cost around 11,000INR. But you might not need to buy one, you can simply download the free ones as they work just perfectly fine as well.
Q7. Is a business card scanner app worth the cost?
As there are many free business card scanner applications available, it is a waste of money if you choose to go for a paid one. Undoubtedly, the paid ones have their own premium features but most of the requirements are easily fulfilled by the free business card scanner applications.
Wrap Up: Best Business Card Scanner and Reader Apps
All the apps mentioned here are genuine and very consistent in their performance.
Business card scanner apps offer a convenient way to digitize your business cards. Step up your business by digitizing your cards through these apps. Most of them are free Android scanner apps but for value-added features, you can always go premium.
Subscribe to Our Newsletter
Keep yourself updated with the latest technology and trends with Innovana Thinklabs Limited.