12 Best Call Recording Apps for Android Phone 2020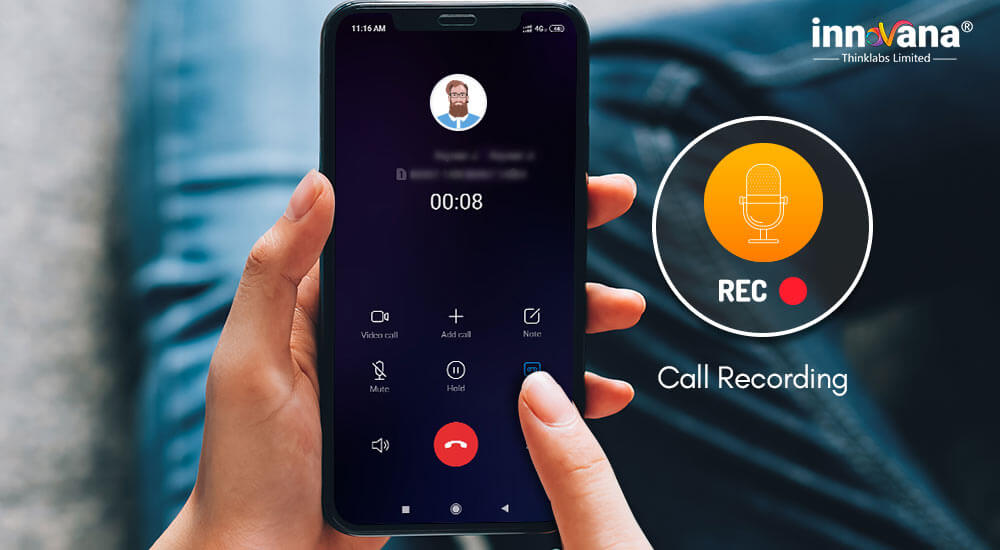 While some of the brands such as OnePlus, Hauawei, and Xiaomi boasts the much-needed call recorder for Android, other OEMs have still not introduced it. This is the primary reason for which the users go for the best call recording apps.
You may want to record a telephonic conversation for a variety of purposes, such as training and development. No matter what the purpose is, you must remember the laws of your land before taking a step ahead towards using a hidden call recorder application. Violating the laws may lead you to serious troubles.
For instance, recording calls is an offense in the US. Even if recording the call is essential, there must be one-party consent. The one-party assent implies that either you or the person who's recording the call is a party to the conversation. That means, no third person can record the calls.
Similarly, as per the Californian law, recording a call is possible only when you inform all the concerned parties, irrespective of whether they are within the state of California or not.
Above were just two illustrations of the regulations about call recording. They might not be the same in your region. Since, legal provisions show country based variance, check the call recording laws in your nation to avoid being a part of illegal activity.
Note: Users get confused as most of the call recording apps have similar names. Therefore, to avoid confusion, we suggest you download an app only through the official link shared in this post. While doing this, remember the laws of your nation as some countries like the US consider it illegal to record the calls.
We would suggest you go ahead with automatic call recorder apps only when you are sure of the legality of this act in the region of your residence.
Talking about the apps to record calls, there is an ocean of call recording applications on the Play Store. But, not all of them are the best. To be tagged as the best call recorder for Android, an application must possess certain distinct characteristics. We share the same below.
The Distinct Features of the Best Call Recording Apps
Not every app is the best app to record calls. The unique characteristics stated below is what segregates the best auto call recorder app from other similar applications.
It lets you transfer the recordings to SD card
It not merely records the regular telephonic conversations but is also an excellent WhatsApp call recorder
It can record the particular sections from a conversation
It supports all the popular audio formats such as .mp3, .wmv, and .amr
It allows to tag calls as important
It is also a fantastic automatic call recorder app.
In your hunt for the best call recorder for Android, you may stumble upon many apps that give you an illusion of these features. But, in reality, they might not even have a single one of them. Therefore, we curated the best apps to record calls so that our readers do not get deceived by the fake call recorders. The next segment focuses on the same.
Also Know: Best Ad Blocker Apps for Android Phone
12 Best Automatic Call Recorder Apps for Android in 2020
As stated earlier, not every app is the perfect fit for your needs and the one you are looking for. Thus, have a look at the apps shared below before you hit the install button for any random auto call recorder app.
1. Automatic Call Recorder
As the name reflects, it is the best automatic call recording app with free download. In addition to auto call records, it also supports manual call recording.
Moreover, with this one of the best call recording apps, you can also blacklist the calls you don't want to record. Apart from this, it has all the features such as moving recordings to SD card, functionality to add notes, etc.
2. Call Recorder By Lovakara
The simplicity and minimalistic interface of this app make it feature in our list of the best call recording apps. In addition to the ease of use and simple user-interface, it offers a multitude of premium features.
Talking about the features, some of its striking functionalities include name, time, and date-based filters, moving records to SD card, and many more. Moreover, it is also an incredible automatic call recording app with free download.
3. Call Recorder by Top Weather Studio
Here comes another best call recorder for Android. With this app, you can seamlessly record both incoming as well as outgoing calls.
Further, this app boasts all the useful functionalities stated earlier such as moving recordings to SD card, marking a recording as important, multiple format support, etc.
In addition to this, it also has some additional features such as share via mail and uploads to Google Drive.
4. RMC: Android Call Recorder
This among the most versatile and the best call recording apps available currently. It lets you record calls in crystal clear quality. Further, it hosts a plethora of customization options such as the functionality to switch between mono and stereo, bit rate modifications, etc.
Apart from this, its other useful features include an in-built trash folder, cloud integration, multiple audio formats, search, and a seamless sort feature.
5. Call Recorder – Cube ACR
This entrant on our list is not merely the best automatic call recording app but also a fantastic WhatsApp call recorder. It lets you record both the calls made using native phone caller and VoIP services such as WhatsApp, Skype, etc. 
In addition to this, it hosts all the essential features such as excluding a call from the record, speaker switching, manual recording, etc.
6. Call Recorder ACR by NLL
This is also among the best call recorder apps to record automatically incoming and outgoing calls. The app has an ocean of features for its users.
Some of the prominent functionalities of the app include multiple cloud storage support, search, auto-delete of old recordings, etc. In addition to this, it also lets you secure the recordings with a password.
Also Know: Best Android Cleaner Apps to Speed up your Phone 
7. Automatic Call Recorder by Recorder & Smart Apps
This apps unique features make it one of the best call recorder for Android. It not only records but also help you organize the recordings with ease.
Further, its "ask to save" functionality is aimed at keeping your device junk-free so that useless recordings don't hog up your phone's space later. Moreover, this high rated app lets you share the recordings via Google, Dropbox, Skype, and other such utilities.
8. Blackbox Call Recorder
The highlight of this one of the best automatic call recording apps with free download is its dark theme. The dark theme consumes less battery and saves it from draining out. Further, it also comes with several other power-packed functionalities.
A few of these incredible features include Google Drive backup, support for Bluetooth earphones, automatic deletion of old recordings, and more. Further, it also offers a security lock and an option to hide recordings from other apps on your device.
9. Call Recorder Automatic
As the name suggests Call Recorder Automatic is one of the best call recording apps to automatically record the calls. It comes with all the features that a decent call recorder must possess.
Some of the features that caught our attention include caller ID, ignore list, ease of use, and seamless sharing. Further, it also lets you manage the recordings without any hassles.
10. Smart Recorder by SmartMob
No matter how weird it may sound, but this one of the best call recording apps was not initially designed to record calls. Earlier, it was merely a voice recorder. But, now it has all the functionalities of the top hidden call recorder app.
Further, skipping silences is its most interesting feature. However, for longer recordings, you may need to exclude this app from the battery saver settings.
11. Truecaller
Now, who doesn't know about Truecaller,i.e., a widely used caller ID app? Well, in addition to being a caller ID, it is also one of the best call recording apps with features such as auto record, etc.
However, it is worth mentioning here that its call recording feature is not free and you need to shell out some bugs to use it.
Also Know: Best Data Saver Apps for Android
12. All Call Recorder Lite
The name itself suggests why All Call Recorder Lite 2020 is the best call recorder for Android. This lightweight app does not hog up your Android phone's space and seamlessly records calls. 
Further, it has many useful functionalities such as .caf format support, Google Drive and Dropbox integration, and automatic call record.
The above was the best call recording apps that you may use. However, before trying any of these call recorders for Android, do check the laws of your land and abide by them. Lastly, before you leave, do not forget to join us in our newsletter to get more such interesting information and tech updates delivered straight to your mailbox.
Sign up for our Newsletter and stay informed