Do you want to streamline your marketing efforts? Then, use the best sales call tracking software to track inbound and outbound calls. 
If you are a marketer or someone associated with sales and marketing, you must have a slight idea about the phone call tracking software. These are specialized software to fetch the needed information from phone calls with the customers to understand what marketing campaign triggered the call and what it has resulted in.
The best call tracking software helps you determine what ads, webpages, keywords, and other marketing tools induced the customer to call. If you have all this knowledge, you can plan your marketing campaigns better.
Even the most well-established call centers use the best call tracking and recording software to understand their customers better and address their queries perfectly.
You can also choose one from the well-researched list of the best call tracking software for lead generation shared in this article.
Well Researched list of the Best Inbound and Outbound Phone Call Tracking Software
Below are the best phone call tracking software that we have handpicked after deep research for our readers.
1. CallRail
When it comes to inbound call tracking, i.e., identifying the marketing efforts that drove the call, CallRail is among the best software. It is a powerful and straightforward tool with all the core tools to help you match calls/text to ads, keywords, and campaigns.
The functionality of CallRail is not only limited to call tracking. It offers many other features to boost your marketing efforts. For example, you get a lead center to call, message, and manage all your calls in a single place.
It also boasts the power of AI to automate call transcriptions and track web form submissions. Along with this, it also offers seamless integration with marketing platforms, such as Google Ads, Google Analytics, HubSpot, Salesforce, etc.
You can click on the link below to start its free trial.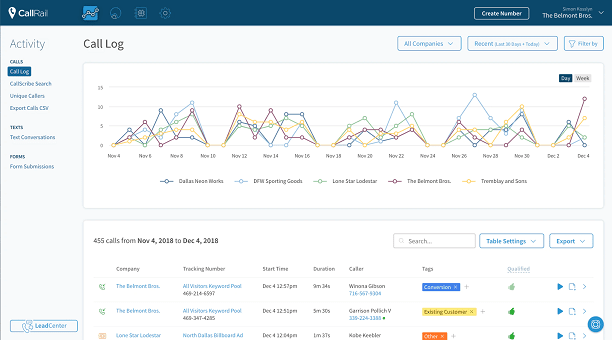 2. EngageBay
This software on our list is not only the best phone call tracking tool but also a complete solution for all your activities, such as identifying opportunities and converting visitors.
This affordable and simple to use software encompasses a wide gamut of features, such as CRM software with contact management, deal management, sales automation, and appointment scheduling.
EngageBay also offers full marketing automation with features like forms and landing pages, email sequences, marketing automation, and email template builder. Other offerings of this program include a helpdesk and live chat software.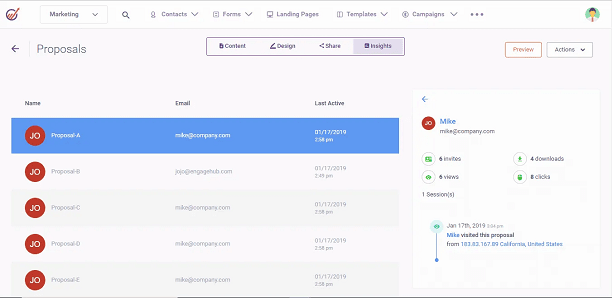 3. Invoca
Another top inbound call tracking software that we are pleased to have on our list is Invoca. With this active conversation intelligence platform, you can improve buying experiences, generate more leads, and ultimately increase your revenue.
It uses an award-winning Signal AI speech analytics technology to identify call outcomes, such as purchases made, appointments set, or applications submitted. Moreover, you can also integrate its conversation intelligence with marketing platforms, such as Google, Facebook, and Salesforce.
The software helps you optimize your marketing campaigns, so you can get more revenue-generating calls and take action on call outcomes in real-time.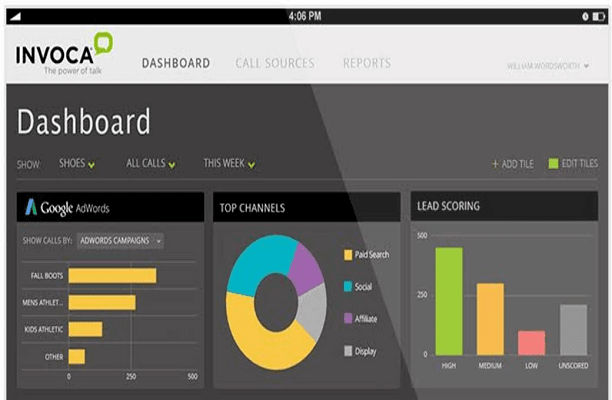 4. CallerDNA
CallerDNA from RingDNA is next on our list of the best inside sales call tracking software to accelerate inbound call revenue. It offers a wide spectrum of features that help you track ROI and enable your sales representatives to close more leads.
Trusted by leading sales teams, such as Amazon Web Services, Hewlett Packard Enterprise, etc., it provides a variety of benefits. For instance, it uses campaign context and prospect interaction history to convert callers into customers.
The most attractive thing about this software is that it captures and logs in 100% of inbound call data in Salesforce automatically. Moreover, with its easy-to-use, drag and drop IVR, smart routing rules, and ACD, you can route inbound calls to the right representatives. Below is the link to get its demo.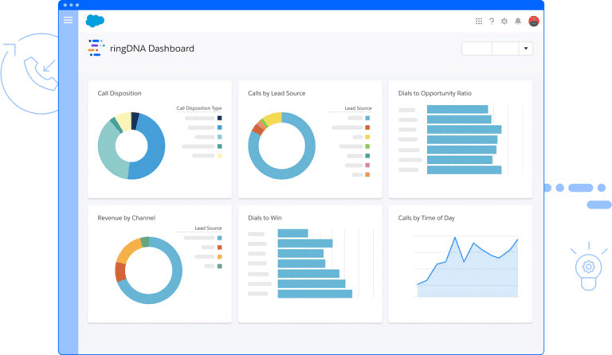 5. CallTrackingMetrics
You can consider CallTrackingMetrics as one of the best call center phone tracking software for a variety of reasons. For instance, it provides tools to seamlessly manage and route your calls along with identifying the result driving campaigns.
Talking about call tracking, the software analyzes calls, texts, chat, and forms that you get on a CallTrackingMetrics tracking number. And, links the same to the campaign that inspired it.
It tracks the calls driven through various online and offline sources. And, also helps you gain valuable insights into how your marketing campaigns are performing. In addition to calls, it also tracks forms, chats, and texts to help you communicate with your customers instantly.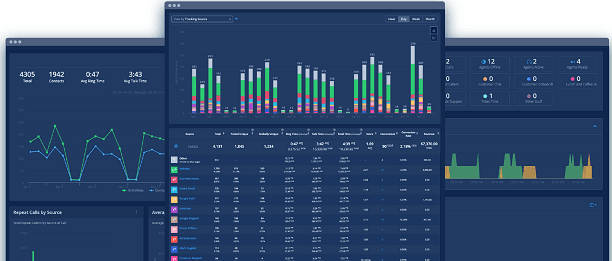 6. CallSource
Here comes yet another phone call tracking software to help you discern the marketing campaign triggering the calls. We included this software on our list for a number of reasons. For instance, it allows you to differentiate prospects from non-prospect phone calls.
Another interesting feature of this software is that it helps you get a deeper insight into which prospects booked an appointment. This aids the decision-making process.
In case you have missed an opportunity, you get a second chance to claim it with the software's DealSaver Alert. It sends the mishandled calls to your chosen email address along with the caller information. You can try and connect with the caller within two hours of the call.
7. Convirza
This software on our list is also among one of the best call tracking software for lead generation, making smarter business and marketing decisions. It provides a plethora of helpful features, such as allowing callers to select their own path or departments via pre-recorded menu options.
You can connect callers to the best geographical location automatically, direct calls based on the time of day, and divide the call volume to different locations or agents.
It also boasts multiple call recording features, like call playback and download, adding comments/tags, emailing calls to team members, and call scoring using Conversation Analytics. You also get real-time analytics, such as call log reports, call trends reports, calls by region reports, and a marketing dashboard showing campaign performance.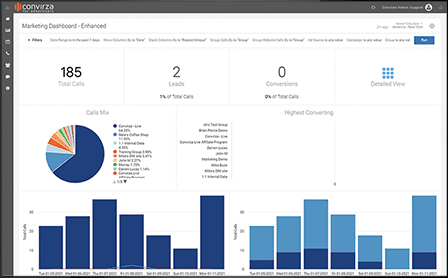 8. Marketo Sales Connect
Another best outbound call tracking software we have for you is Marketo Sales Connect. It boasts a variety of features to give your sales and productivity the much-needed boost.
You can keep prospects engaged using digital sales playbooks, driving proven best practices across channels including email, phone, social, and direct mail. And, you may be pleasantly surprised to know that more than 90,000 people use this platform to streamline their marketing communications.
You can click on the link below to schedule a demo.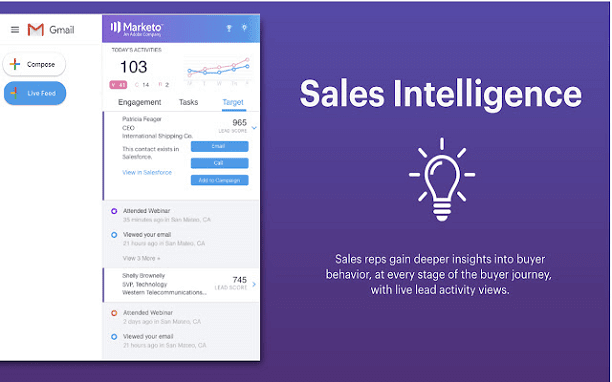 Concluding the Best Call Tracking Software
Through this article, we acquainted you with the best phone call tracking software for both inbound and outbound calls. You can use any of them to analyze and plan your marketing better.
However, if you are finding it difficult to pick a software and need recommendations, then you can try CallRail, CallerDNA, and CallTrackingMetrics. They offer exceptional inbound and outbound call tracking services along with a host of other features.
If you know any other software that should be a part of this list, then feel free to share it with us through the comments section. And for more software suggestions, keep reading our Blog.
Subscribe to Our Newsletter
Keep yourself updated with the latest technology and trends with Innovana Thinklabs Limited.