Whenever someone talks about some feature-rich smartphones, the first name that comes to our mind is the iPhone. No matter which iPhone you are using, whether it is iPhone 11 or SE, it offers you plenty of features. One of the most prominent features of iPhones is its high-quality camera. You can capture some exceptional shots with your iPhone camera. However, if you are a mobile camera photographer, then we would like to recommend some best camera apps for iPhone that can take your photography skills to another level.
These apps not just helps you to click beautiful portraits, but also helps you to capture some attractive selfies of you. Hence, losing no time, let's move quickly to the list of some best camera apps for iPhone that are available in 2020.
5 Best Camera Apps for iPhone 2020
We have created a list of some handpicked default camera alternatives for iPhone. These best camera apps for iPhone can help you to click some amazing pictures just like any DSLR, or any other professional camera.
1. Pro Camera by Moment
The first name on the list of some best camera apps for the iPhone is Pro Camera by Moment. One of the most prominent developers of iPhone camera apps Moment has developed this app. Along with clicking pictures, you can even record amazing videos with Pro Camera by Moment. It has various features such as time-lapse, motion capture, motion blur, focus peaking, etc. that can help you to capture some professional and stunning photos. Pro Camera by Moment offers you various camera lens as well to shoot from. You can also integrate this best camera app for iPhone with your Apple Watch. After that, you can use it as a remote control to click pictures and record videos with this camera app.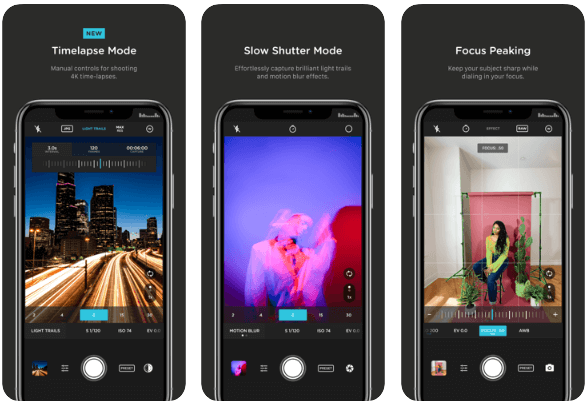 2. Facetune2
The second name on the list is Facetune2. We think that you have got an idea about the specialty of this app. Yes, the app is one of the best front camera, or we can say face camera apps. Facetune2 can help you to take some beautiful and pretty selfies. This best selfie app for iPhone has many useful features to make your selfies look better than the ones that you have clicked using the default camera. This app makes your skin look smooth in your selfies. Along with all these features, it can even adjust or change the background of your selfies. Facetune2 offers various professional photo editing features as well.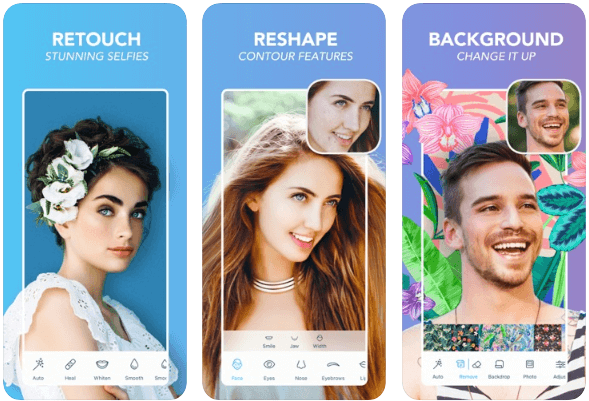 3. VSCO
Here comes one of the best free camera app for iPhone VSCO. Although VSCO primarily is a photo and video editing app, but it also offers a camera along with multiple advanced features. This best photo capturing app allows you to apply many available presets to your clicked images. Along with applying the presets, you can even emphasize colors in your pictures. The camera app also allows you to create a border around your images. With this one of the best camera apps for the iPhone, you can also create short Gifs and moving picture collages. If you are looking for a video maker app, then you can consider VSCO for that as well.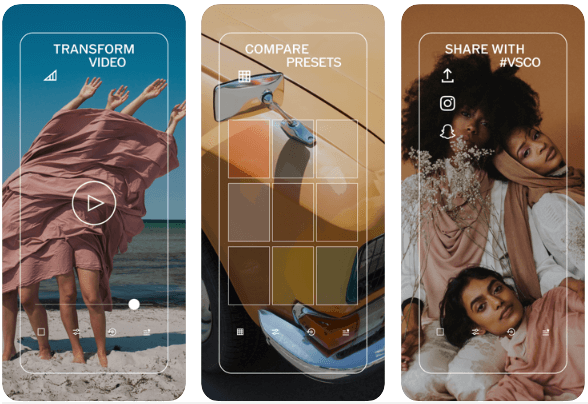 4. Warmlight – Manual Camera
Warmlight is one of the most outstanding alternatives for iPhone default camera. This best camera for iPhone also allows you to edit your photos after clicking them. You can also consider Warmlight as one of the prominent photo editing apps for iPhone. Unlike other photo editing and camera apps for iPhone, this app allows you to apply live filters to your images while you click them. It offers some marvelous live filters, photo presets, and overlays. Along with all these things, Warmlight offers many other features such as contrast adjustment, shadow adjustment, focus adjustment, etc. You can even share your photos on various social media platforms such as Instagram, Facebook, etc. using  Warmlight – Manual Camera.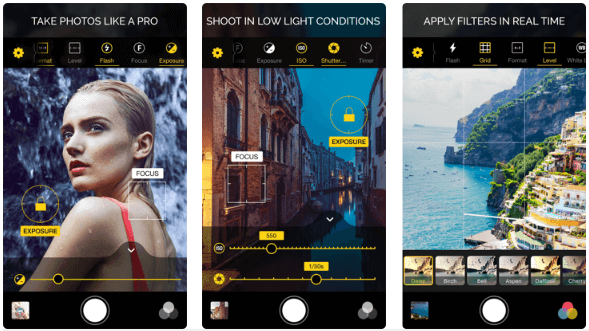 5. Hidden Camera Detector
Another useful camera app on our list is the Hidden Camera Detector. Apart from clicking photos you people also use the camera of their iPhone to detect the spy cameras when they check-in to a hotel room or in a changing room. This helps them to prevent their privacy from being leaked. However, the default camera is not effective enough to perform this task. Hence you require some dedicated app. Hidden Camera Detector is the best free camera detector app for iPhone. You can rely on this app to detect hidden cameras and protect your privacy. Along with spy cameras, Hidden Camera Detector can detect various other spy devices as well.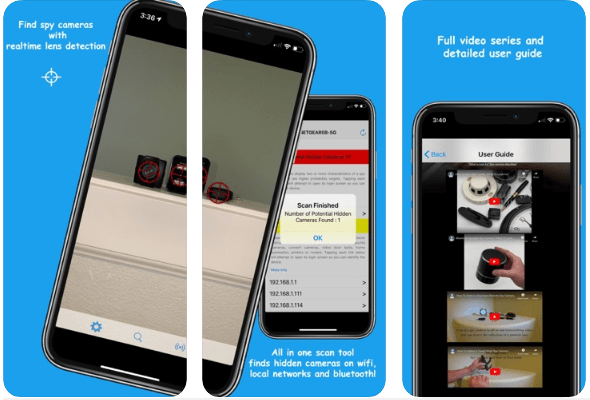 So, now we would like to wind up our list of some best camera apps for iPhone with our conclusion. The best one among the above-listed camera apps depends on the requirements you have. If you want a camera app that can click stunning selfies, then you must go for Facetune2, or if you want to detect spy cameras, then we recommend you Hidden Camera Detector. All of them are the best in their functionality. It depends on your preference and requirements, which one you find most suitable for you.
Subscribe to Our Newsletter
Keep yourself updated with the latest technology and trends with Innovana Thinklabs Limited.