Make this festive fall even more memorable by clicking stunning and glamorous pictures via the best camera apps for android. Read on to know the entire details!
Nowadays, Cameras are the much gigantic treat than they used to be ever. Almost every mobile company constantly enhancing the camera functionality of their smartphones and still doing on. Companies are working on making their smartphone's camera quality much finer, more reliable, and accurate. Capturing with in-built cameras is usually good, but by default, cameras offer basic features than other third-party cameras. Third-party camera apps could punch you back with lots of extravagant features that you can't even think of!
From standard controls to live updates to real-time filters and many more. You can get more beyond your imagination with the help of the best third-party camera apps. So, if you hold POCO, Xiaomi, Realme, Oppo, Vivo, or Samsung's smartphone then you need a good third-party camera app to give your photography a massive boost. YES! You've come to the right platform where we are going to mention the best camera apps for Android. Turn it on to kick off the photography realm!
Top 10 Best Camera Apps for Android Phone in 2021
Cameras are more crucial on smartphones, especially these days. It is quite a good decision to use the third party camera apps just to get the better camera functionalities that make your videos and photos more stunning. Below mentioned are the best camera apps for Android that gives you never like before photography experience.
1. Sweet Snap
Want to capture cool pics? Then, you'll be going to loved Sweet Snap surely. It is the best beauty camera app that comes with an in-built photo editor tool. Within just a single click, you can be able to add beautiful filters, cute emojis, sparkly effects, cool stickers, and a lot more to your photo. Moreover, with the Sweet Snap, you can also make your own funny or cool GIF.
Core Features of Sweet Snap
High-quailty filters & effects.
Create a Boomerang.
In-built make-up camera.
Real-time beauty themes.
HD quality picture.
Record video, and add text, filter, effects, pictures, and more on it.
2. B612 – Beauty & Filter Camera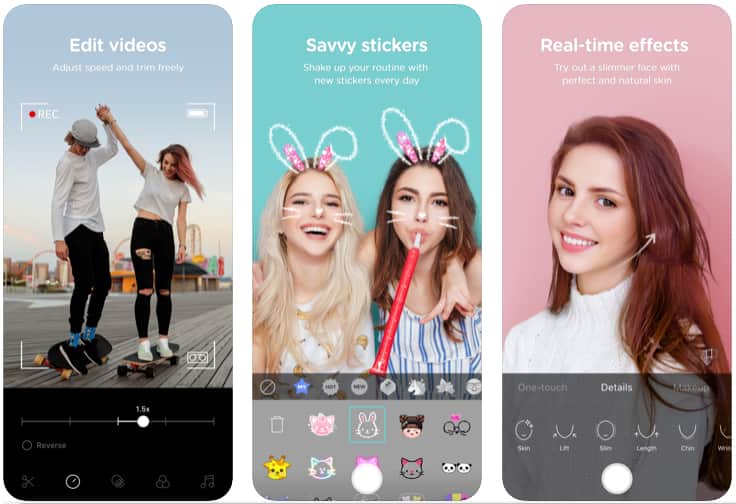 Among all, one of the most downloaded and trusted app available of the Play Store to make your picture or video even more elegant is – B612. It is the only app that actually defines the meaning of a beauty camera app. In this app, you can find everything from shiny effects to real-time filters, to facial recognition cool stickers, to sketch effects, and so more. With B612, you can record boomerang and play it on a loop.
Core Features of B612
More than 1,600 different sticker sets.
Real-time stunning effects.
Extreme quality filters.
In-built collage maker.
High-quality music tracks library.
AR stickers.
Also Read: Top 10 Best Photo Scanner Apps for Android 
3. YouCam Perfect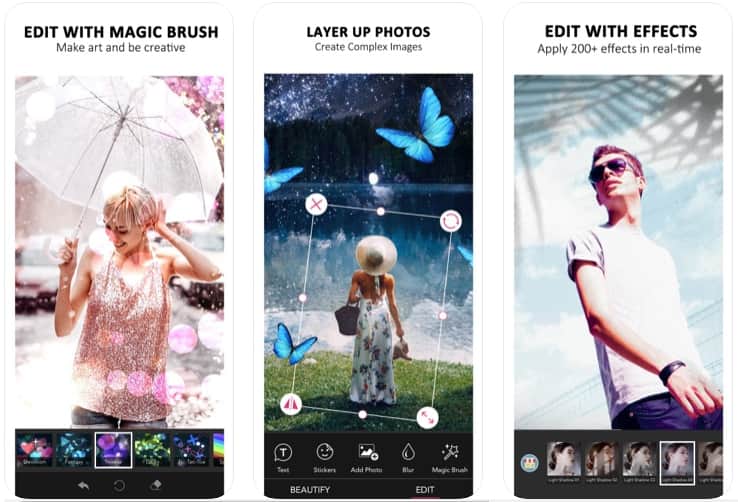 YouCam Perfect is the fully advanced best android camera app that helps you in capturing perfect pictures or recording videos with grace and style. YouCam Perfect comes with the in-built editing tool and has more than 300 million downloads, still counting on. It is the most powerful camera app that lets you share pictures or videos directly to other social media networks.
Core Features of YouCam Perfect
Easy UI.
Skin-beauty effects.
Real-time themes.
Offers complete editing toolkit.
Smart collage maker.
4. Selfie Camera
Make this festive season more memorable by clicking attracting pictures via Selfie Camera. It is the best beauty camera app that includes an editing toolkit, funky stickers, etc. A Selfie Camera brings magic to your picture. With Selfie Camera, you can also get the makeup photo editor, diverse sticker sets, and more. Selfie Camera is the best app to click stunning pictures.
Core Features of Selfie Camera
Countdown timer.
More than 100 real-time effects and filters.
User friendly.
Smart sticker sets.
HD live filters & effects.
5. Google Camera
Capture every moment with Google Camera and click world-class pictures by using its Night mode, portrait, live focus, etc. Google Camera is the most worthy camera app for android that offers amusing features to take stunning pictures. Whether you are clicking the picture at night or day, Google Camera won't disappoint you!
Core Features of Google Camera
Live focus.
Portrait mode.
Compatible with QR codes, business cards, and more.
Automatically suggests the best shots.
Dual exposure controls with HDR+.
6. Open Camera
Yet another best free camera app for android which is available on Google Play Store is – Open Camera. As its name suggests, you can click pictures willingly with it. No wonder, why millions of users have shown their trust in this application. The only reason is its highly-advanced features that help you in clicking pictures just like a pro photographer.
Core Features of Open Camera
Auto-Stabilize to set the perfect frame.
Easy-to-use.
Handy remote controls with modes such as auto-repeat, timer.
HD video.
Panorama, but only for the front camera.
HDR support.
Background noise resistance.
7. HD Camera
Shot HD video & click HD pictures with HD Camera! The HD Camera app lets you capture wide angles in just a single picture. Top of everything, with an HD Camera you can also record the location where you are shooting or going to, along with the video as a part of memory. The view mode lets you shot in every phase whether it is night, party, day, or sunset.
Core Features of HD Camera
AF mode.
Back or from panorama photo mode.
Countdown timer.
Export pictures or videos of high quality.
Tons of real-time effects & filters.
8. Retrica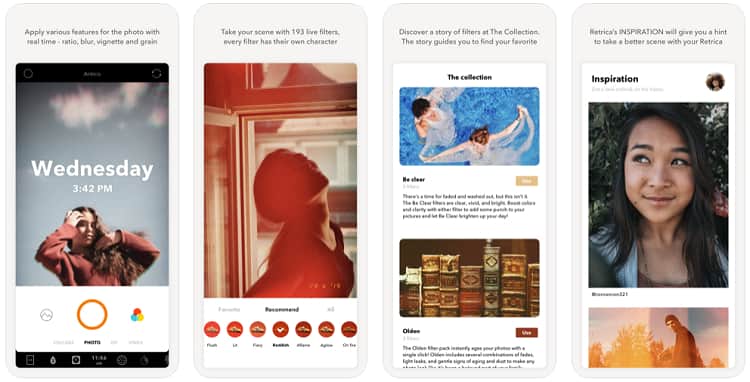 If you are searching for the camera app to add filters and for clicking eye-catching pictures, then Retrica is the only one that fits in the bill. Retrica is the best beauty camera app that original real-time filters make your picture extra stunning. Retrica takes out your inner photographer and gives you never like before photography adventure.
Core Features of Retrica
Simple user interface.
More than 190 live filters.
Offers multiple stunning looks such as beach, mountains, and more.
Detect photos instantly.
Export pictures in HD.
Also Read: Top 10 Best PDF Scanner Apps for Android
9. Snapchat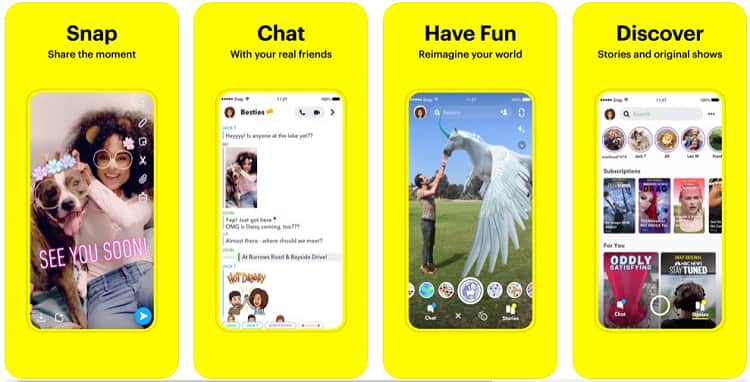 Whoever doesn't know Snapchat, it is the most amazing yet fun-loving tool to share every moment with friends or with someone whom you love. Snapchat is not the best camera app for android but also the best messaging app. Snapchat opens with its camera, so you can click pictures within one second and share it with your loved ones as well in no time.
Core features of Snapchat
3D bitmoji.
In-built chat functionality.
Amazing-funny filters & effects.
Daily streak score.
Explore exclusive news.
Memories & camera-roll.
Live location update.
10. Instagram
Facebook-owned Instagram is one of the best camera apps for Android. Instagram is the tool which brings you closer to the things you adore and peoples too. Now, it becomes extremely easy to explore the social community with Instagram. There is a direct chat box also available on Instagram so you can chat with your closed and loved ones anytime. Even, recently Instagram has released an all-new short-video maker called Reel and, Boomerang, IGTV existed there already.
Core Features of Instagram
Unique camera effects.
Short-Video maker "Reel".
Create boomerang.
Loaded with a ton of funny or cool stickers.
Easy to share with friends.
Go live.
Best Camera Apps for Android in 2021
Lastly, the above-suggested are the best camera apps for Android that helps you to grow your following on social media. Doesn't matter how powerful a lens equipped on your smartphone. Somehow, it still lags in capturing the perfect picture/video. So, it is a good approach to use these above mentioned third-party camera apps to add filters, effects, etc. Thus, through this post, we've brought you the list of most trusted camera apps not just to capture perfect shot but to enhance the photography experience as well. That's all as for now, will catch you soon with yet another informative post, till then, stay tuned with us, and do subscribe Innovana Blogs!
Subscribe to Our Newsletter
Keep yourself updated with the latest technology and trends with Innovana Thinklabs Limited.