The political tension between India and China, last month had resulted in the ban of 59 Chinese apps in India. CamScanner being one of them. This famous scanner app was known for its accuracy and high scanning speed. But after the sudden ban, users are actively searching for the best CamScanner alternatives that can fill in the vacuum.
Are you also looking out for a reliable alternative to CamScanner? How will you filter the best scanner apps from the Google Playstore? Don't you think it will be very time-consuming?
Well, let's save your time and efforts and equip you with a curated list of highly reliable alternatives for CamScanner that offers top-notch features and works as good as (frankly, some of them are even better !) CamScanner.
Top 10 High-Performing CamScanner Alternatives for Android Devices
We have carefully evaluated many scanner apps and finally found these CamScanner alternatives very consistent and accurate in their performance.
1. FlashScan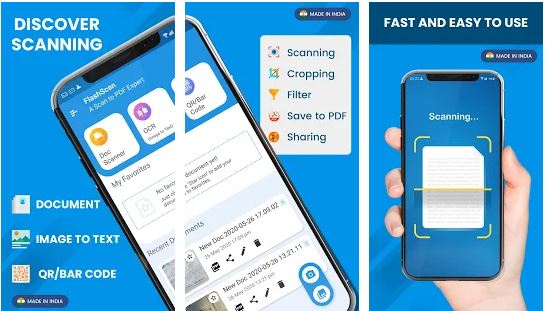 While making the list of CamScanner alternative apps, we thought no app will be smart enough that can exactly replace CamScanner. But FlashScan is way more than that and that's why it tops our list.
It is a free camera scanner app that helps users to scan different documents with just a few taps.
FlashScan also offers a robust OCR for an image to text conversion along with OCR supported translation. This also reduces the need for any other translation apps after recognizing text from images.
It also offers a batch scan feature and can accurately scan QR/ Barcodes for free.
It is a brilliant substitute for CamScanner when it comes to editing. FlashScan offers professional post-scan filters to enhance your scanned results.
Apart from that, FlashScan is an all-inclusive PDF maker app that offers many advanced features like Anti-counterfeit, password protection to PDF, and digital signature.
With FlashScan you can instantly generate sharp PDF files. This app also offers different page-sizes for your PDFs such as -A3, A4( default page size), A5 Letter, Legal, Tabloid, Ledger, Executive, etc.
It also offers a PDF Viewer to view all your PDF files at one place.
Install- Android (Free)
---
2. Microsoft Office Lens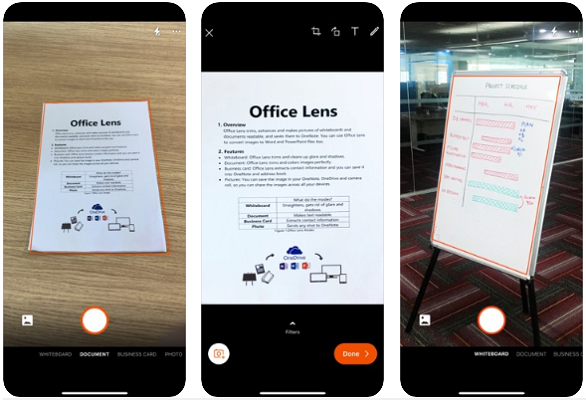 Do you think this app needs any introduction? We all know this app and it's quite a brand when it comes to scanning.
You can count it as one of the best CamScanner alternatives, especially for its scanning speed and accuracy. It scans almost all sorts of documents.
This app supports both Android and iOS devices but the Android version is comparatively more user-friendly.
You can have the best experience of the app if you are already using the Microsoft ecosystem.
It offers a facility to directly export documents into Word/PowerPoint.
This app also supports the OCR tool.
The Automatic edge detection works of Microsoft Office Lens works well.
You can also use it to annotate documents with minimal efforts.
Also Read: 12 Best Free PDF Editor Apps for Android
---
3. Adobe Scan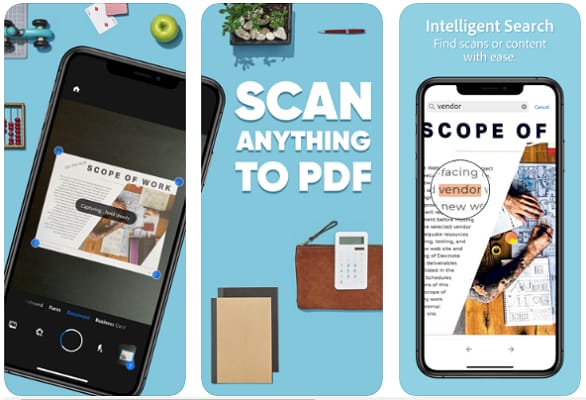 Adobe Scan is perhaps the oldest scanning app in the market. In many ways, it is a similar app to CamScanner.
Adobe Scan offers precise scanning of all types of documents.
The smart crop tool is excellent in this Android CamScanner alternative. However, in iOS devices, the basic cropping works well.
It also works well as an OCR tool and can easily read text from images in just a few seconds.
Adobe Scan offers a straightforward interface with easy navigation.
Install: Android (Free), iOS (Free, in-app purchases)
---
4. Evernote Scannable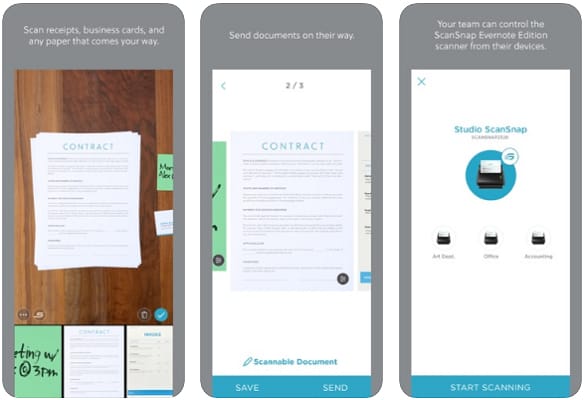 Yet another similar app to CamScanner is Evernote Scannable. It is compatible with Android and iOS devices.
This CamScanner alternative app supports all types of documents and offers instant scanning.
With smart edge detection, you can crop your images precisely.
It also offers excellent editing filters.
Evernote Scannable lets you seamlessly share your files on the Cloud.
Additionally, you can also use it to save your scans as a PDF file or image.
---
5. Google Drive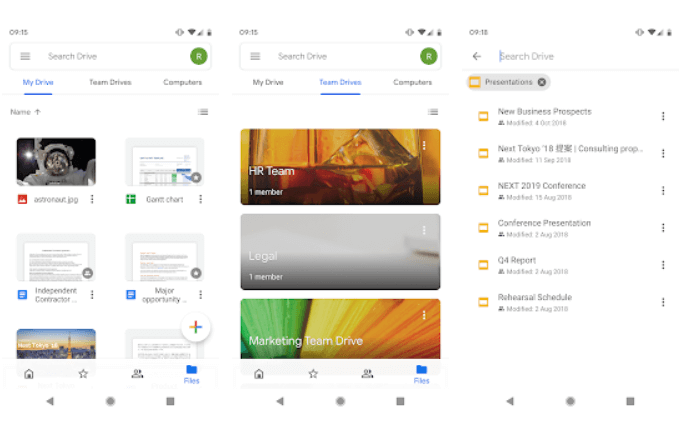 We can not miss this famous scanner app while making a list of alternative apps for CamScanner. Here are some of the main features of this app.
Pick Google Drive as your CamScanner substitute app when you are in dire need of clear and sharp scans.
It also works well as a PDF scanner and easily scans all sorts of documents.
This app syncs well with other Google Services.
It offers clean automatic edge detection.
Also Read: Best Document and PDF Scanner App to Replace Chinese Scanners
---
6. Notebloc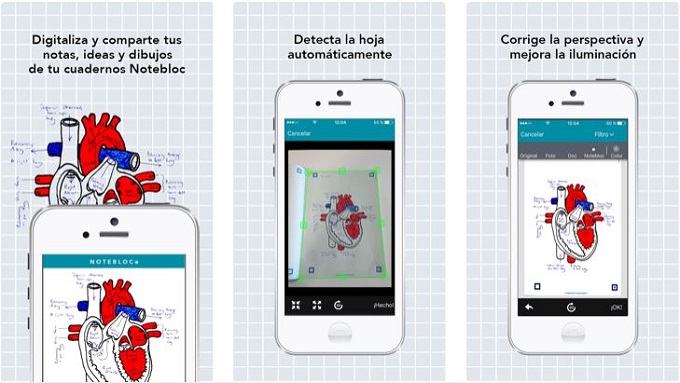 Notebloc is a robust scanner app that you must pick if you are searching for the lightest Android CamScanner alternative.
It is a reliable PDF scanner that quickly scans different types of documents.
You can generate sharp PDFs with this alternative app for CamScanner.
Notebloc is popular for the Batch Scan functionality. It scans multiple images and digitizes your documents in no time.
It enables you to save your scans as JPG or PDF.
---
7. Fast Scanner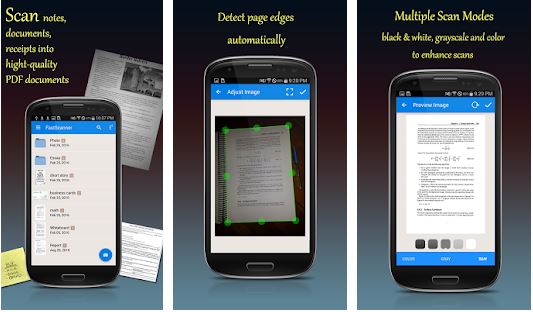 Another feature-packed renowned CamScanner alternative is Fast Scanner.
It is a reliable document scanner app that works smoothly.
Fast Scanner is also an intuitive PDF scanner app.
This alternative app for CamScanner is very fast when it comes to processing any file.
It lets you share your scanned results in JPG, PNG, and PDF.
---
8. TapScanner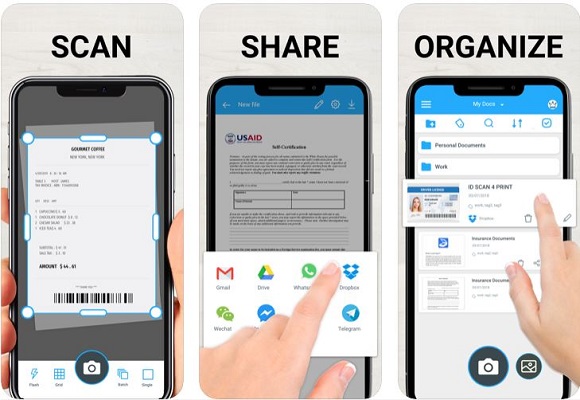 Next in our list of the best CamScanner alternatives is TapScanner. Here are some of the prominent features of this app.
It offers easy and quick scanning. You can scan various types of papers with this app.
It is a similar app to CamScanner that supports post-processing of files. Users can save, share or rename files easily.
Get captivating editing filters with this free scanner app.
TapScanner also offers an intuitive OCR tool for image to text recognition.
Read More: 12 Best Free PDF Editor Apps for Android
---
9. TurboScan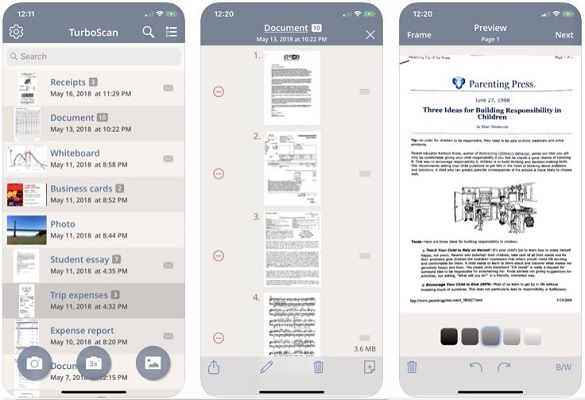 While searching for the best alternative to CamScanner we can consider TurboScan only if we are ready to forget the OCR facility.
An excellent document scanner app that offers a simple scanning process.
It generates high-quality, professional scans with ultra-smart edge detection.
TurboScan offers the most captivating post-scan editing filters.
It does not offer OCR, but for simple case scanning purposes, it will be the best alternative to CamScanner.
---
10. ScanPro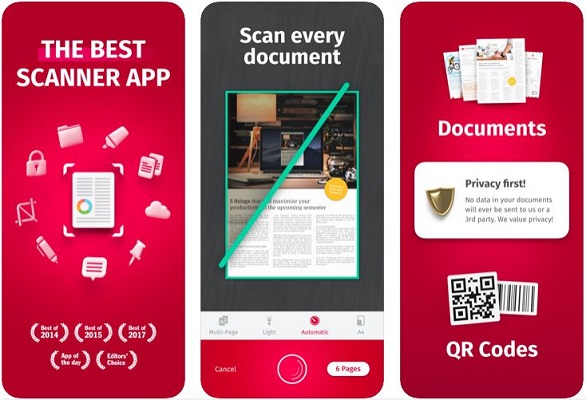 The last app on our list is a pro scanning app that is a perfect CamScanner alternative when you want to digitize your documents on the spot.
It offers a user-friendly interface with smooth navigation.
ScanPro is a comprehensive document scanner that scans papers accurately.
This app also scans QR codes and Barcodes.
This CamScanner alternative app supports batch scanning and OCR facility.
---
Conclusion
Although all the above-mentioned apps are neck and neck with CamScanner, we highly recommend you to pick FlashScan from this list. It is an all-in-one scanning solution.
It is one of the most reliable and best CamScanner alternatives when it comes to generating top-class, professional scans with ease.
Subscribe to Our Newsletter
Keep yourself updated with the latest technology and trends with Innovana Thinklabs Limited.