Have you ever thought of considering an unplanned road trip? Well, it can be fun and adventurous too. So, turning your dreams into reality, here we present the top 10 best car rental apps that might help to optimize your search for the best.
The conventional way of hiring a taxi still exists but in these current emerging scenarios where rental services are serving at their best to make the consumers ease their tasks along with providing them the best in class experience. The collaborative approach of the youth has managed approachability and availability within the snap of our fingers.
Wish to travel down to a destination, but with your peace of mind being in control of your complete trip. That could only be possible by planning and arranging a complete-trip at your convenience and schedule. With these upcoming demands and an increase in the number of self-drive cars, there always lies an opportunity to become the peak performer and grabbing the title of the "Best Car Renting App."
10 Best Car Rental Application of 2021 For Android/iPhone
Now let's proceed with the detailed list of the top 10 best car rental applications of 2020 that went through a phase changer in the emerging gateways for booking or renting cars.
1. Revv
Cost of download: Free
Compatibility: iOS/Android
Play Store Rating: 4.3
IOS store Rating: 4.5
One of the most premium applications that deliver self sanitized cars to your doorstep at minimal rates and charges so that renting does not claim any burden to your back. Well, planning a trip inside a city or outside for a long vacation, Revv makes every trip to be the best in class with comfort and premium cars for the rental services. 
With a wide range of options available to choose from, it understands your need to either cruise around or drive in the city. 
Attractive Benefits Of Revv Car Booking App:
Flexible car rental service

Affordable cars at cheaper rates

Option to select for unlimited km drive

Cars with options of with/without fuel

Extensive band of services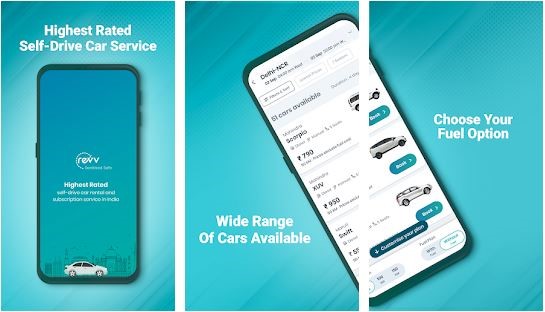 2. Jetcost:
Cost of download: Free
Compatibility: IOS/Android
Play Store Rating: 4.5
IOS store Rating: 4.4
There is no doubt why people consider Jetcost as one of the most comparative and elaborative apps to book car rentals. It not only allows you to book but also maximizes your benefit in comparing the various possible travel plans and options by aiding you to select the best among the rest.
Various options are available alongside booking car rentals like flights and hotel bookings that make it more economical and feasible to access.
Interesting Features Of Jetcost Booking App:
Rental cars on a flexible and daily basis

Ways to search for the best cheap rental cars too that fits your budget

History and search result gets saved for future references

Various fuel type options for booking rental cars

Includes cheap and economical flights and hotel bookings as well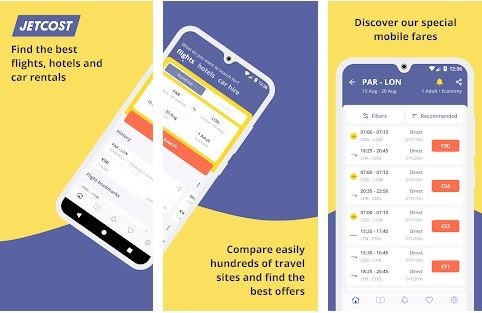 3. Sixt:
Cost of download: Free
Compatibility: IOS/Android
Play Store Rating: 4.6
IOS store Rating: 4.9
With the technological advancements in booking car rentals, the Sixt car rental app accomplishes the privilege to book or rent a car or even go by the option of sharable rides. One can term it as one of the best car rental or booking apps where you get the option of either self-drive or be driven by on scheduled or planned trips. 
Depending upon the scenario and the requirements, there lies no limit for the rental cars or duration of the booked vehicle.
Prominent Benefits Of Sixt Car Rental App:
The perfectly adjustable feature of renting cars for non-fixed schedules

Ability to share your trips to make them economical

Worldwide service so that you can easily book cars anywhere in the world

Wide range of cars available from luxury to the economical segment

An innovative comparable and cheap car rental app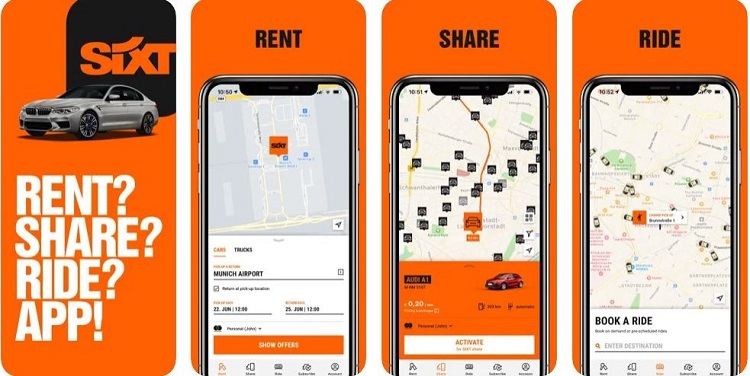 4. Turo:
Cost of download: Free
Compatibility: IOS/Android
Play Store Rating: 4.5
IOS store Rating: 4.8
The world's first peer to peer car rental application enables you to book a car anywhere regardless of proper drop location service. All in-class best segment car rentals available that help you to select a perfect ride. With a maximum community base, the Turo car rental app helps us to book directly through local hosts and contact-less check-in options. 
Alongside the race of claiming the title of best car rental apps, Turo has already claimed the title of cheap car rental apps for providing affordable and budget-friendly rates for all its valuable users.
Amazing Benefits Of Turo Car Rental App:
Unique options of car choices for a perfect road trip

One can book directly through local hosts for an amount as cheap as $18/day

More than 4,00,000 vehicle choices

Complete amount of liability insured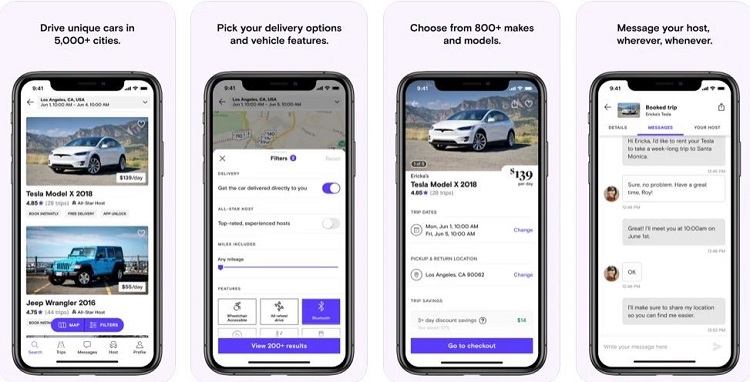 5. Rentcars
Cost of download: Free
Compatibility: IOS/Android
Play Store Rating: 4.3
IOS store Rating: 4.7
The car rental service industry is gradually increasing and is getting bigger and better with time. With every car rental application, each organization tries to serve the common goal of comfort, convenience, and hassle-free bookings. This main purpose is being served by Rentcars.com, which allows us to view and compare all the rental car services available and makes the choice of selection even faster and economical.
Key Benefits Of Rentcars.com App:
Global coverage included

No extra charge for modifying bookings

Options for the unlimited drive

Includes great discounts and promotions at the time of booking

Part-Payment option to ease your burden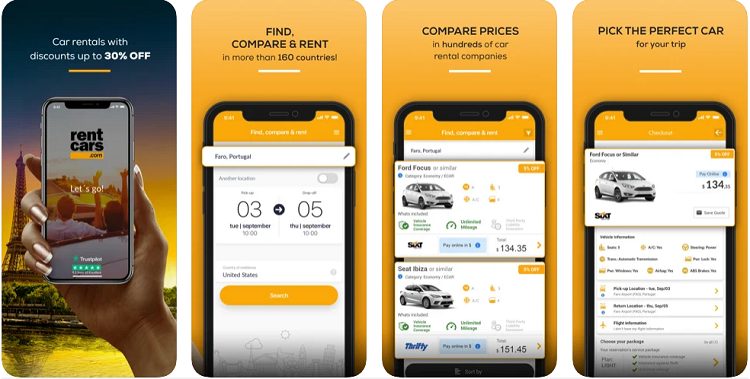 6. Zipcar
Cost of download: Free
Compatibility: IOS/Android
Play Store Rating: 3.8
IOS store Rating: 4.5
One of the earliest and best car rental apps that still stands on the firm agenda of hassle-free bookings is Zipcar. It also provides insurance that covers fuel and overall damage expenses. There is a wide range of choices available to select the segment of car that suits your requirements. All the details of the bookings are shared; rentals get unlocked just by a click. You also get multi-lingual support.
Eye-Catching Features Of Zipcar Booking App
Organized trip details for your convenience

Dedicated parking spot assigned

Various filters to select cars according to your requirements

Affordable cheap booking in the range of $8-10/per hour

Includes fuel and insurance in the trip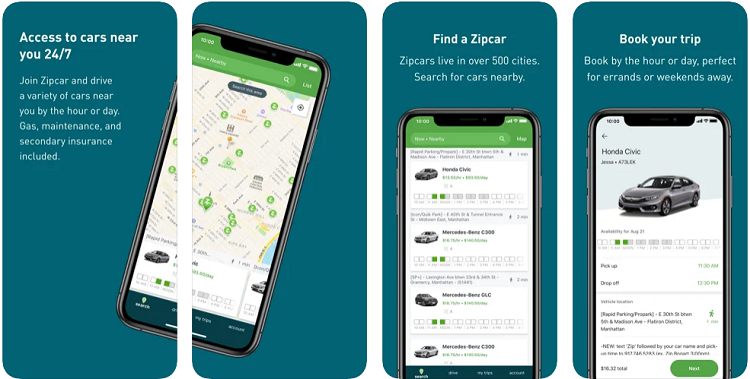 7. Drivezy
Cost of download: Free
Compatibility: IOS/Android
Play Store Rating: 3.1
IOS store Rating: 3.7
Do you want to experience a self-designed vacation trip without owning a vehicle? This rental application transforms these small dreams into reality. Drivezy is one of the most accessible, convenient, and promising rental car service platforms. It not only provides car bookings but also works on maintaining relationships with users. Behind the nomenclature of the rental application, the main idea was to provide easy and convenient rides for all types of bookings and requirements. In the race of best car rental apps, Drivezy has come across some remarkable new benefits.
Promising Benefits Of Drivezy Rental App:
Budget-friendly

Do not require any additional security deposit amount

Delivering best in segment cars by your doorstep

Fuel reimbursement options available

Hourly, weekly, and monthly subscriptions are available to book cars according to your needs

Also provides Bike rental and booking facility depending on your trip

Customizable package options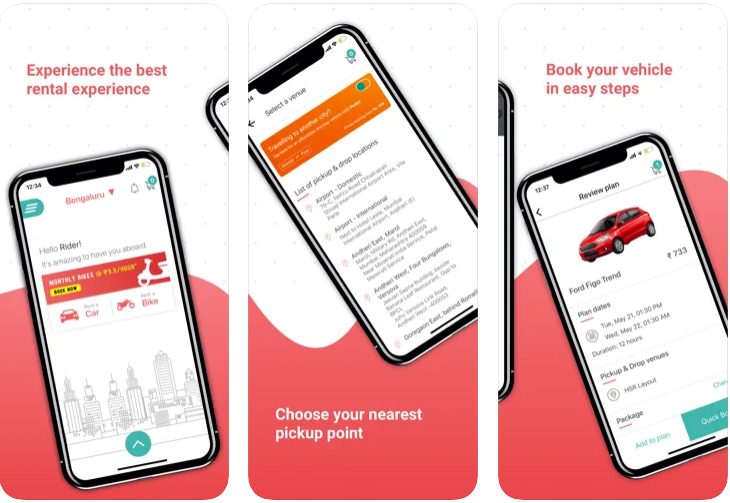 8. Hertz
Cost of download: Free
Compatibility: IOS/Android
Play Store Rating: 4.3
IOS store Rating: 4.8
Among all the various car renting apps available, Hertz sets a benchmark for the best car hire app and climbs up its way towards the top of the list by providing extraordinary benefits on car booking and rentals. Along with providing cheap car rental plans, it also offers roadside assistance and support around the trip. Now it's the time for you to plan your unforgettable and remarkable journey from the wide range of options and choices available. It also provides a very friendly and easy driven user interface experience for all the novice users to conveniently manage their car bookings.
Remarkable Features of Hertz Car Hire App:
Best car booking app software that allows usability online as well as offline

Saves all the receipts of the expenses during the trip for future evaluation

Quick and efficient roadside support

Saved preferences for quicker and better results

Allows to avail best offers through points credited after the trip ends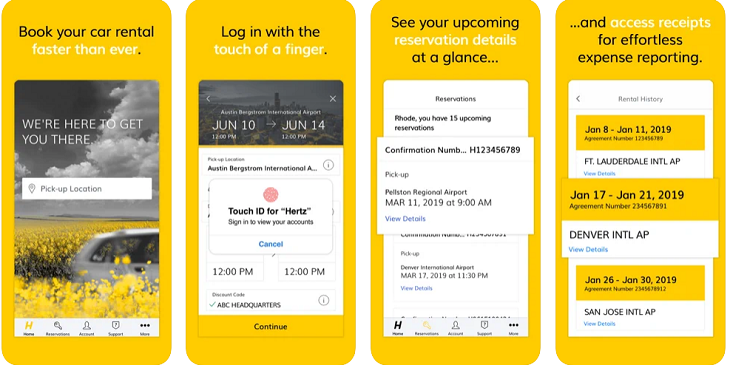 9. Enterprise Rent-A-Car:
Cost of download: Free
Compatibility: IOS/Android
Play Store Rating: 4.5
IOS store Rating: 4.9
Enterprise Rent-A-Car is one of the most dominant competitors in the arena of best car renting apps. We all know that it is not at all feasible to book a car through mobile apps. But, with this car booking app, the complex task was not only simplified but also modified in such a way that even a novice user could easily book and hire cars for rentals. It allows you to make planning and choice of preference for the rental vehicle beforehand so that it would not create any hassle before the start of your precious trip. 
Perplexing Features Of Enterprise Rent-A-Car Booking App:
Best A.I. personal assistant that manages all your bookings

Allows to choose within a wide range of options depending upon the location

Rapid Login technology by use of just a fingerprint

Book and pay in advance for all your booking to avoid the late hassle

24/7 roadside assistance along with customer support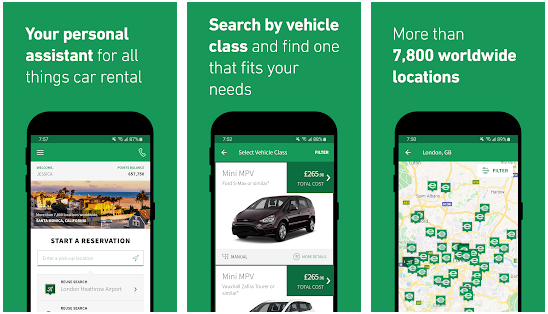 10. Zoomcar-Self-Drive Car Rental:
Cost of download: Free
Compatibility: IOS/Android
Play Store Rating: 3.1
IOS store Rating: 3.6
The basic ideology behind the self-drive was to give freedom and the benefit to enjoy the entire trip arranged & planned with friends or family. With one of the largest platforms of service, Zoomcar allows a joyful experience in renting cars so that the peace of mind is not compromised.
Among the choice of best car renting apps, Zoomcar drives the personal experience of the user in the arena to find their perfect and best car for the rental or subscription according to the trip.
Spectacular Benefits Of Zoomcar-Self-Drive Car Rental App:
Best-in-class pick up and drop car hire experience with doorstep delivery

Requires minimalistic steps to book a perfect ride

Best car hire app that includes fuel, taxes, and tolls for a comfortable and easy trip experience

A wide selection of car rentals available for you to choose your perfect partner for the trip.

Allows rental as well as subscription booking to allow plenty of time for you to enjoy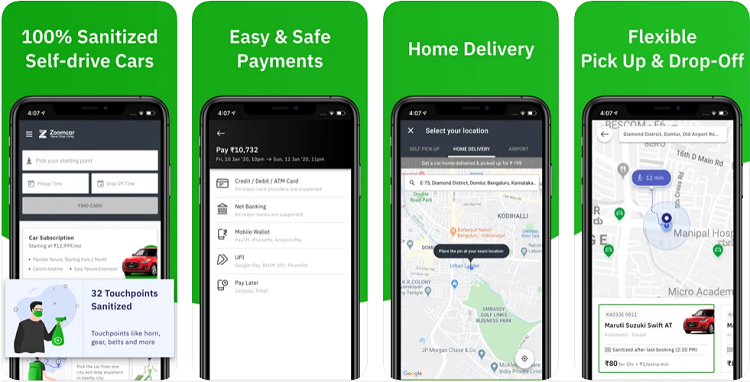 Final Verdict On Best App For Car Booking:
Now, as we are concluding our search for the best car booking app, we would like to share that booking and renting cars do provide you all with class comfort and a wide range of choices to choose from. The detailed description of the top 10 best car rental apps do provide us with a wider area of view and helps to improve our choices, even depending upon the cost included in the booking of rental cars. Don't miss this opportunity to be your own boss and plan a trip or vacation with your loved ones with the most exclusive car booking and hire app that provides you all the luxury you deserve.
For more information and interesting content like this, do not hesitate to follow and subscribe to Innovana blogs.
Subscribe to Our Newsletter
Keep yourself updated with the latest technology and trends with Innovana Thinklabs Limited.