Not many people use CD players these days. Nowadays, folks, particularly audiophiles,  prefer to rip the contents of a CD to their computers or another device that can play audio files. Do you also want the same hassle-free audio playing? Then, you need the help of the best CD ripping software to do the needful.
A CD ripper copies the contents of a CD to the hard disk of your computer. It makes audio playing a convenient and trouble-free experience for you. Now the question that arises is, why do you need third-party software when the in-built Windows Media Player and iTunes on Mac offer CD ripping? Well, the answer is quite simple. Let's take a look at it.
Why is the Best CD Ripper needed when you have in-built ripping programs?
The best way to rip CDs is through dedicated software because the in-house programs have some unignorable downsides. We share them below.
They do not provide highly accurate rips
You do not get better tag information
Windows Media Player and iTunes cannot handle all audio formats
They cannot rip audiobooks perfectly
Windows Media Player does not offer volume normalizing
A bit of audio quality deterioration occurs when ripping CDs
To avoid the above issues, you need the best free CD ripper or a commercially available ripping program. To help you get the perfect one for your needs, we have curated the top extractor software available currently for Mac, Windows, and Linux platforms. Let's view them in detail.
Best CD Ripper Software for Windows, Mac, and Linux  in 2021
Below are the best CD ripping software you can use this year to extract CD contents on your computer.
1. Express Rip
One of the fastest and best CD ripper for Windows 10
Compatibility: Windows XP, Vista, 7, 8, 8.1, 10
Price: Free
Downloads: 434,247+
Rating: 4.9/5
Express Rip from NCH Software is among our top choices for the best free CD ripping software for Windows 10 as it packs many useful features in a clean interface. With this fast and efficient software, you can pull out audio tracks from CDs to MP3 or WAV formats, depending on your requirements. It supports a wide gamut of formats such as WMA, M4Q, AAC, AIFF, CDA, and more. Apart from this, it boasts many other useful tools like an option to save the track information. Let's look at all its top features.
Features of Express Rip
It allows you to correct the audio volume of the ripped track or adjust it according to your needs.
You can use CART and BWF methods to save tags to wave files.
You are in charge of MP3 encoding.
It boasts command line integration as well.
To keep your music collection well organized, it lets you add track and album details from its online database.
You can add metadata details like title, artist, album, and notes to the MP3 files manually.
Pros
Free trial with complete features is available
Friendly and intuitive interface
Support for a wide range of formats
Fast and top-quality CD ripping
Low resource utilization
Cons
No frequent software updates
There is no in-app file management feature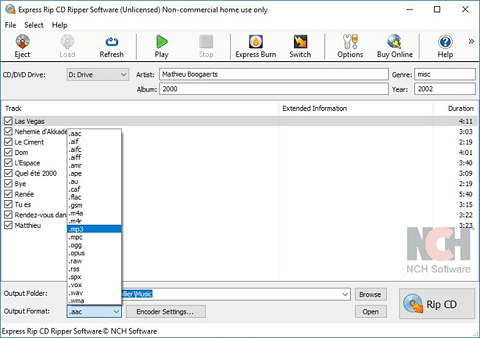 2. dBpoweramp CD Ripper
Best CD ripper for Mac and Windows offering DSP effects 
Compatibility: Windows 10, 8.1, 7, Vista
OS X El Capitan or newer
Price: $39 ( for a single device), free trial available
Downloads: 54K+
Rating: 4/5
In our hunt for the best free CD ripper for Mac, we landed on dBpoweramp CD ripper. It is not totally free but offers a full-fledged trial version with many outstanding features. Not only Mac it also works well on the Windows platform. Coming to its features, it boasts some highly appreciated tools such as a multi-encoder to encode different formats simultaneously, PerfectMeta to give you a complete metadata solution, DSP effects, and more. Below is all that it has to offer.
Features of dBpoweramp CD Ripper
It boasts AccurateRip technology to give you error-free rips.
This software is also among the best ways to rip lossless CDs.
It offers a complete range of audio encoders like m4a (AAC iPod & iTunes), Windows Media Audio (WMA), Ogg Vorbis, FLAC, and more.
With its multi-encoder, you can encode various formats simultaneously.
Using 5 metadata providers at the same time, its PerfectMeta provides you mistake-free metadata every time.
There is an Album Art CD ripper to get high-quality art from GD3, PerfectTUNES, and Musicbrainz.
You can apply DSP effects like decoded HDCD's to 24 bit, EBU R128 volume normalize, etc. while ripping.
Pros
Simple and friendly UI
Error-free ripping
Fast
Availability of in-built converter
Among the best CD rippers to get HiFi sound
Cons
Free only for a limited time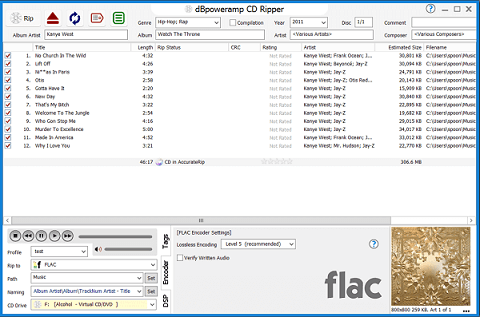 3. Exact Audio Copy
Among the highly accurate and best quality CD rippers 
Compatibility: Windows XP, Vista, 7, 8, 10
Price: Free
Downloads: 115,535+
Rating: 4.8/5
If the accuracy of rips is what worries you the most, then Exact Audio Copy can put an end to your worries. It uses technologies such as multi-reading with verify and AccurateRip to give you the most accurate rips. Though the chances are low, still if any unavoidable error creeps in, then it notifies you about the same so that you can handle it with your media player. Apart from high accuracy, below are the appreciable features that make it one of the best CD ripper music servers.
Features of Exact Audio Copy
It supports almost all types of CD and DVD drivers ranging from USB to SATA and SCSI drives.
You also get a sector synchronization or jitter correction option.
Exact Audio Copy supports a wide range of formats like MP3, FLAC, and more.
There is a volume normalization option for the ripped audio.
It lets you batch compress to WAV files and decompress compatible encoded files to WAV.
This software detects pre-track gaps and silence in pre-track gaps.
It automatically creates CUE sheets for Burnnn, Feurio, Nero or and EAC.
Exact Audio Copy supports ID3 tagging and track name editing with local/remote CD databases.
Pros
It ensures that the CD drive is accurate and reliable
A plethora of features and options
Addition of song lyrics
Tackles CD imperfections easily
Cons
LAME encoder is needed for encoding MP3 files
Email address needed to view song and album details
Confusing download page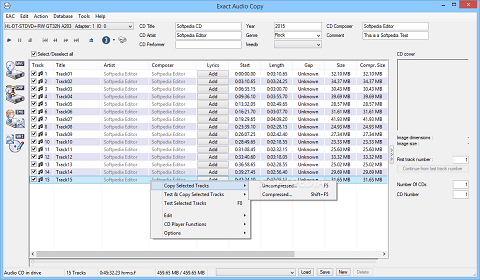 4. FreeRIP
Best CD ripper to rip and convert audio to a variety of formats 
Compatibility: Windows XP, Vista, 7, 8, 10
Price: $29.99, free trial available
Downloads: 69K+
Rating: 4.5/5
Another software you can use to extract and convert audio to multiple formats including MP3, FLAC, OGG, and WMA is FreeRIP. It offers a variety of features that make it one of the best external CD rippers available in the market currently. For instance, it boasts an outstanding FLAC converter that converts FLAC files to MP3, CD burner, MP3 tag editor, and more. Below is a quick look at its features.
Features of FreeRIP
With its advanced ripping functionality, you can rip multiple tracks to a single audio file or convert a part of the track to MP3.
It allows you to load and save album artwork for all MP3 files.
There is a CD burner to burn audio CDs and carry your music wherever you want.
You also get a highly flexible template editor to create output file names according to your requirements effortlessly.
It boasts an easy-to-use MP3 tag editor that lets you convert FLAC to MP3.
There is an in-built photo player for you to listen to CD tracks or audio files with ease.
Pros
Doubles up as an audio conversion tool
Fast ripping
Automatic filling of track and album details
Ripping audio to five formats
Cons
Locating encoding options is tough
A bit outmoded interface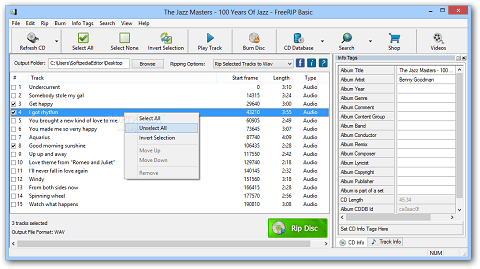 5. Foobar2000
Best CD ripper/storage player for Windows with a bunch of features 
Compatibility: Windows XP, Vista, 7, 8, 10
Price: Free
Downloads: 49K+
Rating: 4/5
Foobar2000 is a renowned Windows audiophile player. Along with being an audio player, it also functions as the best CD ripper freeware for Windows. Not only CD ripping but it provides a variety of options to give you the best music experience. For instance, you get support for gapless playback, ReplayGain, and more. Below are its most notable features.
Features of Foobar2000
It supports a multitude of audio formats such as MP3, MP4, AAC, CD Audio, WMA, Vorbis, Opus, FLAC, WavPack, WAV, AIFF, and more.
You can customize its interface layout effortlessly.
It supports gapless, i.e., playing consecutive audio tracks without any interruption.
Foobar2000 has highly advanced tagging capabilities.
With this software, you can not only rip but also transcode all compatible formats with its converter component.
Pros
Customizable interface
Supports plug-ins
Good tagging and organization capabilities
Uses two databases to find album information
Cons
Interface initially looks unappealing
No tutorials for advanced features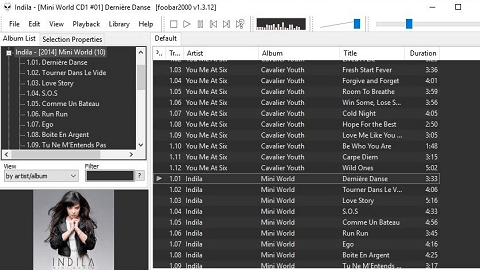 Also Read: Best Free DVD Ripper for Windows
6. Audiograbber
One of the best CD ripper programs to grab digital audio from CDs
Compatibility: Windows XP, Vista, 7, 8, 8.1, 10
Price: Free
Downloads: 48K+
Rating: 4/5
Next, we have Audiograbber for you to extract digital audio effortlessly from CDs directly. Though it is not so advanced when it comes to features, it does a decent job as a CD ripping software. Below are the outstanding features that it offers.
Features of Audiograbber
It normalizes the audio volume automatically while ripping it.
Audiograbber supports all CD-ROM drivers.
You can find all the needed descriptions and settings in the software easily.
Pros
Simple and friendly interface
A useful manual describing all functions and settings
Highly flexible
Cons
Installation of an unneeded search tool
Makes changes in the browser settings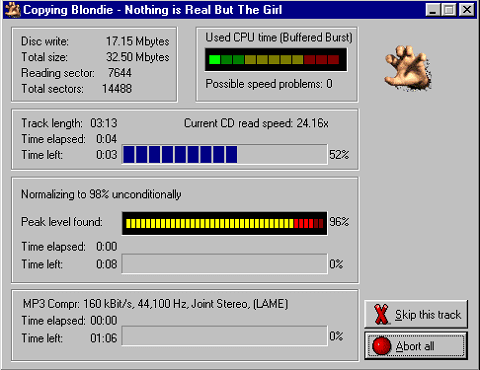 7. FairStars CD Ripper
One of the best FLAC rippers with a friendly interface 
Compatibility: Windows 2000/XP/2003/Vista/7/8/8.1/10
Price: Free
Downloads: 135,066+
Rating: 3.5/5
If you are looking for software that lets you rip FLAC files hassle-freely, then your search for the best CD ripper to rip FLAC may end here. Along with FLAC, it also supports other formats such as WMA, MP3, OGG, VQF, and more. Its user interface is what attracts us the most. It has one of the friendliest UIs we have come across. Moreover, there are highly useful help files explaining each of the available options in detail. Apart from this, below is what else we find praiseworthy in this software.
Features of FairStars CD Ripper
It adjusts (normalizes) the volume automatically while ripping audio.
There is support for ID3 tags.
It boasts audio playback control functionality.
This software supports many audio formats and CD/DVD drives.
Pros
Finds album information from music databases
Help files are really helpful in understanding the features
Makes adjustments to the sampling rates
Friendly and lightweight interface
Renames files automatically
Cons
You cannot change settings for the output format
It looks a bit outdated
Some useful features are missing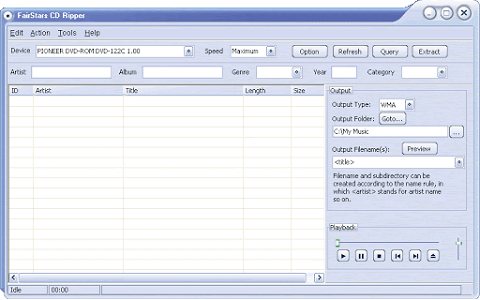 8. CDex
An open-source best free CD ripper 
Compatibility: Windows XP, Vista, 7, 8, 8.1, 10
Price: Free
Downloads: 2,51,719+
Rating: 4/5
Next, we have CDex on our list of the best CD drive rippers. It supports almost every CD hardware and encompasses some truly laudable features. For instance, it can transcode one compressed file to the other one. In addition to this, here is what else you can expect from this software.
Features of CDex
It supports many formats such as WAV, MP3, Vorbis, FLAC etc.
CDex automatically identifies almost every inserted CD and metadata through an online database.
It encompasses cdparanoia for excellent CD reading.
CDex also comes in a portable format.
Pros
Handling of different tag formats like ID3v1 and ID3v2
Normalizes the audio signal
Support for CD-Text
Good jitter correction capability
Support for batch recording
Cons
Needs LAME encoder to code MP3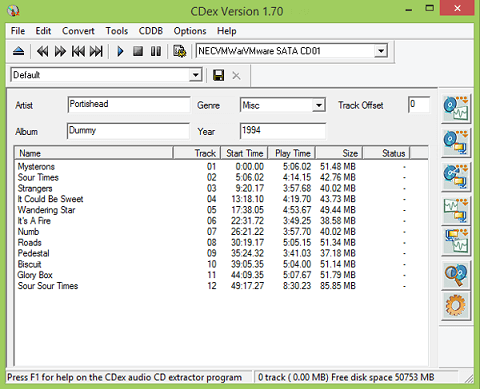 9. Fre:ac
Best free CD ripper for Mac, Windows, and Linux with an in-built player 
Compatibility: Windows XP, Vista, 7, 8, 10
Mac OS X 10.5. 0 or later
Linux
Price: Free
Downloads: 42K+
Rating: 4.5/5
Fre:ac is among the best CD rippers for Linux, Mac, and Windows alike. Along with working as an encoder and ripping software, it also works as a player. Moreover, it also provides Unicode support that many other similar programs lack. And below are the other features of this program.
Features of Fre:ac
It supports a lot of formats such as MP3, M4A/AAC, FLAC, WMA, etc.
Being portable software, you can take it anywhere with a USB stick.
Fre:ac comes with complete Unicode support.
Its interface is multilingual and available in over 43 languages.
Pros
Searches based on pattern
High-quality jitter correction
Works on all major platforms
Supports multiple languages
Easy to use
Cons
The interface seems a little outdated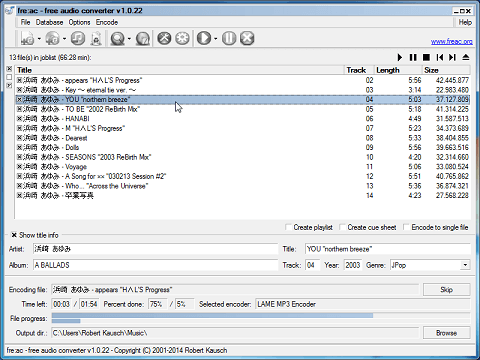 10. LameXP
Among the best quality CD rippers to rip lossless audio on Windows and Linux 
Compatibility: Windows XP, 7, 8, 10
Price: Free
Downloads: 83K+
Rating: 4.2/5
LameXP is also one of the best ways to rip lossless CDs on Windows and Linux platforms. It also supports MP3, Ogg Vorbis, Opus, AAC/MP4, and other types of audio files along with lossless formats. Moreover, it is a portable application that you can run via a USB stick. We share its top features below.
Features of LameXP
With this software, you can convert audio files from one format to another effortlessly.
It boasts support for a plethora of audio formats.
You get an easy-to-use meta-tag editor to add new metadata or manage the existing one.
It comes with full Unicode support for meta details and file names.
LameXP supports filters like sample rate conversion, normalization (gain adjustment), tone adjustment, and down-mixing.
Pros
Portable
Fast and convenient
Availability of post-processing filters
Cons
Not so attractive interface
A bit tough to understand for beginners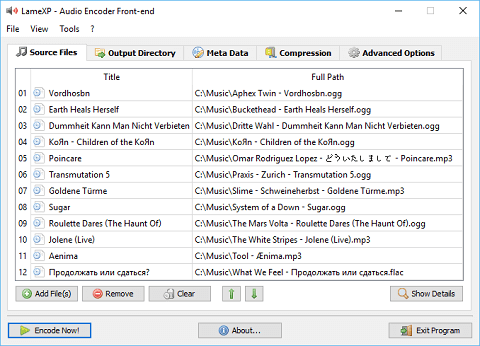 Above was our review of the best CD rippers to help you select one for your needs. Now, let's answer some questions we frequently receive on this topic.
Also Read: Best Free Driver Updater Software For Windows
Frequently Asked Questions(FAQs)
Q1. Does ripping a CD affect quality?
Ripping a CD does not lead to a quality loss in general. However, sometimes a bit of quality may be lost. You can prevent this by ripping in formats like FLAC, i.e., Free Lossless Audio Codec.
Q2. What is the best quality to rip CDs?
If you do not want even a bit of quality loss, then we recommend these formats.
WAV,
FLAC,
AIFF/AIF,
ALAC,
WMA lossless
Q3. Is it worth ripping CD to FLAC?
FLAC is an abbreviation for Free Lossless Audio Codec. If you rip a CD to FLAC, then there is negligible or no loss of quality. Hence, ripping a CD to FLAC is a good idea.
Q4. What is the best free CD ripping software?
We have listed almost all the top CD ripping programs in the above section. You can go through it to choose the best one for your requirements. However, below are our personal favorites.
Express Rip
Exact Audio Copy
Q5. What is the best DVD ripper for Mac?
To rip DVDs on Mac, you can consider these programs.
MacX DVD Ripper Pro
Cisdem Video Converter
Concluding the best CD rippers
Above we shared the best CD ripping software along with their features, pros, and cons. You can weigh them against one another and then select the free or premium program that fits your needs the most. If you feel we have missed out on any outstanding software, then you can mention it in the comments section. And for more software suggestions and other tech information, do visit our blog again.
Subscribe to Our Newsletter
Keep yourself updated with the latest technology and trends with Innovana Thinklabs Limited.