Do you remember how fast your PC was after the initial days of purchase? You might want to regain that performance of your computer. And for this, you have used some PC performance optimizers like CleanMyPC, which is one of the PC tuning software. But as nothing is perfect, CleanMyPC also has some shortcomings and may have failed to satisfy all your requirements. Hence, some of you are looking for a competent counterpart for the program. If yes, then you have arrived at the right page, here we are going to list some of the best CleanMyPC alternatives for Windows 10, 8, and 7 users.
However, before proceeding to the alternatives, here we have evaluated some of the CleanMyPC cons that are unavoidable for most of the users.
CleanMyPC Cons that are Quite Annoying
Here we have enlisted the annoying cons of this PC cleaning and tuning program. Most of the users find them quite unavoidable and hence ultimately switch to a similar software like CleanMyPC.
The startup optimization feature is not so effective. Hence, some people may feel cheated for the amount that they have paid for the subscription.
The program doesn't allow the users to exclude the Secure Delete option from the right-click menu.
It is quite expensive as compared to other alternatives offering the same set of features.
You may get annoyed and irritated with its vigorous and repetitive alerts and notifications. It is one of the most hated con of CleanMyPC.
If you like customized features, then this junk cleaning utility may disappoint you as it is not so customizable and work on the pre-set functions.
The program doesn't offer multi-dimensional functionality. You get quite less features as compared to the alternatives.
Lack of advanced tools and functions may also disappoint you.
The free version is good for nothing. It allows you to remove only 500MB junk from the PC.
Best CleanMyPC Alternatives for Windows 10, 8, & 7
CleanMyPC has several cons. If you are unhappy with any of them, then have a look at the list of some best CleanMyPC alternatives mentioned below.
1. Avast Cleanup
Almost all of you might be familiar with this name. Avast is one of the biggest software developers in the industry of PC security and optimizing programs. Hence, Avast Cleanup is one of the widely used and reliable tools to clean junk from Windows PC and optimize it as well. Along with the name of developers, it is also famous for its multi-feature functionality. Here we discuss some of the prominent features of Avast Cleanup that makes it one of the best CleanMyPC alternatives.
Prominent Features of Avast Cleanup
It offers a comprehensive cleaning of Windows PC with its junk cleaner, registry cleaner, & internet traces cleaner features.
You can also hibernate the programs that you want to stop from running in the background by using this similar software like CleanMyPC.
It also provides you with a disk defragmenter feature.
Along with all the above things, it also boosts the performance of your system by updating the installed software.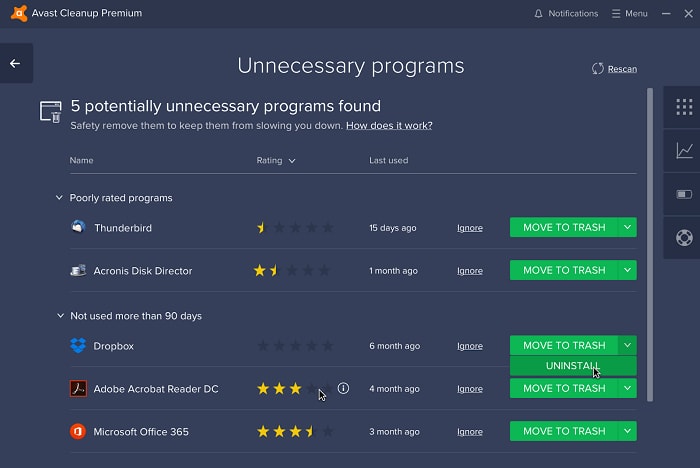 2. Piriform CCleaner
Piriform CCleaner is another popular name on this list. It is one of the best system cleaner programs of all time. The software is known for offering a plethora of advanced PC cleaning features at an affordable rate. You can even optimize the booting performance of your Windows PC by using the futuristic optimization features of Piriform CCleaner. Below we have highlighted some of the salient features of this well-known counterpart of CleanMyPC.
Salient Features of Piriform CCleaner
This junk cleaner also boasts features to clean the faulty and invalid registries on your Windows PC.
Another vital function of this competent CleanMyPC alternative to boost system performance is it's software and driver updater.
It also boasts an efficient uninstaller feature to clean unrequired apps and programs from the PC.
You can also boost the internet connection speed and booting process of your Windows system by this tool.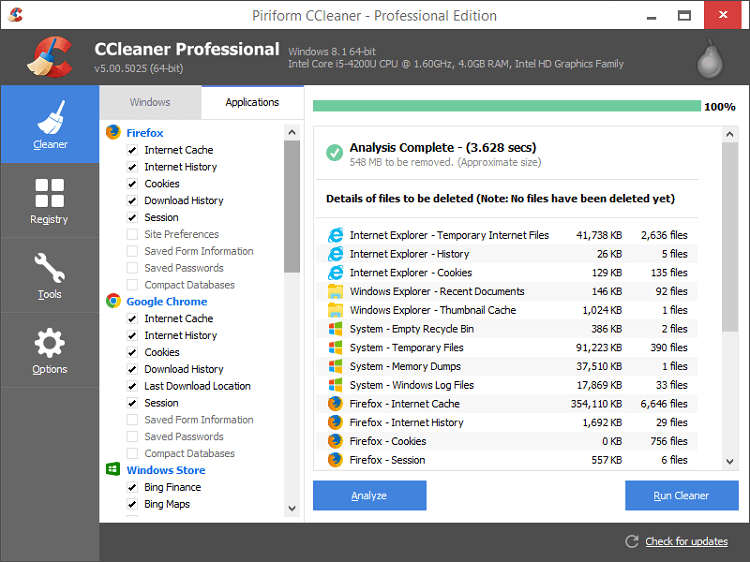 Also Read: 14 Best CCleaner Alternatives 2020 when You're forced into Subscription
3. Glary Utilities
Glary Utilities is another feature-packed alternative for CleanMyPC. It offers several PC cleaning, optimizing, and security features for the Windows XP, Vista, 7, 8, and 10 users. One can even fix the issues with the Windows registries using this one of the best CleanMyPC alternatives. It is also quite fast than most of its counterparts. Here we have mentioned some other highlights of this competent cleaner software.
Highlights of Glary Utilities
The program helps to remove the undesired add-ons from the browsers.
You can also use this program to stay safe from the malicious ads and spyware on the internet.
It also boasts a cleaner to get rid of the invalid registries on your Windows PC.
Glary Utilities is also known for its one-click functionality.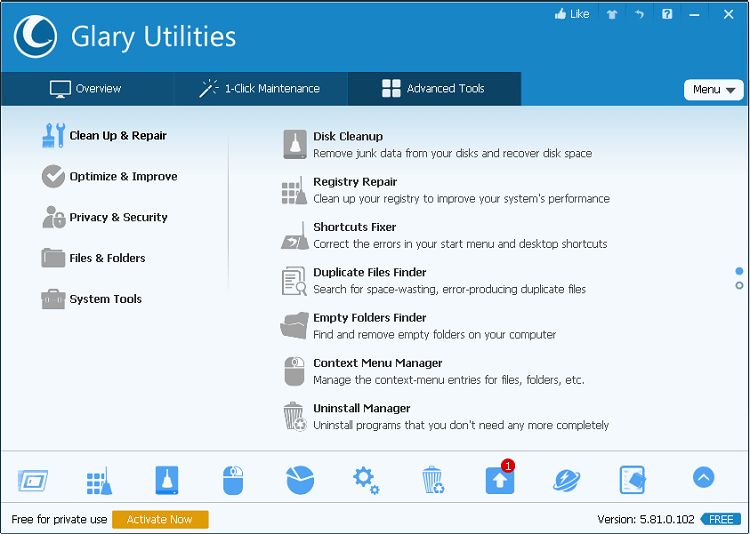 4. Ashampoo WinOptimizer
We cannot ignore Ashampoo WinOptimizer while talking about the best CleanMyPC alternatives. It is one of the most similar software like CleanMyPC and offers a bunch of additional features as well. Along with junk cleaning, the program is also helpful in uninstalling unneeded apps and boosting system performance. Ashampoo WinOptimizer also offer lots of other handy features, here we mention them below.
Handy Features Of Ashampoo WinOptimizer
It can make your PC boot quicker with its Startup Manager.
You can also tuneup the internet speed on your Windows PC using this program.
The registry cleaner feature to deal with broken registries also helps the users to enhance the performance of their system.
It also provides lots of additional helpful features like disk defragmenter, File Associator, etc.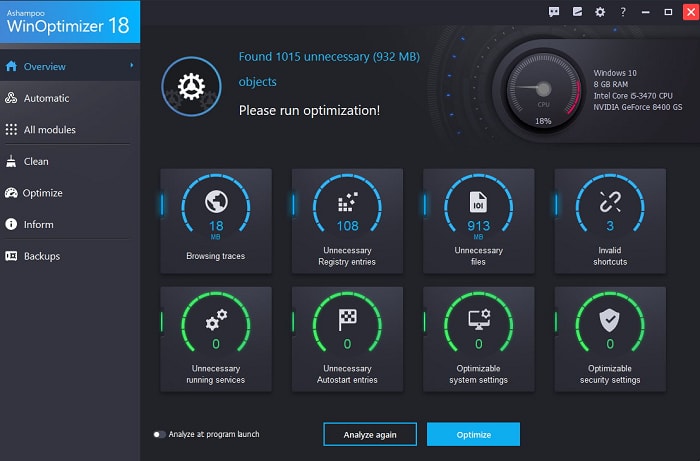 Final Words on The Best CleanMyPC Alternatives
If you are also one of those people who cannot avoid the cons of CleanMyPC, then you can consider any of the above software. All the names that we have provided here are competent alternatives for the PC cleaner program. But, after evaluating all of them based on their features and cons of host, we have found that Avast Cleanup is one of the best CleanMyPC alternatives in the true sense. It eliminates the shortcomings of CleanMyPC and offers various helpful advanced features. It is also quite affordable. Hence, we recommend you to try it if you are looking for a competent counterpart for your PC cleaner software.
Furthermore, you can also let us know the problems that you have faced with CleanMyPC or any other junk remover software for Windows 10 by using the comments. Let us know your preferences as well.
Subscribe to Our Newsletter
Keep yourself updated with the latest technology and trends with Innovana Thinklabs Limited.