Don't let the CPU overheat and elevate its performance with the best Mac temperature monitoring software shared in this post.
We all know that the CPU is the heart and brain of every computer system. Without a well-functioning CPU, the device crashes in no time. Thus, it is crucial to keep this core component in peak condition. If the processor is healthy, it can ensure your system's good performance. One way to do this is to use the best Mac temperature monitor software.
What is a Mac Temperature Monitoring Software?
Mac temperature monitoring software is a utility that keeps tabs on the heat that the CPU generates when performing high-end activities such as playing a graphic-intensive game. It gives you an indication that the processor needs to cool down and helps you increase its life.
Why do we need a Mac CPU Temperature Monitor?
A good Mac CPU monitoring software helps in monitoring and controlling the overheating of the processor. Most of the users overly on the in-built activity monitor and neglect the need for the best Mac temperature monitor. No doubt, it is a decent built-in utility, but it has its own set of cons such as it does not show you the complete picture of the programs running inside the device. It often does not display many of the activities that your Mac is performing.
Thus, for complete details about all the activities, check out the best Mac temperature monitors shared in this post.
Top 11 Mac Temperature Monitors in 2021
Below are the best CPU temperature monitor software tools to keep an eye on Mac's processor.
1. iStat Menus
Opening a new window to see what activities your Mac is performing seems annoying, right? Well, this best CPU temperature monitor software has a cool notification widget to inform you about all the happenings on your Mac. This is not all and it also has a host of customization options. Moreover, it monitors and displays the CPU's frequency, hard drive temperature, voltage, power, and more details in real-time.
With this best Mac temperature monitor, you even get detailed information about the weather conditions, forecasts for the hour, direction and speed of the wind, and many such details.
Features of iStat Menus
Real-Time CPU and GPU status
Pie chart, graphs, and other charts to present data
Effective sensors to monitor hard disks, temperature, etc.
Monitors the battery status of the mouse, keyboard, and other devices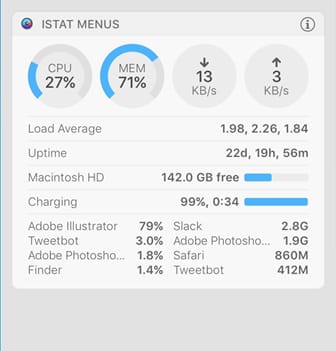 Also Read: Top 7 Duplicate File Finders for Mac to Delete Duplicate Files
2. TG Pro
Here comes another hardware monitor for Mac that gives you detailed information about the processor's health. It brings to your notice every activity that your Mac is performing. With this utility, you can view the complete details about the battery's condition and CPU's temperature.
This best CPU temp monitor also automatically elevates the fan's power. And, if you want, then it allows you to do this manually too. Moreover, it has one of the most uncluttered and user-friendly interfaces that we have seen.
Features of TG Pro
Full control over fan
Works obstructively for best performance
Instant cooling of processor and devices
Quick view of CPU, GPU, and device temperature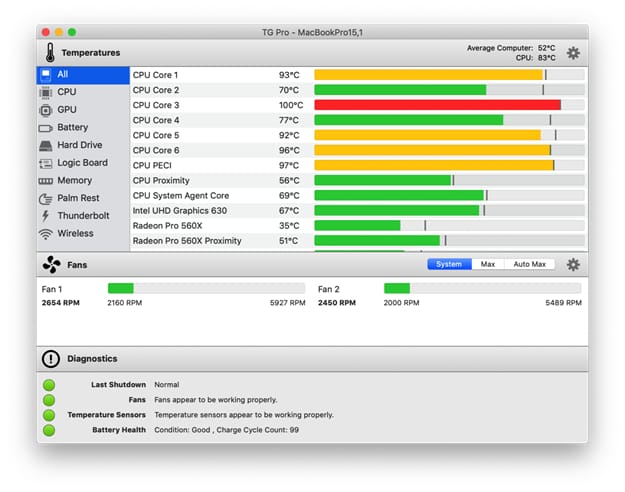 3. Fanny
This entrant on our list is one of the best CPU temperature monitor software to check the status of your device's fans. It quietly keeps tabs on the working of CPU and fans without taking up your workspace. Moreover, this tiny utility displays the entire information about the CPU's temperature, speed, and the number of fans.
One thing that attracted us to this mac os temperature monitor is its uncluttered, lightweight, and easy-to-use interface. You can simply click on its enticing notification widget to view all the CPU details in a blink of an eye
Features of Fanny
Effective notification widget
Lightweight and low-performance impact
Provides information regarding CPU status, fans speeds, etc.
Temperature unit for monitoring changes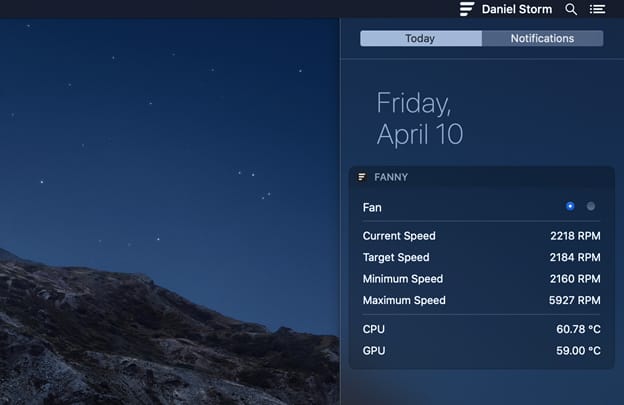 4. MenuBar Stats
As the name implies, this best CPU temp monitor displays all the stats about Bluetooth, disk, network, and of course CPU's temperature on the menu bar.  It hosts 5 advanced modules to check CPU temp on Mac, memory, network, disk, and battery. And, all these modules can be integrated into one window or kept separate as per your preference.
Moreover, this best free Mac temperature monitor encompasses plenty of customization options. It lets you view all the information about the processor swiftly without any hassles.
Features of MenuBar Stats
Keeps an eye on the CPU's consumption units
Monitor disk usage and much more
Checks for the performance of batteries
Works like a Bluetooth device connection manager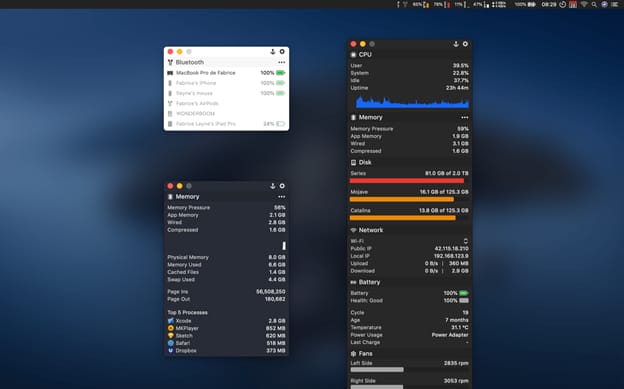 5. Temp Monitor
This is also one of the best CPU temperature monitor software that monitors the processor in real-time. And, alerts you whenever the temperature rises beyond limits. Moreover, it also cools off the CPU when it is superheated.
One good thing about this tool to check Mac temperature is that it does not come up on the screen unnecessarily. It only appears when your device is in real danger. Moreover, with this software, you can check all the vital details such as name, value, graph, and the entire gamut of sensors that your Mac has.
Features of Temp Monitor
Displays temperature status on the screen in the form of text
Integrated notification center
Audio and visual notification of status
Monitoring of fan speed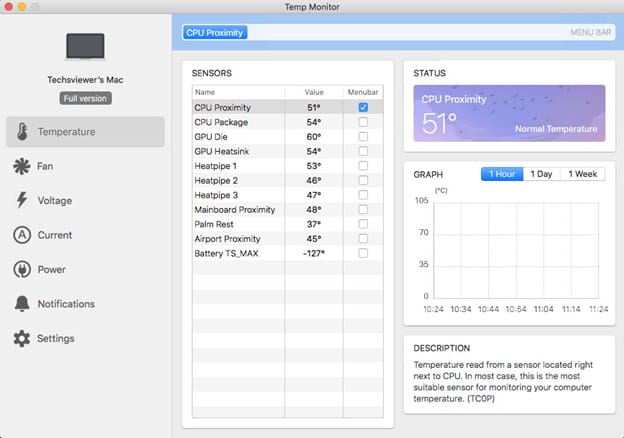 Image Source: Mac Software Download
Also Read: 14 Best Mac Cleaner Apps to Optimize and Speed up your Mac
6. XRG
This is an open-source hardware mac temperature monitoring. It brings to fore the entire details about your device ranging from CPU's temperature to the battery status. Apart from this, it also gives you some additional information such as weather forecasts and stock market data.
Another noticeable thing about this best Mac temperature monitor with free download is an uncluttered and easy-to-use interface.
Features of XRG
Monitor CPU, GPU, battery status
Open-sourced
Clean and flexible interface
Low resource consumption on the meter processor

7. Monity
Here comes another incredible utility to check CPU temp on Mac. This best CPU temperature monitor software displays the entire information about the processor. And, it also lets you instantly view details like fan's speed, app and memory usage, and battery condition.
Moreover, this application is light in weight and does not consume much of the device resources.
Features of Monity
Check CPU, GPU, battery, and other device status monitor
Lightweight software
Temperature monitoring sensors
Optimal network monitoring activity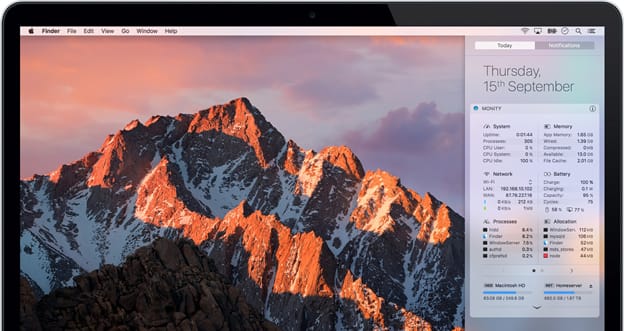 8. MenuMeters
Another great example of mac temperature monitoring software is MenuMeters. MenuMeters is one of the best software that helps in monitoring the CPU, GPU, battery, network, and other aspects of Mac. What makes the software quite different from others is its effective SystemUIServer plugins that help in proving accurate usage statistics and performance analysis of different sectors.
Features of MenuMeters
Optimal mode to select the temperature sensor
Readable descriptions of statistics
Integrated dock menu with auto-update features
Displays memory menu meters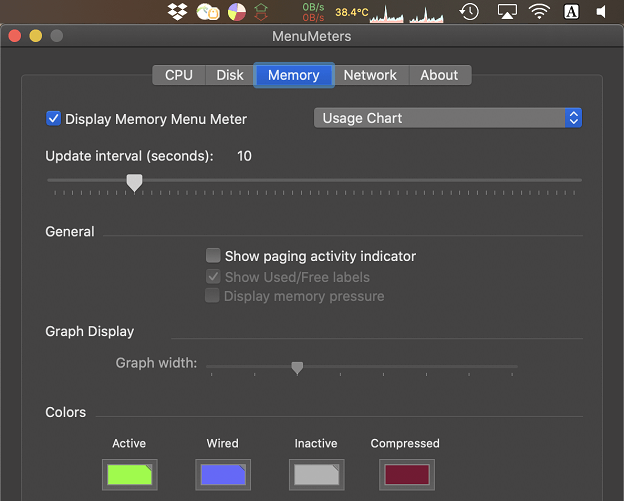 9. CoconutBattery
CoconutBattery is an effective mac os temperature monitor. The cross-platform software shows the live performance status of your Mac. The software details the age of the connected CPUs, batteries, and other devices. It also displays the frequency of battery charging and its health. The software provides real-time notifications about the status of devices and monitors overheating.
Features of CoconutBattery
The software works with the latest versions of Mac
Realtime WiFi support for users
Loaded with custom template printing
Advanced features and menu options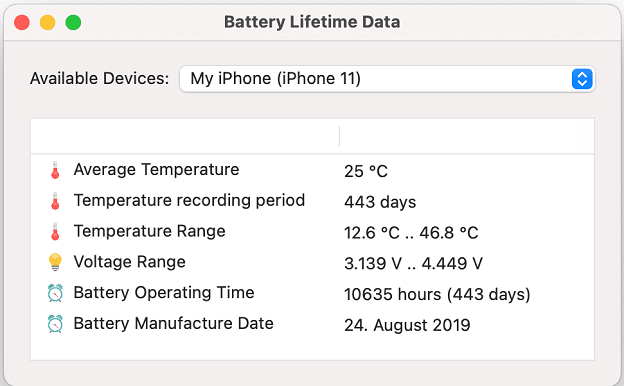 10. iStatistica
Another great alternative for a mac temperature monitor for free is iStatistica. iStastica has a system monitoring board that helps the users in monitoring the real-time performance of the network, CPU, graphic card, and other devices. It displays the temperature status of devices and fan speed. The user can access all the details remotely with the help of the software.
Features of iStatistica
Attractive and informational widgets
Real-time notifications
Information about connected devices
Best networking statistics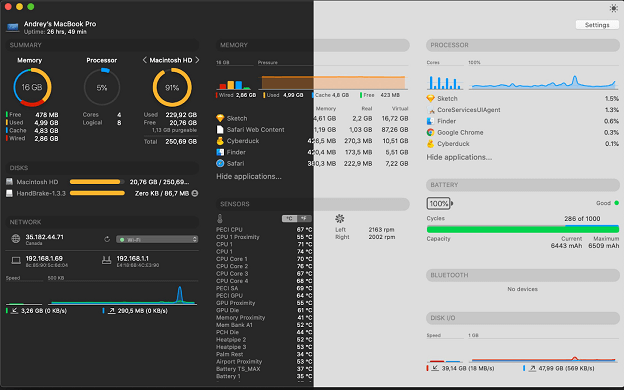 11. SMART Utility
SMART Utility is the best free mac temperature monitor which scans the hardware and provides accurate statistics about the performance and status of different devices. The integrated SMART (Self-Monitoring, Analysis, and Reporting Technology) connects with the data provided by the manufacturers to provide an accurate performance analysis. The interface is attractive with color-coded designs.
Features of SMART Utility
Manages internal drives as well as partitions
Intuitive interface with multiple menu options
Provides an option to print the reports
Background scanning and operation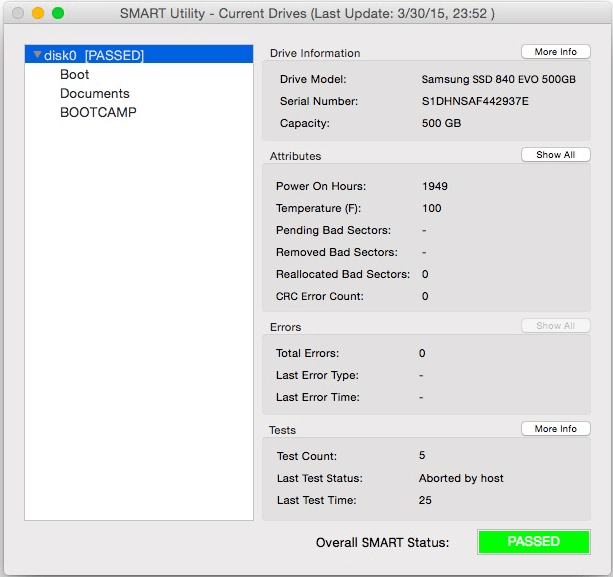 Frequently Asked Questions (FAQs) about Best Mac Temperature Monitoring Software Free
Q.1 How do I monitor the temperature on my Mac?
It is very easy to monitor the temperature on a mac temperature monitor free. Most of the mac temperature monitoring software provides automatic notification and performance reports which the user can check. In other cases, the user has to run the application and follow the particular steps to analyze the performance. Such reports and statistics are generally found in the main window of the interface.
Q.2 What temperature should my Mac CPU run at?
The temperature at which any Mac processor should run is 65 to 70. This range is the most desirable ones. If the temperature ranges between 70 to 80, it is bearable but not precise. Between 80 and 90 the mac needs to be attended. Above 90 degrees can be very destructive for the Mac. If the temperature goes above 90, it needs to be attended to or diagnosed right away.
Q.3 What is the best Mac temp monitor?
There are a lot of mac monitoring software available on the internet but not all of these are the best. The best mac monitoring software should be easy to use and reliable. We have listed all the 11 best Mac temperature monitoring software, download one that deems fit.
Q.4 How do I know if my Mac is overheating?
It is very hard to monitor the temperature of a Mac without any software. Apple has introduced an integrated temperature monitor named for its users but it is not as effective as other mac os temperature monitors. We recommend that you check out and download the best free mac temperature monitor listed above for accurate monitoring.
Q.5 How do I monitor my fan speed on a Mac?
Any user can control the speed of the fan through the built-in Macs Fan application but it is not as effective and flexible as other controlling applications listed above. For best results and better control over fans, download and install any one of the above-listed apps.
Last few words about Free Mac Temperature Monitoring Software
In this article, we have listed all of the 11 best Mac temperature monitor software. Any user can download and install software of their choice to monitor hardware on Mac and elevate the processor's performance. With the help of these applications, the user can not only monitor the processor and other hardware's temperature but can also perform numerous other functions provided by different applications. Use the Mac temperature software monitor and get all the power in your hands.
Lastly, before leaving, don't forget to subscribe to Innovana Blog for more information and updates.
Subscribe to Our Newsletter
Keep yourself updated with the latest technology and trends with Innovana Thinklabs Limited.