Don't let CPU overheat and elevate its performance with the best CPU temperature monitoring software for Mac shared in this post.
We all know that CPU is the heart and brain of every computer system. Without a well-functioning CPU, the device crashes in no time. Thus, it is crucial to keep this core component in the pink of condition. One way to do this is to use the best CPU temperature monitor software. This utility keeps tabs on the heat that the CPU generates when performing high-end activities such as playing a graphic intensive game. It gives you an indication that the processor needs to cool down and helps you increase its life.
But, when it comes to Mac devices, users overly on the in-built activity monitor and neglect the need for the best Mac temperature monitor. No doubt, it is a decent built-in utility, but it has its own set of cons such as it does not show you the complete picture of the programs running inside the device. It often does not display many of the activities that your Mac is performing.
Thus, for complete details about all the activities, check out the best Mac temperature monitors shared in this post.
Top 7 Mac Temperature Monitors in 2020
Below are the best CPU temperature monitor software tools to keep an eye on Mac's processor.
1. iStat Menus
Opening a new window to see what activities your Mac is performing seems annoying, right? Well, this best CPU temperature monitor software has a cool notification widget to inform you about all the happenings in your Mac. This is not all and it also has a host of customization options. Moreover, it monitors and displays the CPU's frequency, hard drive temperature, voltage, power, and more such details in real-time.
With this best Mac temperature monitor, you even get detailed information about the weather conditions, forecasts for the hour, direction and speed of the wind, and many such details.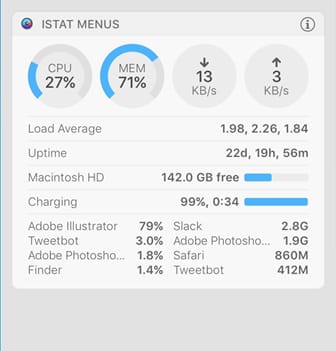 Also Read: Top 7 Duplicate File Finders for Mac to Delete Duplicate Files
2. TG Pro
Here comes another hardware monitor for Mac that gives you detailed information about the processor's health. It brings to your notice every activity that your Mac is performing. With this utility, you can view the complete details about the battery's condition and CPU's temperature.
This best CPU temp monitor also automatically elevates the fan's power. And, if you want, then it allows you to do this manually too. Moreover, it has one of the most uncluttered and user-friendly interfaces that we have seen.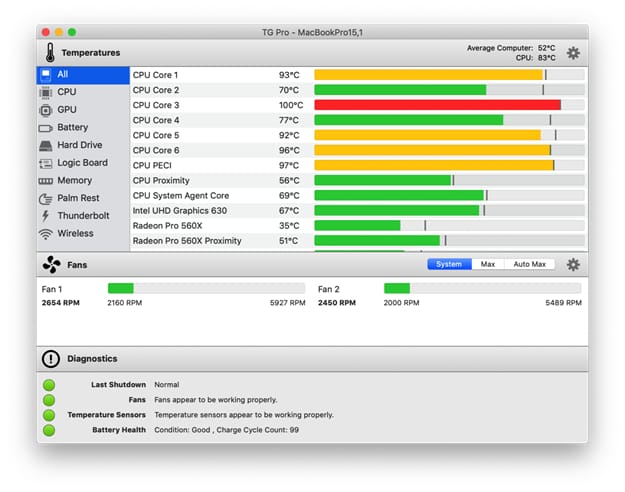 3. Fanny
This entrant on our list is one of the best CPU temperature monitor software to check the status of your device's fans. It quietly keeps tabs on the working of CPU and fans without taking up your workspace. Moreover, this tiny utility displays the entire information about the CPU's temperature, speed, and the number of fans.
One thing that attracted us to this Mac temperature monitor is its uncluttered, lightweight, and easy to use interface.. You can simply click on its enticing notification widget to view all the CPU details in a blink of an eye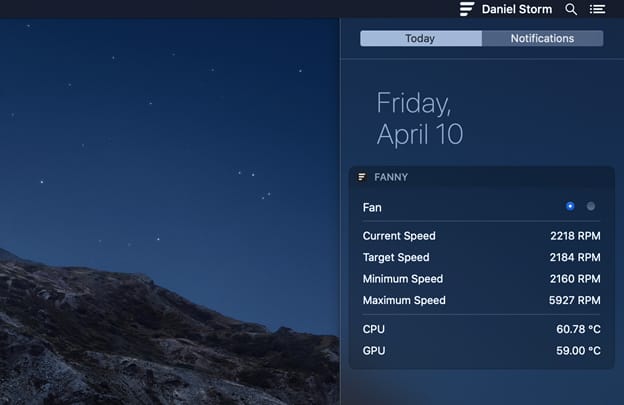 4. MenuBar Stats
As the name implies, this best CPU temp monitor displays all the stats about Bluetooth, disk, network, and of course CPU's temperature on the menu bar.  It hosts 5 advanced modules to check CPU temp on Mac, memory, network, disk, and battery. And, all these modules can be integrated into one window or kept separate as per your preference.
Moreover, this best free Mac temperature monitor encompasses plenty of customization options. It lets you view all the information about the processor swiftly without any hassles.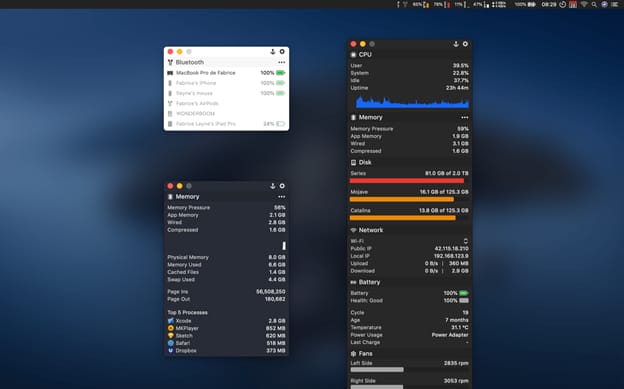 5. Temp Monitor
This is also one of the best CPU temperature monitor software that monitors the processor in real-time. And, alerts you whenever the temperature rises beyond limits. Moreover, it also cools off the CPU when it is superheated. 
One good thing about this tool to check Mac temperature is that it does not come up on the screen unnecessarily. It only appears when your device is in real danger. Moreover, with this software, you can check all the vital details such as name, value, graph, and the entire gamut of sensors that your Mac has.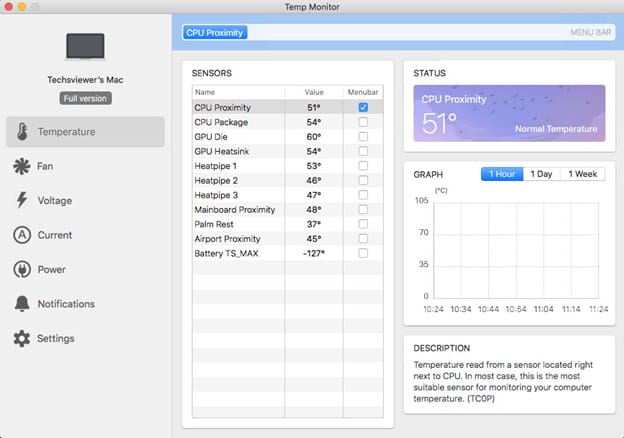 Image Source: Mac Software Download
Also Read: 14 Best Mac Cleaner Apps to Optimize and Speed up your Mac
6. XRG
This is an open-source hardware monitor for Mac. It brings to fore the entire details about your device ranging from CPU's temperature to the battery status. Apart from this, it also gives you some additional information such as weather forecasts and stock market data.
Another noticeable thing about this best Mac temperature monitor with free download is an uncluttered and easy to use interface.

7. Monity
Here comes another incredible utility to check CPU temp on Mac. This best CPU temperature monitor software displays the entire information about the processor. And, it also lets you instantly view details like fan's speed, app and memory usage, and battery condition.
Moreover, this application is light in weight and does not consume much of the device resources.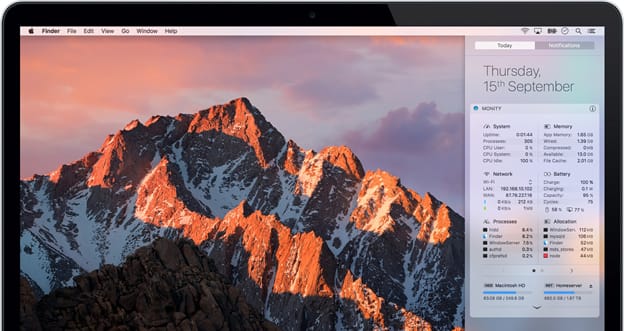 Above was the best CPU temperature monitor software for Mac. You can use any of these utilities to monitor hardware on Mac and elevate the processor's performance. Lastly, before leaving, don't forget to subscribe to Innovana Blog for more such information and updates.
Subscribe to Our Newsletter
Keep yourself updated with the latest technology and trends with Innovana Thinklabs Limited.