Today, nothing is geographically limited. People travel across the globe for their work, business, or vacation as well. Just like any other thing, currencies also change from country to country. Their rates also vary from one currency to another, for example, 1 USD equals to 75.49 INR. Hence, it becomes difficult to convert a currency amount manually to another currency. These rates change daily, which makes it even more difficult. However, you can do it easily if you have some best currency converter apps installed on your iPhone and Android smartphones.
Apart from being a useful utility for travelers, it is also quite useful for people involved in the Foreign Exchange market. These apps can help them to track the estimated currency changes as well. Some people might be thinking – why not use search engines to convert currencies? It is because these apps are specifically designed for this purpose, and along with converting currencies, they offer various other useful features as well. Hence, it is necessary to have some of the best currency converter apps.
In this write-up, we are going to provide you with a list of such apps. So, without further ado, let's move to the list of some best currency converter apps for iPhone and Android phones.
5 Best Currency Converter Apps in 2021
Below, we have listed some of the best currency converter apps for Android and iPhone that we have hand picked for you. You should have a look at them and must include them in your checklist before traveling to a foreign country.
1. My Currency Converter & Rates (Best Currency Converter App for iPhone)
The first name that comes to our mind when we talk about some best currency converter apps for iPhone is My Currency Converter & Rates. Almost everything is exceptional about this app. You'll enjoy using this app as the UI is quite easy to use and beautiful as well. You can convert around 150+ currencies with My Currency Converter & Rates. Unlike many other alternatives, the currency rates automatically gets updated in My Currency Converter & Rates. The most important thing is that despite offering so many features, this iPhone and iPad utility is available for free on the App Store  However, the ads may annoy you sometimes. Apart from it, My Currency Converter & Rates is a great app, and you can also use it as a cryptocurrency rate converter.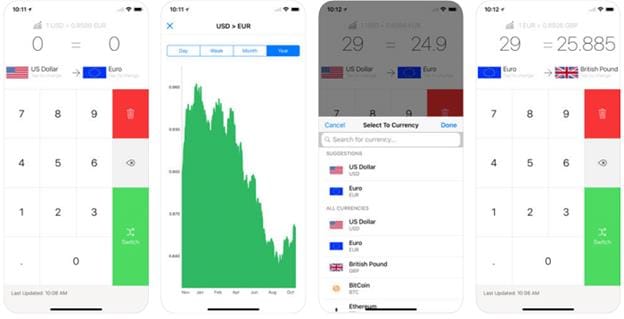 Also Read: Best Flight Tracking Apps for iPhone/iPad
2. Easy Currency Converter (Best Currency Converter App for Android)
The second name on our list is Easy Currency Converter. It is one of the best currency converter app for Android smartphones. It allows you to convert your currency in any of the currencies of the world. You can even use Easy Currency Converter without an internet connection. Along with this, it also enables you to add new currencies. You can also perform conversion of cryptocurrency rates with this best currency converter app for Android. It provides you with the latest updates about various currencies. With Easy Currency Converter, you can also access the past data of a particular currency since 2011. You can download and install this amazing currency converter app for Android from Google Play Store for free.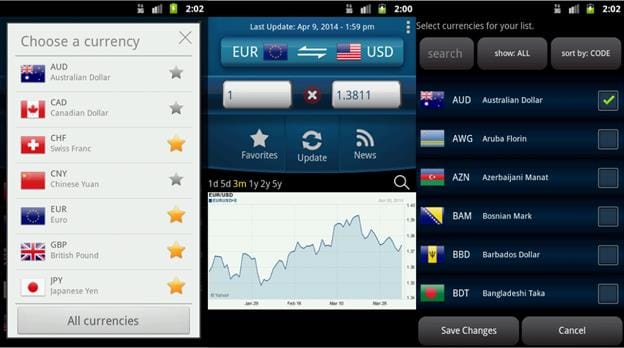 3. XE Currency (Best Cross-Platform Currency Converter App)
Here we would like to list one of the best cross-platform currency converter app XE Currency. The app is compatible with Android smartphones, iPhone, iPad, Apple Watches, etc. It is quite popular among the users as compared to other alternatives.
It has around 10 Million+ downloads on Play Store and still have an exceptional 4.5 rating. XE Currency provides some advanced features, including highly competitive exchange rates, past trends, market analysis, etc. These features make it one of the best currency converter apps in 2021. Along with these, it provides support in multiple languages. It has a global support team that assists the users across the globe. Hence, you'll never get stuck while using it.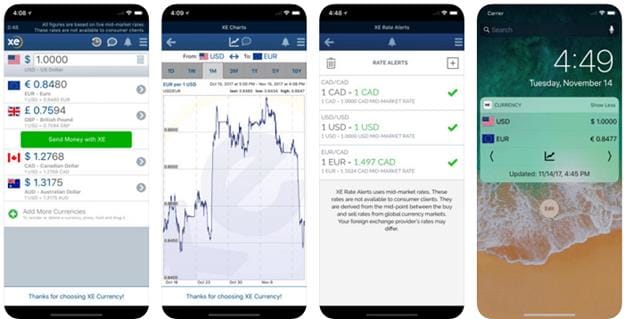 4. Unit Converter
Unit Converter is another free multi-platform app to convert currencies. It is quite a decent app to convert currencies and various other units including, Area, length, temperature, etc. Unit Converter is also one of the apps that provides live updates of currency changes.
The user-interface of this best currency converter app for iPhone, iPad, and Android smartphones is also quite beautiful and attractive. Along with all these features, the app is quite compact. Hence, you can even use it on smartphones having older versions of iOS and Android. It is a must-try if you are looking for a multi-purpose currency converter app.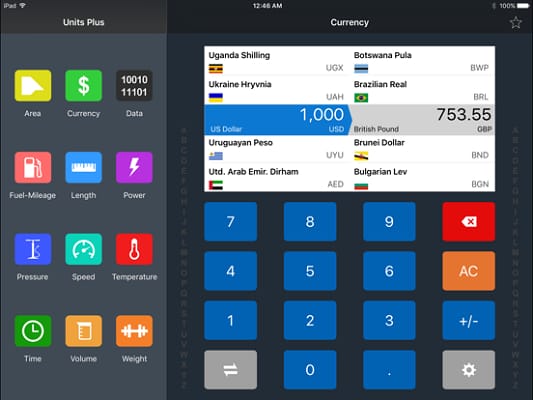 Also Read: Best File Sharing Apps for Android/iPhone
5. All Currency Converter
The last name on our list is All Currency Converter. It is another currency converter app that provides real-time updates of currency rate changes. It can convert all the major currencies of the globe. The app even provides you with a feature to analyze the current and past currency changes. Hence you can get better results from the foreign exchange market.
Along with all these features, All Currency Converter also provides a currency calculator. You do not need to search for a currency on the internet, as All Currency Converter does it for you and provides you with all the currency-related information, whether recent or old, in one place. However, the app is only available for Android smartphones.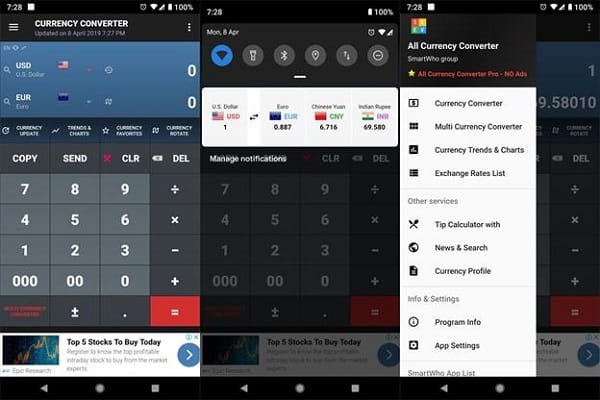 Those days are gone when you used to bother your banks or used to depend on news of foreign exchange markets for currency conversion rates. The apps that we have mentioned above are capable enough to provide you with the latest information about currency rates. These best currency converter apps can convert any amount of any currency into the currency you require in just a few seconds. Hence, we advise you to use any of the above-mentioned apps whenever you travel to foreign countries or if you participate in foreign exchange transactions.
Furthermore, you can also get information about various such useful utilities. Just subscribe to Innovana blogs and bookmark the page as well.
Subscribe to Our Newsletter
Keep yourself updated with the latest technology and trends with Innovana Thinklabs Limited.