We have come across a lot of Windows PC users who know the importance of the best disk defragmenter software. The process of defragmentation is used for optimizing the PC's performance which makes it very crucial. But many users have not even heard about the term "defragmentation" and often ask "why is it important to defrag Windows 10?" If you are also one of them, then here we define it for you.
What is Defragmentation?
Defrag or defragmentation is the process to bring the scattered, i.e., fragmented pieces of the files you often access together. Defrag or defragmentation means arranging the scattered file sections neatly in sequential order. This makes it easy for you to access all the required files in the twinkling of an eye. Moreover, it also has a significant impact on the way your PC performs. After disk defrags, the performance of your device becomes more snappy and enjoyable.
If you are still wondering why you should defrag Windows 10, then below are the key benefits you can get by defragmenting the disks on your PC using the best disk defragmenter software for Windows.
The Benefits of Defragmenting using Smart Disk Defragmenter Tools
As said earlier,  if you defrag Windows 10, then it not only makes the hard disk access the files snappily but also optimizes the performance of the PC as a whole. Further, the other prominent benefits of defragmenting using the best disk defragmentation tools are listed below.
A simple act of defragmenting the disk takes your PC's performance a level up.
After you defrag the disk, the time required to boot the system decreases significantly.
It declutters the disk and helps you organize the available space better.
Defragmentation reduces the time needed to access and read files from the hard disk.
The above list is not where the advantages of defragmenting the Windows 10 end. Several other benefits can also be added to this list.
But, the question arising now is, how to defrag Windows 10? We have the most straightforward answer. You can effortlessly do it using the best disk defragmenters available in the marketplace currently. And, if you cannot decide which is the most suitable disk defrag app for Windows in your case, then pick one from the best disk defragmentation software for Windows we've curated especially for you. We share these top disk defragmentation tools in the next segment.
14 Best Disk Defragmenter for Windows 10 and Older Versions
We spent hours testing and then selecting the most powerful disk defragmenter tools that take your PC's performance to a whole new level. Here we share them.
1. Auslogics Disk Defrag- The Best Free Disk Defragmenter
This is a powerful and smart disk defragmenter tool that scans the removable files. Its file systems prompt the disk files to move faster and improve their launch time. Not only this, but it also defragments the boot time and checks the drive bugs. The best part is, the tool is available in portable mode.
Features of Auslogics Disk Defrag
The software has a lot of customizable options
Allows the user to optimize diver layout
Has multiple methods of defragmentation
Works for both SSD and HDD disks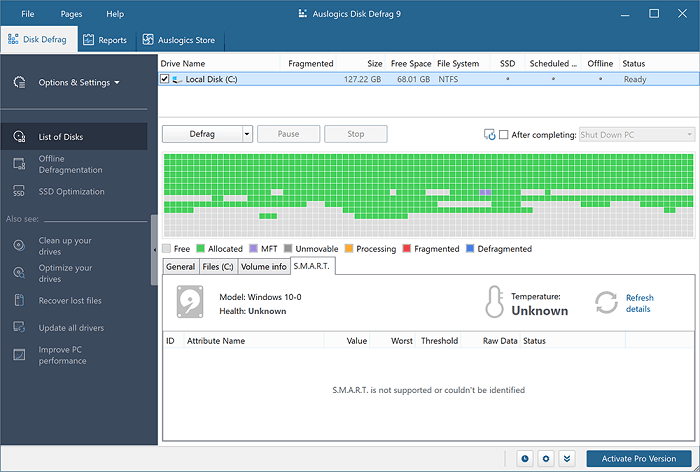 Also Read: Best Free VPN for Windows 10 to Protect your Privacy
2. Smart Defrag- A Great Disk Defragmenter Program
This best disk defragmenter tool from IObit is truly smart. It automatically processes and defrags the records and folders. Above all, you don't need to go through lengthy documentation to run this easy-to-use and suitable disk defrag app for Windows.
Features of Smart Defrag
Built-in Advanced SystemCare and Driver Booster
Smart defrag features for app optimization
The latest version is faster than ever
Allows monitoring of partitions and disk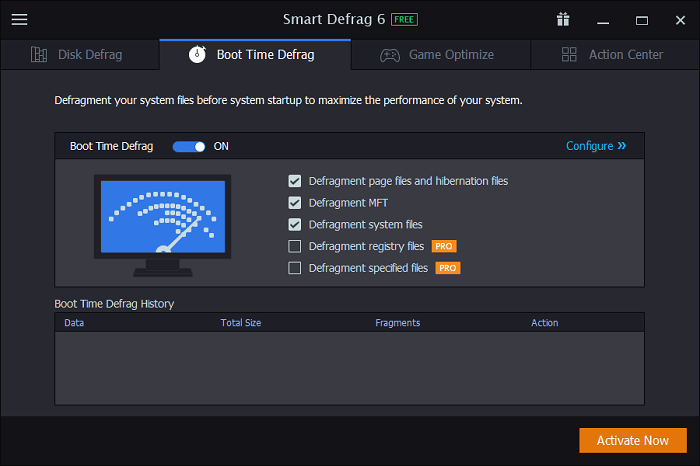 3. GlarySoft Disk Speedup- Best Disk Defragmenter Software
GlarySoft Disk Speedup is one of the most intuitive and best disk defragmenters for Windows 10, 8, 7. It is efficient enough to automatically defrag your disk. You do not need to worry about the data of your disk as GlarySoft Disk Speedup is quite a secure software.
Features of GlarySoft Disk Speedup
Free to download and install
Allows the user to allocate files for better performance
The software launches a real-time defragmenter at boot
Built-in SPeedUp tool for quick defragmentation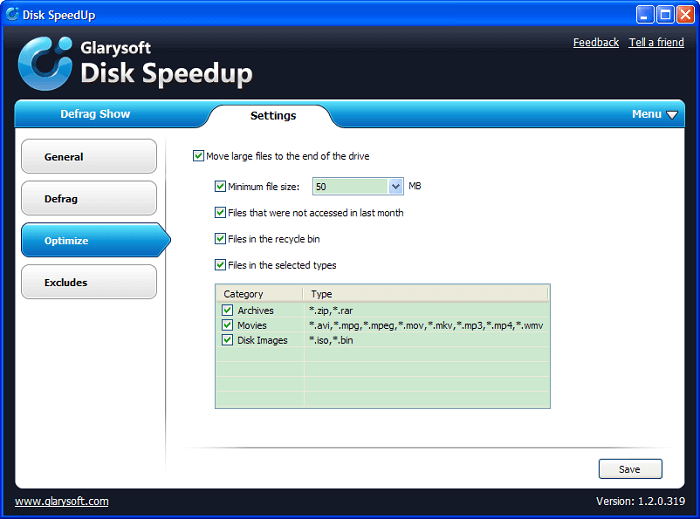 4. O&O Defrag- Disk Defragmentation Utility
Here comes another defrag tool on our list of some best disk defragmenter software for Windows. O&O Defrag is one of the feature-rich software to defrag the disk on your PC and enhance the overall performance as well. The most salient feature of this tool is that it doesn't interfere with the functioning of other software installed on your computer.
Features of O&O Defrag
Built-in SOLID/COMPLETE method for effective SSD defragmentation
Allows to schedule defragmentation
Generates graphical reports through clusters
Complete auditing and logging of data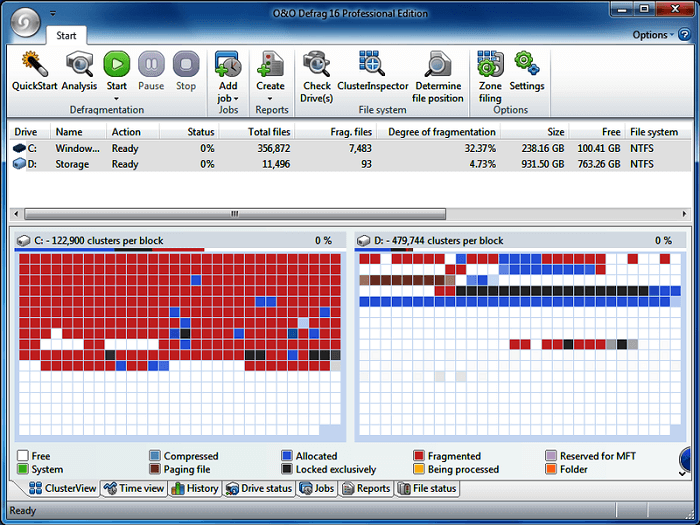 5. UltimateDefrag- Disk Defragmentation for windows 10
This smart and the best disk defragmenter software tool for Windows automatically recognizes the frequently used files on your system and shifts them to an easily accessible location. In addition to this, it archives the files you don't use frequently. On top of all, with its in-built scanner, you can schedule the full PC scans as per your liking.
Features of UltimateDefrag
Can perform a lot of consolidation functions
Helps in Faster booting for PC
Wild card characters for selected files and data
The software has an interactive interface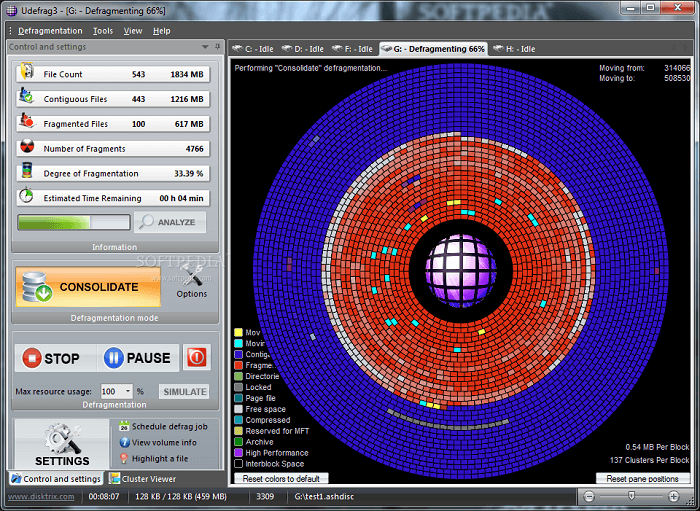 6. Defraggler- Disk Defragmenter for Windows 10
This is our pick for the list of the best disk defrags software for Windows because of the unique features such as the freedom to defrag individual files. In addition to this, it analyzes and displays all the files needing defragmentation in just a millisecond.
Features of Defraggler
Customization options to defrag particular disk and folder.
Quick Defrag option for a faster defragmentation
Allows to compare the data of different drives
Installs update automatically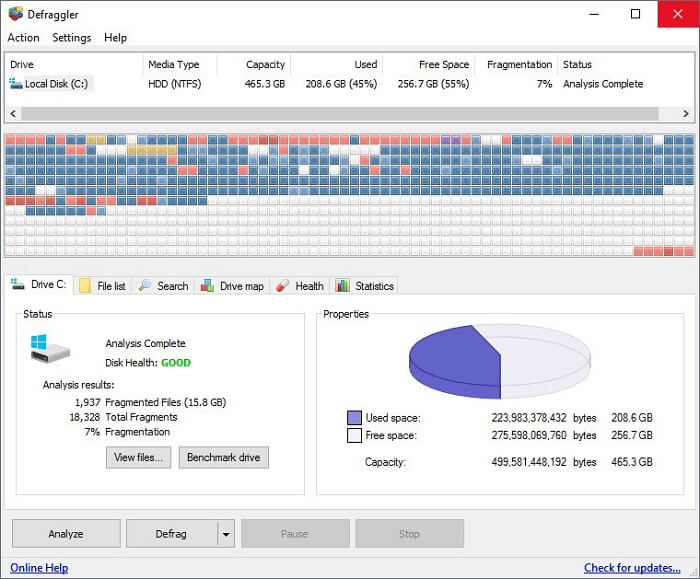 7. MyDefrag- The Best Free Disk Defragmenter
This best disk defrags software for Windows shows wizardry in cleaning your hard drive, making it spacious, and improving its performance. Furthermore, MyDefrag is one of the highly customizable defragmenter utilities available. You can set and customize this tool as per your preferences with the help of the available sources. Along with the latest version of Windows, you can also use MyDefrag on Windows 2000, XP, 2003, and various other older versions of Windows.
Features of MyDefrag
Defrag scheduling options for daily, weekly, monthly, and other periods
The interface consists of over 20 different languages
Help section for the ease of newbies
Can be used for business and personal purposes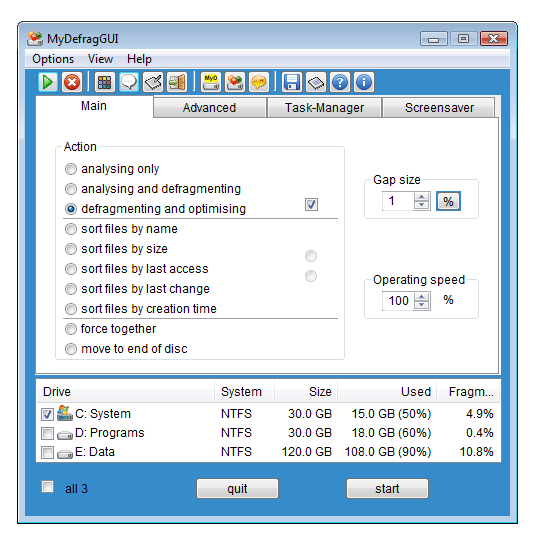 8. DymaxIO (Condusiv Diskeeper)- Disk Defragmenter Program
This powerful and the best disk defragmenter software can work with 3 computer systems simultaneously and this is what makes it stand out from the rest of the lot. In addition to this, it makes your PC's performance super fast. Get this tool and see your PC perform exactly like the days when you brought it.
Features of DymaxIO (Condusiv Diskeeper)
Built-in V-loctiy tool for better defragmentation
Can be used for servers deployments
Tries to reduce the need for repeated defragmentation
Dashboard to monitor the changes and results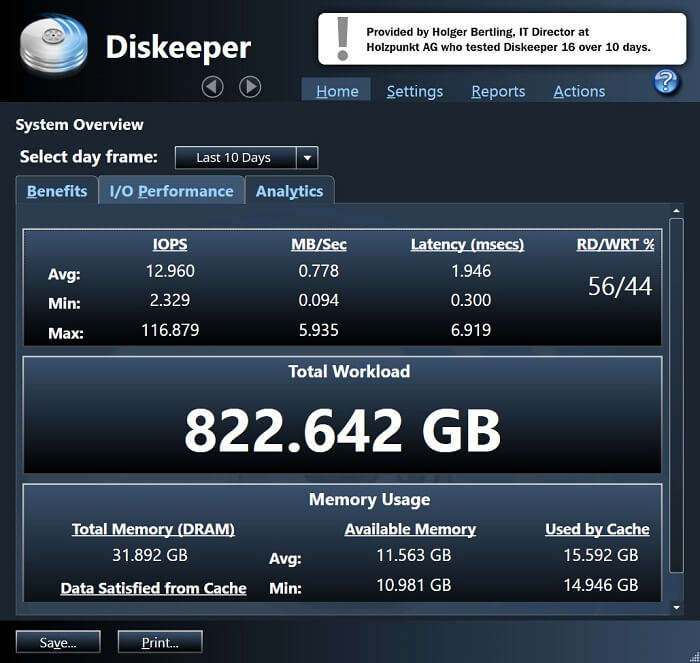 9. WinContig- Best Disk Defragmenter Software
This one of the best disk defragmentation tools to snappily defrag individual files without defragging the entire disk. Moreover, it does not create any directories or registry entries on your system and lets you defrag Windows 10, 8, 7 without any hassles.
Features of WinContig
The interface of the software is multilingual
Can be downloaded for free
Helps in running programs precisely
The software is compatible with all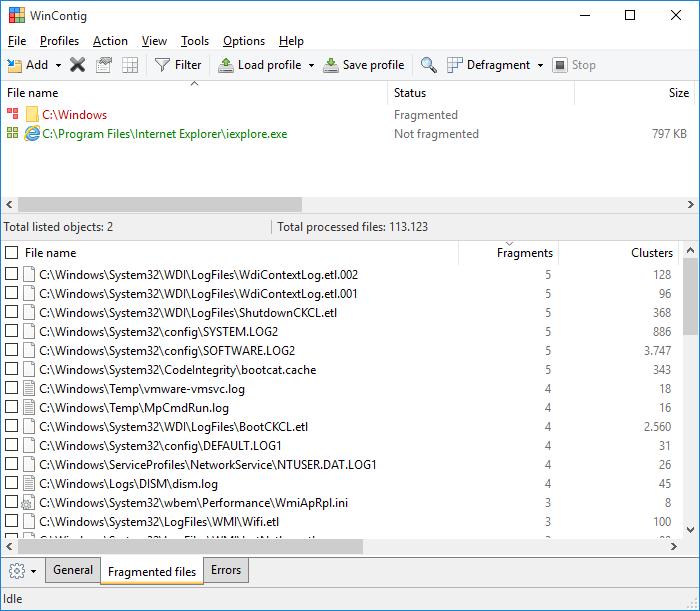 10. UltraDefrag- Disk Defragmentation Utility
This best defrag software takes into consideration both the beginners and experienced users and this is what prompted us to include it in our blog. It offers you all the regular features and high-end functionalities to make any special modification to the software.
Features of UltraDefrag
The tool can defragment locked files
The user can configure the software easily
The software is easy to install and use
The users have an all day and night customer support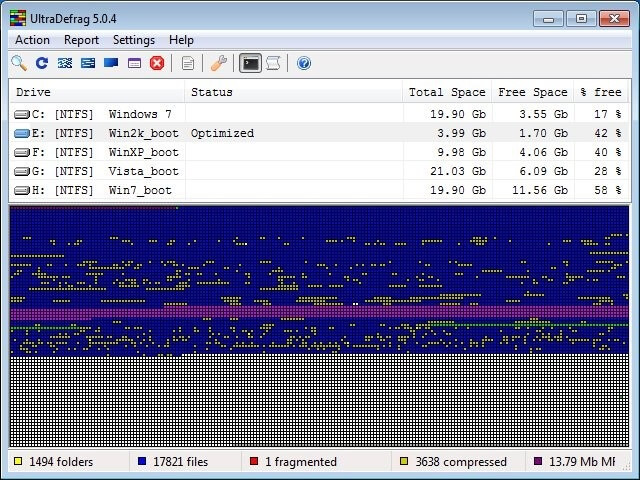 Also Know: Best Duplicate Photo Finder and Remover to Free up Disk Space
11. Puran Defrag- Disk Defragmentation for Windows 10
This best disk defragmenter software for Windows lets you automatically schedule the hard drive scans for fragmented files. In addition to this, it also lets you exclude files from the scan, optimize the PC performance with its boot defrag process.
Features of Puran Defrag
The software helps in improving the system's speed
It supports command line defragging
The user can include or exclude files and folders from defragging
Puran Defrag can perform automatic defragging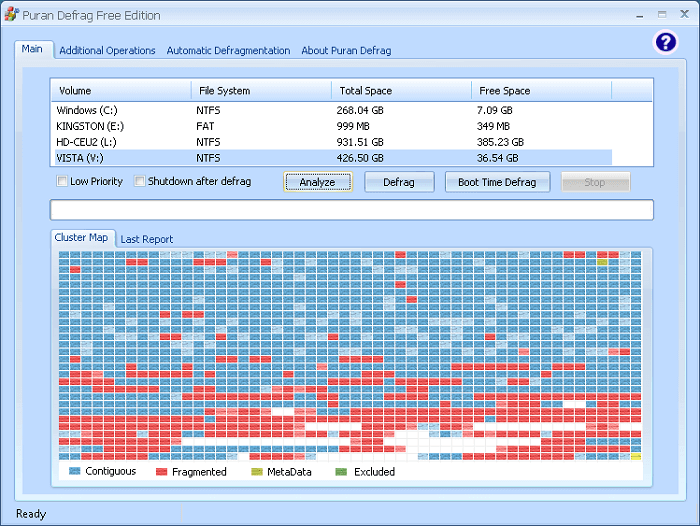 12. Wise Care 365- Best Free Disk Defragmenter
This is another straightforward and best disk defragmenter that not only cleans up the space on your hard drive but also detects junk files present in your PC and resolves privacy issues. In addition to this, it also lets you shut the PC down after the completion of the defrag process. The only con is, it does not allow you to schedule the scans.
Features of Wise Care 365
The program can help in protecting data from new apps
It can remove invalid registries quickly
It can scan files and followers of specific extensions
Performs quick scanning and defragging of disk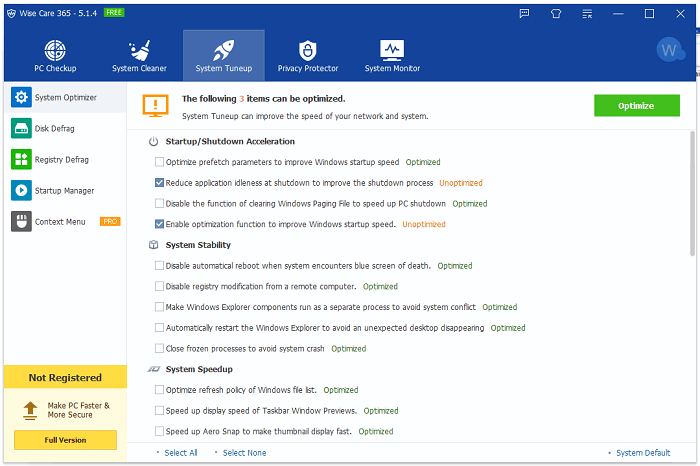 13. Windows Disk Defragmenter- Built-in Disk Defragmenter Program
The built-in disk defragmenter utility of Windows is also very effective in defragging data quickly. It can help the user in finding critical areas and organizing files as required. The software is quite faster as compared to others and completes defragging within minutes.
Features of Windows Disk Defragmenter
The software may decrease the speed of PC boot
The interface of the software is quite easy to use
It allows the user to defrag different kinds of disks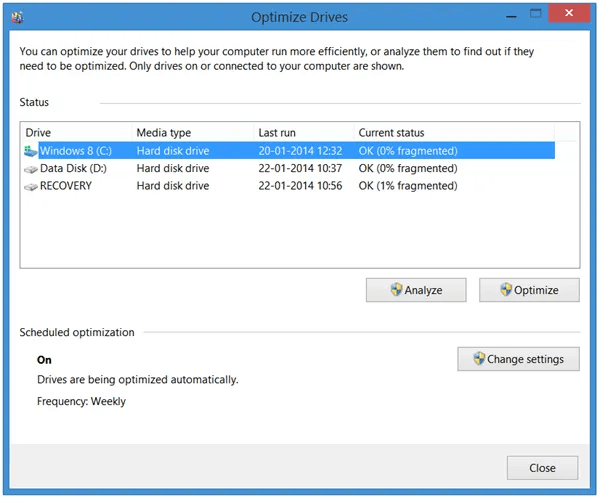 14. PerfectDisk- Best Disk Defragmenter Software
The developers of PerfectDisk have kept the interface of the software quite different from others. The software is quite good for different businesses who are looking for intelligent disk defragmentation software, but that does not make it unsuitable for personal users.
Features of PerfectDisk
OptiWrite technology to preserve the data of computer
The software can easily delete duplicate files
SSD optimizing properties to ensure faster speed
SMART Placement capability to organize data perfectly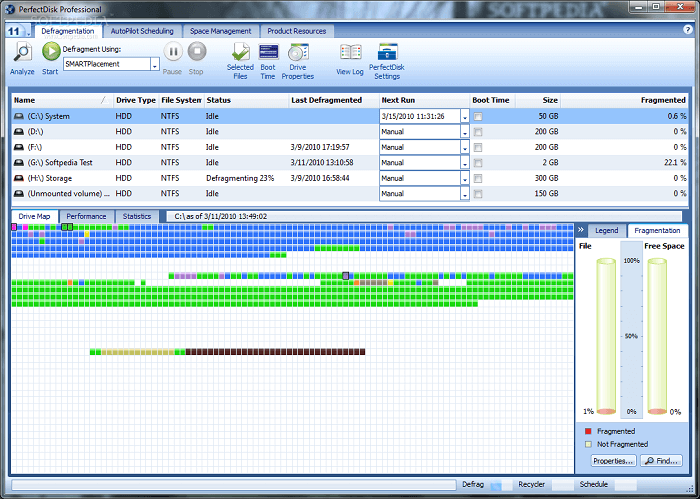 Tips for Selecting a Defragmentation Tool
There are a lot of disk defragmenters available to download on the internet. The perfect trick to select the best disk defragmentation tool is to check the features of the software. Speed is a priority, a good disk defragmenter should quickly defrag a disk. Next comes quality, no files or data should be left or skipped from defragmenting. Other features include lower download and installation size, regular updates, the ability to defrag every kind of disk, etc. We have listed the best disk defragmenter software in the article based on these features. Download one according to your needs.
Frequently Asked Question (FAQs) about Best Disk Defragmenter Software for Windows
Q.1 What is Defragmentation Software?
Defragmentation software is a computer tool to defragment files on different drives, folders, and disks. Defragmentation disk helps in improving the condition as well as the speed of the system. Defragging removes all the unnecessary files and optimizes the storage for other important purposes.
Q.2 Why do you need the Best Defragmenter Software?
Users may find a lot of different alternatives for disk defragmenter tools, but getting the best software is very important to optimize data in the drives precisely. With the help of such software, the user can easily ensure the best state of the disk as well as maintain proper working conditions of the PC.
Q.3 How to use Disk Defragmenter Software?
It is very easy to use any disk defragmenter software. All you have to do is to launch the application, select the driver or folder you want to defragment, and click on the button to launch the defragmenter. These are the basic steps to run any kind of disk defragmenter.
Q.4 Is Defragmentation Safe?
This is a very commonly asked question. Yes, all kinds of disk defragmenters are very safe to use, if installed properly. But the user should always keep an eye out for spam and malware that might be provided by different developers in the name disk defragmenter. Otherwise, it is very easy and safe to use a disk defragmenter.
Q.5 How Long Does It Take to Defrag A Disk?
It does not take much time to defrag any disk. Most disk defragmenters can defrag any kind of disk within minutes. Some low-quality software may take time to defrag disks, such software should be removed and the user should install one of the best disk defragmenting software as listed in the above article.
Q.6 Does Defragging Speed Up Computers?
Yes, one of the most common purposes of any kind of disk defragmenter is to speed up the computer. The disk defragmenter software allocates the fragmented files back to the source and improves the working of the PC.
Final Words about Best Disk Defragmenter Software
These were the best defrag software for Windows handpicked especially for you. Choose the most suitable disk to defrag app for Windows to make hard disk files easily accessible and speed up your PC. In case if you still cannot make a choice, then we would recommend Auslogics Disk Defrag for the features it offers. Lastly, before you go, subscribe to our blog and stay updated with all the latest tools to optimize the PC performance entering the marketplace.
Subscribe to Our Newsletter
Keep yourself updated with the latest technology and trends with Innovana Thinklabs Limited.