A dictionary gets used whenever we are writing something and get stuck at a word that is beyond our vocabulary. Dictionary helps us to learn new and difficult words. Reading a dictionary increases our vocabulary and strongs our grip on English. It also helps us to understand complex words and sentences. Online dictionary tools give a feature to correct our writing errors at the same time we are writing it. Here, we've listed some of the best dictionary apps for android/iPhone that can be accessed in both ways – offline or online.
Top 12 Best Dictionary Apps for Android/iPhone (Online/Offline)
The top-notch best dictionary apps for Android/iPhone will help you to remember words for always. Having an offline dictionary app to explore new words is a great idea. Here, you'll get the best dictionary apps, so keep turning on to know more!
1. U-Dictionary
U-Dictionary is specifically designed to remove the language barriers. It has official Oxford dictionaries in almost 12 languages. U-Dictionary is the best offline translation app for android and iPhone both. Rather than this, U-Dictionary also works on improving your English and vocabulary by offering various English videos, quizzes, and games. It is the best way of self-improvement. U-Dictionary provides original dictionaries of more than 44 languages including Collins Advanced Dictionary, WordNet Dictionary, Sample Sentences, Synonyms, Antonyms, and so forth.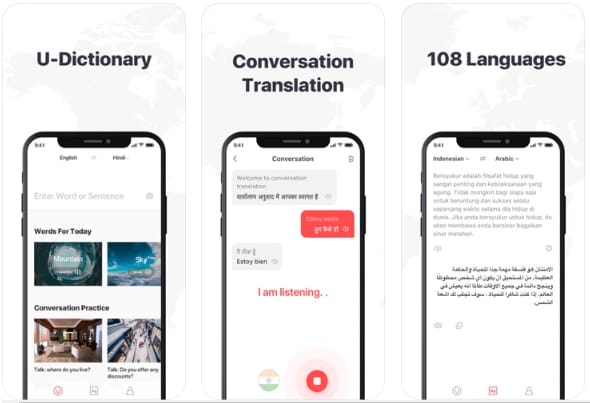 Also Read: Best Manga Reading Apps for Android and iPhone
2. WordWeb Dictionary
WordWeb Dictionary removes all the hurdles from your way. WordWeb is the best dictionary apps for android/iPhone on our lists. It enables quick searching, spelling suggestions, synonyms, and many more. No advertisements interrupt your work processing. You can access complete features of WordWeb offline so you don't need to always connect to an internet connection. Supports fast-pattern matching searches. WordWeb is the free dictionary app that gains the faith of millions of users all over the world.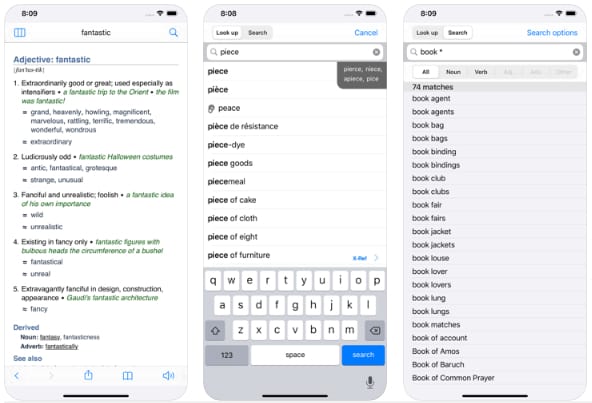 3. WordNet Free Dictionary
Yet another best dictionary app is-WordNet. WordNet is the free offline dictionary app and only android users can enjoy it. WordNet is a huge database that has the records of every word, synonym, antonym, and even sentences you search for. It composites the words into the synonyms sets and creates the relation between those synonyms sets. For using WordNet, users don't require an internet connection, which means users can access it offline. You can find everything in WordNet like example sentences, synsets(synonym sets), general definitions, short meanings, and so on.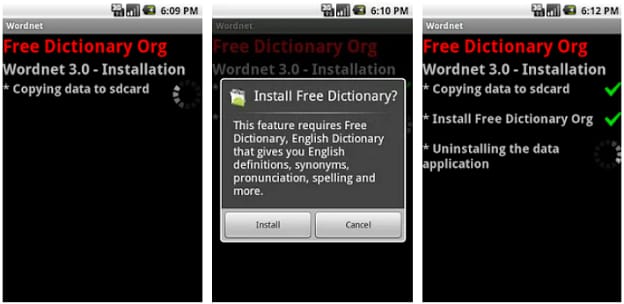 Download – Android
4. English Thesaurus
Improve your vocabulary or english via your companion English Thesaurus. With the English Thesaurus application, you can get a lot more things to boost the vocabulary. In this application, you can find around 145,000 headwords and each word have synonyms, antonyms, definitions, examples, and so forth. It also lets you hyperlink to all your entries and searches. Dark Mode feature is available in this to keep your eyes safe from light. You can create folders and files for your searches and important notes. Thus, English Thesaurus is the all-in-one application that helps you to enhance your vocab skills.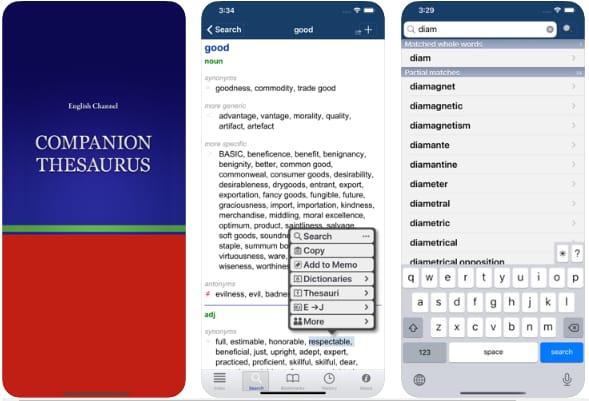 Also Read: 13 Best Duplicate Photo Finder and Remover to Free up Disk Space
5. Arcus Dictionary Pro
Arcus Dictionary Pro is the another best dictionary app for android. It is the quickest dictionary app that offers more than 185000 words, definitions, related words, examples. Fortunately, it never asks for any type of permissions. This application is also available offline so you don't need to rely on the active internet connection all the time. No advertisements won't hinder your searching or learning activity by constant pop-ups. Arcus Dictionary Pro supports the voice search feature, which means you can also search via your voice. This application also supports pronunciations of words, sentences, that enhances the vocab.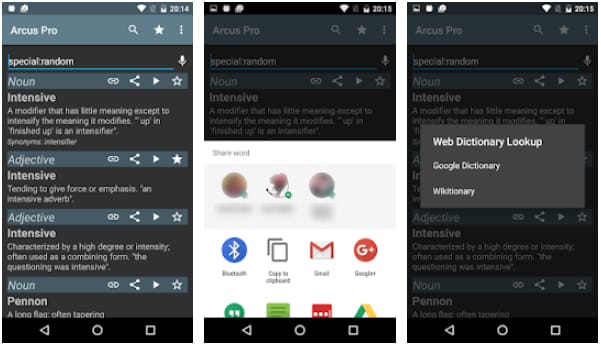 6. Dictionary – Merriam Webster
Use America's most notable dictionary to empowers vocab skills. Merriam Webster is the best dictionary app for android/iPhone devices. It makes your learning activity funnier and amusing. Its new feature game words help you to learn more words with a lot of fun. Game words offer you quizzes and puzzles to take a quick test. Whether you do not have an active internet connection you can even access it offline. Learn a new word every day and increase your English or vocab skills. Audio pronunciation helps you to spell or pronounciate the word in the right way. Supported by advertisements but if you want then you can remove ads by in-purchase the charges.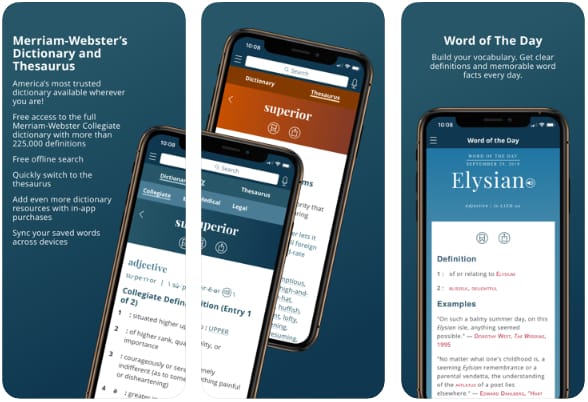 7. English Dictionary – Offline
If you are looking for the best dictionary app for your iPhone then you must try the English Dictionary app. And the best thing with the English Dictionary application is that – it is also available as offline. Offers more than 170,000 words, and 49,000 example sentences of every word. To improve the vocab skills it also offers the English Grammer articles. English Dictionary taught you can easily and quickly learn English Grammer lessons like tenses, irregular verbs, adjectives, pronouns, action verbs, prepositions, and many more. Basically, it is a complete book that empowers your vocab skills.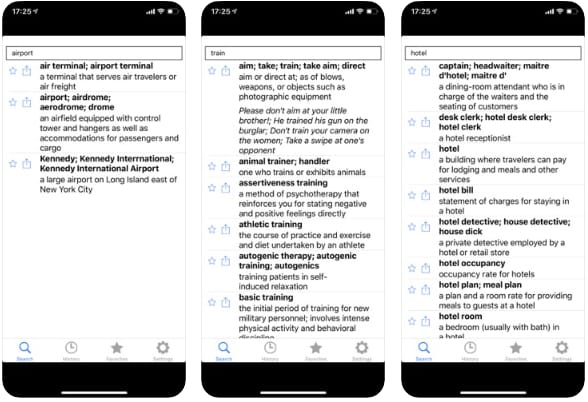 8. Puku – Learn New Words
Meet Puku your new teacher who'll teach you the new words every day. Puku is a very funniest way to boost vocab skills. This application is the best dictionary app for android users. Especially, this app is very beneficial for kids. Puku offers various quizzes, puzzles, and game tests to teach new words. Basically, Puku is the virtual pet who helps you to make the ace! With Puku, you can create your own lists to be the whiz of words.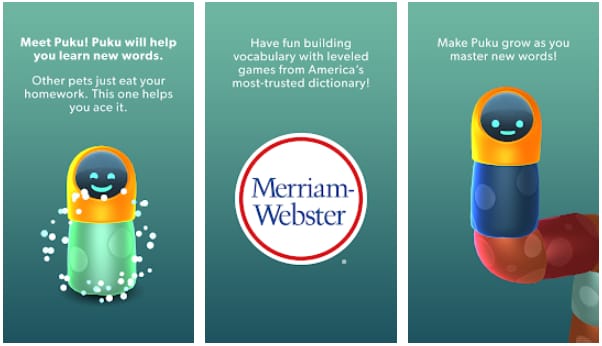 9. Dictionary – By The Free Dictionary
Discover millions of definitions, words, sample sentences, and many more in Dictionary. Dictionary is the best dictionary apps for android/iPhone on our lists. You can search for words and synonym sets of words even offline. In the Dictionary application, you can even translate the English language into more than 40+ languages across the world. You can also call this app is the best translation app. If we are talking about the free dictionary apps, then this application is the leading dictionary app on the app store or even on the play store. Dictionary helps you to create your own vocabulary. Be a master of words with the help of Dictionary app!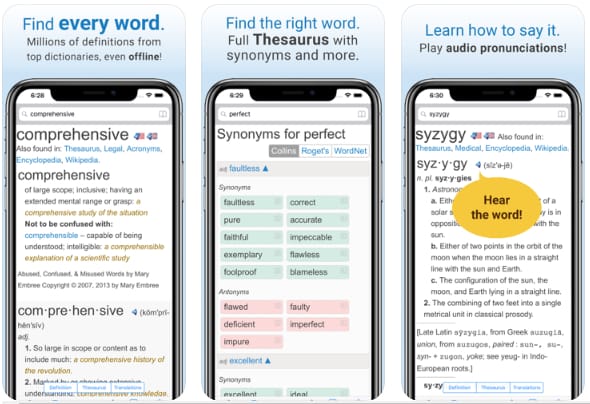 10. Dictionary – English
To give the massive boost to your learning way here comes Dictionary – English application. It is yet another top-rated dictionary application to learn new words. If you are looking for some hard and sophisticated words rather than the simple words. Then, this app will surely impress you. This offline dictionary app offers you millions of words, synsets, phrases, idioms, and many more to learn. This application foretold the relatable or next words to make your work much easier.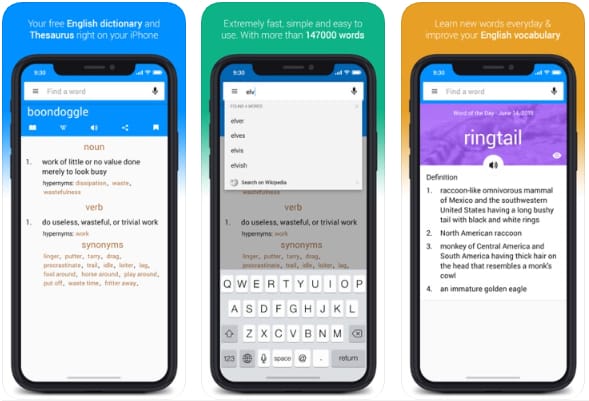 11. Offline English Dictionary++
No internet connection is required anymore for searching the words, meaning, definitions, and many more. Offline English Dictionary++ lets you explore or detect the new words, sentences, synsets, phrases, idioms, and even a lot more. Offers more than 145,000 precise definitions in numerous terms. It also lets you save the most preferable definitions for furthermore. With this application, you can share the definitions with other apps by just simply copy or paste.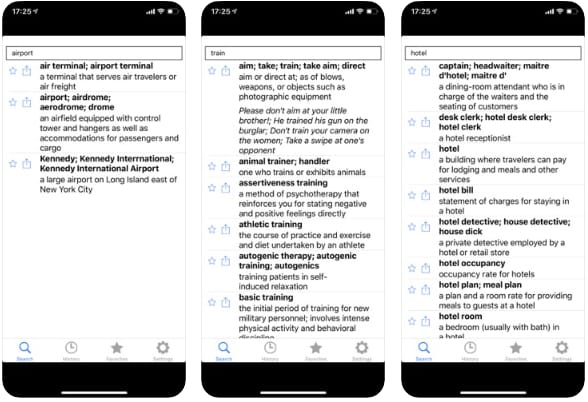 12. Vocabulary Builder
Vocabulary Builder is the another best dictionary app for android users. With this application, explore the new words and learning new definitions is becomes remarkably easy. This is the perfect app for boosting or enhancing vocab skills. Its words of the day format help you to detect and learn the new words. This app includes synsets, definitions, brief meanings, and so on. For the later views, you can also bookmark the pages.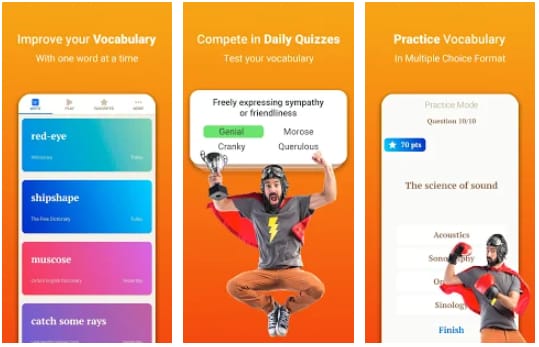 Also Read : 14 Best Voice Changer Apps for Android and iPhone
Be the Ace of Words via Best Dictionary Apps for Android/iPhone
As we've given you the list of the best dictionary apps for android/iPhone and we may like to conclude by stating that these apps will surely enhance your vocab skills. Dictionary apps always helped us for understanding the meaning of complex words. While using a dictionary app you may set your preferences so the app can predict words for you when you are using it. The above-mentioned apps can help you if you have a vocabulary or grammatical problem.
Subscribe to Our Newsletter
Keep yourself updated with the latest technology and trends with Innovana Thinklabs Limited.