This post talks about the best iPhone duplicate photo cleaners to unclutter your picture library and free up space.
Everyone swears by iPhone's camera. The look and camera technology of Apple's iPhone inspires many other OEMs too. We are sure that you, the proud iPhone owner, also love your phone's camera. You click a lot of pictures from varied angles and then win a thousand likes on social media. Well, that's not a problem. The issues begin when you forget to delete the duplicate clicks, and they pile up. Then, getting the best duplicate photo cleaner apps for iPhone to remove these dupe shots becomes inevitable.
But, before moving on to the iPhone duplicate photo cleaners, it is on point to discuss why the accumulation of duplicates is a problem in the first place.
Why the accumulation of twin pictures is a piece of bad news?
A single click satisfies no one. We all like taking multiple shots of the same subject and then picking out the best photos. We often forget to delete the extra shots, and they accumulate. Below are the major problems that the dupe clicks cause.
Slow down your phone.
Make your picture library cluttered.
Leave no space on your device to keep other precious pictures, videos, and other applications.
These were the top issues caused by duplicate pictures and the reasons for which you must remove them. Now, let's take you to the best apps to delete duplicate photos on the iPhone.
Best Duplicate Photo Cleaner Apps for iPhone (Get rid of dupe shots effortlessly)
Below are the best apps to find and delete duplicate photos from iPhone. These apps help you remove all the image duplicates without any cumbersome efforts.
1. ITL Photo Cleaner
Do you want the best and free app to remove duplicate photos from iPhone? If yes, then one of our topmost recommendations is ITL Photo Cleaner. This wonderful application finds out the duplicate pictures in the blink of an eye and helps you delete them effortlessly. With features like compact viewing that displays images in groups, this utility is increasingly gaining popularity among users. Let's have a glace it a few of its highlights that make it such as a popular app.
Highlights
It helps you free up ample of space on your device.
The app settings are flexible. This means that you can filter the scan results as per GPS, matching level, and time interval.
Encompasses auto mark functionality to easily delete duplicate photos from iPhone.
Lets you preview the pictures before deleting them so that you don't end up deleting any crucial picture accidentally.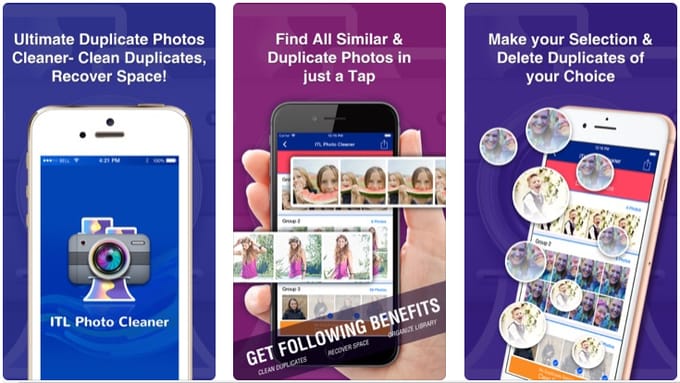 2. Remo Duplicate Photos Remover
When it comes to scanning speed and ease of use, no other app can beat Remo Duplicate Photos Remover. This one of the best duplicate photo cleaner apps for iPhone snappily detects all the matching pictures. Further, its features such as drag and drop make the deletion of duplicate photos a whole lot easier. Apart from this, it has many other options that we found attractive. Let's talk about the highlighting ones out of them.
Highlights
It provides you additional image details such as its size, resolution, date, and more.
Hosts a powerful algorithm to find duplicate photos on iPhone with high accuracy.
Before deleting the duplicate pictures, it lets you preview them.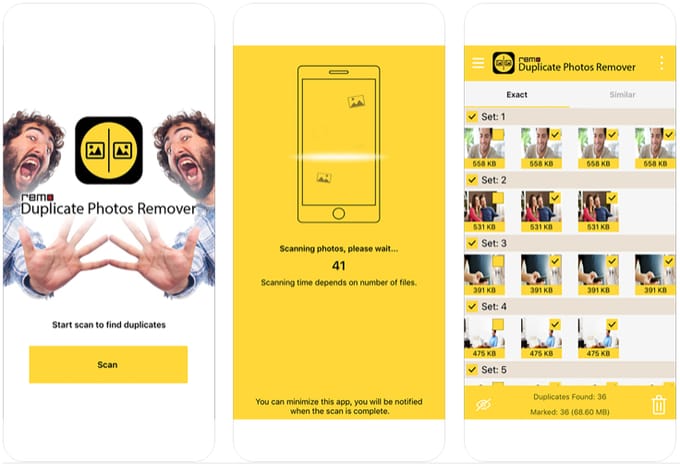 Also Read: Best Voice Recording Apps for iPhone to Record Your Favorite Conversations
3. Cleen Photos
Here comes another freeware that is also a decent iPhone duplicate photo cleaner. What makes this app unique is its UI. It comes with three options. While viewing a picture, you can swipe up to add it to favorites, down to move it to trash, and left to decide that image's fate later. Apart from this, below is what else makes this application special.
Highlights
Lets you convert your favorite clicks into stunning photo books.
The page layout of the app is flexible enough. You can change it with just a swipe.
It allows you to snappily and easily declutter your picture library.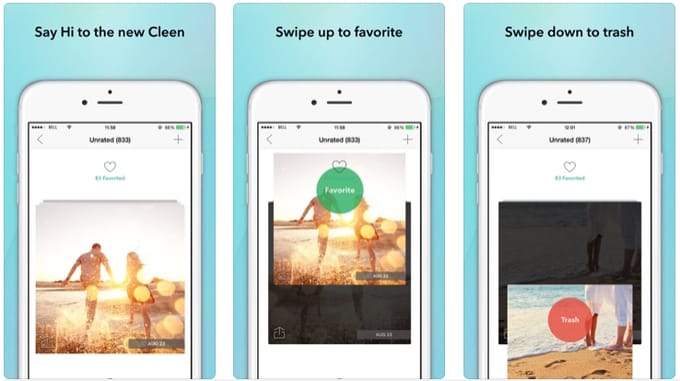 4. CleanUp
This entrant on our list is also the best duplicate photo finder for iPhone to clean up the picture library. The app has an intuitive UI with swipe gestures to easily deal with the photos on your iPhone. You can swipe left or right to compare the dupe images whereas an upward swipe deletes them. In addition to the easy swipe controls, here are the other prominent features of this application.
Highlights
Lets you delete duplicate photos on iPhone in bulk.
With this best duplicate photo finder & cleaner for iPhone, you can rotate the phone 90 degrees for viewing the full-size pictures.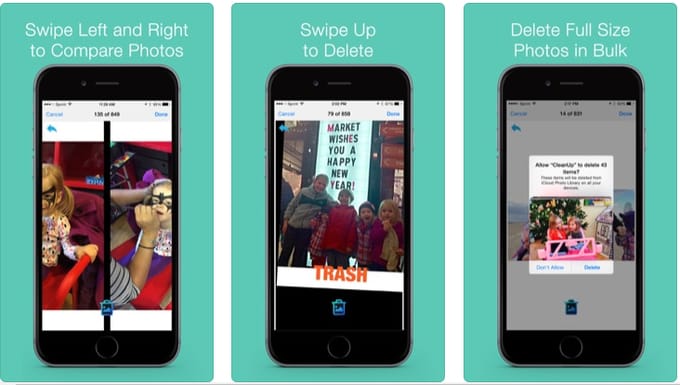 5. Remove Master for Camera Roll
Do you often forget that the picture library of your phone needs a cleanup? If yes, then this is among the best duplicate photo cleaner apps for iPhone that you can use. It comes with a unique reminder feature that reminds you to remove duplicate photos from iPhone. Moreover, below is what else it offers to delight the users.
Highlights
Deleting duplicates is easy with this app. All that you need to do is swipe left to do it.
It works 5 times faster than the direct camera roll deletion.
If you shell out a few bucks, then you get some additional options such as finding duplicates by month and adding the pictures to favorites.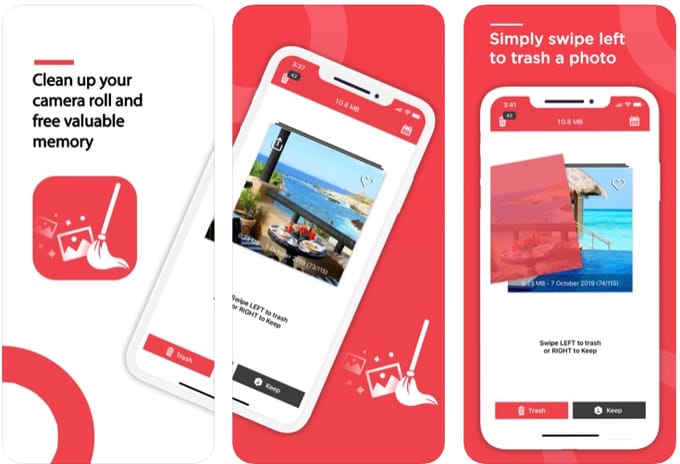 Also Read: How To Download iPhone Apps Not Available in Your Country
6. Gemini Photos
One thing is common between Gemini duplicate file finder for Mac and Gemini Photos. Both of these amazing apps come from the same developer. This iPhone duplicate photo cleaner not only detects dupe images but also finds out the low-quality pictures. With this app, you can effortlessly delete all the duplicate and low-grade photos. Let's have a look at the highlights of this app that attracted us.
Highlights
It suggests you the worth keeping and goods snaps.
With this best duplicate photo cleaner for iPhone, you can delete screenshots, duplicates, pictures of text, and such other clutter.
There is a delete photo library option to remove all your photos in one go.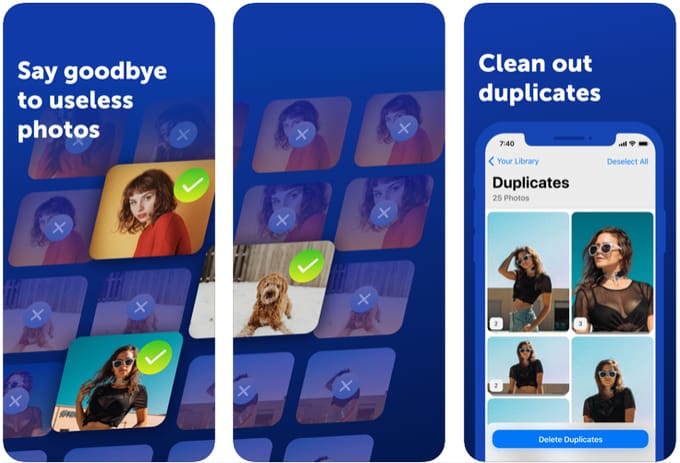 7. Bulk Delete
As the name suggests, it is among the best duplicate photo cleaners for iPhone for deleting dupe pictures in bulk. It also has time-based deletion that lets you delete photos on the basis of a selected time range. Moreover, below are the other highlighting features of this app.
Highlights
Lets you easily distinguish selected and unselected photos.
With this application, you can delete the entire picture library in one go.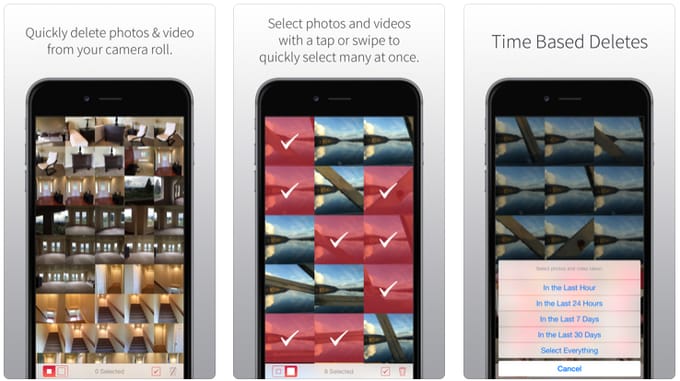 Above were the best duplicate photo cleaner apps for iPhone. We suggest you regularly delete duplicate images. Once these dupe clicks accumulate, they hog up the device's memory and adversely impact its performance. You can use any of the above utilities to delete duplicates photos on iPhone. Keep reading Innovana Blog for more such information and updates.
Subscribe to Our Newsletter
Keep yourself updated with the latest technology and trends with Innovana Thinklabs Limited.