Mac devices are phenomenal when it comes to design, build, and performance. However, storage management is something that still lacks in Mac computers. On top of the not so efficient memory management, it has a feature that creates automatic picture duplicates whenever you upload a photo or take screenshots. All this digital junk, i.e., twin images pile up in your device, eat up space like a parasite, and make the device slow. To combat all these problems, you need to remove these accumulated dupes. Since it is tough to do it manually, you look for automatic ways to remove duplicate pictures. Then, Easy Duplicate Finder is among the first names that pop up. But, don't you think that the best Easy Duplicate Finder alternatives are a better option that you can consider.
Now, a question that arises is why to think of Easy Duplicate Finder alternatives. Well, the reason is simple. They do not have the flaws existing in the Easy Duplicate Finder. Talking about the shortcomings of this utility, below are the most prominent ones.
Outdated and hard to use interface.
Sometimes, it fails to detect duplicates correctly.
With its free trial, you can only fix ten groups in each scan.
The price that it charges for the full version is unreasonably high than its counterparts.
The above cons are unignorable. Hence, we are here with the best alternatives to Easy Duplicate Finder.
We will dive deep into them in the below segment of this penned note.
Best Easy Duplicate Finder Alternatives (Our Top Recommendations)
Below are our top suggestions for the best Easy Duplicate Finder alternatives that you can use to remove duplicates from Mac with ease.
1. Gemini 2
A starry clean picture library, who does not want that. Everyone desires a photo folder that is well organized and free from unnecessary duplicates. And, with Gemini 2 you can achieve this effortlessly. It has several features that make cleaning twin shots a duck soup and brings this tool to the list of the best alternatives to Easy Duplicate Finder. Below we enlist these enticing offerings.
Features
It detects and removes not only duplicate pictures but also other twin files such as music, documents, etc.
In addition to duplicates, it also accurately spots similar pictures.
The search algorithm of this tool learns from the pictures you are deleting and the kind of images you choose to keep so that it can select duplicates as per your liking.
It moves the selected duplicates to Trash folder so that you can restore them in case of need.
Pros
Pretty space-themed interface.
Easy to use for both experienced and beginners.
Cleans duplicates from external devices.
Cons
Eats up more system resources than other similar utilities.
You need to pay a hefty amount to unlock its advanced features.
The trial version is available only for three days.
It sometimes deletes good quality pictures having high resolution.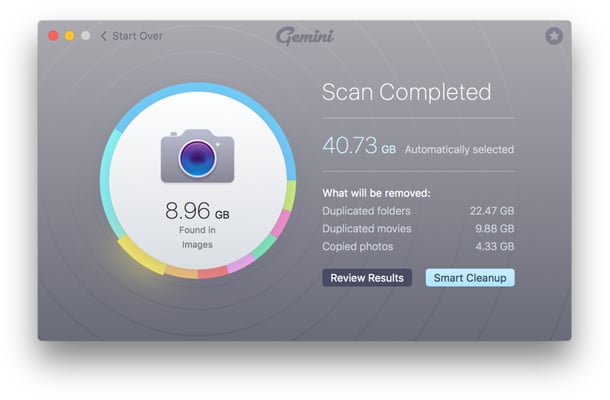 ---
2. DupeGuru
In the Indian language, the meaning of the word Guru is an expert. This tool completely justifies its name and removes all the duplicates a true specialist. What makes it a tough contender for the other similar software like Easy Duplicate Finder includes features such as name and content-based search and more. Below we share some of these noteworthy features.
Features
In addition to duplicates, it also accurately spots similar filenames and content.
Musicophiles love this tool as it comes with a special music mode that scans tags and displays music-specific details.
Hosts a unique picture mode that detects similar pictures with accuracy.
Lets you customize the search for duplicate and similar photos on your device.
It lets you choose from three scanning options.
Pros
Scans duplicates in real-time.
Has multilingual support.
Completely free tool.
Cons
No support for the latest OS versions.
Does not let you preview the duplicates.
Hosts no option to compare pictures side by side.
A bit complicated UI.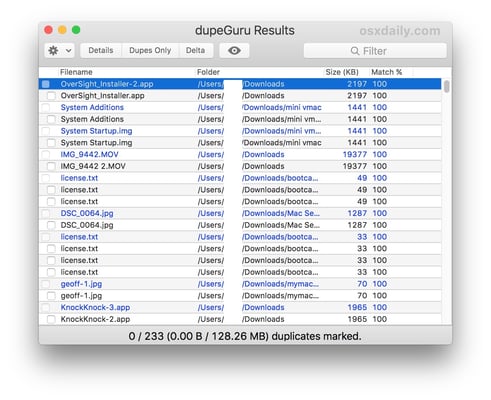 ---
3. Cisdem Duplicate Finder
Here is another gem that removes every trace of duplicate clicks from your Mac device in almost no time. The features such as skip list for the files and folders that you don't want to scan persuade us to give it a place in our list of the best Easy Duplicate Finder alternatives. Below is the detailed description of its feature set.
Features
Allows you to limit the scan to particular file types and sizes.
Along with duplicate images, it also lets you detect identical audio, archives, complete folders, etc.
Boasts support for external hard drives and network volumes.
Its advanced scanning algorithms can detect duplicates in Photos, iPhoto, Aperture, and iTunes.
Auto marks the oldest and most space-hogging duplicates.
Groups the detected duplicates as per the file format and extension for easy analysis.
Lets you search files by keywords.
Pros
Boasts three preview modes to review scan results.
The interface is easy to use and beginner-friendly.
It also finds near-identical, i.e., similar pictures.
Cons
Unnecessarily dramatic warnings when you delete duplicates.
You cannot deselect a particular folder before beginning the scan.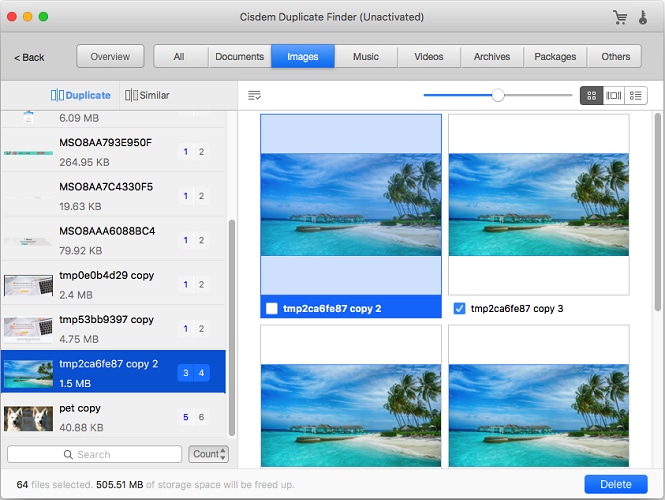 ---
4. Duplicate Detective
Who else can detect duplicates more accurately than a detective? Not every utility can do it. This tool, like a true investigator, scans each and every corner of your computer to find space-hogging pictures and helps you remove them without much effort. Apart from this, below are the other features for which we have included it in our post dedicated to the best free Easy Duplicate Finder alternatives.
Features
Analyzes the file content for accurate duplicate detection.
Lets you find duplicates on several local and network paths in an instant.
Moves remove, or archives duplicate as per your wish.
Allows you to compute checksums with an in-built hash calculator.
You can export search results in XML, HTML, CSV, TXT, PDF, and Excel file formats.
Boasts a scheduler for scans.
Pros
It is the cheapest option on this entire list.
The app interface is simple and easy to use.
Boasts a fast scan speed.
Cons
It does not include any advanced features.
The automatic scan is less efficient in comparison to the other tools.
Settings are not that useful.
Takes considerable time to remove duplicates.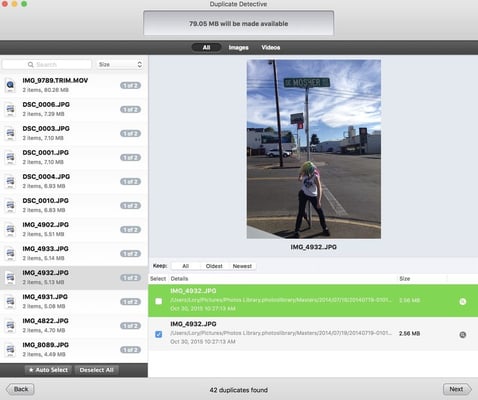 Also Read: 5 Best Note-Taking Apps for Mac in 2020
---
5. Duplicate Sweeper
As the name indicates, this utility sweeps away all the digital dirt, i.e., duplicate pictures and other files from your device. Some of its features that brought to this list of the best Easy Duplicate Finder alternatives include the detection of duplicate photos from the files present in an application and more. Below we share all its commendable features.
Features
Not only photos, with this software, you can also remove duplicate music, documents, and more.
Allows you to automatically select files for deletion.
Lets you remove duplicates from cloud platforms such as Google Drive, iCloud Drive, and OneDrive.
Hosts three ways to add folders to the scan pane.
Pros
Lets you exclude particular file types from the scan.
The UI is intuitive and easy to use.
Allows you to preview the pictures before removing them.
Hosts one click duplicate deletion.
Cons
The scan speed is not fast.
Detects fewer duplicates as compared to similar deduplication tools.
Not enough features to suit the requirements of advanced users.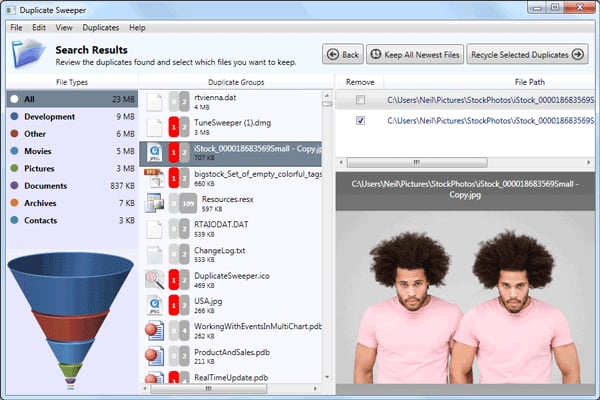 6. Easy Photos Cleaner
As entailed by the name, it is among the easiest ways to get rid of twin shots on Mac. The features such as image preview, faster scans, and more make it our top favorite and one of the best Easy Duplicate Finder alternatives that anyone can use. Below we talk about its outstanding features in detail.
Features
Lets you conveniently drag and drop the folders containing duplicate images to the scan area.
Hosts an auto mark functionality for the duplicates found on your device.
Allows you to preview the pictures before deleting them to minimize the risk of accidental picture deletion.
Boasts the functionality to clean duplicates from external devices such as pen drives etc.
Offers various customization options to the users.
Pros
Intelligently programmed to detect duplicates from every nook and cranny.
Easy Photos Cleaner is compatible with all the latest versions of macOS.
Scans the device at a blazingly quick speed.
Cons
Removes duplicates permanently and hosts no option to recover them.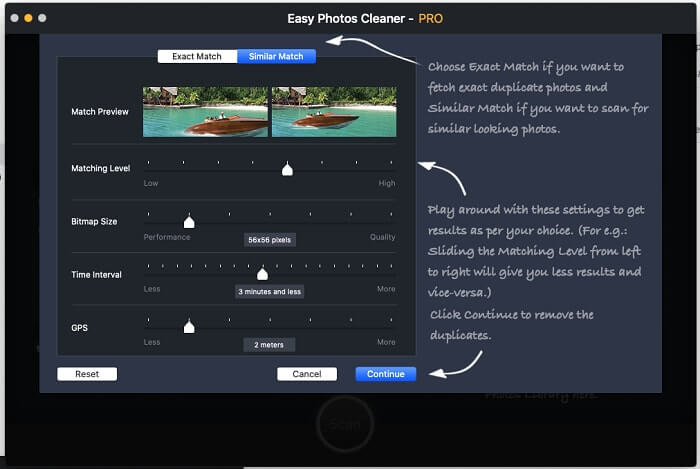 Which Tools do you think are the Best Easy Duplicate Finder Alternatives
In this penned note, we listed some software that can be called the best Easy Duplicate Finder alternatives. These tools comprise all the essential features to effectively remove duplicate photos from Mac. In case you are finding it tough to make a decision about which software to choose, then you can go by our recommendation, i.e., Easy Photos finder. It makes it easy as pie for you to get rid of duplicates in no time and manage the storage.
Lastly, before you click on the arrow to go back, we would be pleased if you subscribe to our newsletter for more such tools and alternatives.
Subscribe to Our Newsletter
Keep yourself updated with the latest technology and trends with Innovana Thinklabs Limited.