Gone are the days of big, bulky, and not-so environment-friendly paper books. Book enthusiasts now have a huge collection of eBooks. If you are also one of them but do not know how to manage your catalog, then read this post to get acquainted with the best eBook management software. 
Do you know that over 24 trees sacrifice their life to give one ton of paper? Yes, that's quite a huge loss for this planet. Perhaps, this is the reason environmentalists and other learned individuals advocate eBooks that not only saves the trees but space as well. Due to the numerous benefits of digital books, book worms around the world have shifted to them. However, one question remains: how to manage the huge catalog of the books stored on a desktop computer. Well, the answer is simple, the best eBook organizers are all you need to organize and manage your collection of books.
The marketplace is full of several programs claiming to be the best eBook management software. But not every claim is true. You need to be very careful while selecting one for your computer. We dived through the available programs and picked the most perfect ones to save you from all the hard work. The next section takes you through the same.
Top 5 eBook Organizer Software for Windows 10, 8, 7
Below are the best eBook managers and organizer software that we handpicked exclusively for our readers.
1. Calibre
Compatibility: Windows 8 and above
Rating: 4.5
Calibre is another software that truly deserves to be a part of this list of the best eBook organizers and managers. It boasts a wide spectrum of features, such as metadata editing, wired/wireless eBook transfer from one device to another, and a lot more. Below are the core features of this software.
Highlights 
This software lets you download the metadata, create, and edit it.
It is portable software that you can take anywhere via a USB stick.
With Calibre, you can edit eBooks and browse through them effortlessly.
You can use its search and sorting options to plan your reading sessions in advance.
It works well with all popular eBook formats.
There are highlighting, bookmarking, and read-aloud options to elevate your reading experience.
You get highly useful reference mode, multi-page view, and print options.
With this software, you can download news/magazines from the web.
It lets you backup, import/export eBooks to keep them safe.
In-built plugin explorer
Opens Amazon AZW files
Cross-platform availability
Open-source
Support for RSS feeds
Fails to open DRM secured books
The interface looks a bit crowded
Price:
Calibre is a free-to-use eBook organizer software.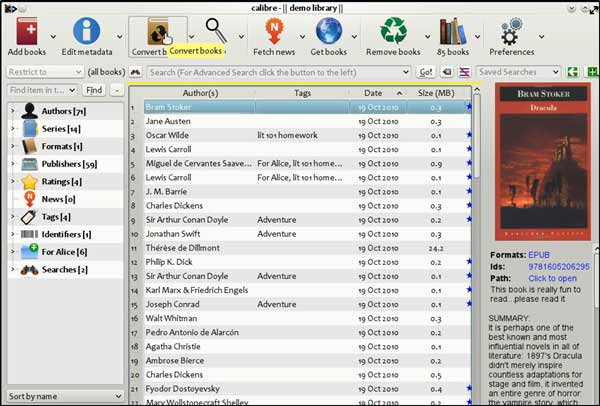 2. Soda PDF
Compatibility: Windows 10, 8, 7
Rating: 4.0
Soda PDF is among our top recommendations for the best eBook management software for PDF books. With this software, you can effectively manage the electronic books and perform various other tasks, such as editing and converting them to other formats. Below are the highlighting features of it.
Highlights 
It allows you to merge multiple documents into one document.
You can compress the PDF to make it smaller.
There is a wide variety of editing tools available to edit PDFs.
It lets you split large PDFs into smaller ones.
With this software, you can e-sign the PDFs.
You can resize the page size or margins of your eBook.
Soda PDF lets you convert the book into other formats such as Word.
Cloud-based
Optical Character Recognition
Unparalleled 3D viewer system
Read- Aloud feature
Customized toolbar
CBR and CBZ compatible
Friendly interface
The trial version needs registration
Most features must be purchased individually
Price:
You can choose from plans ranging from $6.75/month to $16.75/month depending on your needs.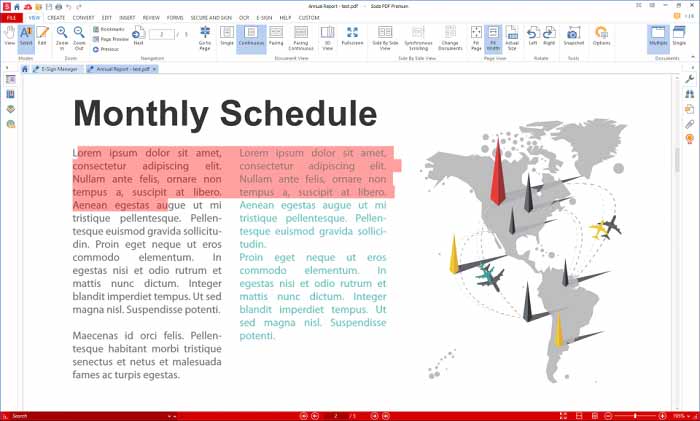 3. Alfa eBook Manager
Compatibility: Windows 7, 8, 10
Rating: 4.0
Here is another amazing program that deserves to be on this list of the best eBook management software. It is an all-in-one tool that any book lover would love to have. We like it for its incredible features, such as the organization of paper and eBooks in one library, multiple search filters, and customizable e-library. Let's learn more about its highlighting features.
Highlights 
It supports table view, list view, and thumbnail view for eBooks.
There is a customizable library explorer to view the number of books, edit, and delete items.
Book details pane to view all the information without opening book cards.
You can view the books in 3D forms.
There is an easy-to-use metadata editor that supports a variety of formats, such as PDF, EPUB, MOBI, etc.
You get an eBook converter to convert a book from one format to another.
It lets you manage the library effectively by adding tags, comments, and custom fields.
With this software, you can manage and play audiobooks.
You can import books from CSV, Calibre, Google Books, and OPDS.
There are useful database management tools.
User-friendly
Useful statistics bar
Fast search option
Kindle integration
Effective duplicates control
File parser, finder, and manager
Price:
Alfa eBook Manager is a completely free eBook management system for Windows.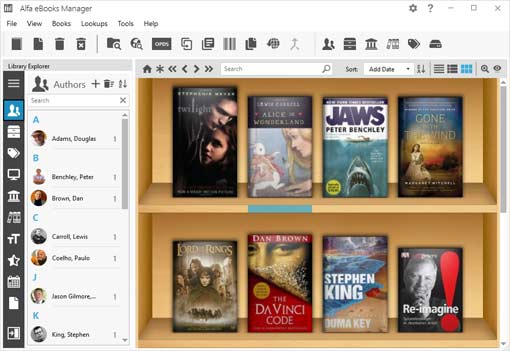 4. Icecream Ebook Reader
Compatibility:  Windows XP, Vista, 7, 8, 8.1, 10
Rating: 3.5
Here is yet another popular eBook organizer software that you can use. It boasts a wide array of features, such as a one-click option to resume reading from where you left off. Apart from this, it lets you adjust the text size as per your reading preferences. Below are its other top features.
Highlights 
It supports all widely used formats, including EPUB, MOBI, FB2, and CBR.
You can track your reading progress to see how many pages are left.
It lets you search and find text in eBooks.
This software allows you to copy text, translate, or search it on Google.
You can add notes or highlight text with its annotation option.
There is a fullscreen mode for a better reading experience.
You can use bookmarks to view the best parts of a book again.
For night readers, there is a handy night mode that makes the experience pleasant.
It allows you to group eBooks into different categories for better organization.
Export option
Navigation scrollbar for faster browsing
Book search by author or title
Well designed and friendly UI
Boasts many useful features
The free version lacks many options
No support for Kindle books
Price:
You can get this one of the best eBook managers for free. However, its paid version with complete features is also available for $19.95.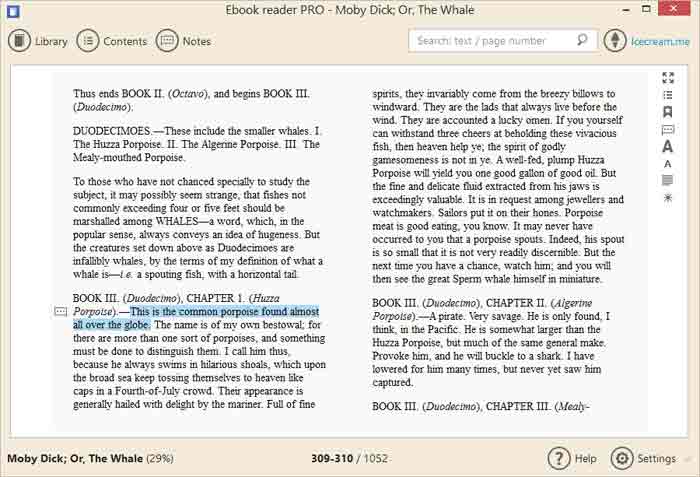 Read More: Best Free PDF Reader for Windows
5. Adobe Digital Editions (ADE)
Compatibility: Windows 7 and above
Rating: 3.5
Talking about the best eBook managers and not mentioning Adobe is something impossible. It is among the programs that major authors and publishers use to proofread their books. With this software, you can download and purchase digital content for both online and offline reading. Moreover, all the books that you download or purchase are available on all the devices where you have ADE installed. Let's talk about the other mentionable features of this software.
Highlights 
Useful full-text search functionality to search for keywords across all chapters of a book.
You can use it with various screen readers, such as JAWS, Window-eyes, and NVDA.
It lets you bookmark, highlight, and note your favorite sections of text from the eBook.
There is an option of borrowing eBooks from public libraries.
You can create custom bookshelves ordered by author, title, and publisher.
It allows you to print eBooks.
Sleek and friendly interface
Categorization of eBooks.
Multilingual
Supports multiple file formats
A bit buggy
No option to edit metadata
Price:
Adobe Digital Editions is a freely available eBook organizer software.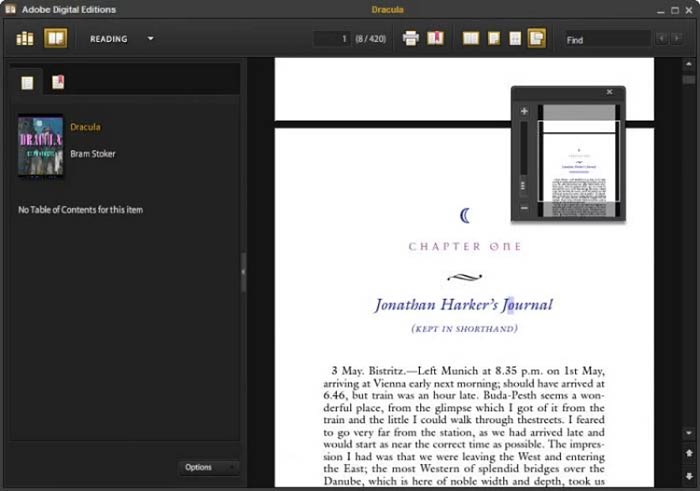 Read More: How to Convert PDF to Word Online/Offline
After learning about the best eBook management software, let's answer a few related questions.
Frequently Asked Questions
Q1. How are eBooks better than paper books?
It is an individual's personal choice whether he/she prefers eBooks or paper books. However, we find eBooks more comfortable because of these reasons.
eBooks are quite versatile.
You can have thousands of books at the same time.
They save space and you do not need to carry the bulky books physically.
Q2. Can I convert files to eBook format?
It is simple to convert files into an easily readable eBook format. The best eBook organizer software such as Calibre allows you to perform this task effortlessly.
Q3. How to manage eBooks?
The management of eBooks is quite a headache if you have a wide collection of them. However, the best eBook managers listed in this article makes the task easy for you.
Q4. Which is the best eBook management software?
All the programs listed above are unique and best in one way or another. However, when it comes to choosing the most suitable ones, below are our top picks.
Calibre
Alfa eBook Manager
Concluding Thoughts on the best eBook organizer software
In this article, we have gone through the best eBook management software to organize and manage your catalog of eBooks easily. You can judge all the best eBook managers based on their features, pros, and cons to pick the perfect one. And for more software recommendations and tech solutions, be an avid reader of this blog.
Subscribe to Our Newsletter
Keep yourself updated with the latest technology and trends with Innovana Thinklabs Limited.