In today's world emails are very important to our professional life. Emails connect us to our bosses and employees with this revolutionary time when every day a new technology shows up and create its monopoly in the market. In this diverse technological era which has brought us many techniques to connect to one another and dominating older methods. Still, email is one of the most prominent, reliable, and authentic ways to connect with people. Email maintains professionalism in connecting to one another. If you use Apple's mail app to send or receive emails and if you are having a problem with then you can use these apps to connect with new efficiencies and effectiveness. Here, we've mentioned some best email app for iPhone-
Top 5 Best Email App for iPhone
Some users are facing trouble while accessing Apple's mail app properly. If you are looking for the top-notch alternative of it, then, this penned note is for you. Here, we've shared the rundown of the best email app for iPhone users.
1. Gmail – Email by Google
Gmail is a top-notch mailing app. The Gmail app has many impressive and useful features to give you a great experience. With the Gmail app, you can access multiple accounts in a single device. And as per your need, you can switch to any accounts. A most helpful feature of it is – UNDO option. Just in case, if you made an error, then by using the UNDO option you can save yourself from facing an awkward situation.
Recently, the new update has come, that allows users to search for email without any internet connection. You can easily arrange your mails by marking them like labeling, deleting, starring, and spam reports. Deleting and archiving the mails is very easy in this app, the user just needs to swipe that particular message which they want to delete or archive.

Also Read: Best Parental Control Apps for iPhone
2. Microsoft Outlook
Another best email app for iPhone is Microsoft Outlook. Outlook manages all your email accounts in one place. Outlook also organizes your calendar and notifies you about every bit important thing. Users just require to swipe to eradicate, archive, or schedule the mail. Without downloading the file from Gmail, onedrive, dropbox, and more you can view any file and attachments. Recently, its new update has rolled out and has the capability to fix all the bugs instantly. This new update also enhances performance and gives a better mailing experience ever.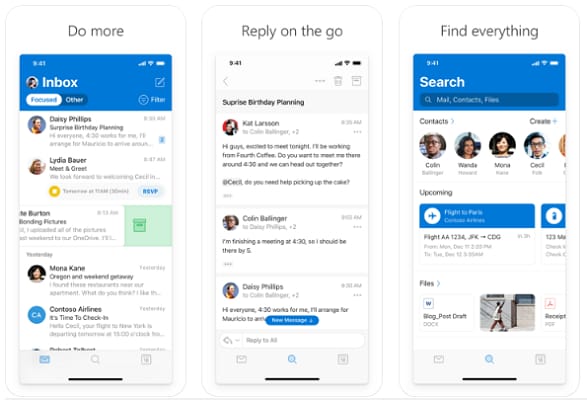 3. Yahoo Mail
To manage all the mailboxes like Gmail,  Outlook, Spark, and more, the Yahoo mail app is the best email app for iPhone. You can use any email address in this and separately customize them to recognize every one of them quickly. It offers many customization options like colors, themes, distinct notification sounds, and more. These options help you to verify your accounts easily by so no confusion has been created.
If you are a traveler and explorer then this app is for you as it also maintains your flight details right from terminal gates to delays, cancellation, and more. And if you don't want to see the spams and advertisement mails then it lets you unsubscribe them. Only shows the subscription rundown so you can easily opt for an important one.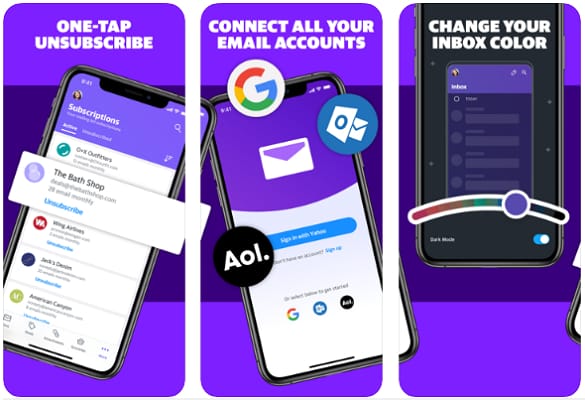 4. AirMail – Your Mail With You
AirMail is the most powerful mail app for iPhone users. You can create high-quality PDF, effortless workflow, and fastly open the documents or files. It also offers a 3D touch functionality to get quick access and push notifications. Users can manage more than one account at a time. iCloud synchronization offers a spontaneously working experience by syncing all the accounts between Mac and iOS.  It is one of the top-notch best email app for iPhone that lets users get complete control over the settings. In this users can separately labeling, starring the important mails to get the quick access over them.

Also Read: Best Translation Apps for iPhone or iPad
5. Spark – Email App
For professionals, Spark is the best email app ever. Its simplicity and effortless performance made it the best app on the App store as well.  Many people do work at night so for their ease of working Spark is also available in the dark mode that saves users battery life as well. Its smart inbox lets your work extremely easy by cleaning all the junks and spams automatically. And only shows the recent and important mails. You can also schedule an email that you want to send later as per your preference. Its built-in calendar features automatically schedule your important events and notify you. Spark allows the user to access multiple accounts at a time and switch to any account as per their needs.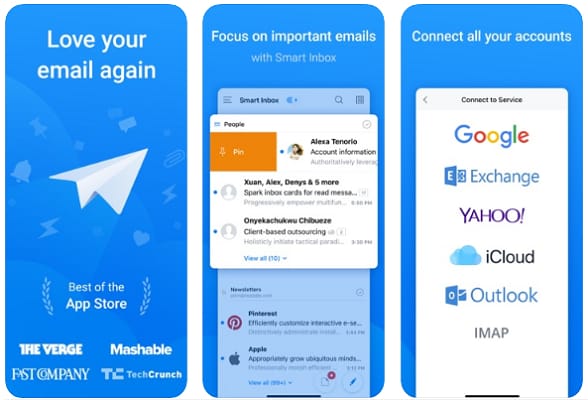 Best Apple's Mail Alternative
An email has always been a reliable way of connecting with people.  Above mentioned apps can help you to enhance your email experience. Some of these apps provide features like customization, auto-reply, etc. These apps have the capability to enhance your virtual life. Above referenced are the some best alternatives to Apple's mail app. All the programs are specially designed to provide effective performance. Hence, give a kick to any one of the best email app for iPhone and make your mailing experience far better.
Subscribe to Our Newsletter
Keep yourself updated with the latest technology and trends with Innovana Thinklabs Limited.