People in the corporate world know the importance of email communication. No matter how many new communication platforms have evolved. People still consider emails as the most authentic way of communicating with others in the corporate world. However, as everything is getting developed, the workload is also increasing. Ultimately the communication frequency has also increased, and managing emails have become quite hard. But if you have some best email apps for Mac, then it will become easier for you to manage emails.
Currently, there are several email apps, or we can say clients available in the market. Hence, selecting the best for your business can be a tough task. In this write-up, we have tried to solve your problem of choice. Here we have mentioned some best email client for Mac. So, let's not waste further time and have a look at the list.
7 Best Email Apps for Mac
Below is a list of some of the best email apps for Mac in 2020. You can use these email clients to maintain an efficiency of communication in your operations.
1. Gmail
Gmail is the most commonly used email client. It is the best email client for Mac, Android, Windows, Linux, and iOS. Gmail is used by such a majority that it became a synonym for email, and that's why some people even search for the best Gmail client for Mac. It is one of the leading email service in the world and holds a dominant market share as well. The reason behind the popularity of Gmail is its simple user interface. Just like many other Google utilities, Gmail also offers its most of the services for free. However, if you want to want to create an official communication network on Gmail, then you can do it through its paid Gsuite. This one of the best mail client for Mac automatically filters the messages and emails of your inbox into various categories, including Promotions, Social, etc. Gmail also provides you with a cloud storage of around 15 GB for free. You can have Google Hangout conversations with your colleagues and friends through the web version of Gmail. It recently added a virtual meeting feature as well in its Gsuite for the remote workforce.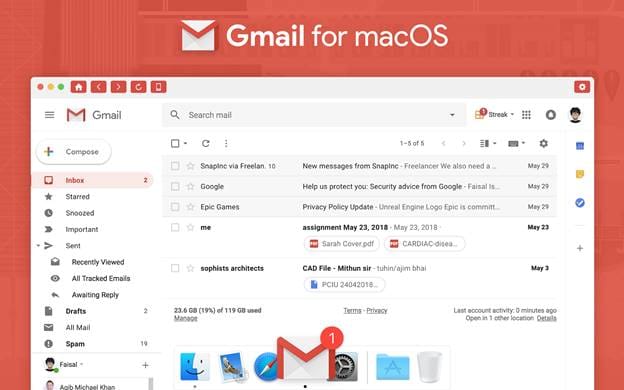 2. Microsoft Outlook
Another famous name on our list is Microsoft Outlook. If you are looking for a paid solution for your corporate communications, then Microsoft Outlook is one of the best email apps for Mac. It is the best that a business can get. You can get this email client along with the complete Microsoft office suite. We highly recommend this best mail app for Mac to those who want calendar integration with the email service. Outlook is integrated with Microsoft Office. Hence, you can use it directly from various Microsoft Office applications. However, if you are an individual and just want to use an email client for some casual use, then we advise you to avoid using Microsoft Outlook and look for some free options as Gmail.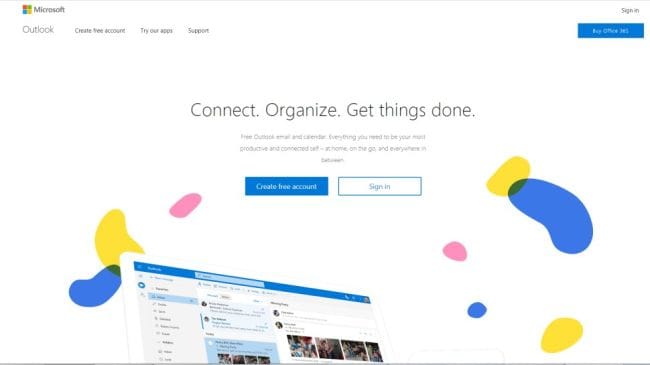 Also Read: Top 7 Duplicate File Finders for Mac to Delete Duplicate Files
3. eM Client
eM Client is one of the feature-rich email clients for Mac in 2020. It can even be used on the Windows operating system as well. eM client is also compatible with other important email services such as iCloud, Outlook.com, Gmail.com, etc. Just like Gmail, eM Client offers chat feature as well. However, it does not offer many features in its free version, unlike Gmail. Apart from this, eM Client offers many advanced and useful features in its paid version. The best email client for Mac and Windows enables you to transfer your emails and messages from other email clients. That's why people usually prefer eM Client who wants to switch from a particular email client to another.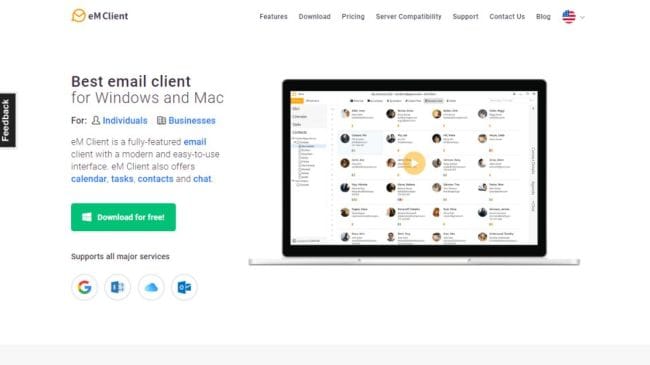 4. Thunderbird
Thunderbird is the first open-source email app on our list. The designers and developers of this email app are none other than Mozilla, which also develops one of the finest web browsers, i.e., Firefox. If you want to use a free email app and do not prefer Gmail, then for you, Thunderbird is the best email app for Mac, Windows, and Linux. Unlike Gmail, you don't have to pay a single penny to use any of Thunderbird's features as the email app is entirely free. This one of the best email apps for Mac and various other platforms can also be customized as per the preferences of the users. Hence, we highly recommend Thunderbird to those who like to have full control over their apps.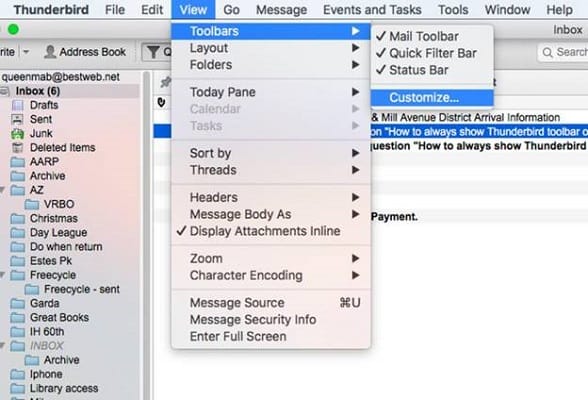 5. Mailbird
Here comes an email client with high compatibility. You can use Mailbird along with various other popular apps such as Dropbox, WhatsApp, Facebook, Google Doc, Twitter, etc. Mailbird comes with an integration with so many prominent apps. This best email client for Mac also provides several in-built apps like Gmail does. However, you'll find a huge disadvantage in Mailbird when you compare it with Gmail. We all know that Gmail is exceptional when it comes to categorizing different emails, but this feature seems quite missing in Mailbird. Apart from that, it is quite a decent email client for those who want a multipurpose email client. This best email app for Mac can also help you to carry out multiple tasks at the same time.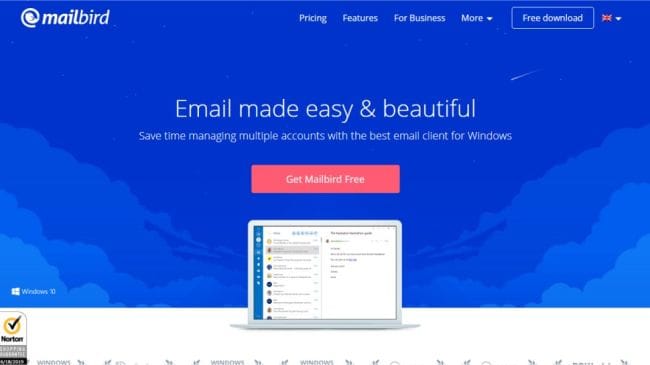 Also Read: 5 Best EXIF Viewers, Editors and Removers on Windows and Mac
6. Yandex Mail
Are you looking for a free, customizing, and secure email service app? If yes, then you might find Yandex Mail as the best email apps for Mac, Windows, Linux, Android, and iOS. Despite being a free email app, Yandex Mail offers quite amazing and vast features. This email app can automatically identify the emails and messages from a real person, and hence it categorizes your email inbox accordingly. Yandex also allows you to set a sending time for your email. Just like many other famous email apps on this list, Yandex offers a cloud storage as well. It offers around 10 GB online cloud storage to its users for free.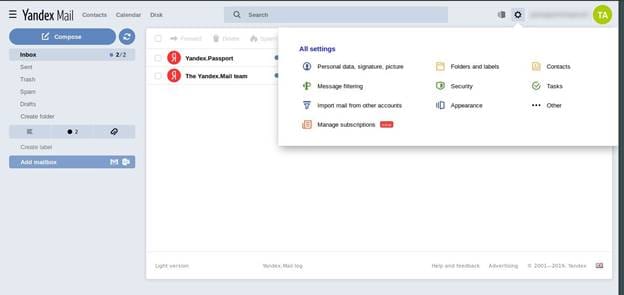 7. Spike Email
The name of this email client seems like the name of some messaging app. And yes, you guessed it right, it indeed serves you just like a messaging app. The specialty of this email client is that it can convert your email inbox into a chat inbox. The user interface of Spike Email is quite similar to WhatsApp. Along with this, just like many other traditional email clients, Spike Email also offers a calendar. This best email client for Mac is suitable for both personal and professional uses. That's why it comes in both paid and free versions. If you want to use it professionally and want the email address along with your particular domain name, then you must have to purchase its paid version.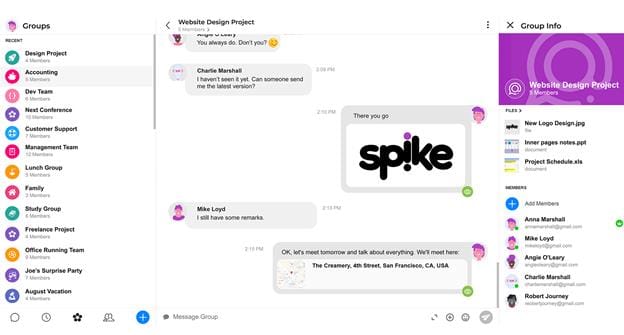 Conclusion
So, these are some of our handpicked email clients for mac in 2020. These best email apps for Mac can help you a lot in your official communications. Apart from communication, the above-mentioned apps provide various other features as well. Some of the provides you with feasibility to make changes in your traditional email inbox, while others provide advanced features such as email scheduling. We hope that the above-mentioned descriptions of some best email client for Mac helped you to evaluate the best among them.
Furthermore, you can subscribe to Innovana blogs, if you are interested in more such information.
Subscribe to Our Newsletter
Keep yourself updated with the latest technology and trends with Innovana Thinklabs Limited.