Are you a Musicophile ? Then, you must be listening to music on your phone. But most Android phones lack proper bass booster in their music players, and hence you will be in need of best equalizer apps for Android. The bass plays an important role in music as it refers to the tones of low pitch and ranges from 16 to 256 Hz. The bass plays a variety of musical roles.
Android phones with Android 5.0 and above do come with a built-in five-band equalizer that can be adjusted for achieving the right bass impact on music & sound, yet it often doesn't yield satisfactory results. Therefore, equalizer apps come into the picture. In this blog, we will take a look at such apps in detail.
What are the Best Equalizer Apps for Android in 2021 
Below described in this article are the pros and cons of top 13 equalizer apps available to boost the bass of your Android phone's sound system and normalize its sound as well.
1. Equalizer FX
This equalizer app has a simply designed user interface. It has three main sections, namely – Equalizer, Effects and Profiles.
Pros:
This bass booster app is capable of improving the overall sound quality of your system and thereby enhances your music listening experience over any medium.
The widget function on your home screen, making it easy to adjust configurations.
There are twelve presets with customization options available.
It comes into effect instantaneously when you start playing music and also switches off with the music.
This app can act as an Equalizer and Bass booster.
What it also does is virtualize the audio channels and enhance loudness.

It is among the best equalizer apps to work with applications such as Pandora, Spotify, and more. 
Cons:
This app contains advertisements that can be a little annoying to deal with at times.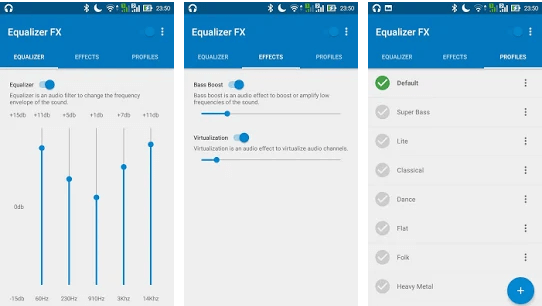 ---
2. Neutralize
This is an excellent app for people who have a hearing impairment. This kind of app is an equalizer in a conventional manner. What it actually does is restore the sound of the system rather than distorting it.
The parameters which actually come into account for better sound quality are digital to conversion, signal frequency range, amplification path, speakers frequency response, and psychoacoustics. Therefore, a neutralizer tests the hearing ability in the main frequency ranges to tune in the system equalizer accordingly. Another plus point of this app that made it feature in this list of the best equalizers for Android is that it does not require many phone permissions. 
Pros
This equalizer app for Android improves the sound quality of both speakers and headphones.
Cons
This app isn't completely free, as there are in-app purchases that need to be made to ultimately use this app.
Also, this equalizer app for Android may not function in entirety on all devices due to device restrictions imposed on third-party apps by some phones.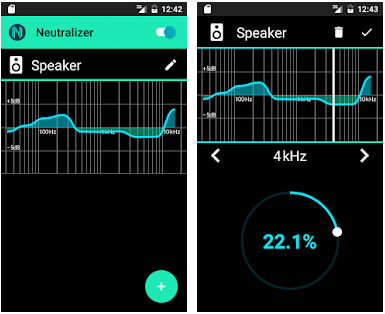 ---
3. Music Volume EQ – Equalizer & Booster
This is perhaps one of the best equalizers and boosters available in the town. Here're its key pros and cons.
Pros:
It is inclusive of the standard five-band EQ together with the nine EQ presets.
The volume control, bass boost, and loudness enhancement features are incredible.
The app performs well with most of the video and audio players.

If app themes are also your priority, then you won't be disappointed as this Android 10 equalizer offers you two exciting themes. 
Cons:
It does not support all the players and won't work with everything you wish to use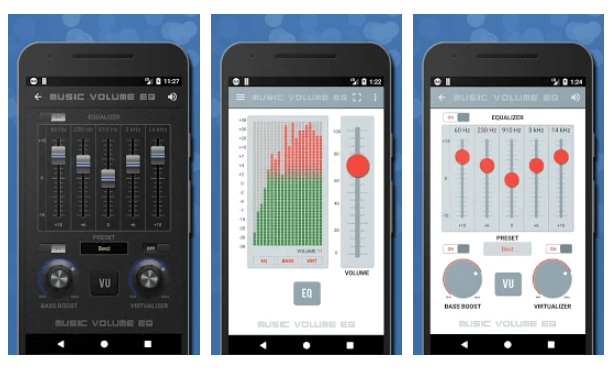 ---
4. Bass Booster & Equalizer
This is one of the most trusted equalizer apps by music lovers across the globe. Here're a few pros and cons of using it.
Pros:
Here you get ten preset equalizations
There are 16 exciting and colorful themes to choose from
Installing and using the app is an easy-breezy thing
Works with almost all music and video players

It is among the best Android equalizers to get stereo surround sound effect on your phone. 
Cons:
Contains small ads that might bother you
Does not have all the high-end features available with most of the other apps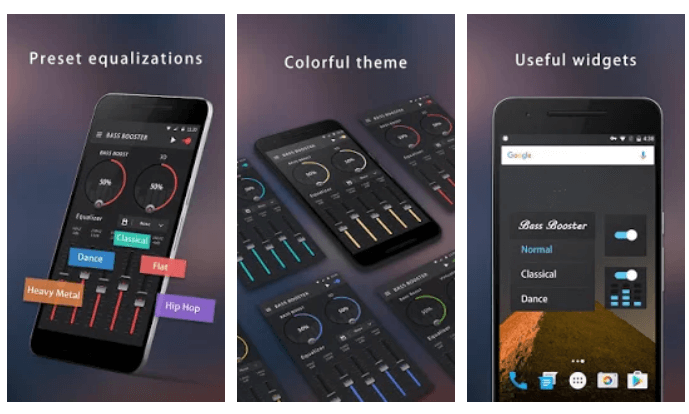 ---
5. Equalizer Music Player Booster
This app markets itself as the best all- in- one music player. Here're the upsides and downsides of using it.
Pros:
It has ten genre-based pro sound presets
Here you can save and edit your custom presets
It has a queue system that enables you to prepare your checklist in advance
Contains background play mode so that you can listen to your favorite tracks while using other apps

It is one of those rare and the best music player for Android with an equalizer that allows you to edit the metadata of the soundtracks from the app itself. 
Cons:
Sometimes plays tracks super-fast and sounds scrambled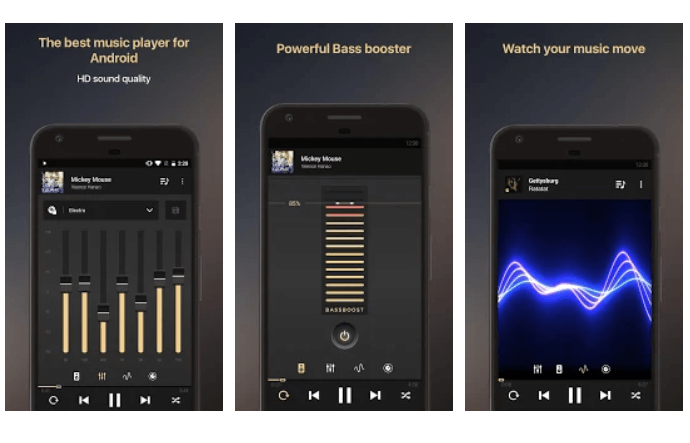 ---
6. Beans Mobile Music Equalizer
Here comes another music equalizer app to make your favorite soundtracks sound even better. Below we look at the detailed pros and cons of this app. 
Pros
Hosts 10 presets and 5 Band EQ controller.

Boasts a bass booster and virtualizer mode for better sound quality through headphones.

It comes with notification shortcuts and an option to save custom presets.

This phone equalizer offers a 4*4 widget and is free to use. 
Cons
It is an ad-supported application and may annoy you with ads.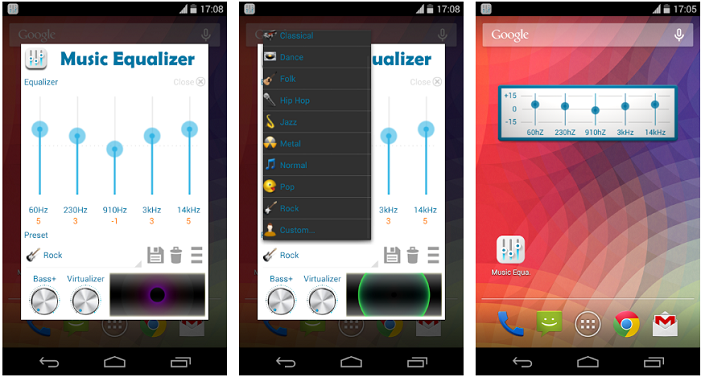 ---
7. Wavelet
Are you fond of listening to music through headphones? If yes, then this is among the best headphone-special phone equalizers that you can use. Let's discuss its pros and cons. 
Pros
Boasts a 9 band graphic equalizer that improves the sound quality.

Hosts a bass booster for the beats that you love.

It comes with the much-needed reverberation and virtualizer options.

This music equalizer app lets you remove unneeded resonance with its bass tuner.
Cons
It distorts the music a bit if you increase the volume beyond 50% in the loudness equalizer.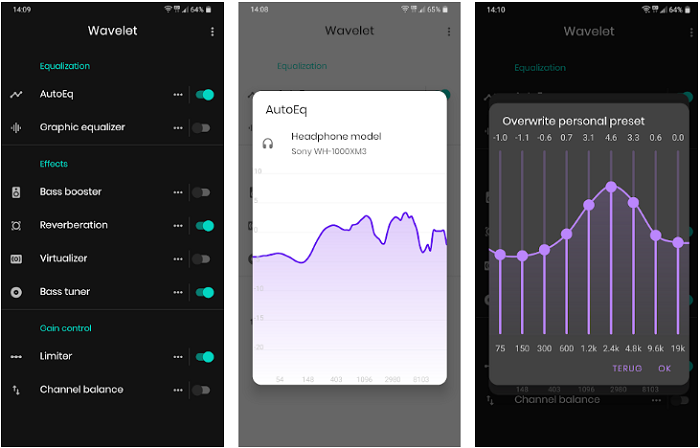 ---
8. Music Player
This is also among the best music player and Android 10 equalizer. Below are the pros that make it a favorite of musicophiles and some downsides of this app.
Pros
Lets you browse as per the music genre.

Boasts a collection of elegant themes.

It comes with a 5 band equalizer.

In the application, you also get virtualizer and reverb settings.

The app supports multiple languages and lets you share songs on all major social media platforms. 
Cons
The UI is a bit complicated for novice users.

Sometimes, you may experience a few minor glitches while using this app.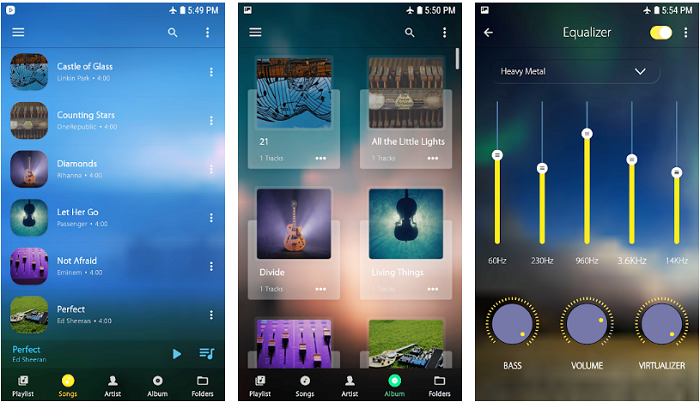 ---
9. Flat Equalizer – Bass Booster & Volume Booster
This is also one of the best equalizer apps for Android available on the play store. It has several pros and a few cons. Here they are.
 Pros:
Minimalistic and flat UI that follows Google's material design
Has bass booster, volume booster, and loudness enhancer effects
The app gets updated regularly
Cons:
Sometimes bass sound quality drops a bit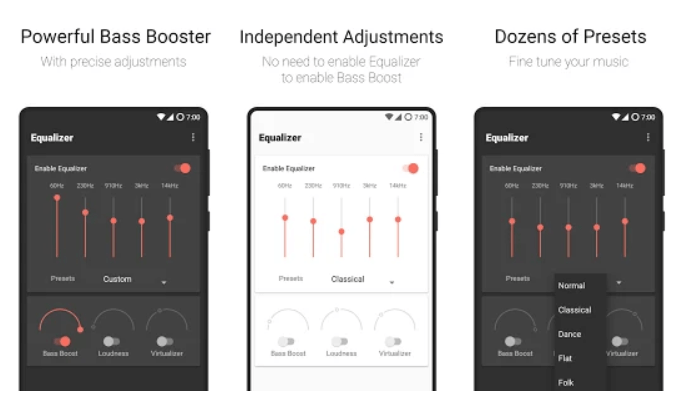 ---
10. Music Equalizer
This app takes your equalizing experience a notch up with its amazing features. Here I list down its pros and cons.
Pros:
Has virtualize mode for improved results with headphone
Contains notification shortcut so that you can get quick access
Works perfectly with all screen resolutions
Cons:
Sometimes struggles a bit with Samsung tab and streaming services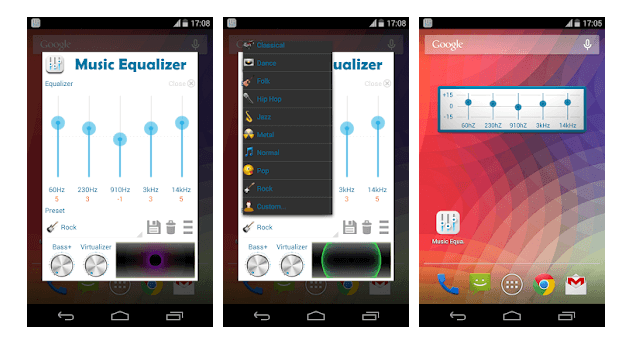 ---
11. Equalizer – Bass Boost
This is another choice amongthe best equalizer apps as the user interface is simple and appealing enough for users to find it convenient to use. This app is capable of enhancing the overall listening experience by customizing the sound effect as per the genre of music.
Pros
It has a five-band equalizer with bass boosting ability.
This is not just a bass booster app for Android as it can enhance the overall loudness in Android 4.4+ devices.
This app can also add visual effects, 3D surround sound effects and a lot more.
There are ten predefined presets with customization capability.
Cons
This app contains ads.
This app also has some in-app purchase offers to access all features.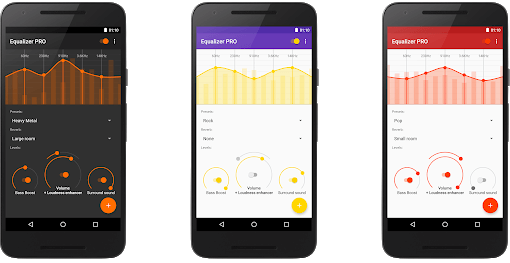 ---
12. Music Equalizer – Bass Booster & Volume Booster
This app again makes a superb choice as a bass booster Android app because of the impressive material design and colorful themes. There are fifteen themes offered by this app.
Pros
This app has compatibility with both headphones and speakers of your phone.
This app can be considered among one of the best equalizer apps for Android due to its excellent features like the availability of five-band equalizers with ten presets.
This app is also capable of normalizing the sound effect as suited to the listener, along with adding surround sound effects.
Cons
The app contains advertisements that can mar the user experience.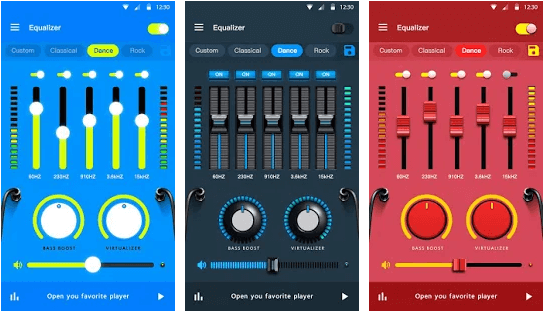 ---
13. 10-Band Equalizer
This bass booster app is capable of enhancing the complete sound quality of your device and gives you the freedom to adjust and modify sound as per your likes. This app can be downloaded free of cost and is even applicable to headphones as well as speakers.
Pros
It has a built-in music player which can be played in the background.
10-Band equalizers are available along with custom presets.
It allows you to customize the volume, bass, treble and also the left/right  volume balance of the speakers.
The frequency of sound can be adjusted from 31Hz to 16kHz.
Cons
There are ad interferences which can't be removed that impact the user experience of this equalizer app for Android.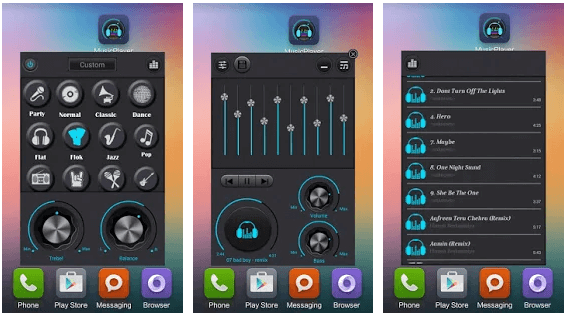 Also Know: Best Free Voice Changer Apps Android and iPhone
---
14. Dolby MusicPlayer – Easy HD Music
With an aesthetically pleasing user interface, this app can also prove to be among the best options available in the category of bass booster apps.
Pros
It is, in fact, a music player with bass boosting abilities, reverberation sound  effects in combination with built-in equalizer features.
Cons
You cannot have a smooth experience with this app due to advertisement pop-ups.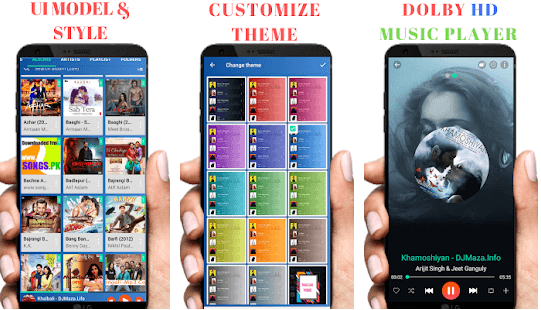 This article has briefed you about the best equalizer apps available for Android devices with its best features and demerits. There are millions of apps in the Play Store which claim to be a thousand things, but when it comes to actual action, many of these turn out to be fake apps, or some may even contain malicious viruses.
Thus, this article can hopefully help you find the app which suits you best.
Subscribe to Our Newsletter
Keep yourself updated with the latest technology and trends with Innovana Thinklabs Limited.