In this write-up, we'll discuss some file shredder apps for Android smartphones. Before moving further, let's understand the necessity of such apps as per the current scenario. After that, we'll proceed with our list of some data shredder apps for Android devices.
We all are serious about the security of our online data. However, the data stored on our offline storage is also equally prone to the threat of being hacked. It also includes the data that we have deleted from the storage of our Android device. You might be thinking that how someone can even hack the deleted data that too on our offline mobile storage. But yes, it is a dark truth that your data doesn't get permanently deleted, even after you select to delete it. There are various utilities through which you can or any other person can recover your deleted data on your storage. Hence, it becomes quite necessary to permanently delete data from your Android device. You can do it with the help of some best file shredder apps for Android. So, without wasting further time, let's have a look at the list of some data shredder apps for Android.
5 Best File/Data Shredder Apps for Android Smartphones
Here we have listed some of the best file shredder apps for Android smartphones. You can shred your files and data permanently with the help of these apps.
1. Secure Erase with iShredder 6
In the first place, we have listed Secure Erase with iShredder 6. The app is famous for erasing files and data from your storage without any trace. The app offers some certified algorithms to delete your data permanently. It also provides you with the reports of performed deletion of data. Secure Erase with iShredder 6 is capable enough to erase the whole data of the SD card. You can even remove the data from the mounted devices including, USB drives. It removes all kinds of data including the multimedia stored on your SD card to your security information including, facial recognition. You can even use it to clean up your storage by deleting cache files. Along with all these things, you'll be provided with 24/7 email support. The most important thing about Secure Erase with iShredder 6 is that it is compliant with GDPR (European Privacy Legislation). Hence, you can rely on it for your privacy.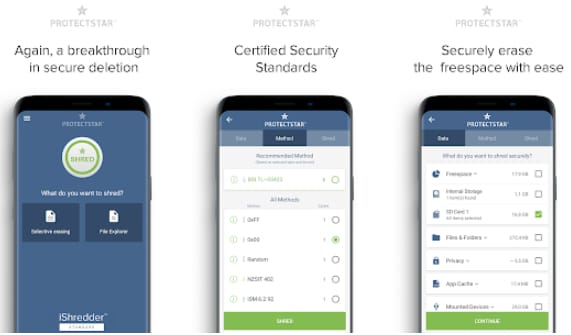 Also Read: 7 Best Fake GPS Location Apps For Android
2. Secure Eraser
Secure Eraser is also a reliable app to delete data permanently from Android devices. It has a good rating on Google Play Store and has more than 100K installs. The app uses Data Erasure, a certified method to overwrite the hard disk data and completely delete it. The data removed with the help of Secure Eraser cannot be recovered with any recovery tool. Some data eraser tools might leave your disk unusable. However, you don't have to worry about this situation while using Secure Eraser as it provides secure cleaning and leaves your storage operable. It can even reset your storage to the default. Hence, the app is considered among some good file shredder apps for Android.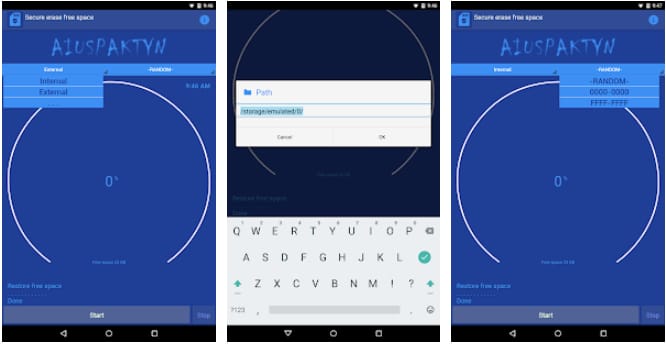 3. Shreddit – Data Eraser
Here comes one of the famous data eraser applications for Android, i.e., Shreddit. The app comes with a warning stating, "Data erased using the shredder cannot be recovered by any means." Although, it doesn't seem as a warning to the people who are specifically looking for apps that are capable to permanently delete data from Android. The app doesn't leave any traces after it removes something from your storage. The algorithms on which it works help you delete a large amount of data permanently in just a few seconds. It doesn't provide any other background service, that's the reason why your data is completely safe as there is no overhead. Shreddit uses some key data shredding standards, including, German VSITR, US DoD 5220.22, etc.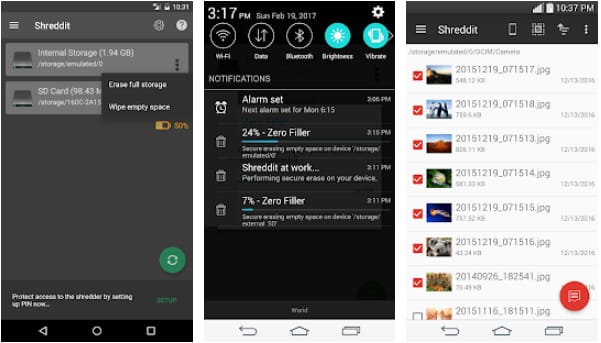 4. Android Eraser
You can trust on Android Eraser to completely wipe your data from your Android storage. The tool offers some amazing features, which makes it worth giving a try. This is one of the completely free file shredder apps for Android. It comes with 5 approved algorithms to entirely delete your data. You can use it to overwrite the free space of your storage. It can also remove data stored on the storage of your Android device. When we are talking about data, it doesn't only mean multimedia files. Android Eraser can also remove contacts, clipboard, etc. You don't have to worry about your data while using Android Eraser, as the app is compliant with GDPR. Along with all these features, the app also provides detailed reports of all the data removal.
Also Read: 13 Best Android Dialer Apps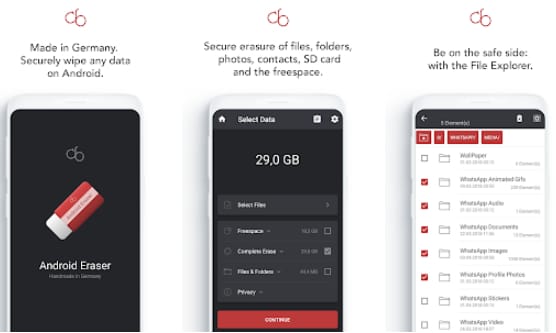 5. Smart Delete
The last name on our list is Smart Delete. You can use this app to completely delete photos, videos, and other files on your Android storage. Smart Delete is a quite compact yet powerful app. It provides you with a feature to completely delete your files in just one tap. Along with deleting files, the shredder app also takes care of duplicate files. The app even allows you to delete your contacts and call logs as well. You can also detect and remove duplicate files such as images, videos, and songs with Smart Delete. It also helps you to completely uninstall other apps and remove their data. However, the app is not that reliable as all the other above-mentioned apps are. You can still try it if you are looking for a multi-feature shredder app.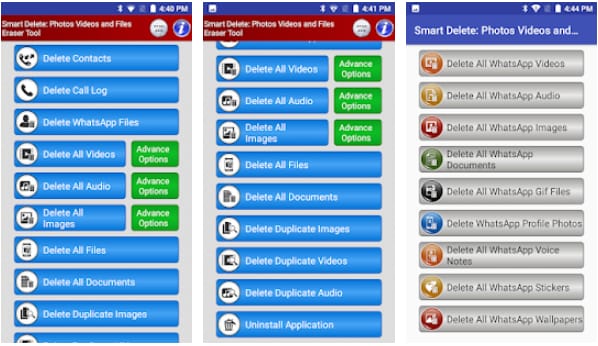 The list of our some of the best free file shredder apps for Android ends here. You can evaluate the above-mentioned apps as per your expected standards and features. The main focus of the post is to make you concerned about your security and privacy. With the evolution of technology, hackers are also getting evolved. So, take care of your data, even of your deleted data.
For more such information related to privacy and security, subscribe to Innovana blogs and bookmark the page as well.
Subscribe to Our Newsletter
Keep yourself updated with the latest technology and trends with Innovana Thinklabs Limited.