In this post, we discuss the best file shredder software to prevent hackers from accessing sensitive information on your PC.
Why do the hackers invade a device? Most of the users think that hackers aim to get ransom in return for their data. But, you know what this is what a novice hacker does. The hacking experts look at the bigger picture, i.e., in addition to extorting money, they also want to use your data for their evil purposes. They might even intend to plan a terrorist attack using your data. The only way to safeguard your data is to keep it out of the hacker's reach.
People think that deleting data from the PC and transferring it to the cloud saves them. Well, this is also not true as, nowadays, even an average computer user can recover the deleted files via file recovery software. Hence, it would not be tough for hackers to retrieve them. Thus, the ultimate way to protect yourself is to make your data irrecoverable using the best data shredder software.
The best file shredder for Windows 10 uses data sanitization methods to overwrite the data on a hard drive so that it cannot be recovered. All the file shredders use different sanitization methods such as Secure Erase, DoD 5220.22-M, NCSC-TG-025, AFSSI-5020, and more.
Through this post, we talk about the best data shredder software that makes it impossible for hackers to retrieve the data.
The Best File Shredder for Windows 10 to Permanently Delete Data & Make it Irrecoverable
Below are some of the best file and data shredder software that you need to wipe away the deleted data completely.
1. O&O SafeErase
We believe that when it comes to sensitive data, you should only use reliable and the best file shredder for Windows 10. One of the trusted tools is O&O SafeErase. This easy to use software has plenty of features to delete the files permanently and make them irrecoverable.
Talking about the features, it has all the regular functionalities such as folder deletion, deleting files from memory card and USBs, and more. The highlighting feature of this software is Instant Erase as it allows you to permanently wipe out the files in a fraction of seconds.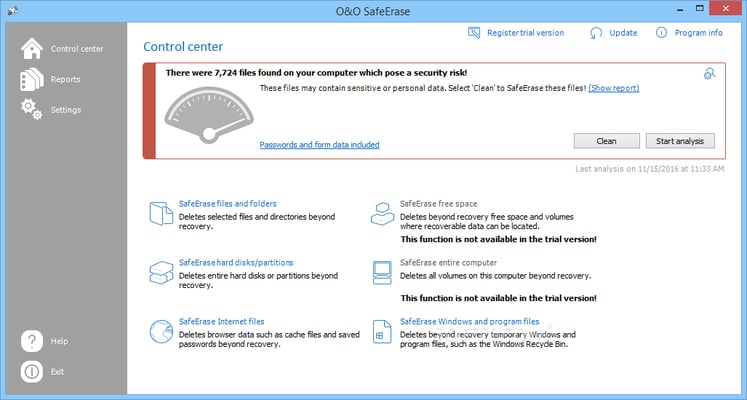 2. Secure Eraser
This entrant on our list is not merely the best file shredder for Windows but it is the perfect blend of many PC care tools. For instance, it even hosts the much-needed registry cleaner to free up the PC space.
This is not all and it also scrapes away folders, partitions, and even the complete hard drive. It uses various sanitization methods such as DoD 5220.22-M, Gutmann, and more. One unique thing about this disk shredder for Windows 10 is that it even lets you change the data sanitization method.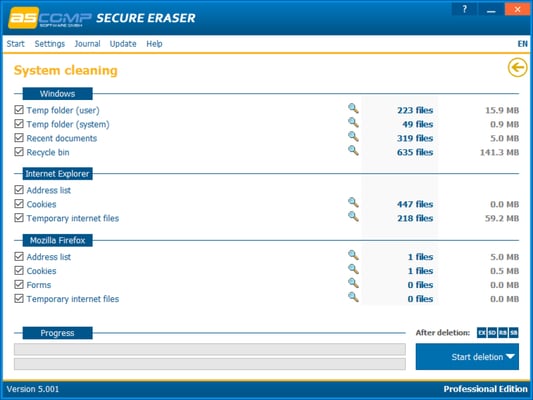 3. DriveScrubber
As it is evident from the name, this secure file eraser for Windows 10 scrubs the entire drive. This ensures that the data remains irrecoverable no matter how hard someone tries to recover it.
It hosts three modes to ensure the irrecoverability of data. The first mode is wiping out the entire hard drive. The second mode is clearing the drive's free space. The last but not least mode is a desktop file incinerator that deletes single files and folders. All these modes collectively ensure that even the best file recovery software fails to recover the files.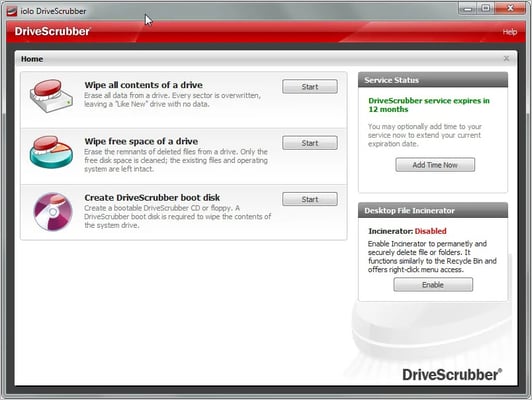 4. Lavasoft File Shredder
Lavasoft is among the pioneers in the anti-spyware domain. Here we introduce you to the best file eraser for Windows 10 from this tech giant. This easy to setup utility helps you effectively delete all the sensitive data from the PC's hard drive. It even lets you choose from the available sanitization methods to permanently overwrite the space occupied by the deleted files and make them irrecoverable.
What make it a part of our list are the unique features that it offers. Some of these options include wiping out the traces of your computer usages, deleting the files from the recycle bin, and more. It even creates a bin icon on the desktop to help you delete files snappily.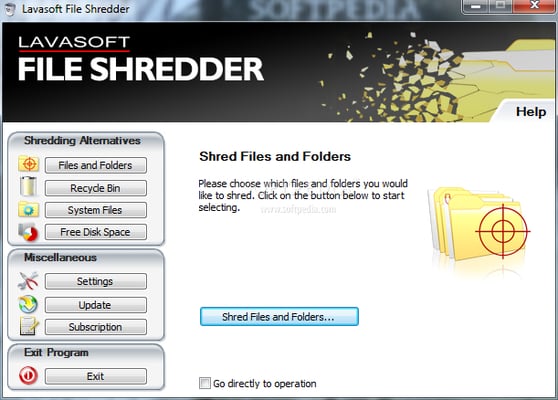 5. WipeFile
If you need a free file shredder for Windows 10, then we would recommend WipeFile. This easy to use and portable software provides some of the most unique features that are not available even in the premium file shredders.
A few of its striking features include drag & drop to shred multiple files, the option to add specific data for overwriting the hard drive, EXE file removal, etc. Moreover, it has several data sanitization methods such as Write Zero, Gutmann, NATO Standard, and more to make files irrecoverable.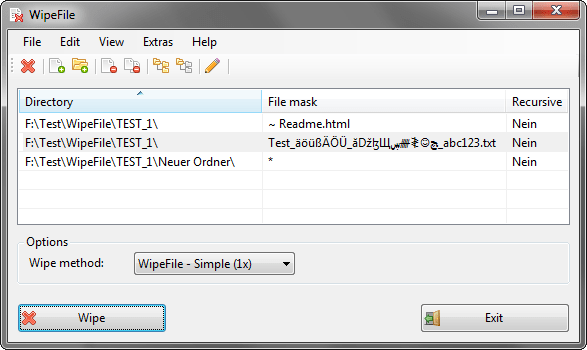 6. Hard Disk Scrubber
Here comes another free file shredder for Windows 10 that lets you shred multiple files at once. In addition to this, it also boasts highly customizable settings. Some of these settings include the option to overwrite the files without removing them. This way your data gets protected even without deleting the file.
It employs three data sanitization methods namely AFSSI-5020, DoD 5220.22-M, and Random Data to permanently wipe out the deleted files. The highlight of this best data shredder software is the option to rename the files instead of deleting them. If you use this functionality, then it first renames the file and then makes use of the sanitization method to render it irrecoverable.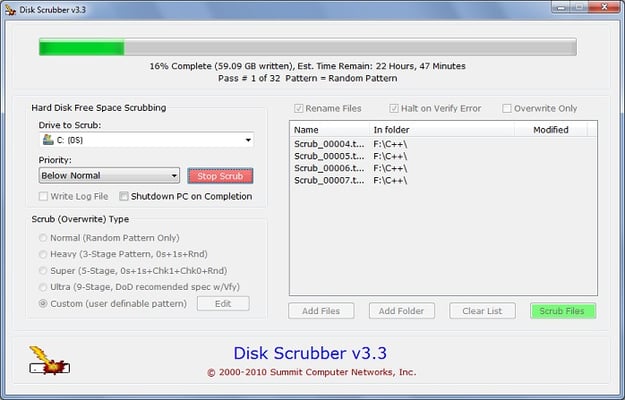 Also Know: How to Disable Telemetry and Data Collection in Windows 10
7. Remo File Eraser
Now, let's have a look at another easy to use and the best free file shredder. It has an array of features to delight users and makes it easy for you to permanently delete the files.
This best data shredder software's unique features include a hard drive, memory card, and USB shredding. Moreover, it also lets you permanently delete files from the recycle bin, shred previously deleted files, and schedule the file deletion.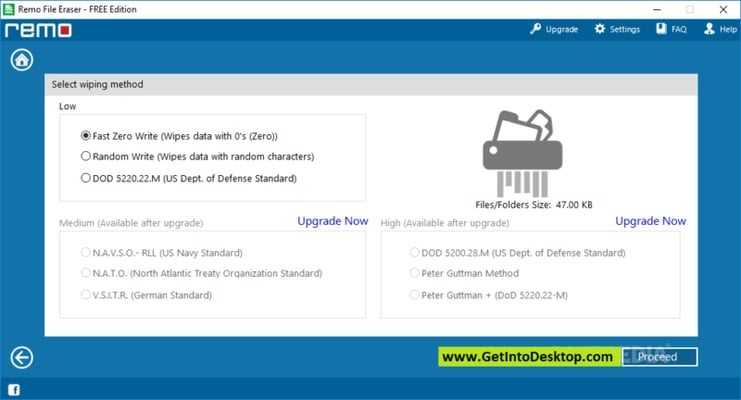 Subscribe to Our Newsletter
Keep yourself updated with the latest technology and trends with Innovana Thinklabs Limited.