Traveling is the only thing that makes us happy. Whenever we get tired, bored we take a break and plans a trip. Traveling is not that easy as we have to plan and coordinate everything properly according to our schedule. But for bloggers and explorers, it's very simple as they know each perspective fairly. However, you plan and set things as per your need but the situation hasn't remained the same always. While traveling, you have to make sure that things remain in the control and when it seems to go out of control try to decrease it. The most common as well as a big problem that arises while traveling – navigating the route of those places that you choose to visit. Another important trouble is – track or locate flight details like timing, terminal and more, so you can arrive airport on time. These two are the most crucial problem that has faced by almost everyone across the world. Due to our busy scheduling, we are always failed to arrive at the airport on time. Sometimes, for many different reasons, flight time has been changed but we don't know about that. Now, it is extremely easy to track the flight details via the best flight tracking apps.
Top 5 Best Flight Tracking Apps for iPhone/iPad
If you are also looking for an app that tracks your flight details and gives you accurate information about the very same, then this article is for you. In this article, we've referenced some best flight tracker apps that will surely help you.
1. The Flight Tracker
Make your traveling stress-free via The Flight Tracker. Locate every single detail about your flight by using the flight tracker apps. Receives every information in deep inside i.e.,- arrival, departure, terminal gates, and many more. Flight Tracker traces almost all the flights all over the world. Also displays seats and offers you to choose a seat as per your preference. Synchronize your trip with the calendar and share all the information related to flight via e-mail, text message, Whatsapp, and so on. It also gives you an alert message about your trip as a text message. With Flight Tracker, you can also plan your trip.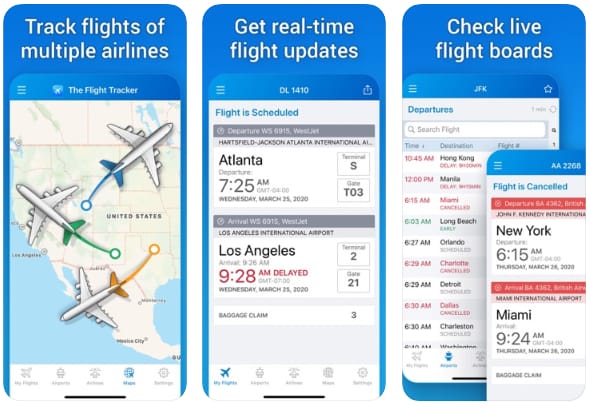 Also Know: Best QR Code and Barcode Scanner Apps for iPhone and iPad
2. FlightRadar24
One of the most notable and commendable flight tracking apps – Flightradar24. It is the world's most trusted app for flight tracking and compatible in all over the world. This app has the tendency to change your iPhone or iPad into the live flight tracking device and by moving you can easily navigate all the flights across the world. And the most interesting thing about this app is – you can get all these amazing features at no cost that means it is completely free. With this app, you can also be able to trace the aircraft around the globe in 3D. On its map, just tap via phone on the plane and know where it is going. This app not only gives detailed information about the flight but also gives weather information too.
3. The Flight Tracker Pro
The Flight Tracker Pro is another great app to trace every single information about your flight details. Flight Tracker Pro is one of the most convenient apps to track flights on our lists. However, it is not completely free, to use its advanced features you have to pay a certain amount. Gives you deep inside information about your flights and makes your tour stress-free. Whenever your flight terminal gates and times updates, it automatically fetches the updated data in real-time.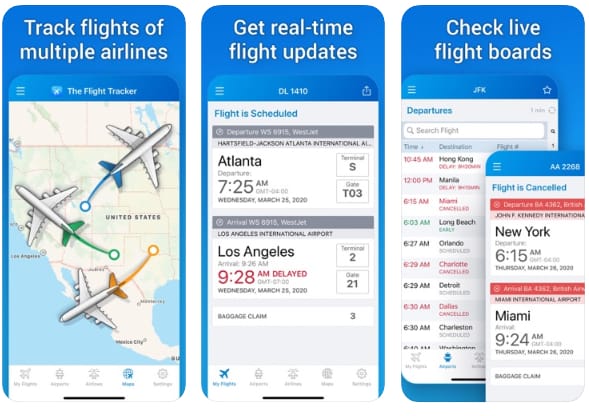 4. Plane Finder-Flight Tracker
Plane Finder is the most crucial tool to track your flights. It is very easy to use and gives you every small information about your flight. Traces live air traffic and give a live update in real-time. It is the most trusted app for tracking flights worldwide. Its plane markers help you to verify the flight. And it remains top rank best flight tracking apps since it was released in 2009. With Plane Finder, you will get always a great experience. Although, to get its wonderful features you have to buy it.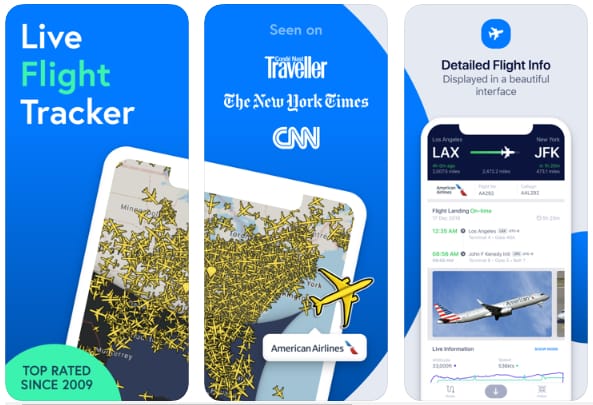 5. Flight Update Pro
Flight Updater Pro is the top-notch choice for tracking flights. It gives you detailed information or live updates instantly. Just its name suggests Pro, it is for pro users like travelers, bloggers, explorers, and more.  Gives you the best flight status and also schedule your flight or information to the calendar. Provides you every single information via text, e-mail, and other options. Pro's most praiseworthy feature is it gives you alternative flight options. It allows you to book your most preference seat by giving you a seating chart for choosing the seats. And, it is also a paid app that means you have to buy it for using its amazing and groundbreaking features.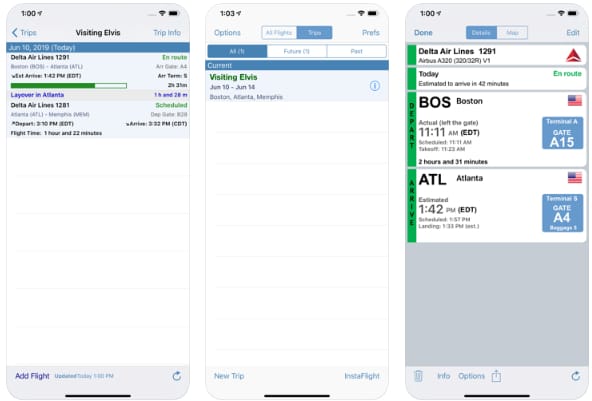 Wrap-up
Now its time to bid goodbye to all your worries and make your tour a big adventure. The above-mentioned best flight tracking apps help you to navigate the flight details. All these apps are trusted and certified and have the capacity to give you live updates of your flight in real-time. You just need to install the app and turn-on GPS, location to get the latest aircraft traffic. Make your tour a memorable and enthusiastic one.
Subscribe to Our Newsletter
Keep yourself updated with the latest technology and trends with Innovana Thinklabs Limited.