Technology is making the world convenient for us day by day. And in this dynamic technological era, machines are making human efforts less and helping us to be lazy. Audio Transcriptions do the typing for you and save your efforts. With Audio Transcriptions, you can make your mouth more useful than your hands. We humans always work on how to make things more convenient for us. Audio Transcription is a process in which your audio will be converted in a written form which makes your hands relax and make your mouth do the work. Here, we've mentioned some best free audio transcription software that can make your audio transcriptions way too easy.
How to Choose the Best Free Audio Transcription Software?
It is a fact that the internet is loaded with a lot of audio transition software, which makes it hard for the user to choose and download one. What makes any transcription software good is its features. A good transcription software should have some basic features like quick conversion of audio to text form, should be easy to use, should provide multiple output options, etc. Some of the best free transcription software provides additional features like saving content in different formats, sharing options, and many more. Check out the list of the best free transcribe software and download one according to your preferences.
What are the Best Free Transcription Software in 2021?
It has been so easy to transcribe the verbal or audio recordings into digital text form. There is a lot of audio transcription software developed that helps you by transcribing audio into aunty form either analog or digital. Hence, engage with us to know about the best free audio transcription software. Let's jump on to know more about it!
1. HappyScribe
HappyScribe is the best way to transcribe audio into digital text form. HappyScribe is the automatic transcription software that transcribes the video & audio into the text in just a few minutes. It is one of the greatest free transcription tools which is also referred to as the subtitle generator software. HappyScribe is compatible with more than 110+ languages and accents. HappyScribe works with one methodology viz. SSP, which saves time, saves money, and performs more!
HappyScribe uses the best speech recognition technologies to automatically transcribe the video & audio. Its automatic transcribe process and subtitle generator can have the capacity to boost the workflow. Compatible with all the formats, which allows you to export the file in any format as per your preference.
Features of HappyScribe-
Converts audio to text
Adds subtitles to videos
Supports multiple languages
Interactive features and editing options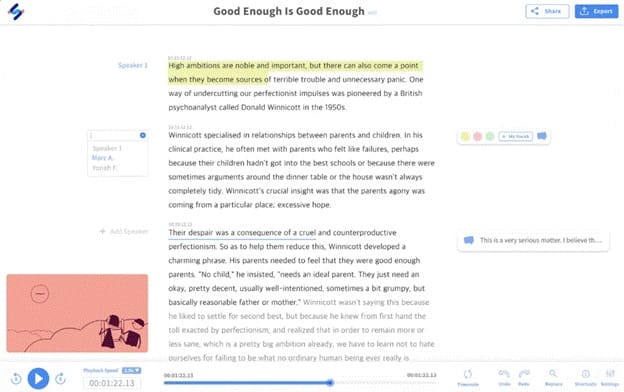 Also Read: 12 best free OCR software for windows 10, 8, 7
2. Temi
Now, Temi transcribes the speech in digital text format within just 5 minutes. Temi is the highly-featured advanced speech recognition software, making it one of the best free automated transcription software. The best thing about Temi is – that it accepts all kinds of files. Temi lets you edit the transcript file by providing the review file. You can export or save transcript files in MS Word, PDF, VTT, and many other formats. Temi offers high-quality transcription, but your transcription quality is based on audio quality.
So, always ensure that the audio should be very clean and clear. Temi's accuracy rate is around 90%. However, there is one shortcoming that Temi is not available free of cost. That means, after completing the free trial period, users have to pay $0.25 per audio minute. Its editing tool allows you to edit your transcript in just a few minutes.
Features of Temi-
Converts audio to the text within 5 mins
High rate of conversion accuracy
Options to save file as Word, PDF, SRT, and more
Multiple editing options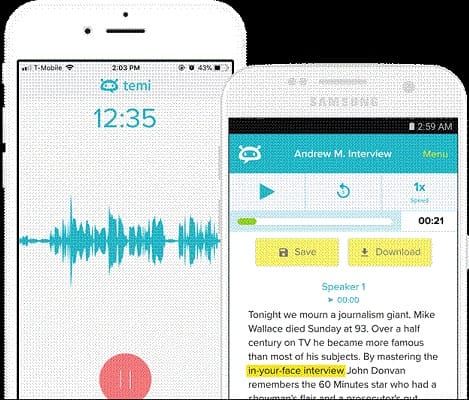 3. Transcribe
Transcribe is the software that allows you to transcribe the audio and video into a text form with minimal effort. Transcribing saves a lot of time by converting the big lectures, audio notes, speeches, conferences, and many more into the text very quickly. It is the free transcription software for windows. User can use transcribe in three different ways-
Conversion with Automatic Transcription.
Turn on your headphones and use its dictation engine for quick & accurate conversion.
Use its editor and in-built media player for manual transcription.
Users can use any one of the ways to convert the audio, speech & video into text. Transcribe also is used for creating the subtitles and can also be able to instantly upload these subtitle files to YouTube or any other apps to make your video available with captions. Transcribe is a secure platform for audio transcription and it even works offline as well.
Features of Transcribe
Over 60 different languages
Transcribes with minimal efforts
Voice typing with dictation
Creates subtitle files for text

4. InqScribe
InqScribe is another automatic audio transcription software to convert the audio into text. InqScribe is the best free transcription software as it transcribes the audio, produces subtitles, after subtitling the video, export subtitles to any other platform like YouTube, Vimeo, etc. InqScribe lets you play video and type the text simultaneously. That means, with InqScribe you can play video and also type the text in the same window.
InqScribe also allows inserting the timecodes to directly jump to the particular part of the video for which you inserted the timecode. InqScribe's QuickTime media player lets you instantly make changes in the video. It is the freeware software for Windows but macOS users need to buy its paid version after the free trial.
Features of InqScribe
Easy to use
Option to create subtitles
Mouse free controls for media files
Multiple exporting options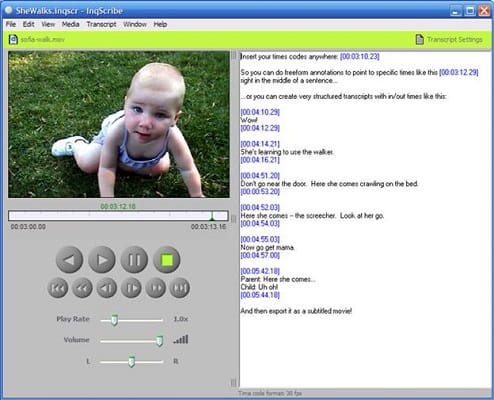 5. Trint
Trint is the best transcription software as it lets the users easily and quickly transcript any audio or speech to text. And also make the transcript files easily accessible for editing, searching, and sharing that gives a massive boom to the transcript files. Trint uses Artificial Intelligence technology to automatically transcribe the audio files. Trint also offers you many engaging and helpful tools to create content, and ease of work between teams, etc.
While working with Trint you will experience a fascinating, secure, and quick working environment. Trint is also available as an app but only for iPhone users. Trint is the leading speech-to-text converting platform in the entire universe. It also increases the productivity of your work. Trint offers a 100% accuracy rate to generate results. So, what are you waiting for, and download the free transcribe software.
Features of Trint-
Interactive AI
Supports 31 different languages
Built for all types of users
Cross-platform structure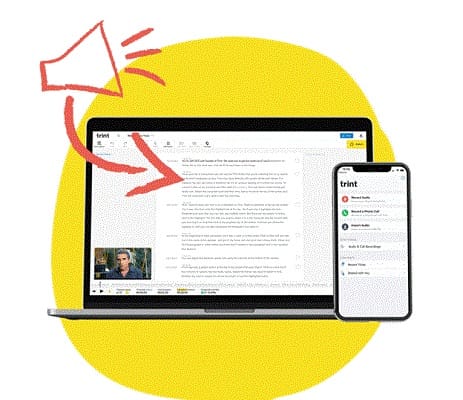 6. Sonix Transcription
Transcribing and editing the podcasts, speeches, audios is very troublesome and complicated. But, Sonix can be that powerful software for you to easily transcribe and edit the audios, speeches, podcasts. Sonix transcribes audio to text for free and is quite simple, quick, and accurate. Within just a few minutes, Sonix's latest artificial intelligence algorithms can convert audio and video into text. You can also sync the audio and video with the text so you can easily edit the text as per your need. Supports numerous types of file formats so you can easily export and share your final transcript file.
Features of Sonix Transcription-
Supports over 40 different languages
Automatic conversion of audio to text
Option to add subtitles for videos
Share and publish on different platforms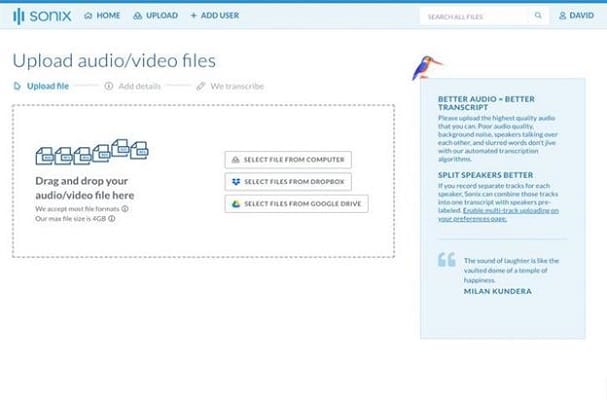 7. SpeechNotes
SpeechNotes is the top-rated speech recognition software. It allows users to easily convert the audio or speech into text. SpeechNotes provide an online notepad to generate the text from the speech or audio. It is an extremely easy-to-use web app for converting speech into text. The reason behind designing the SpeechNotes is just to give a distraction-free environment to users so they can focus more on their thoughts rather than any other thing.
Its in-built tools help users to generate a more efficient, accurate, and reliable workflow. You can also add up the extension of it on your Google Chrome web browser so you can easily use all the features directly from the browser, without opening or registering separately. SpeechNotes is the leading technology as it is based on Google's high-tech speech recognition engines or parameters. SpeechNotes is free audio transcription software.
Features of SpeechNotes
Very professional working
Easy to use for all
Use of leading technology
Fast dictation and transcription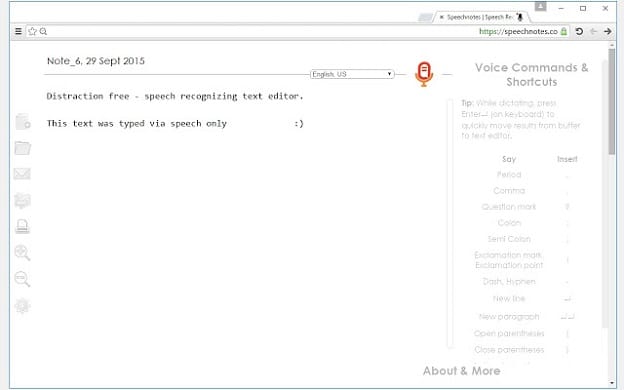 8. O Transcribe
OTranscribe is another great way to free transcribe audio to text. It converts audio including the recordings, audios, speeches, interviews, and more into text within minutes. It is the free online app to convert the audios, recordings into digital text form. After converting, you can also export the transcript file into plain text or Google Doc files. OTranscribe's automatic processing engine saves every bit of changes automatically without any hindrance. Thus, your work is in secure hands. You can play, pause, rewind, jump, next, etc, any video or audio customizations without leaving the keyboard as it supports the numerous keyboard shortcuts.
Features of OTranscribe
Easy playback options
Multiple exporting options
Open-source platform
Fully secured data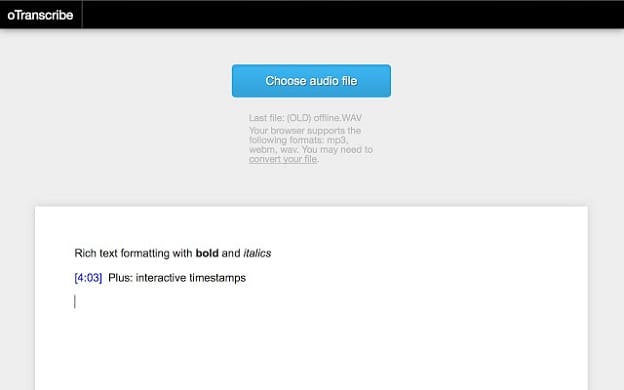 9. The FTW Transcriber
A complete free transcription software to transcribe the audio into the text accurately is – The FTW Transcriber. FTW Transcriber software easily transcribes the audio, video into the text with just a minimal effort or time. It also lets you add up the timestamps so you can easily and quickly move on to that particular part of the text, by just clicking on the timestamps. This software automatically adds timestamps and saves much time. It also enhances the audio quality and empowers the text. And the best thing about this software is that – it is compatible with all the word processors. Along with the big range files, FTW Transcriber also plays the local range files with the same ease.
Features of The FTW Transcriber
Automatic timestamp and frame addition
Timestamp/hotkey settings sharing
Multiple file support
Balance and speed adjuster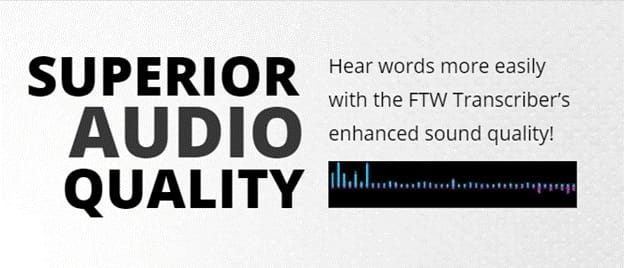 Also Know: Best Audio Recording Software to Record mp3 Music
10. GoTranscript
GoTranscript is one of the leading audio transcriber's software across the world. What GoTranscript follows three principles and i.e., offers productive work, saves time, ease of workflow. GoTranscript is highly designed just to convert the audio into text fastly and accurately. GoTranscript can save a lot of time by adding the timestamps to switch on the text directly. Use it now for getting an incredible experience.
Features of GoTranscript
Supports over 50 different languages
Up to 99% accuracy
Built for all kinds of users
Multiple transcript editing options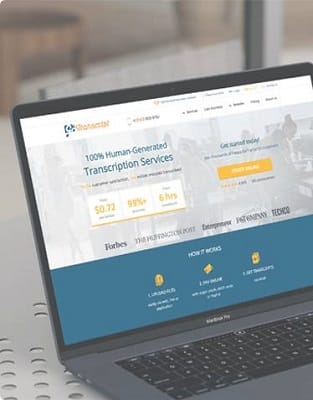 Frequently Asked Questions (FAQs) about Free Audio Transcription Software
Q.1 Is there software that can transcribe music?
Yes, there are a lot of transcription software that can transcribe music. Most of the above-listed software allows the user to transcribe music easily. The user can use any of these transcription software to extract text from music and edit as required. 
Q.2 What is audio transcription software?
Audio transcription software is an effective tool that helps in transcribing text from audio files. The main purpose of any audio transcription software is to help in extracting text from different audio files, voice notes, and music. Check out the best free transcribe software listed above and install one of your choices. 
Q.3 How can I transcribe audio for free?
Most of the transcription software charge a specific amount for their services, but some products allow the user to transcribe and extract text from audio files for free. We have listed the best free transcription software that can be used by the user easily to transcribe audio to text. 
Q.4 How do I automatically transcribe audio to text for free?
Multiple software and transcription tools are available on the internet that allows the user to automatically transcribe audio to text for free. We have listed such software in the article to help the users looking for an automatic transcriber. All the products listed above can be used to transcribe text from audio files automatically.
Let your voice take over the place of your hands!
Audio Transcription makes your work way too easy. It is an efficient way to type but this technology is new and has some throwbacks of it like not recognizing fast voices and failures to understand the true meaning. But these problems can be solved shortly and there may be a chance where audio transcriptions can fully dominate traditional hand typing.
Software that is mentioned above can help you through your audio transcription. By implementing the above-mentioned best free audio transcription software you can easily convert the audio and video into text format. And above-mentioned software not only transcribes the audio but also generates the subtitles.
Subscribe to Our Newsletter
Keep yourself updated with the latest technology and trends with Innovana Thinklabs Limited.