Here are some best free Google Drive Alternatives for your Windows, Mac, Android, iOS, and Linux devices in 2021 to help you save files online.
Google Drive, the cloud storage services from Google are quite popular. The platform is suitable for different users and is widely used for business and home purposes. As the app is integrated with other platforms, it makes data storing quite convenient for all.
All these features are great but Google Driver is not the best cloud storage service available. The platform is allegedly blamed for scanning and sharing data with others. The privacy policy of Google Drive essentially states that all the documents uploaded there are a property of the platform.
Moreover, any individual can open your documents if you made them public. All these factors make Google's Drive platform more insecure, vulnerable, and openly accessible than any other cloud platform.
If you want to save yourself from all these threats, you can use the best and free Google Drive alternatives listed below. The privacy policies of these platforms are stronger and more exclusive than that of Google Drive.
Top 10 Best Free Google Drive Alternatives [100% Working]
Here we enlist the 10 best and 100% working Google Drive alternatives for Windows, macOS, iOS, Android, Linux, and other OS which are available for free.
1. OneDrive
The first, top-rated, and best alternative to Google Drive is OneDrive. OneDrive is way better and safer than Google Drive, plus offers way more features than the latter.
The easy integration of the platform with other Microsoft apps and files makes cloud storage convenient. Here are some additional features of the highly recommended Google Drive backup and sync alternative to help you.
Features of OneDrive
The cloud service is available and accessible for different platforms for ease.
You can create a backup of the files and protect them.
The platform allows you to share the files with others as you want and no one else.
You get cloud storage of up to 5GB with the free version of the tool.
The platform allows you to scan the physical documents from your device and create an online backup for them.
OneDrive supports different files for storage like photos, videos, documents, etc.
You can secure your personal and important documents in the vault of the cloud.
The platform provides additional security by unlocking with face, fingerprint SMS verification, and other secure methods.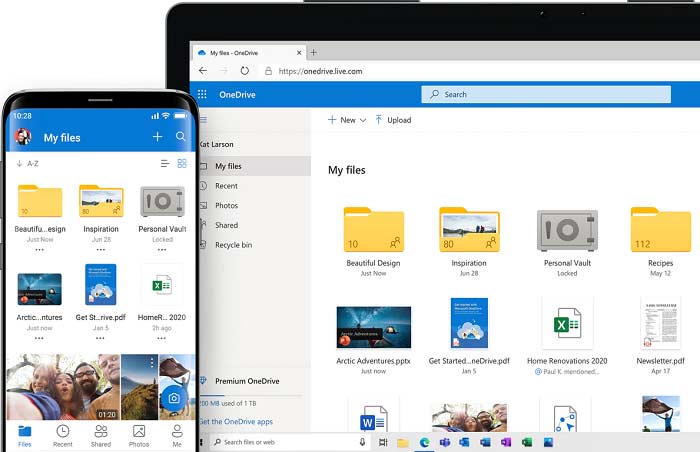 2. DropBox
DropBox is one of the most secure and best Google Drive alternatives for free. The platform may not provide as much free cloud storage (2GB) as Google (15 GB) but the file-sync speed of DropBox is way better than Google's.
The two-factor authentication system of the platform makes it even more secure and private. What you may not like about DropBox is its not so efficient file searching system. You will get the rest of the information from the features of this most-trusted Google Drive file stream alternative.
Features of DropBox
The platform allows you to add a password when you share the files with others. This is something that GDrive lacks.
You can back up any kind of file on the DropBox cloud services.
As the tool is cross-platformed, you can backup and access all your files from different devices.
With a single click, you can wipe all your data if your device is stolen and recover the same from cloud backup.
The platform allows you to recover the deleted files easily.
As the platform provides multiple plans and subscriptions, you can get the desired one easily.
In the absence of an internet connection, DropBox allows you to edit files and then back them up later.
The platform allows you to add digital signatures to your documents too.
Whether it is personal or professional use, DropBox is for all.
When you integrate DropBox with DocSend, you can manage and track all the shared files.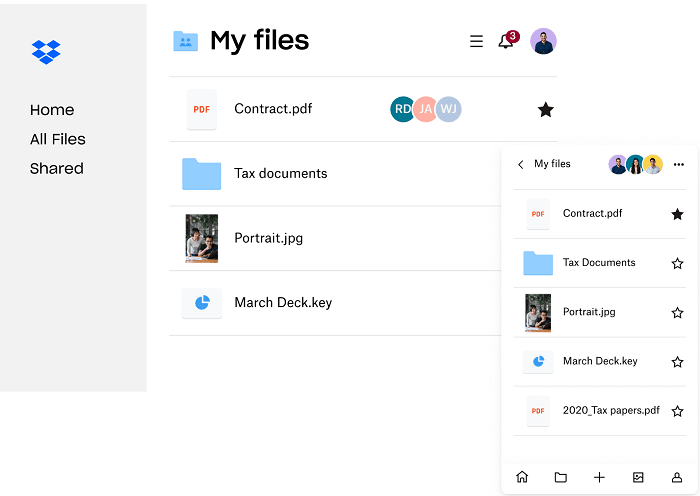 3. Apple iCloud
Everyone knows about Apple. Everyone also knows that Apple offers a cloud service called iCloud. What you may not know is that iCloud is not only for macOS and iOS but for other operating systems as well. The app is not open-source but is quite similar to Google Drive yet better.
What makes iCloud better than Google Drive is that the latter is more secure than the former. The platform provides free cloud storage of 5GB to store different kinds of files. Here are some features of iCloud as one of the intelligent best free alternatives to Google Drive.
Features of Apple iCloud:
The app allows you to back up images and other data to the cloud effectively.
iCloud has a lot of Collaborative tools that make the data organizing process quite easy.
The tool syncs all your data in real-time so that you never lose it.
As the platform provides more than one subscription plan for different devices, you can select the one you like.
All the files stored on iCloud are end-to-end encrypted for the safety of data.
You can access music, images, contacts, calendar, and much more with iCloud.
The app is available for Windows, iOS, and macOS devices but not for Android.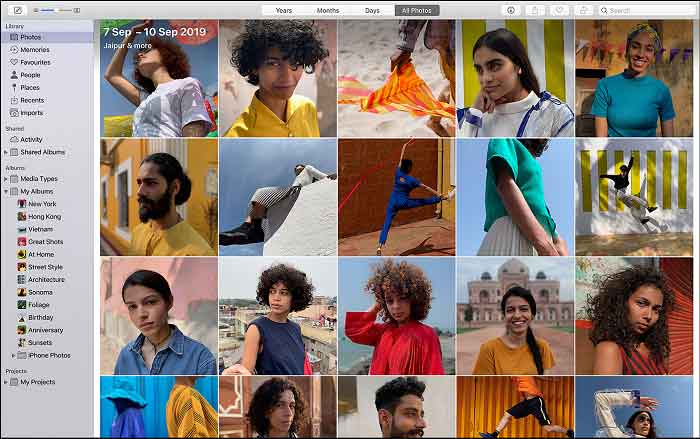 4. Amazon Cloud
Yes, you read that right. Just like most of the popular tech giants, Amazon also provides a cloud storage service. Shocking right? But what's even more shocking is that the advanced app is very much like Google Drive yet better.
The Amazon Cloud is less costly than Google Drive and provides more features as well. The major drawback of the tool is that Amazon Drive has limited content. So if you are looking for an advanced Google Drive alternative with basic features, then we recommend Amazon Cloud. Here are some features of the tool for insight.
Features of Amazon Cloud
The Amazon Cloud service is very straightforward and lightweight yet provides some powerful features.
If you have an active subscription to Amazon Prime, you get free storage for Amazon Cloud as well.
You can add as many folders as you want and organize the cloud content.
The tool may lack some backup options but provides strong protection to your files.
Amazon Cloud allows you to store unlimited photos over the cloud easily.
The platform supports SDK for programmatic integrations as well.
It uses 256-bit encryption keys to encrypt your data while and after backup.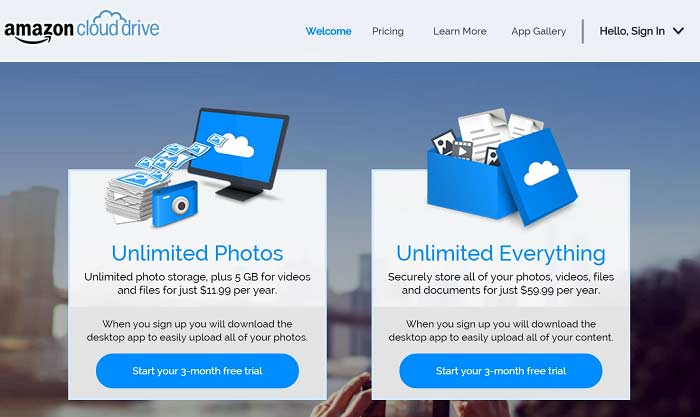 5. Mega
Mega is a very popular and safe best alternative to Google Drive available for free. The transfer speed of the platforms is quite faster than any other similar platform. You can even backup and secure the biggest of files over the cloud easily.
The dedicated app may be similar to Google Drive in some ways but is better for sure. Mega provides 15 GB of free cloud storage, just like Google Drive, but also provides an additional 20 GB on the free trial. Let's have a look at the features of Mega for a better understanding of the product.
Features of Mega
You can select from a wide variety of subscriptions and get up to 16 TB of cloud storage.
Mega also allows you to download the files with the help of operational links.
The File Transfer management section of the software is vibrant and flexible.
You can download the app for Windows PC, Android, iOS, macOS, and Linux-based devices.
Apart from all this, you can also listen to audio with an integrated music player in Mega.
You get all the control over the network parameters and transfers for ease of access.
As you get Full end-to-end encryption for all the files, your data is safe 24/7.
With the help of the Mega app, you can lift the barriers normally faced in other browser download and sharing.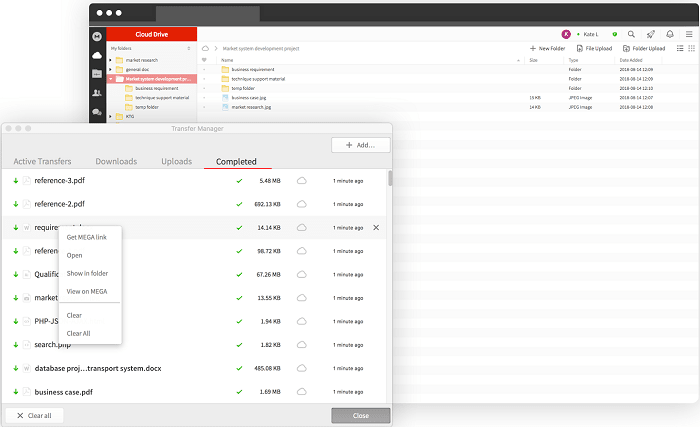 6. NordLocker
The next cloud service on our list of the best free Google Drive alternatives is NordLocker. Nord is quite popular for its VPN services but has gained a lot of fame in cloud services as well.
NordLocker is a safe and secure cloud service that provides up to 3 GB of cloud storage for free. Just like any other service similar to Google Drive, NordLocker also supports end-to-end encryption (E2E) for safety. Let's dive into the features of NordLocaker for additional information.
Features of NordLocker
You can instantly add files to cloud storage with an easy drag and drop process.
NordLocker also allows you to share files with friends, family, and others very securely.
The app is available for Windows and macOS with one-stop integration.
You can back up all the data with a single click or schedule the same as you want.
NordLocker is operational all over the world so that you can access data wherever you go.
With a unique encryption key, you can protect your data even on shared PCs.
You can select from two different plans and get cloud storage according to your needs.
Whether you are a beginner or a professional, NordLocker is built for all.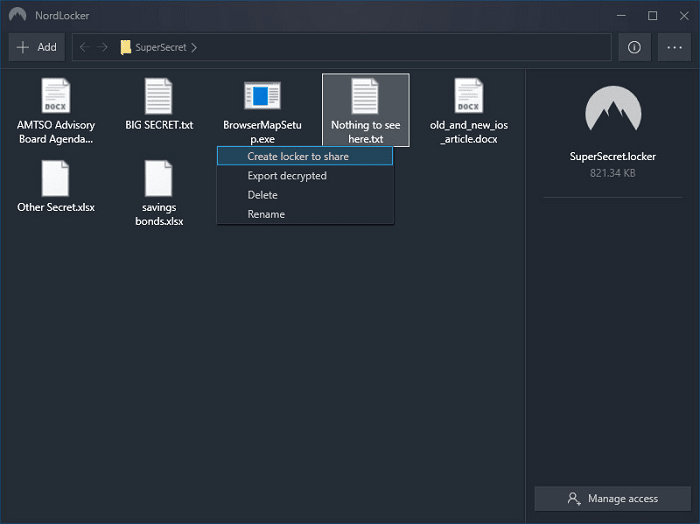 7. Box
The Box is an application like DropBox, a cloud storage service. What makes Box a prominent and best free alternative for Google Drive is that the software is safe and suitable for different kinds of industries.
The software is generally used by small organizations but is viable for home purposes and big companies too. You can use the app to share files with others as well as secure them on cloud storage. Here are some features of Box that make it a fairly capable best alternative to Google Drive backup and sync.
Features of Box
You can create and send the custom URL of any file you want and share it securely.
The app supports integration with over 1500 different products for ease of edit.
You can download the platform for Android, iOS, macOS, and Windows devices.
It allows you to set passwords over particular files so that only reliable individuals can open them.
You can back up different types of data over the cloud and create more hard disk space.
Box allows you to add digital signatures to all the documents you want perfectly.
As there are multiple plans available, you can select the perfect one for your business, profession, or home.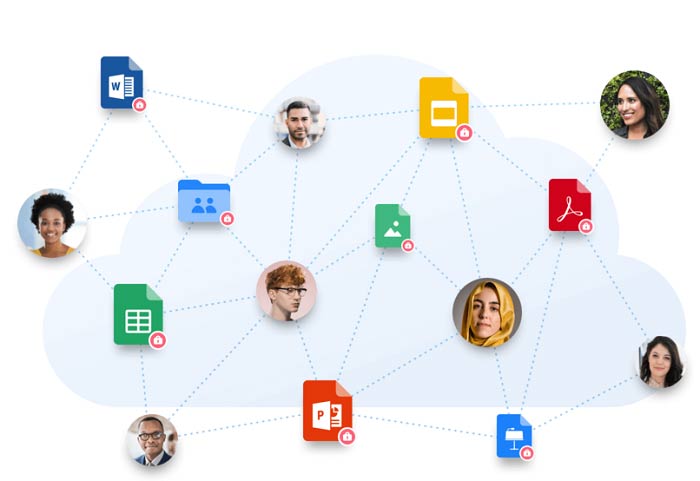 8. Sync
As the name suggests, Sync is another great cloud storage service that is the best and effective alternative to Google Drive. Sync offers free cloud storage of 5 GB to all of its users.
The platform is very affordable and makes storing, sharing, and accessing tasks very easy. The strong end-to-end encryption services of Sync ensure 100% security of your data wherever you go. Let's go through its features and see how the app is different yet similar to Google Drive.
Features of Sync
You can save as well as share the files with others even if they don't have a Sync account.
Multiple users can get unrestricted access to your files only if you want.
You can set requests, passwords, and notifications to the shared files.
One of the best features of Sync is that you can set the period for file sharing.
As Sync supports Windows, Mac, iPhone, iPad, and Android, you can access your data anytime, anywhere.
The in-house support from Sync helps you wherever you feel confused or lost.
You can keep a track of the history of all the files with Sync.
Create an administrator account for your files so that only you can edit them when required.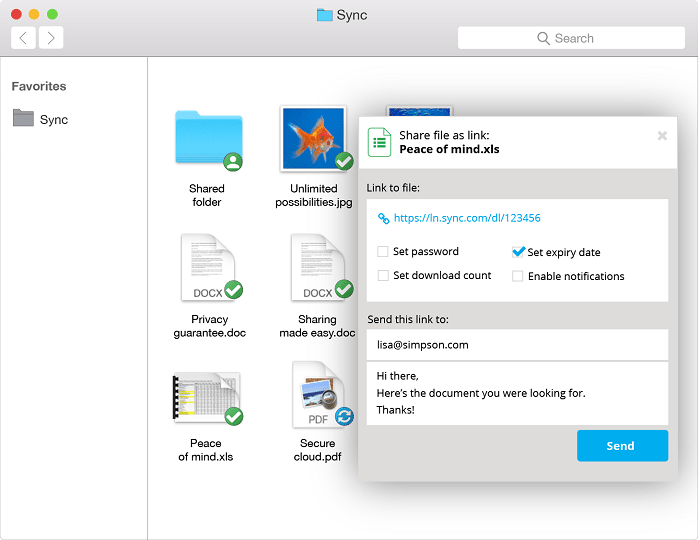 9. pCloud
pCloud may not be an open-source Google Drive alternative but is a highly recommended and best one available. It is more than just a cloud storage service. pCloud is a Digital Asset Management tool. You can store all your digital assets like images, documents, videos, and more to keep them secure.
One of the unique features hosted by the platform is that it allows you to mark the documents. You can bring your logo or message to the files to command ownership. pCloud allows you to preview the files and in turn saves time. Let's dive into the features of pCloud as an intelligent Google Driver alternative for more info.
Features of pCloud
The tool allows you to track who opens, edits, and visits your files.
There is a built-in audio and video player to save storage and play files from the cloud.
You can take the help of pCloud Crypto to get additional control and privacy for your files.
The upload speed provided by pCloud is quite faster than any other similar platform.
pCloud poses no limit over the size and quantity of files you want to upload.
You can backup anything and everything, including your PC data to the cloud.
The software is compatible with Windows, Mac, Android, iOS, Linux as well as an extension for browsers like Chrome.
pCloud uses TLS/SSL encryption for better security and sanctity.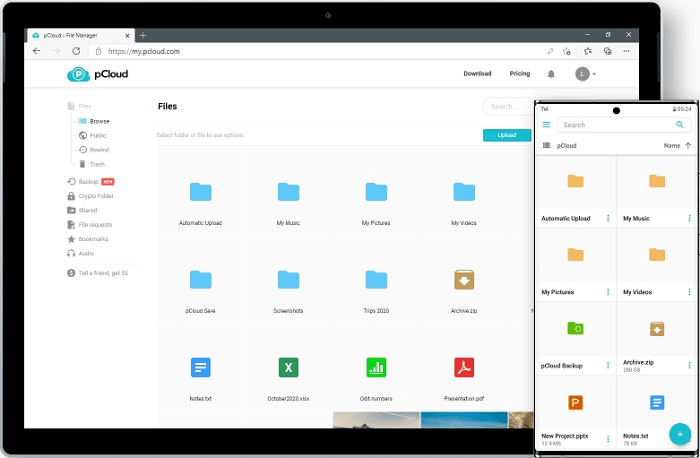 10. SpiderOak One Backup
Here we are at the last product on our list of the 100% working best alternatives to Google Drive. SpiderOak One Backup is a not-commonly-heard yet popular platform for secure cloud storage.
If you want to protect your data from ransomware, virus attacks, accidental deletion, device loss, and other threats, we recommend that you consider SpiderOak. The software helps in keeping files on the cloud as well as track their edit history. Let's have a look at the features and analyze how this app is different and similar to Google Drive.
Features of SpiderOak One Backup:
The creators of the tool provide multiple plan options for businessmen and personal users.
You can get the platform as an app for Linux, Mac, Windows, Android, and iOS devices.
You can opt for the 21 days trial of One Backup to check the product's features and services.
The portal keeps your files protected with end-to-end encryption at all times.
One Backup does not harm the integrity of the files in any way.
You can edit the security settings of the files and share them with anyone you want.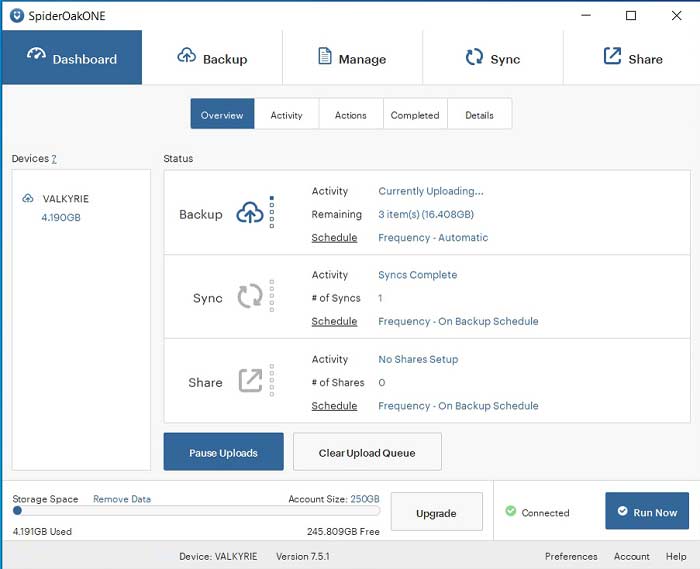 Summing Up on the Best Free Google Drive Alternatives
So, we listed the top-rated best free Google Drive alternatives for you. We hope you were able to find everything you were looking for. You can download and install any of these products, as per your requirements, from the download links provided.
We recommend that you go through all the features of different platforms before making any decision. Every product has its advantages for businessmen, professionals, and personal users. Get the one best suitable for you.
As stated earlier, Google Drive is quite effective in everything that it does but still is not the best one available. All these apps are 100% working, quite similar to Google Drive, yet way better and more reliable than that.
If you need further assistance with the best free alternatives to Google Drive, feel free to write to us in the comment section below. We will try our best to answer your query. Don't forget to subscribe to the Innovana Thinklabs Blog newsletter and get instant updates about articles, blogs, and other tech updates.
Subscribe to Our Newsletter
Keep yourself updated with the latest technology and trends with Innovana Thinklabs Limited.