Do you wish to surveillance your house 24/7? You need to check out the best free IP camera recording software for your Windows 10 PC and choose which one will work the best for your security. 
In the present era of uncertainties and frauds, home security is the utmost concern of every individual. Home security completely depends on the Video Management Software you use. Nowadays, the webcam has been very crucial; some modern or new-tech laptops have been equipped with the webcams. But, there are some traditional laptops as well that don't have an in-built webcam.  Those systems don't have in-built laptops that can buy webcams like Logitech webcams.
Surveillance your home 24/7 by using the best free IP camera recording software windows 10. Now, you must be thinking that the IP cameras and CCTV cameras are of the same kind. Well, no they do not belong to one category. Let's know about the IP camera in brief before moving forward.
What is an IP Camera
IP (Internet Protocol) camera is a kind of digital video camera that accepts data signals and transmits image data through an IP network. An IP camera is totally different from a CCTV camera as an IP camera directly associated with the internet for remote access. And CCTV cameras haven't associated with the internet directly, users are required to first connect with the DVR, and then afterward DVR itself associated with the internet.
Know More: Best Duplicate Photo Finder and Cleaner Software
Top 12 Best Free IP Camera Recording Software on Windows 10 PC
An IP camera is just meant to make your home more secure. Track every activity that occurs in your home without being there through the best free IP camera recording software for Windows 10. Keep a deep eye on every movement that happens in your home.
1. Perfect IP Camera Recorder – Best IP camera software recorder
Are you tense about home security in your absence? If yes, then you should download this software to track every activity that is happening in your home. Perfect IP camera software recorder is the program that keeps a deep eye on every activity that happens in your home. Highly-capable of recognizing the model of the IP camera and directly adds it to the interface. Secure the remote connection through setting passwords. Users can also be able to record the video and save it to the cloud. Additionally, users can also schedule the recording as per their suitable preference.
Features of Perfect IP Camera Recorder
Compatible with more than 1200 models.
Cloud synchronization.
Schedule the recording time.
After recognizing the IP camera model directly adds it to the interface.
Password safety.
Pros
Compatible with most IP camera
Easily be used on different devices
Regular updates
User-friendly Interface
Cons
Zero DVR functionality
Does not support PTZ cameras
Uses system resources a lot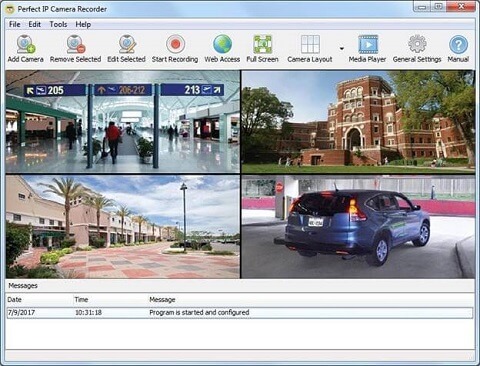 Download Now
2. IP Camera Viewer- Best free IP Camera Recording Software
Keep deep insight into your home, and office just with the help of the best free IP camera software. IP Camera Viewer is an ideal recorder software that lets you record every happening that took place in your home and office. Notably, IP Camera Viewer permits you to stream live video via USB on your system. See more than one IP camera on your computer via the IP Camera Viewer. Advanced camera functionality lets you adjust the picture settings of the IP camera. 100% safe application so what are you waiting for? Download now, and keep eyes on every activity!
Features of IP Camera Viewer
Live-video streaming via USB.
View 4 IP cameras simultaneously.
Control multiple IP cameras concurrently.
Completely safe applications.
Pros
IP cameras are supported
USB camera are supported
Supports JPEG, MPEG-4, and MJPEG
Cons
Does not record video streams
No Motion Detection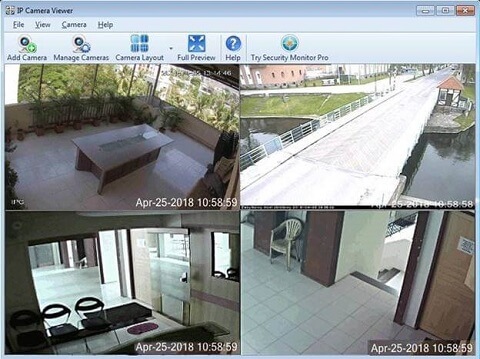 3.NetCam Studio- Best IP camera software windows 10
NetCam Studio provides the user with the most trusted security camera tool to keep an eye on what's precious to you. This security feature has advanced features that make the job even easier. You just need to relax and rely on NetCam Studio, go to work and you can choose to keep an eye on your house from anywhere. Not only this but it lets you connect to 64 cameras at the same time. You can have your own set of rules while using NetStudio. Including a scheduler to create a certain timeframe. So, what are you waiting for? Just click the link below and download the app right away.
Features of NetCam Studio
Supports up to 64 cameras
Communicates with other apps
Compatible with HTML5 and JSON
Automatic detection
Automatic synchronization
Pros
Clean and intuitive interface
Record and monitor live streaming
Server components
Client components
Cons
Use several resources on your device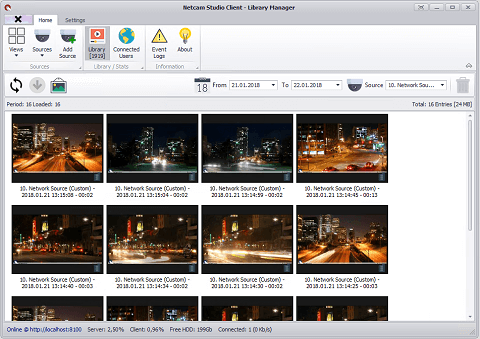 Know More: Best Video Player Apps for Android
4. IP Cam Soft Basic- Best IP camera software for pc
Want to access IP cameras remotely? Then, IP Cam Soft Basic is the best free security camera software that keeps you safe all the time. IP Cam Soft Basic lets you get more control over IP cameras, DVRs, and Network video recorders. Access remotely with ease of work through IP Cam Soft Basic. By turning on the auto-record option IP Cam Soft Basic saves a lot of time. By clicking on the below-mentioned link download now IP Cam Soft Basic and keep an intense eye on your home, office, parking area, and so forth!
Features of IP Cam Soft Basic
Supports more than 3000 camera models.
Auto-record option.
Time-saver.
Automatically uploads recorded videos to Google Drive.
Remote Access.
Pros
Auto record
24/7 hour user support
Motion detection
Supports more than 3000 camera models
Freeware
PTZ controls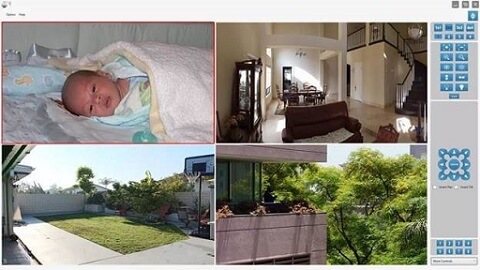 5. Xeoma- Best IP camera recording software
Xeoma carries a simple interface that gives out the best quality service. If you are looking for a flexible product, then Xeoma is the one for you. It has a wide functionality that includes artificial intelligence and video analytics modules. In addition, it supports more than 3000 cameras per server, which sounds like a pretty big deal. Xeoma makes sure to provide its users with the dynamic addition of new functionalities upon request. The easy-to-use interface will get the job done within a few clicks.
Feature of Xeoma
Supports IPv4 and IPv6
Failover support
Dual streaming
Provides a cloud service
Sound detector
Pros
Intuitive interface
Has a scheduler
Remote control
Motion detection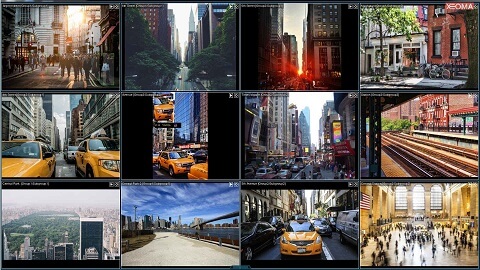 6. ContaCam- IP camera software windows 10
If you have set-up the webcams around the home then you can form an extremely effective surveillance system via ContaCam. The captured video from the ContaCam can be viewed at any time and from anywhere. ContaCam is a versatile, effective, robust, and best IP camera app for recording the video. Most significantly, it stands on all your security needs and never ever let you down as far as a security concern. User interface of ContaCam is very friendly and easy-to-use.
Features of ContaCam
Versatile and effective design.
User friendly.
Available for all the versions of Windows.
Time-scheduler.
Pros
Clean and simple interface
Motion detection
Advanced streaming and recording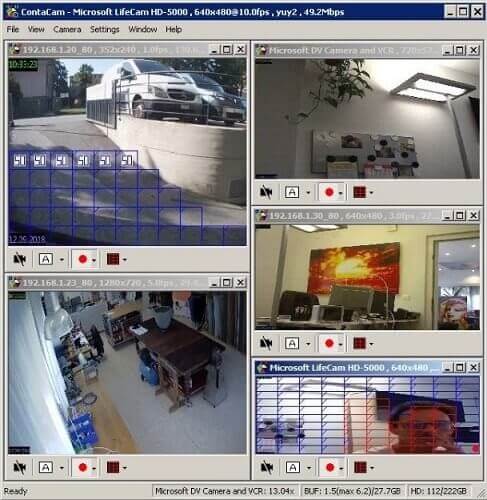 Know More: Best Folder Locking Software for Windows
7. YawCam- IP camera software for pc
Want software that fulfills your all security needs? Then, here you go, YawCam specially designed to fulfil the security needs of users. The main aim behind designing the YawCam is just to provide the user an extremely simple way to keep their home more secure. Robust features of YamCam includes, upload images with FTP, image/screen screenshots, and password safety. YawCam is completely the best free IP camera software for windows 10.
Features of YawCam
Live-video streaming.
Motion detector.
Online time scheduler.
Supports multiple languages.
Password shielder.
Pros
Collaboration
Video capturing
Multistreaming
Session recording
Cons
Uses various resources of your system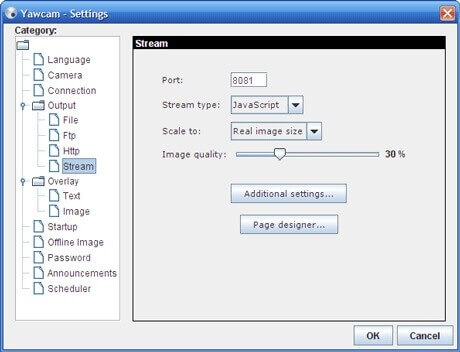 8. Genius Vision- Amazing IP camera software recorder
The Genius Vision is a great software that allows its users to view video feeds on your computer. You can even choose to view video feeds of your home security system. It is free software that helps you keep an eye on any cameras you've installed in your home or anywhere else. With the help of this tool, you can monitor them from anywhere. Download this free IP camera recording software with the link mentioned below.
Features of Genius Vision
No registration
Motion Detection
Supports mobile devices
Extendable
Pros
No registration needed
Advanced motion detection
Turns mobile devices into video management systems
Cons
Ugly interface
Poor navigation
Complicated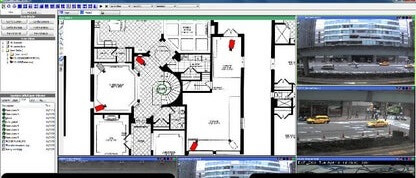 9. AnyCam- IP camera recording software free
AnyCam is a tool that allows you to monitor a wide range of IP cameras simultaneously. As it carries an intuitive interface, the user gets a hold of the application easily. Additionally, there are no configuration requirements. You can just put the domain name or the IP address and the job is done right there. It is one of the best IP camera software for Windows 10.
Features of AnyCam
Video archive playback
User-friendly
Dynamically indexes
Supports MJPEG/ ONVIF/ RTSP stream cameras
Pros
Easy-to-use interface
Easy to configure
Cons
No streaming recording
Poor video processing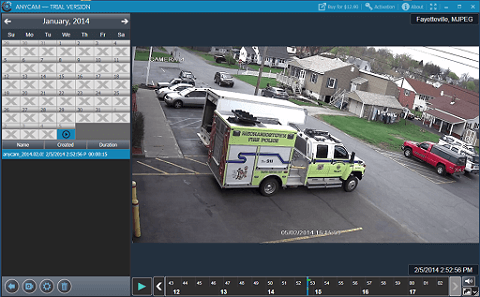 10. WebCam Monitor- free IP camera software
Yet another software that watches over your home, office, parking, or any location i.e., – WebCam Monitor. Connecting this application is as simple as connecting the camera or smartphone to the PC. WebCam Monitor is based on the latest technologies so it performs every task automatically. For instance, it uploads recorded videos, and images automatically to the server.
Features of WebCam Monitor
Motion detector.
Trigger alerts via email.
Automatic uploading.
Supports multi-camera functionality.
Remote monitoring.
Pros
Automatic alerts via email and SMS
Supports multiple cameras
Clean interface
Cons
Limited zoom enhancements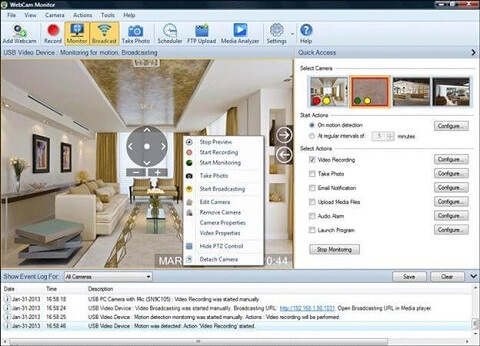 11. iSpy- Easy and Effective IP camera recording software
iSpy – as attractive as its name sounds. A complete security solution that allows you to view and capture the happenings around your home, parking, office, or any location. Compatible with Windows, Mac, and Linux platforms. iSpy is the best free IP camera software that uses SSL platforms for remote working. Cloud synchronization is available on this network that lets you stream the videos or images from anywhere at any time.
Features of iSpy
Powered by AI.
Object tracking.
People-face detection.
Home assistants.
Speed computation.
Pros
Freeware
Effective
Configurable
Cons
Uses a lot of memory
Complicated interface
Requires an account to access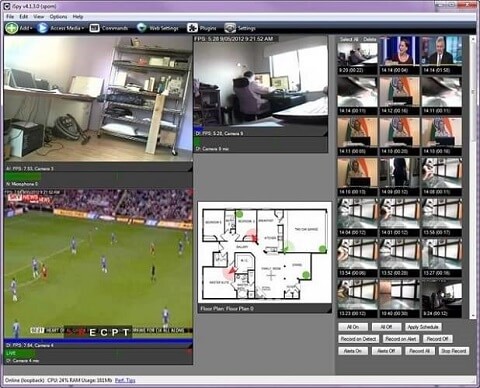 12. Sentry Vision- IP camera software recorder
Another application that maintains intensive monitoring in your home, parking, office or any place you want is – Sentry Vision. It is completely a freeware webcam security application. Sentry Vision is highly capable of turning your webcam into a complete security system. Remote access functionality is available on this application so you can be able to access it from anywhere. Keep your place in safe hands i.e., Sentry Vision!
Features of Sentry Vision
Motion alerts.
Time scheduler.
Live broadcast.
Remote control.
Multi-camera support.
Motion detection.
Pros
Hidden mode
Multiple camera support
Lockup detection
Remote control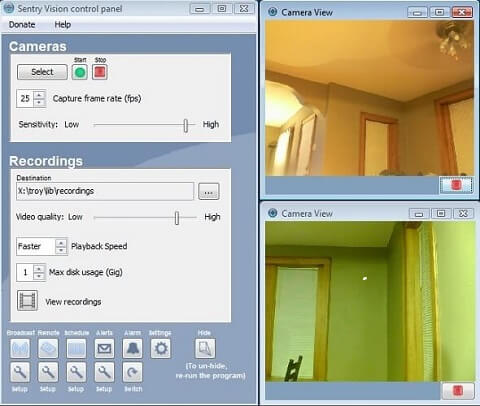 Know More: Best Windows 10 Apps that You Must Have
Frequently Asked Questions (FAQs)
Q1. What are the IP Camera Software?
An IP camera is a sort of digital video camera that is made to hold control data and sends image data through an IP network.  They are most commonly used for surveillance.
Q2. How do you pick the best IP Camera Software?
You should look for IP Camera software that is cost-effective. The best IP Camera Software has strong infrared ADEs that provides you with clearer image over long distances even in dark scenarios.
Q3. What are the common features of IP Camera Software?
The common features of IP Camera Software are as follows:
HD Resolution
Motion detection
Time-scheduler
Support various cameras
Supports IPv4 and IPv6
Password security
Q4. Is it legal to use video surveillance?
Yes, it is permitted to conduct surveillance under both laws.
Q5. Can I connect my IP camera directly to the PC?
You can do so but with the help of a network cable.
Q6. What is the best free IP camera software?
The best free IP camera software are mentioned below:
AnyCam
Genius Vision
Netcam Studio
Sentry Vision
iSpy
To know more go through the blog above.
Q7. How do I access my IP camera on my computer?
Find your camera's IP address
Go to the web browser and type your IP address
Open Settings and then move to Basic> Network> Information to find the HTTP port number used by the camera.
Once you change the port, reboot the camera to save the changes.
Switch your Smartphone to a Surveillance System
Simply convert your computer system into a Video Surveillance Channel by choosing the best free IP camera software for Windows 10. Opting the best choice can be bewildering but no need to worry as we have above rounded up the best choices to turn your system into the Video Surveillance Channel. Now, you don't need to waste millions of dollars on your home security, as IP camera software can do so more productively at no cost. Just download the above-listed software and record every activity that happens in your home. Keep your home safer in your absence and detect every activity.
Subscribe to Our Newsletter
Keep yourself updated with the latest technology and trends with Innovana Thinklabs Limited.