Just make your small phone a Walkie-Talkie and track the live location updates, read on to know about the best iPhone location tracking apps.
In this era of uncertainties, we always want a way to get all the updates of our loved ones. When they go outside for any purpose, we just want to track their location and get their live updates as per safety purposes. So, here you go, in this composed note we've mentioned the top-notch free iPhone tracking apps that give live location updates. By using GPS location tracker apps we can easily and quickly find out when our family members need us and can instantly reach there to rescue them. All location tracker apps in this write-up are based on smart location technology algorithms and offer emergency alerts, driving alerts, and so on. Let's know more about it in detail…
5 Best Free Location Tracking Apps for iPhone
Get all the latest location updates and track the live locations of your family and friends. If you are thinking to use the location app, then read this composed note, because here, you'll get to know about the best free iPhone tracking apps.
1. FollowMee GPS Location Tracker
FollowMee GPS Location Tracker has the potential to transform your iPhone into a GPS tracking device. For tracking, you just need to download this app to your device and afterward, you can able to track the location or get all the updates on the FollowMee.com site. With this device, you can easily locate the location of your family, friends, organizations' devices, and even more. Location Monitor feature of FollowMee allows you to follow or observe the location of anyone. And you are also free to share your location with anyone.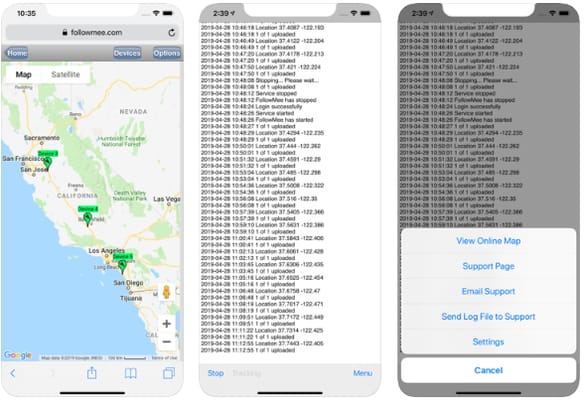 Pros-
It doesn't play with the user's privacy and always keeps the user's data confidential.
Allows you to locate multiple locations and devices with a single account at a time.
Runs silently in the background and does not need any human cooperation.
It doesn't share your location history with other apps and keeps you safe all the time.
Cons-
At the time when you start the app, it continuously runs on in the background until when the user itself stops this by tapping the stop option. Therefore, constantly running in the background reduces a lot of battery.
2. Life 360 – Find Family and Friends
Life 360 is a great app for tracking locations on the iPhone. Life 360 is one of the best GPS tracker apps to navigate and track family and friends. Users can be able to view live locations on the private map. Its private chat platform permits users to chat and share documents without any fear of data-stealing. Private chat box is highly secure with end-to-end encryption. Life 360 is the leading GPS tracker app in the entire world.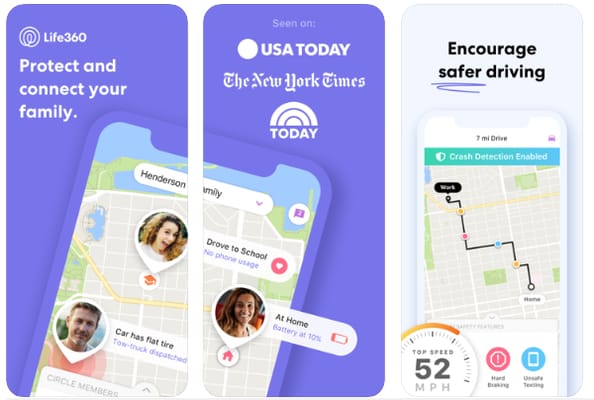 Pros:-
Users will be able to view the previous location history.
In case, if your phone has been stolen, lost, then it even tracks the lost or stolen phone.
Crash Detection Service takes complete care of your family and friends.
Frequently shows the driving improvement measures for safety ends.
Cons:-
It has subscription plans, you're required to buy any of its plans to get access to the best services of this app.
Also Read: Best Parental Control Apps for iPhone
3. iSharing
Another way to stay connected with your dearest and closest ones and that is iSharing. iSharing provides a real-time location update and allows you to share the locations as well secretly. With this, users are also free to send text messages on the map. iSharing only works to provide the user with complete information about their loved ones. However, it is not completely free, after the free trial you have to buy its one of the paid subscription plans to access the latest location technology to track your loved ones.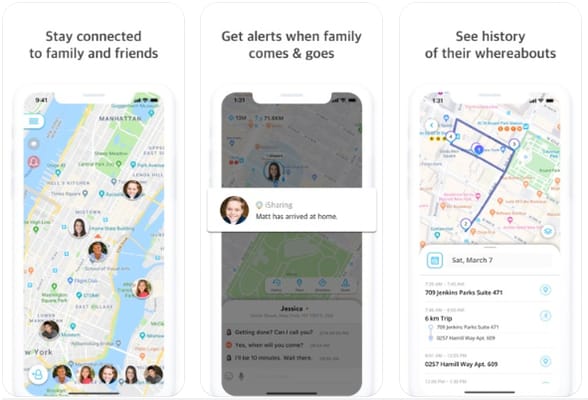 Pros:-
Users will be able to see past location history records.
Gives panic alerts in an emergency.
Supports 3D touch, so users can search and get 3D experience.
Unlimited locations with unlimited add-ups.
Tracks live updates
Cons:-
It reduces battery life slightly.
The trial period is only for 7 days.
4. Phone Tracker By Number
Phone Tracker is one of the best free iPhone Tracking apps on our list. Phone Tracker is an accurate and robust location tracker app to get the every location detail of your loved ones. One of the best features of this GPS tracker app is – it tracks the location only by entering the number. That means, for location tracking, the user just needs to enter the number of that person whose they want to track the location.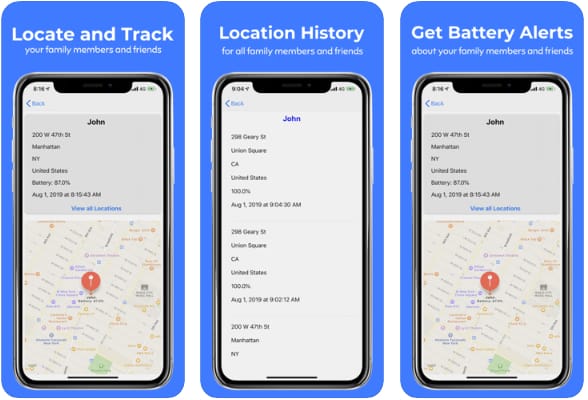 Pros:-
Compatible with both phone number tracking or GPS tracking.
User Friendly.
Notifies you when your family members are nearby you.
Displays complete location history records.
Supports all mobile network operators.
Cons:-
No shortcoming in this app, Phone Tracker is the best app with great features.
Also Read: Best Free Music Download Apps for iPhone
5. GeoZilla
GeoZilla will always keep you updated by providing every information about your loved ones like, from where they are coming and where they are going. GeoZilla allows you to share pictures and text messages with your family and friends. Its smart location technology allows you to use or check the location history of any family member on a priority basis.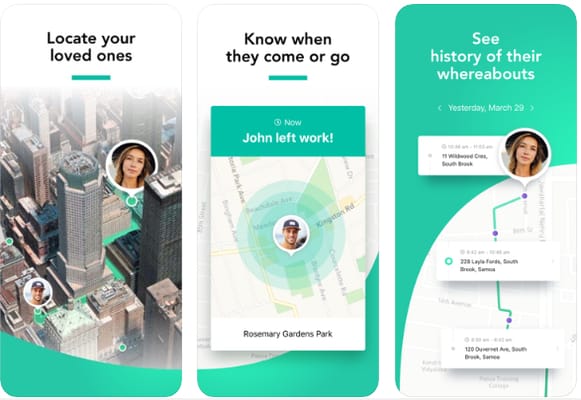 Pros:-
Gives driving updates.
Instantly gives emergency alerts whenever any family member is in danger.
Allows you to schedule locations'
In case, if you don't want to share your location, you have the option to stop sharing location.
Cons:-
For using advanced features, you need to buy any of its subscription plans.
Track the whereabouts of Family and Friends
It has been so tough to keep an eye on every activity of your kids and family members. But as far as technology reaches, it becomes everything possible to accomplish. Many parents just want to keep an eye on their kid's activity and want to know the location from where they are coming or where they are going and so on. But, they actually don't know that effective way to track the locations of their kids. And location tracking is not important for only keeping an eye but also important for knowing that their loved ones are not in danger or they are safe. Hence, we've above shared free iPhone tracking apps to locate your family and friends. Must try any one of the apps from the above-mentioned list to get the real-time location updates!
Subscribe to Our Newsletter
Keep yourself updated with the latest technology and trends with Innovana Thinklabs Limited.