Feeling stressed and nervous? Then, try any of the best free meditation apps. 
Calmer days and peace are coming on your doors, welcome them with a tight embrace. In the old-traditional days, meditation methods were used to relieve stress and anxiety. But as by time passed, the meditation techniques have lost somewhere. Or, we can say that individuals are so busy in the regular day-to lives that they have forgotten about the meditation. What we need to do is just to remind ourselves that calmer days are on our way. In this modern digital era, where life has a living hell, full of stress, and anxiety. Especially, in this global pandemic, where every individual is facing a financial crisis, it is very important to keep the mind with positive vibes. Because, in the lockdown phase, we've heard and witnessed so many suicides due to financial reasons or depression.
Hence, in this global pandemic crisis, meditation is the utmost attribute currently to bring calmness and positivity into life. We need to keep the peace level of our minds on the right track. And if you are thinking that it is very daunting to do so, then let us explain to you that it hardly takes 20 – 40 minutes per day to act so. We can bet on it that when it comes to keeping yourself calm then you can be able to find meditation time for yourself anyhow. Technology has always been your helping hand and for the meditation, it can also be your coach. Play Store and App Store are overloaded with the meditation apps, but choosing the best one is a bit complicated. So, here, we've below shortlisted the 12 best free meditation apps for both Android and iOS. Now, find the best one for yourself from the list below!
List of 12 Best Free Meditation Apps For Android and iPhone in 2021
Don't know what is the right time to do meditation? How to do it? or For how long? These are the questions hitting on your mind constantly, then here at Innovana Blogs, you may get the answer to all your question. Check it out the below suggested best free meditation apps!
1. Calm – Meditate, Sleep, and Relax
Whether you are an amateur or an expert, Calm is the only app that helps you to become relaxed, and stress-free. There are numerous meditation applications on the Google Play Store and App Store, but amongst all, Calm is the best free mindfulness apps that you can get on your phone. Calm is the leading meditation app that suggests you the best meditation skills to keep your mind calm and relaxed.
Core Features of Calm
Offers thousands of meditation sessions for both newbie and experts.
Compatible with your schedule.
Lets you choose the length of the meditation session from 3 minutes to 25 minutes.
Provides more than 100 bedtime stories.
Logs your daily progress with daily streaks.
Offers peaceful music to calm your soul.
Breathing exercise go-to guide.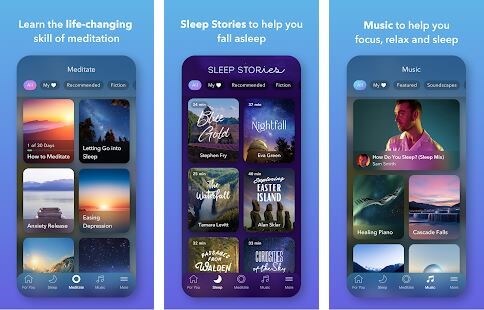 2. Headspace: Meditation & Sleep
It is assumed that if you have a good start then the entire day goes accordingly. So, what could be better than having a wonderful start of the day with the positive and calm vibes? Absolutely, there is nothing more crucial than this. And meditation is the best way to calm yourself, hence, here comes Headspace, one of the best free meditation apps that you can get today on your smartphone.
Core Features of Headspace: Meditation & Sleep
Stress and anxiety management during sleep.
Offers bedtime music to bring calmness in your mind.
Special meditation guide for kids.
Provides the guide for the best workout exercise including Cardio, Aerobics, and so on.
Offers professionally-led fitness courses.
Helps you in dealing with distraction and anxiety.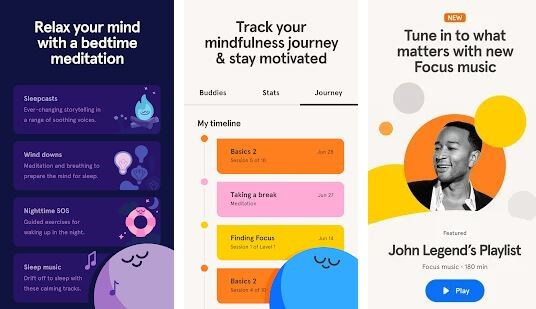 3. Breethe – Calm Meditation & Sleep Sounds
Nowadays, we every day face a new challenge, for some people, it is easy to deal with the daily life challenges and for some, it is a bit difficult. You should never push anything on yourself, what you should do is – just make yourself so stronger that you can easily tackle the failure or challenge with a big smile on the face. To make inner-self much stronger you need to do meditation regularly. And with the help of Breethe, you can maintain the calmness in your mind and even your heart as well. Breethe helps you to release the stress from your mind and emerge the positivity into your inner-self.
Core Features of Breethe
Relaxing and vibrant music.
Compatible with Android and iPhone.
Bedtime stories for the insomniacs.
Provides hundred of meditation series.
Live breathing exercises sessions.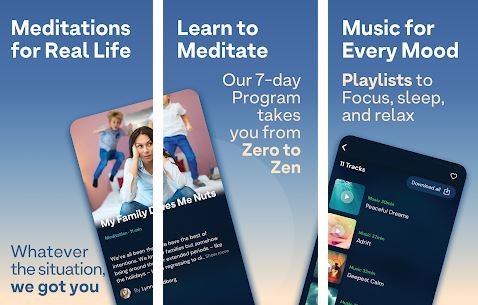 4. Aura: Mindfulness, Sleep, Meditation
Aura is one of the best free mindfulness apps that you can get on your smartphone. Compatible with both the devices i.e., Android and iPhone. You can get thousands of meditation sessions, best workouts for all types of body, relaxation music, bedtime stories, and many more on Aura. It also suggests some tips about your daily skincare to emerge charm on your face. Aura is just like a Spotify that includes millions of music to soothe your soul.
Core Features of Aura
Hundreds of sleep stories, meditations, and music for insomnia.
Notifies you about your daily meditation routines.
Strengthen your emotional health.
World-class mindfulness coaches guide you.
Allows you to see the weekly improvement chart of yourself.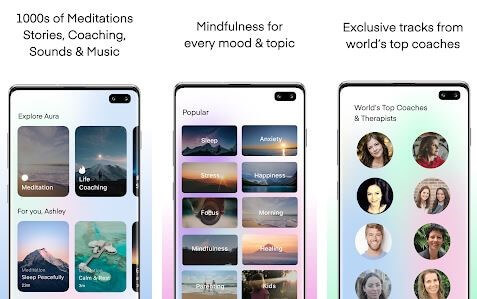 5. Sleep
Are you an insomniac? If yes, now it is time to say goodbye to your sleepless nights. As here we are presenting you one of the free sleep meditation apps that you can use right now. It is not only the app that helps you in sleeping but this app also helps you keep your soul and mind calm. Once you use the Sleep then it would become the most lovable lullaby for you that offers thousand of soothing music to help you fall asleep.
Core Features of Sleep
Relaxing bedtime stories.
A large library of sleep sounds are waiting for you.
Lets you set the bedtime schedule.
Visualization guidance.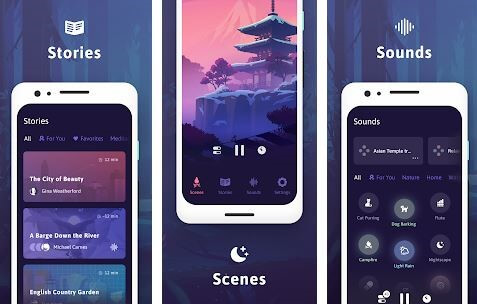 6. Happify
On this rundown, one of the most advanced meditation apps that helps you to deal with your anxiety and stress is – Happify. As its name suggests, this app works with only one aim to spread happiness as much as it can. It is the sci-fic based meditation tool that brings positive energy into your mind. The research revealed that 86% of individuals who've used Happify are really feeling happy and peaceful. Importantly, Happify is available on both the platforms i.e.,  Android and iOS.
Core Features of Happify
Absolutely free to use.
Displays a 20-page character strength report on a monthly basis.
Tracks daily progress.
Offers unlimited access to more than 30+ tracks.
Boosts self-confidence.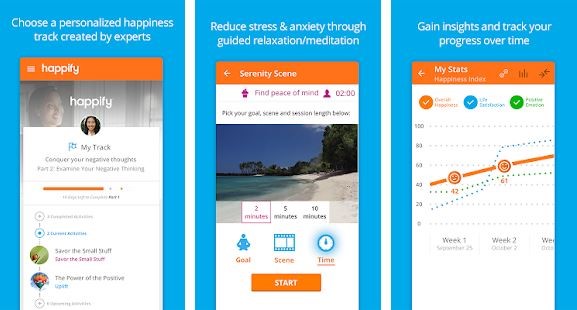 7. Sattva – Meditations & Mantras
Sattva sounds weird off, but it belongs to the roots of meditations. Millions of individuals have shown their trust in Sattva and get benefitted as well with the meditation lessons, tips, and mantras. So, choosing Sattva is the best decision that helps you bring the positivity in your life. Moreover, it encourages you to be happy in every situation. You can easily get Sattva on Google Play Store and App Store. And we've also given the download link below, click on it to download the app.
Core Features of Sattva
Offers Vedic mantras and chants.
Daily challenges to keep you on right track.
Handpicked playlist with loads of relaxing sounds.
In-built meditation tracker.
Detects your mood though mood tracker.
Best free mindfulness apps.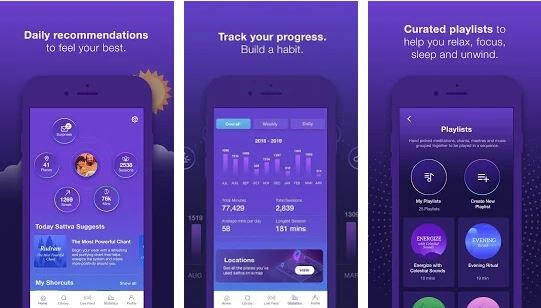 8. Sadhguru – Yoga & Meditation
Whoever doesn't know the Sadhguru? But, what if when you could be able to connect with Sadhguru on your mobile. Isn't it so amazing? Yes, it is undoubtedly. Now, you can connect with Sadhguru easily and instantly on your mobile via the Sadhguru app. The application is available on both devices i.e., Android and iPhone. Through this app, you can be able to know about the Sadhguru, their Vedic mantras, their daily motivating quotes, yoga tips, and many more. This is one of the best free apps like Calm.
Core Features of Sadhguru
Available in 8 languages including English, Hindi, Kannada, Tamil, Telugu, Marathi, Gujarati, and Malayalam.
Listen to Sadguru's enchanting sanity.
Unlimited access to the free meditation sessions.
Get your daily motivational quote.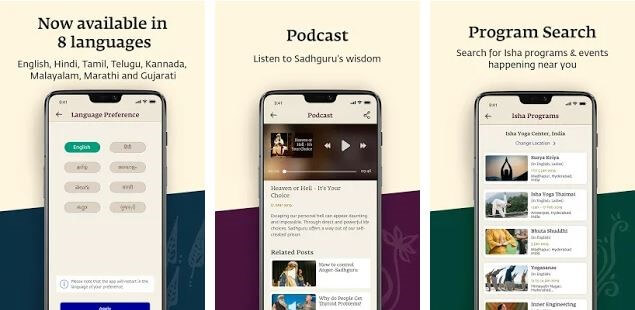 9. Daily OM
In Hinduism OM is the spiritual symbol, plus, OM words depict the power as well. OM signifies the ultimate strength, prosperity, and reality. Basically, it is a word that chanted before starting the mantra in Hinduism. Go to further, here comes the Daily OM app which is one of the free meditation apps with no subscription formalities. With the help of this app, you can learn the mantras and meditation skills. Moreover, you can upload a daily mystic quote on the feed-wall of this app. The only shortcoming of this app is – Android users won't be able to use the application.
Core Features of Daily Om
The daily feed wall shows motivating quotes from the world-class GURUS.
Comes with an OM player that includes chanting mantras.
Live sessions of an ancient sage GURUS.
Provides complete information about the Hindu gods, and Celestial Bodies.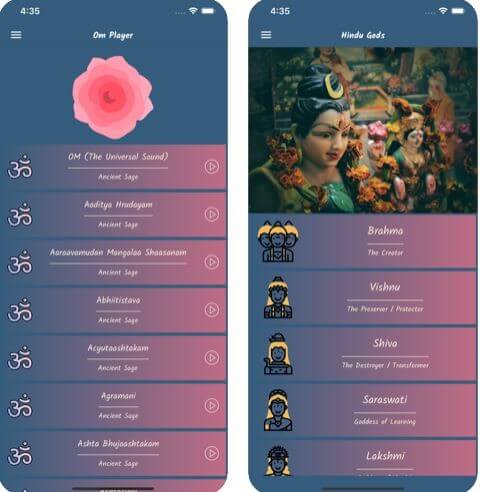 10. Soothing Sleep Sounds
Want to sleep properly with full mental peace? Then, what's better than soothing & relaxing music. Here is one of the best free meditation apps that you can get your smartphone right now. Soothing Sleep Sounds is the app that helps you in sleeping properly. But, the only drawback with this app, Soothing Sleep Sounds is not available on Google Play Store, so, Android users couldn't be able to use the application.
Core Features of Soothing Sleep Sounds
More than 25 natural sounds.
HD quality stereo recordings.
Easy-to-use interface.
Create a relaxing environment for meditation and yogs.
Offers complete go-to guide for enhancing meditation skills.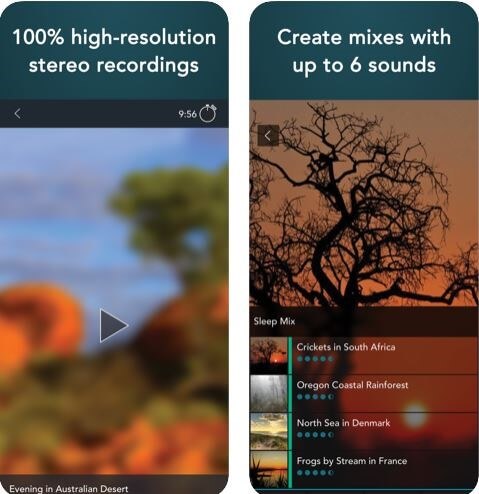 11. Simple Habit: Meditation
Simple Habit is the best app to track your overall health fitness level. It is available on both the platforms iOS and Android. Simple Habit guides you to maintain the peace and calmness in your life. Almost 5 million individuals believes that Simple Habit is the life-changing application. Its wellness and sleep therapy sessions lets you bring the positivity in your life.
Core Features of Simple Habit Meditation
Led by professional fitness coaches.
5-minute meditation per day.
Releases stress and anxiety.
Inpirational videos by world-class Vedic Gurus.
Hundered of shoothing sleep music.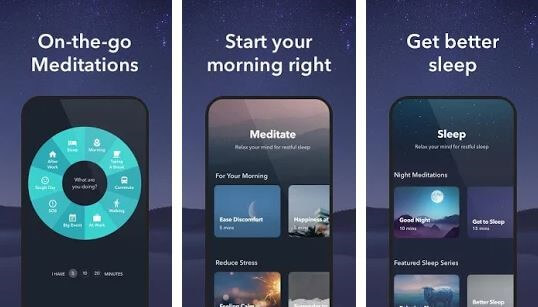 12. Let's Meditate: Relax & Sleep
Let's Meditate is one of the best and completely free meditation apps available on the Google Play Store. The simple and impressive design of the interface helps you to understands the meditation skills more quickly. Let's Meditate provides you the vast variety of the contents related to the meditations, yoga, exercises, and more. This app also suggests you fitness & health tips for losing weight.
Core Features of Let's Meditate
Lets you fight against the distraction and anxiety.
Curated content based on every stream.
Completely Ads free.
No login or sign-up required.
Huge soothing sounds available.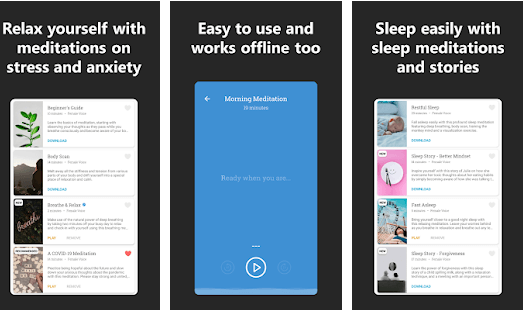 Calm Yourself via Best Free Meditation Apps
In sum, it's a time to wrap up the post by stating that the above-suggested are the best free meditation apps. All the apps have been selected on the basis of reviews and high-ratings. Through this post, we've tried to answer all your queries regarding meditation. Hope, you found this write-up, really helpful. Use the best meditation app that fits in your requirement bill and get the mental peace into your mind. As mental peace is the key to happiness life. Lastly, if you have any suggestions regarding this then please tell us in the comment box below. We would feel extremely happy to listen to you. Do subscribe to Innovana Blogs for the informative yet meaningful tech post. Till then stay tuned with us, will come back soon.
Subscribe to Our Newsletter
Keep yourself updated with the latest technology and trends with Innovana Thinklabs Limited.