Have you ever heard about free movie apps for iPhone? Some of you might not have heard about them because free apps are quite rare on iPhones.
Movies have become an integral part of our lives. Along with entertainment, people also watch them to take inspiration. There are multiple movie genres, including comedy, horror, romance, action, inspirational, etc. Hence, each personality can enjoy movies. People go to theaters with their friends and family to watch films. However, some introverts do not like it, as they avoid public gatherings. It's not just introverts. Some other people also do not like watching movies in theaters. They prefer staying in their homes and enjoy watching movies in their comfort zone. We have brought a list of some of the best free movie apps for iPhone for such people. They can enjoy their favorite movies at their home and that too for free with the help of these movie apps for iPhone.
5 Best Free Movie Apps for iPhone
Here are the free movie apps for iPhone we are talking about. Check them and enjoy free movies on your iOS device.
1. MX Player
MX Player is currently one of the best free movie apps for the iPhone. The content that MX Player offers is not just limited to movies. The app offers various OTT content as well. The content is so vast that you can get movies, TV shows, Live TV, YouTube content, latest songs, news, and even games on just one platform, i.e., MX Player. Initially, the developers have launched this app as a media player for Android and iOS smartphones. Hence, you can also use it as a media player to play the videos and songs stored on your local storage. Originally, it is an Indian app. So, along with Hollywood movies, you can also get various Bollywood movies and other Indian content on this app. This one of the free movie apps for iOS, streams movies of various other countries and languages as well. And yes, the app is entirely free, you do not have to pay a single cent to watch any content on MX Player.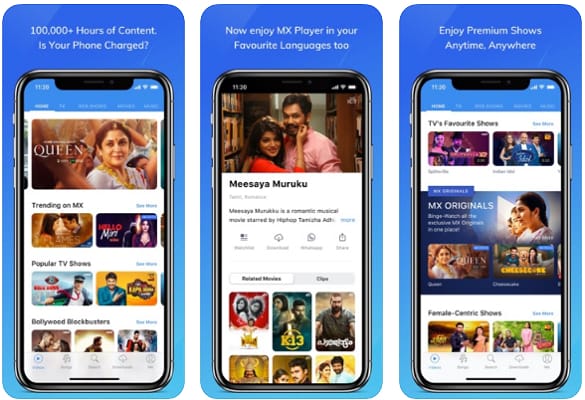 Also Read: 5 Best Free Video Editing Apps for iPhone
2. Popcornflix
If you are looking for an app to chill with your homies with a bucket of popcorn, then Popcornfilx is one of the best options for you. Yes, we know Netflix offers exceptional content, but alongside it also charges a hefty amount for it. On the other hand, Popcornflix is entirely free and doesn't even require you to log in to create your watch list while you are doing your work. The app offers so many films of almost every genre to watch. Hence, no matter with whom you are chilling, whether with your family or friends or alone. The app has movies for every situation and mood. And if you are done with them, this one of the best movie apps for iPhone offers some original shows as well.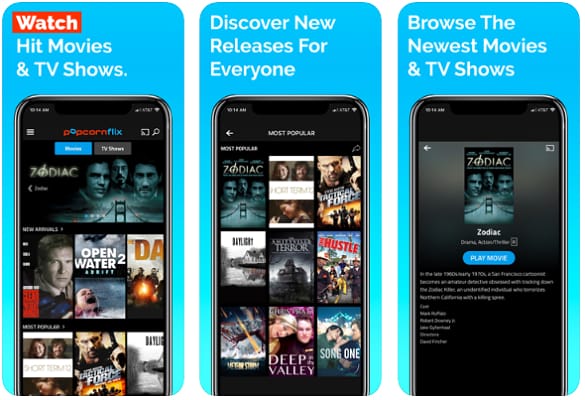 3. Crackle
If you like to watch movies in breaks, then you must check Crackle. This one of the free movie apps for the iPhone allows you to play the movie from the point where you have paused it last time. Crackle streams almost all the latest Hollywood movies for free. You only need to create a free account and sign in to it to enjoy free movies on Crackle. It is one of the apps which is owned by Sony Pictures. Hence, it also offers many quality original shows. However, you might have to see so many ads while you watch your favorite movies on Crackle. Along with the latest hits, the app also features some classic old movies.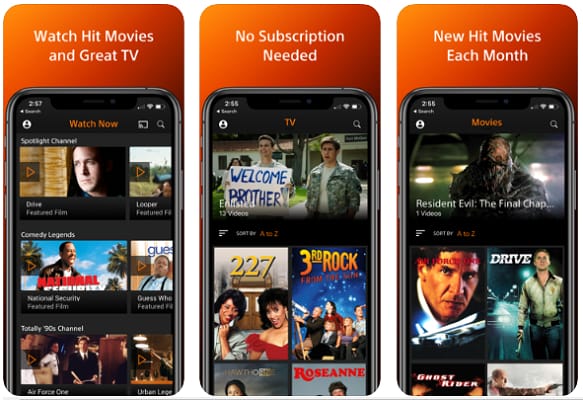 4. SnagFilms
Here comes another famous name in the list of some best movie apps for the iPhone. You must check SnagFilms if you are a fan of feature films. We know that it's quite hard to find good feature films and documentaries in most of the movie apps. As they solely focus on mainstream cinema. But, if you have SnagFilms installed on your iPhone, you can enjoy such kind of movies as well and that too in high quality. SnagFilms is entirely free and offers a perfect combination of mainstream movies and feature films. It also provides you the choice to choose from various movies of different genres and languages.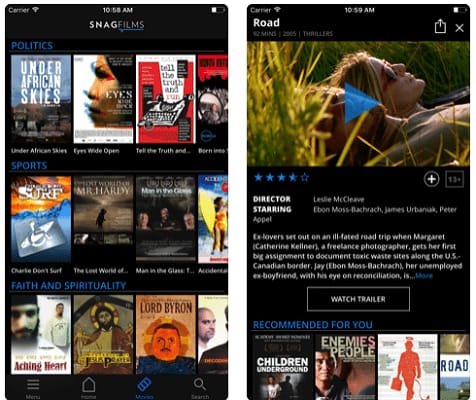 Also Read: 10 Best Screen Mirroring Apps for iPhone
5. Tubi TV
Another free movie app on our list is Tubi TV. The app has the largest collection of films as compared to other alternatives. Tubi TV segregates movies based on their genre. Hence, you can search for them even if you do not know the name of the movie or have forgotten it. Just like many paid streaming services, Tubi TV also offers subtitles for the films of foreign languages. This best free movie apps for iPhone also provides screencasting feature. However, you have to see ads in between the movies you watch on Tubi TV. Along with the iPhone, you can get free entertainment on the big screen of your Apple TV as well.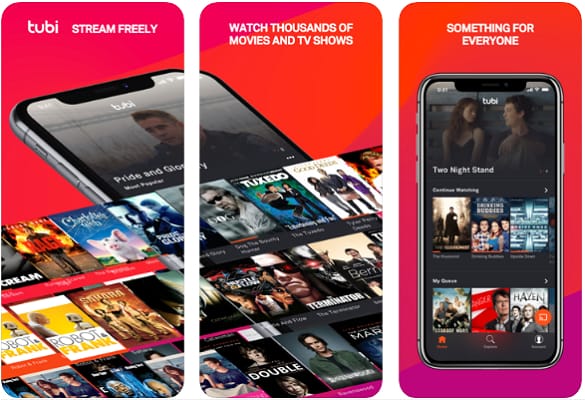 Conclusion
So, here we would like to end our list of some free movie apps for iPhone and not just free, you can consider them among some best free movie apps for iOS as well. Now you can watch all your favorite and latest films on your iPhone by having as many intervals as you want. So, what are you waiting for? Just grab some snacks, and start watching movies through these apps your very own iPhone.
Also, subscribe to Innovana blogs if you want to know about more such exciting utilities for iPhone.
Subscribe to Our Newsletter
Keep yourself updated with the latest technology and trends with Innovana Thinklabs Limited.