Carrying out multiple tasks becomes easier with dual monitors. However, you need the best free to download multi-screen software to manage them effectively. Read on to know about them.
If you are a multitasker or someone who uses one monitor for a particular purpose and the other for another one, you need the best multiple monitor software. These programs help you manage both monitors perfectly without disturbing your work on any of them.
Now the question is where to find such software. Well, you do not need to go far for that. We have already done all the hard work and curated the best free multi-monitor software.
We picked these top display management software after thorough research and comparison based on various parameters, like their features, ease of use, etc. The next section shares them with you.
Top 10 Best Multiple Monitor Software for Windows 10
Below are the best free multi-monitor software programs that you can use to manage dual monitors on your Windows 10 computer. 
1. DisplayFusion
Our top picks for the best free multiple monitor software to manage dual monitors include DisplayFusion for its outstanding features. It boasts many high-end features, like the option to remotely control the display from your phone or tablet. In addition to this, below are its other highlights.
Features of DisplayFusion
You can add a Taskbar to all your monitors.
It gets you beautiful desktop wallpapers from online sources. If you wish, you can also use photos from your own collection.
The software allows you to create your own functions to move and size Windows according to your requirements.
There are multiple monitor configuration options, such as settings, profiles, splitting, and padding to help you control the monitors.
You can split your monitor into multiple monitors virtually.
There is a monitor fading feature that fades the unused monitors and Windows applications.
You can listen for events such as Window creation, Window focus, etc.
It gives you access to useful power-packed functions through customized key combinations and TitleBar buttons.
DisplayFusion lets you use tweaks, such as Win+X to customize Windows.
There is a Window PositionProfile feature to help you save and load your Window size/positions effortlessly.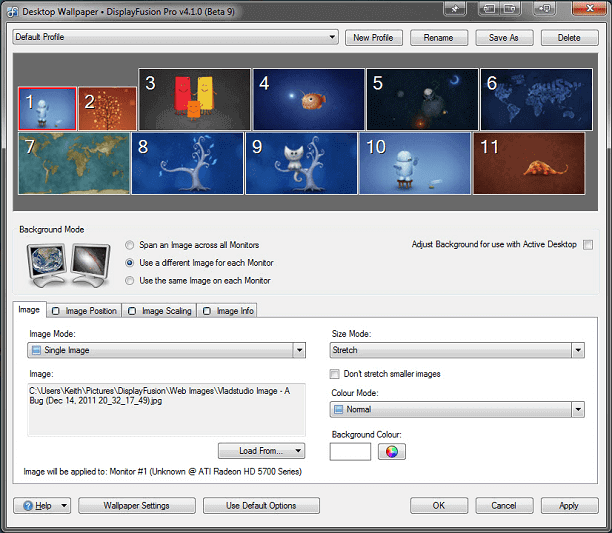 2. Dual Monitor Tools
If you are looking for an open-source free multi-monitor software for Windows 10, Dual Monitor Tools can be one of the best choices. It offers a huge spectrum of features, such as the option to create personalized hotkeys to move/restrict cursor movements. Apart from this, below is all that this program has to offer.
Features of Dual Monitor Tools
It comes with a portable mode so that you can use the software using a USB memory stick.
You can access settings through the left panel of the program and customize them according to your preferences.
There is a wallpaper changer tool to change wallpapers on all the screens.
It allows you to move the cursor using hotkeys without you needing to use the mouse.
With its Launcher Module, you can control the launching of applications.
Using the Snap and Swap feature, you can control the position of Windows and capture screen images.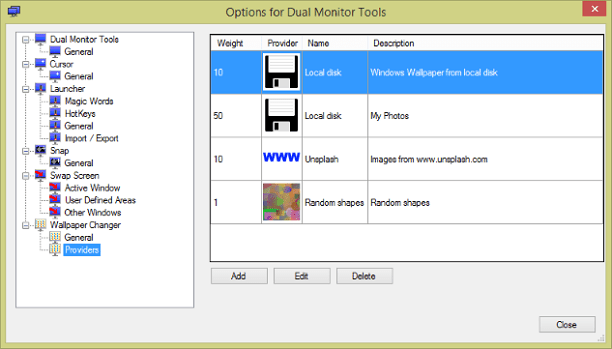 3. MultiMonitorTool
This tool from NirSoft is another free dual monitor software for Windows 10. It provides a number of features that induced us to include it on this list. For instance, with this software, you can switch between monitors using F8 and F7 hotkeys. Apart from that, below are its other outstanding features.
Features of MultiMonitorTool
You can get a preview of a chosen window using the preview feature.
There are options to activate/deactivate monitors, make monitor as primary, and tweak the orientation/resolution of monitors.
MultiMonitorTool is a portable software that you can use via a USB flash drive.
It is a lightweight utility that does not pressurize the resources of your computer.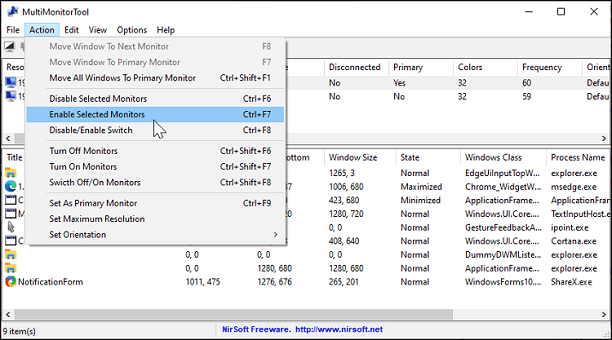 4. UltraMon
The next software on our list of the best free multi-screen software that you can download currently is UltraMon. It boasts quite a lot of features to make it easy for you to manage dual monitors on your computer. For instance, it allows you to use hotkeys to move the window to the next/previous/primary monitor or maximize/restore the window to the desktop.
Along with this, below are its other incredible features.
Features of UltraMon
It adds a taskbar to the secondary monitor and the bar shows only the active monitor applications.
There is an option to resize the vertical taskbar as desired.
The program allows you to create shortcuts to open programs, change display settings, and restore the previous settings when you close the application.
The display profiles store each monitor's display mode, position, and state. And, you can use them to switch between various desktop configurations effortlessly.
UltraMon allows you to use a single image for the complete desktop or a new photo for each monitor.
With this software, you can create gradient color backgrounds.
It blanks the screen saver on the secondary monitors when the screen saver runs on the primary monitor. Moreover, you can also have a different screen saver on every monitor (this feature works with screen savers with a live preview mode).
There are mirroring options that allow you to mirror one/more monitors, mirror only a single application/section of desktop/area near the mouse pointer.
You can also zoom or flip a mirror image with this software.
There is an option to start/stop/pause mirroring using hotkeys.
It supports scripting so that you can access powerful features from script files, such as VBScript, JScript, etc.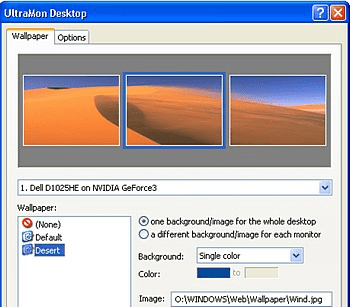 5. MultiMon Taskbar
The next program on our list of the best virtual monitor software is MultiMon Taskbar. The highlight of this software is that it is quite lightweight and does not require many PC resources. Apart from this, below is what else attracted us to this software.
Features of MultiMon Taskbar
You can add another taskbar to the extended desktop on the second monitor.
If you use three monitors, you can add a third taskbar to the computer's second extended monitor.
The taskbar shows only the applications that are active on the monitor.
You can hide the applications on second and third monitors with the normal taskbar of Windows.
The Windows XP users can add a move to monitor button to applications on Windows.
There is the availability of a text clipboard extractor and buttons to roll the taskbar right.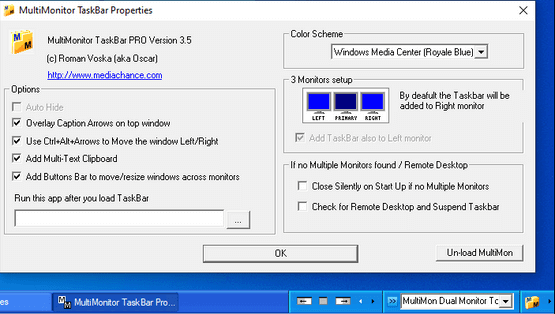 6. Multi-Display Feature
Well, to your surprise, Windows 10 comes with a feature called Multi-Display that allows you to use multiple displays effortlessly. You can follow the path Settings>System>Display >to access this feature. Below is what you can do with this in-built option in Windows.
Features of Multi-Display in Windows
It gives you a drag and drop option to organize the displays.
You can manage settings, such as display resolution, orientation, and scaling.
It lets you have a different wallpaper on every monitor.
There are multi-monitor taskbar options and shortcuts to switch between screens.
It also lets you cascade Windows, show Windows stacked, or view them side by side using the right-click menu.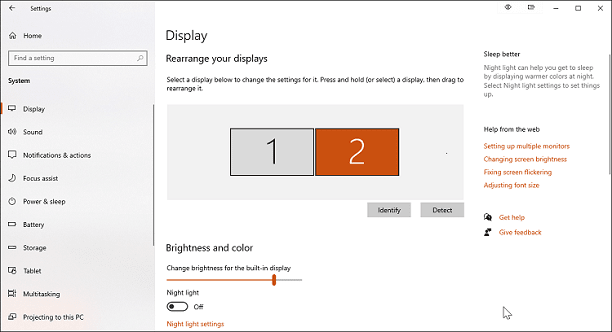 7. Actual Multiple Monitors
Here is the Actual Multiple Monitors software for you to manage your dual monitors effortlessly. It provides many specialized tools, such as a multi-monitor taskbar to navigate quickly and easily on secondary monitors. Apart from this, below is what else this program has in store for its users.
Features of Actual Multiple Monitors
You can switch between tasks on multiple monitors using ><Alt+Tab>.
It allows you to customize the desktop background.
With this software, you can run any screen saver in multi-monitor mode.
There is a desktop divider to section the big desktop into many tiles.
You can manage the dual desktop effortlessly using the desktop profiles, desktop icons manager, etc.
There are many desktop mirroring tools available.
It offers high-end multi-monitor window management to let you allocate windows within the extended desktop quickly.
With this software, you can use the mouse on multiple desktops effortlessly.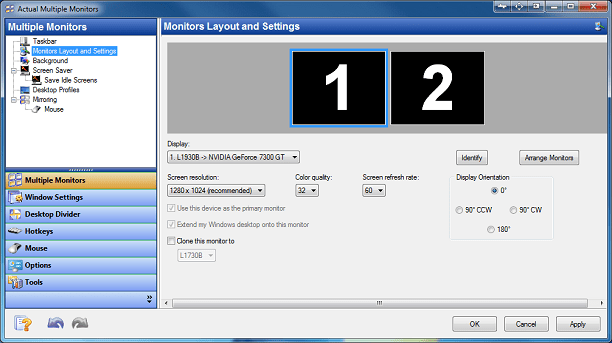 8. ZBar
Here comes another free display management software to manage multiple monitors effortlessly. The best thing about this software is that you do not need to install it on your computer. You just need to double-click the executable file to open the application. Below are some outstanding features of this program.
Features of ZBar
You can view the taskbar on every desktop either at the top or bottom of it.
There are options to hide the taskbar and double its size automatically.
You can change the taskbar's look to improve the desktop's overall appearance.
It provides multiple profiles to activate the settings for automatically emulating Windows/macOS.
ZBar allows you to have a different wallpaper on each desktop.
It boasts a well-organized and easy-to-use calendar as well.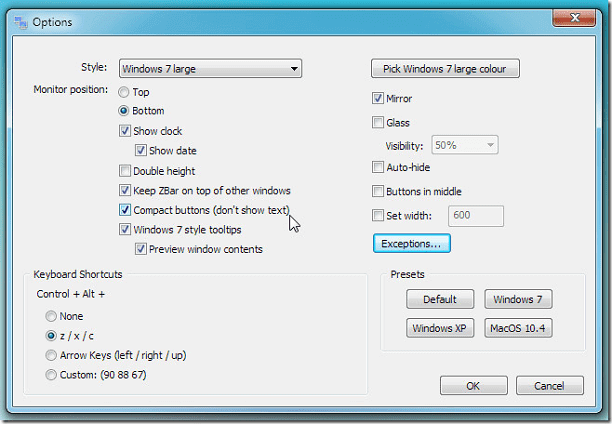 9. MurGeeMon
Next, we have this beautiful program on our list of the best free dual monitor software for Windows 10. It is quite feature-rich software with many features for the effortless management of dual monitors. Let's take a look at the top ones out of them.
Features of MurGeeMon
You can control multiple monitors, change primary monitor, disable/enable secondary monitor easily.
It allows you to change the secondary monitor's background quite effortlessly.
This software allows you to change the resolution of multiple monitors with just a click or via desktop shortcuts.
It comes with an add-on that allows you to change the LogOn screen saver or disable it.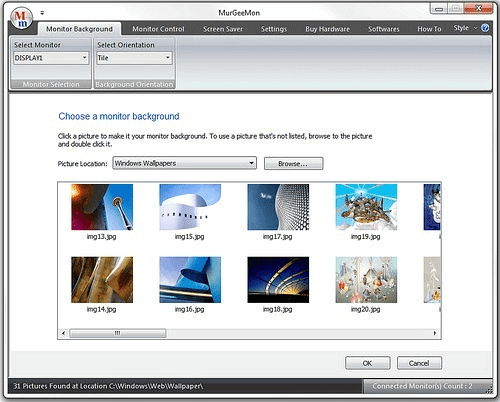 10. Input Director
Here is yet another program that we can call the best virtual monitor software. It offers many features that justify its position on this list. For instance, there is a shared clipboard to make it easier for you to copy and paste files between computers. In addition to this, below is what else it offers.
Features of Input Director
You can employ hotkeys or move the cursor to switch between monitors.
It gives you an option to simultaneously lock computers and import/export configuration or apply configuration via the command line.
The software allows you to synchronize screensavers/shutdowns across your computers.
You can encrypt network data between computers, lock the configurations/limit which systems can control them.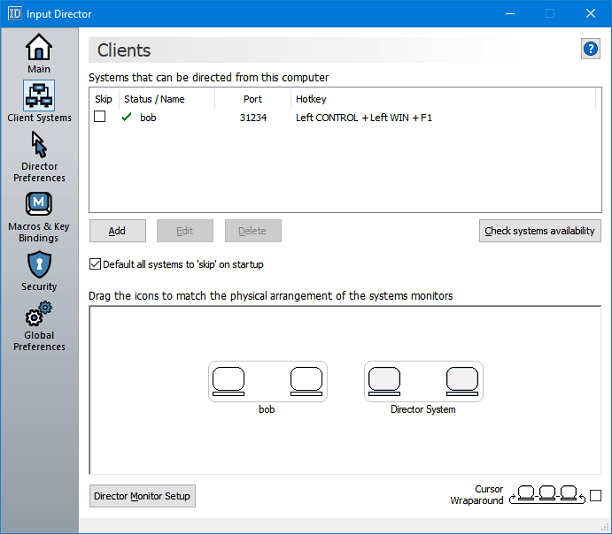 Concluding the Best Multiple Monitor Software
Above were some of the best free multiple monitor software to help all the multitaskers do more on their computer. You can pick any of these programs depending on your particular preferences.
However, if you feel too confused to make a choice, we suggest you use DisplayFusion or UltraMon for the wide selection of features they offer. If you think this list excludes any deserving software, share it with us through the comment section.
And, for more software recommendations for Windows, Android, iOS, or Mac, subscribe to and bookmark this blog.
Subscribe to Our Newsletter
Keep yourself updated with the latest technology and trends with Innovana Thinklabs Limited.