Who doesn't like to listen to music with their eyes closed? But, making music is a hell of a job because you have to study music theory and practice musical instruments. But, you can easify the job by using the best free music making software for Windows 10, 8, 7 that are listed below. These software provide some of the best features in the music-making industry. Many popular artists and music directors used these software to produce music. But, most importantly read terms of use before using these software. Let's take a dip to know more!
Best Free Music Making Software to create own music
Create, compose, mix, edit, the music, or beats as per your preference. Music creation is not an easy task but by using any of the listed best free music making software for windows 10, 8, 7 you can make it way simpler and faster.
1. FL Studio
FL Studio is highly-featured free music creation software for creating sound and beats. This is able to record multi-track sound recording. It creates and produces high-quality music and beats just like professionals do. Lets you export songs in various formats including .mp3, .ogg, .flac, .wav, .mid and many more. FL Studio is based on a one-time subscription plan that means users need to buy this tool for once and access FL Studio's amazing features free for the lifetime. Offers flexible and linear workflow as per your requirements. Interestingly, offers some extraordinary real-time mixing effects to make music more interesting.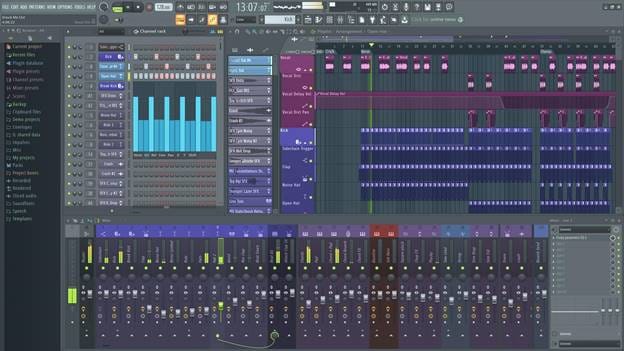 2. Reaper
Reaper is the complete digital music production house that helps you to create new and unique beats. it allows you to record multi-track audio recording and MIDI recording, processing, and editing. Reaper is highly customizable and compatible with a wide range of formats, plugins, and hardware. Its incredible highly-standardized toolset kit lets you do anything. This software also works with your music player application. Reaper is extremely fast to load the music and beats. It can be used as a portable version of the software. Automatic processing can really help you to create sounds and it saves you a lot of time. Available for Windows, macOS, and Linux platforms.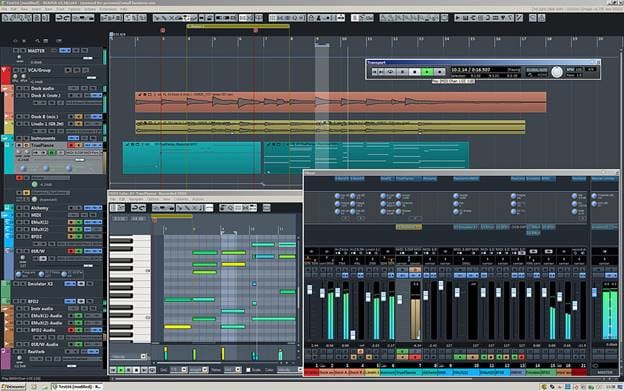 3. Audacity
Audacity is the best free music making software for Windows 10, 8, 7. Audacity is the most convenient and easy-to-use music-making tool. Audacity comes-up with a ton of powerful features to create awesome beats and music. It is highly capable to convert the normal music to high-quality sampling and renders the music very quickly. Audacity suited with the Audio Unit effects, LADSPA LV2, VST and, Nyquist plug-ins. You can comfortably modify effects in a text editor panel or in case if you want to write your own plug-in, then you can also do this.  With Audacity, you can export multiple files at a time without any slow processing interruption.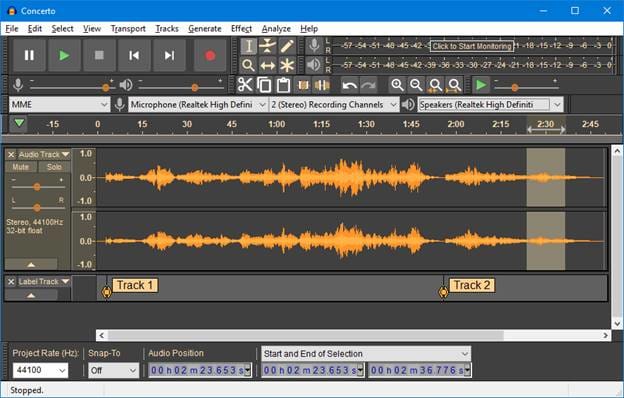 Also Know: Best Free Audio Transcription Software
4. Pro Tools – Avid
Pro Tools works the same just like its name. For ace music producers, Pro Tools is the best free beat making software. Pro Tools pulls back all the limitations from your path and make everything clear for you. As there are no limits or restrictions for talent. Pro Tools take out your hidden artist or talent. It offers UVI Falcon 2 virtual tools to make ease of work. This tool helps you to create real-world or something pleasing music and beats. Moreover, it gives you extra by offering infinite plug-ins and these plug-ins polish your creativity. Fortunately, its cloud integrations let you work from anywhere at any time and collaborate with your teams across the world. So, from today start strengthening your sound via Pro Tools.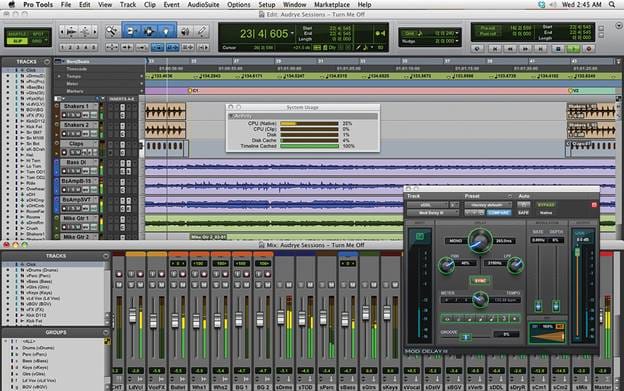 5. Magix Music Maker
Magix Music Maker is another best free music making software for windows 10, 8, 7. Music Maker is actually a great music creation tool and has the capability to fulfill all your music needs. With Music Maker, you'll experience the easiest creation scene than ever. By drag & drop only you can be able to create a wide range of music, beats, and loops of different genres. After creating the beats, loops, and sounds you can also record your own melodies via connecting a mic or keyboard. Music Maker offers various effects and beats creation options by so you can add multiple different touches to your beat or sound. With Music Maker, you can create music with high notes and records your own melodies as per the pitch requirements.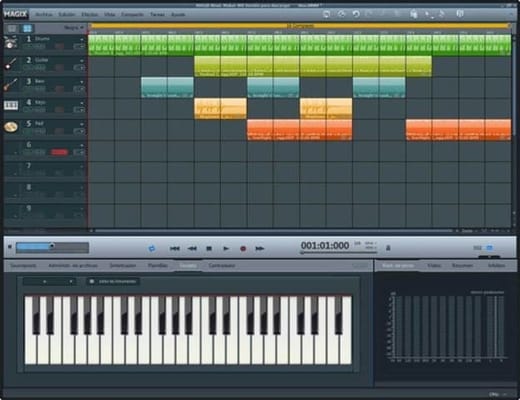 6. SoundBridge
SoundBridge is designed by keeping only one thought in the mind and that is simplicity. This is the digital free music creation software for Windows and macOS. It includes crucial components i.e., sequencing, editing, live tracking, real-time mixing, and many more. it supports high-resolution skins, plug-ins to create out-of-the-world music beats. Additionally, it offers channel strips that help you to focus on every music note or beats. Apart from the music creation software, users have to install the best music notation apps for clear musical notes. SoundBridge coordinates with your creativity and helps you to develop a unique beat ever.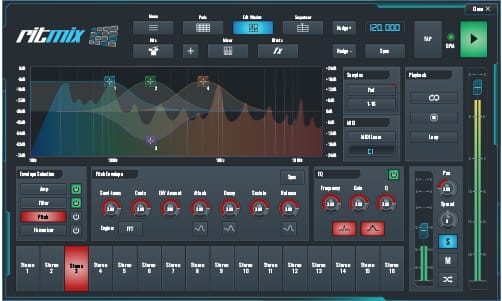 7. Reason Studios
Create music in the way you want with Reason Studios. With Reason Rack Plugin you can bring and entire reason studio with yourself. Reason will help you to create, mix, compose, and finish your music in the exact way you want. Reason come-up with different instruments and effects that will enhance the quality of your music. However, the only drawback of this software is that it is not available totally free. That means it gives every new user the first 30 days of the trial then after the free trial user will need to purchase its paid pro versions.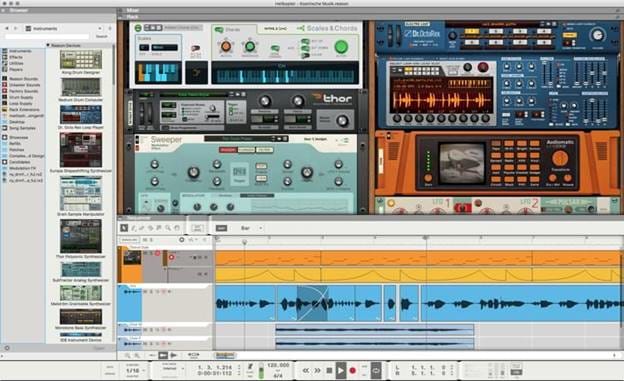 8. Cakewalk Sonar
Create your masterpiece with Cakewalk Sonar. Cakewalk Sonar is the complete music production house. The core features of Cakewalk Sonar including composing, recording, editing, mixing, mastering, and sharing. Cakewalk claims to be the industry's best audio creating or mixing engine across the world. FX ranging tracks, mixes, master your music and produces in a very unique form. Built-in features or tools help you maintain the workflow similar to quickly finish the projects. Cakewalk Sonar associated with the planet's heading pitch-correction software that quickly corrects vocals, converts audio to MIDI in just a few flashes. Cakewalk Sonar is free music making software for beginners.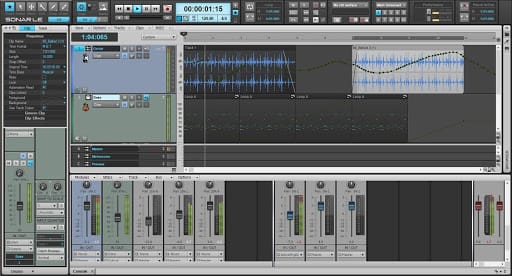 9. LMMS
LMMS is the music creation software that has been developed by the musicians to the musicians. With LMMS, you can compose beats, sounds, mixing sounds, arrange the sounds, and many more other things you can do with it. LMMS has a very easy interface by so any beginner can easily start their career as a music composer with LMMS. The collection of various instruments and plug-ins can help you to compose the music in the exact way as you want. Apart from Windows users, macOS and Linux users can also use this free beat making software.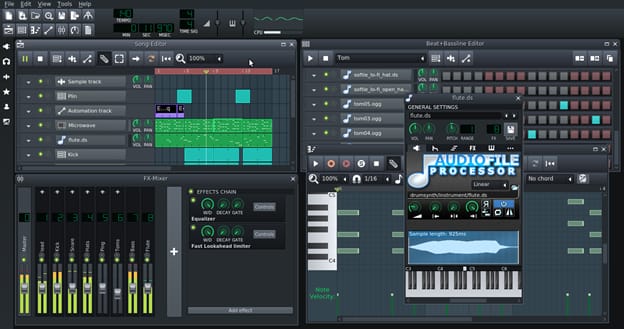 Also Know: 14 Best Free Software Updater Programs for Windows
10. Abelton live
Abelton live another top-rated music creation software for macOS and Windows platforms. Ableton makes the music so authentic and reliable that it could take you to musical clouds. Abelton's mixing texture feature lets you club the music in an appropriate pitch or note. Its auto-pitch correction tool helps you by making automatic corrections to the pitches. Abelton Live is the best free music creation software for beginners as well as for the experts. It offers you more than 70 innovative strategies to create music.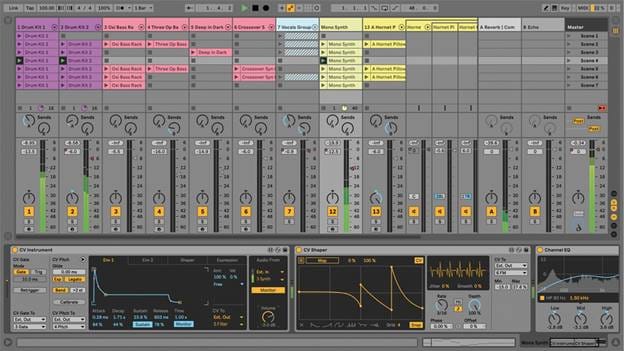 Make Music of your Choice by Best Free Music Production Software
We hope the above-listed music-making software can help you to compose breakthrough beats, sounds, and music in the exact way you want. The above-mentioned are some best free music making software for Windows 10, 8, 7. By using, the above-suggested music-making tools you can boost your music career. Music-making is an art to create sounds, beats by any instrument effects. Create music, loops, as per your choice via the above-listed music creation tool. And, for more such updates stay tuned with us and subscribe Innovana Blogs.
Subscribe to Our Newsletter
Keep yourself updated with the latest technology and trends with Innovana Thinklabs Limited.