Which is the best free OCR software for windows 10? This is one of the most commonly asked questions of all time. In today's world, when everything is becoming digital. It's time to change old methods of writing things and convert all paper documents into digital PDFs. Paper documents have always been a headache for many people because they are hard to back up and can be lost or destroyed easily. Digital documents are portable, easy to share, and take less space than a whole book.
Paper is also harmful to our nature because we have to cut many trees to make paper. PDFs have revolutionized the way of reading books and giving reports. OCR software helps in extracting text from any document, image, and various other types of files. The software scans the document, recognizes the characters in the document, and converts them into a digital format that can be edited and/or modified by the user. Here we're presenting the best free OCR software for Windows PC. Let's come with me to know more about it!
List of 14 Highly-Featured Free OCR Software for Windows 10,8,7
Enhance the reading quality by going digitally. OCR software helps you to extract long books, PDFs, paper documents, and scanned documents into a digital text or audio format. Hence, read on to know the top-rated best free OCR software for Windows 10/8/7.
1. Fast OCR
Quickly extract text from the paper document, scanned document, PDFs, and images with Fast OCR. Fast OCR instantly recognizes the text and converts it into digital text so it can be easily readable by the users. It also filters the text accurately to provide the best reading experience ever. Supported by the new advanced OCR analysis parameters and algorithms that enhance the quality of the text.
Features of Fast OCR
Convert text from the camera PDFs and documents.
Compatible with more than 15 languages all over the world.
Extract images text, document text, and long PDF text into an audio format for better reading.
Export the text from other social media applications directly in just one click.
Pros of Fast OCR
Easy extraction of data from different types of files
Converts text into audio within minutes
Export text to different social media platforms
Cons of Fast OCR
Can not be used used for all formats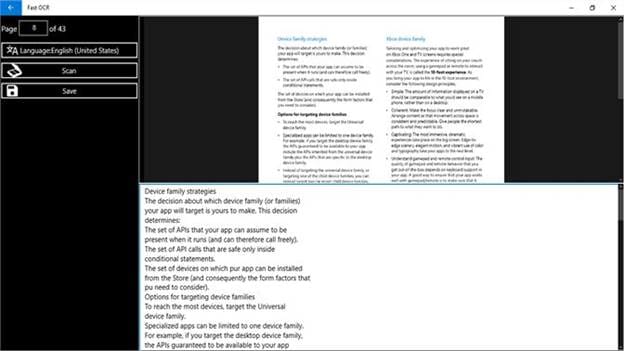 2. A9t9 Free OCR Software
One of the best free OCR software for windows 10 is  – (a9t9) free OCR software. It recognizes the image text into the plain text that can be edited for adding more content as per need. It is a full freeware and open-source OCR software for Windows PC. This OCR software easily converts the text of the image from the smartphone into an editable format like Word and so forth.
Features of A9t9 Free OCR Software
Built-in customize options help you to improve the text quality.
Better conversion rate.
Free from adware and spyware.
Recognize text in more than 17 languages.
Deep parallel analysis with advanced OCR technologies.
Pros of A9t9 Free OCR Software
Open-source software
Can be used by new and professional users
Cons of A9t9 Free OCR SOftware
Lack of advanced features
Maybe too complicated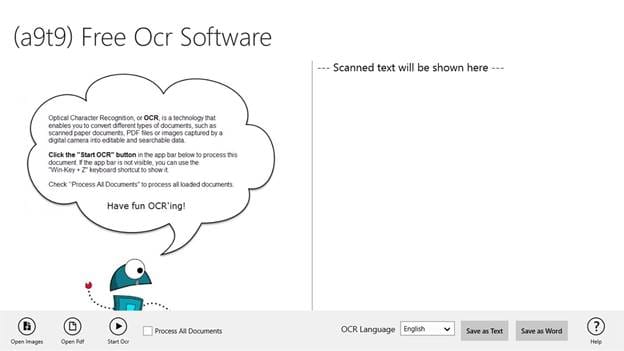 Also Read: Best Free PDF Reader for Windows
3. Audio Book Maker-Text Reader
Audio BookMaker is the best text to audio conversion tool that can convert an entire book into audio or speech. It is completely a freeware application. For converting it access the text-to-speech conversion engines which are running on your system. Audio Maker helps millions of students, researchers, lawyers, teachers, promising book admirers, and many more to read the books effectively.
Features of Audio Book Maker-Text Reader
Supports different voice recognition.
The conversion accuracy rate is extremely high.
Lets you to customize the speech and audio via parameters.
Allows you to highlight the audio text.
Pros of Audio Book Maker-Text Reader
Helps in converting text to audio
High rate of accuracy
Loaded with customization features
Cons of Audio Book Maker-Text Reader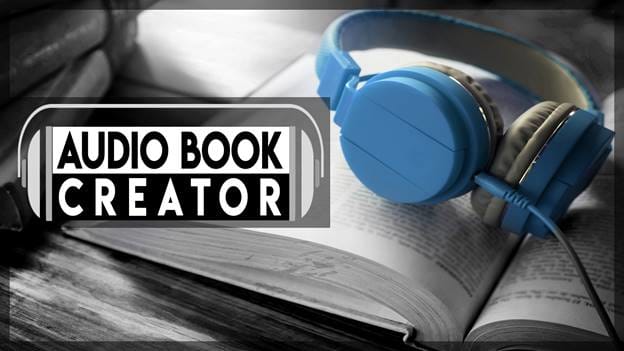 4. Photo Scan – OCR and QR Code Scanner
Photo Scan allows you to read the text from the photos and lets you generate the QR code. One of the most amazing features of this OCR tool is – it lets users produce the QR code along with the conversion of text from the images. Writing the long text from the images is a little bit difficult and very time-consuming. Hence, Photo Scan is here to take you out of this trouble. With Photo Scan you can extract the text from the images in just a few mouse clicks.
Features of Photo Scan
A standardized interface helps you to extract the long image text quickly.
Along with the converting text, it also generates the QR codes.
Supports document camera.
Highly capable to convert the text from the books or images into speech or audio.
Supports multiple design themes.
Pros of Photo Scan
Extract long-excessive text
Support for document camera
Can be used to convert images text to audio files
Multiple themes
Cons of Photo Scan
It may be complicated for new users
Basic interface with low features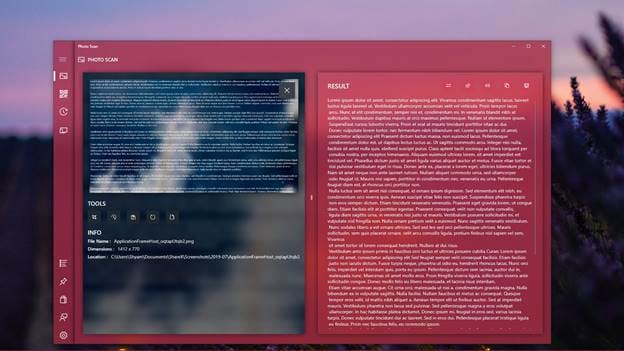 5. Photo to Text OCR
Photo to Text OCR is the top-notch image-to-text conversion software. It transforms the image to text with OCR analysis technology. With this, you can share your text on other social media platforms. Users can directly send the text on other apps without opening the apps separately. The process of text conversion with Photo to Text OCR is a bit faster, easier, and reliable. The following features of Photo to Text OCR make it one of the best free OCR software for windows 10.
Features of Photo to Text OCR
Easy to use for the extraction of the image to text.
The one-click option captures the image from the folder of the app.
Compatible with Windows 10.
Sync the text on other social media handles.
Pros of Photo to Text OCR
Very basic user-interface
Can be used by all types of users
Can be used to share text through social media
Cons of Photo to Text OCR
Lack of advanced features
User may face problems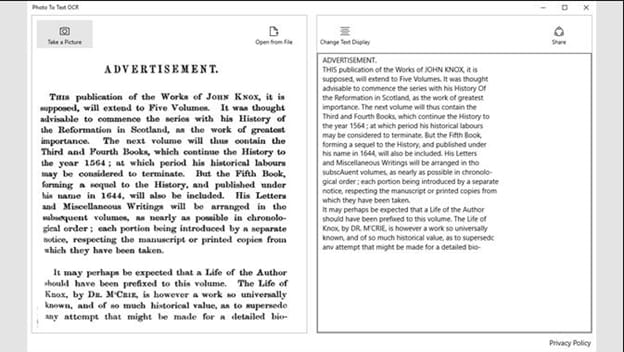 6. MeOCR
MeOCR is the best way to convert image text into digital text. MeOCR is a highly featured OCR analytical software that reads your text accurately. In just one click, MeOCR can export the paper document and scanned document in the word format or any other editable format. It implements the OCR functionality to your scanner apps and works like an ace.
Features of MeOCR
Higher accuracy rate.
Automatically customize the documents and make corrections.
Compatible with more than 20 languages including English, French, German, Italian, Russian, Serbian, and many more.
Supports multiple formats to save images such as JPEG, TIFF, PNG, and so forth.
Its built-in text editor lets you edit the text.
It generates formatted results and saves formatting time.
Pros of MeOCR
Free to download and install
Fast conversion and extraction of data
Easy to use for pros and beginners
Cons of MeOCR
Lack of advanced features
Only performs some functions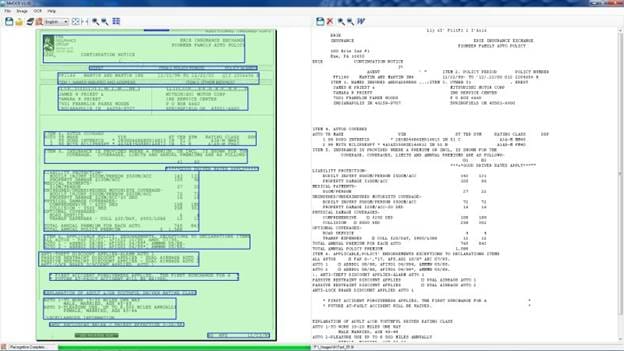 Also Read: How to Convert PDF to Word Online/Offline
7. SimpleOCR
Another best free OCR software for converting scanned and paper documents into digital text. SimpleOCR reads your document more accurately than any other can ever do. SimpleOCR is highly capable of recognizing text in various languages. Saves you every chance to get further help in the conversion process. Read and display the texting more effectively than others.
Features of SimpleOCR
Detects poor-quality images.
Offers more customization options that make the normal text standardized.
Completely a freeware OCR solution.
Convert text into the speech and audio formats.
Advanced functionalities empower the text.
Pros of SimpleOCR
Quite easy to use for all
Built-in spell checker tool
Simple user interface
Cons of SimpleOCR
Free trial works of 14 days only
Lack of advanced features in the trial version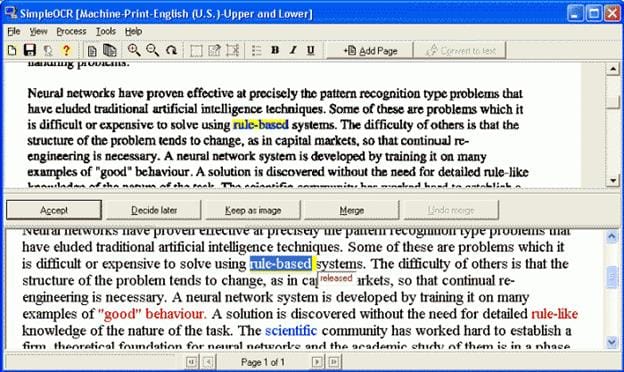 8. FineReader
FineReader enhances the professional's document productivity. FineReader is based on the most recent AI OCR technologies. This OCR provides you ease to convert, digitize, edit, upload your documents. FineReader helps you to make your documents more accurate and decorative. Now, writers can focus more on their expertise and less on administrative tasks.
Features of FineReader
Easy to use interface.
Sorted and Organized PDFs.
Comparison of documents.
Create and convert PDFs.
Protect and secure PDFs.
Pros of FineReader
Scans and extract data from images
Easy to use
Automatic conversion routines for quick results
Cons of FineReader
Can not show the history of changes
Unattractive interface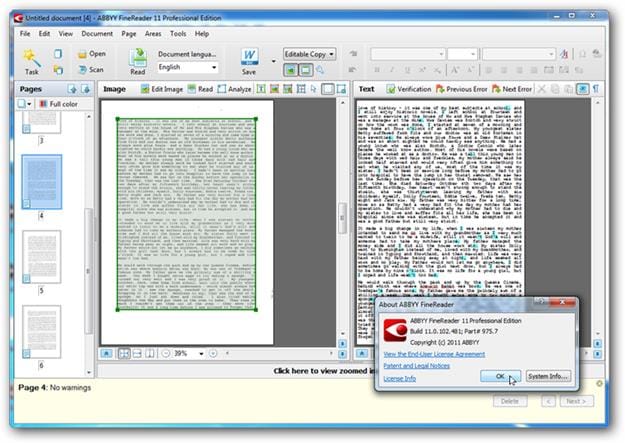 9. TopOCR
TopOCR is another one of the best free OCR software for windows 10 approaches to transforming the text from images, scanned documents, and all paper documents. The user interface of TopOCR is highly standardized so it doesn't require any other screen external reader. All the processing of OCR is implemented on your PC and even making the process bit quicker. It is a document camera that converts all the possible documents and images.
Features of TopOCR
Converts text from the images into the audio form.
For scanning, it used the most recent Neural Net OCR technology.
Highly-able to read the documents even when you don't have an internet connection.
Supports 11 languages (English, Dutch, French, German, and so forth).
Transforms the text in an accurate digital text orientation format.
Pros of TopOCR
Effective conversion of text into audio
Can be used in the absence of the internet connection
Supports different languages
Neural Net OCR Technology for execution
Cons of TopOCR
May crash unexpectedly
Does not have an open-source platform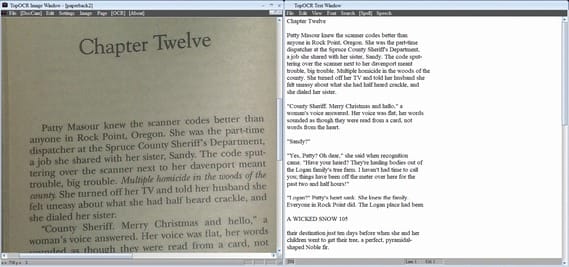 10. Readiris
Readiris is the perfect OCR solution to recognize the text from PDFs and images. And to convert those texts to an editable format like Word. Readiris magically manages all your documents and open sources. Readiris allows you to customize, convert, all the paper documents into digital format. This free OCR software download will help you a lot.
Features of Readiris
Embed the edited text in the images.
Have the potential to convert the text into an audible format.
Supports numerous different conversion formats.
Let's hyperlink the text to move to the attached document directly.
Open up the documents and PDFs 20% fastly than ever.
The recognition engine manages documents properly.
Pros of Readiris
Allows to edit and modify PDFs
Allows you to convert files
Extracts text within a couple of seconds
Cons of Readiris
Can not be used to scan business cards
Ineffective at times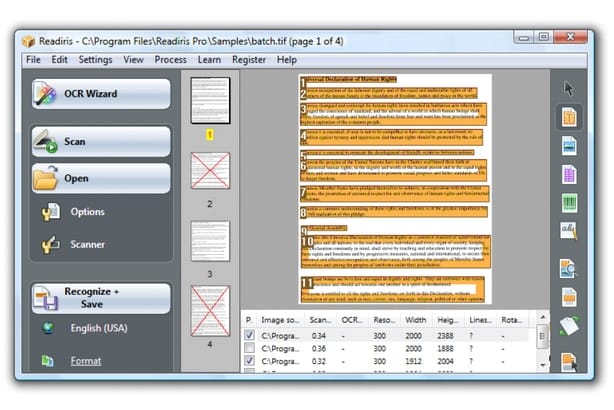 11. Free Online OCR
It is the best free OCR software for windows 10 as it doesn't need any installation to access it. Fetch texts from PDF and pictures into an editable form like Word, Excel, and other forms. So you can easily edit the documents or text. Without installing you can access the services of this program. Free OCR can read the text from any scanned documents and PDFs. The following features make it the best OCR software for windows 10.
Features of Online OCR
Let's convert 15 files per hour.
Without registering in it you can convert multiple pages of PDF into a Word or any other editable format.
No changes were made to the graphics and tables.
Supports 46 languages including Chinese, Japanese, and others
Pros of Online OCR
Can be used for free
Provides quality content
Supports different formats
Cons of Online OCR
Does not provide many features
Lack of optimal file support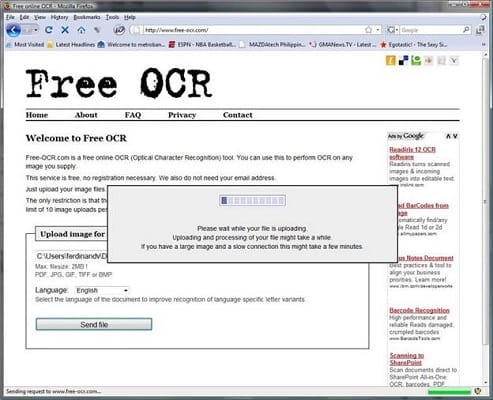 12. VueScan
VueScan is one of the best OCR software for free on our list. With VueScan, you need not worry about what you are scanning. VueScan can scan all types of documents. Whether you want to scan a single page or multiple pages, VueScan has the built-in highly featured tools that surely do it without any issue. VueScan can collaborate with your scanner and very quickly converts the print text into digital text.
Features of VueScan
Automatically detects the color of the specific text and entire document.
Scan images in JPEG and TIFF format.
Automatically named the file.
Supports more than 25 languages.
Pros of VueScan
Quite easy to use
Based on cross-platform
Supports over 6000 different scanners
Cons of VueScan
Can be complicated for movie users
Does not have an open-source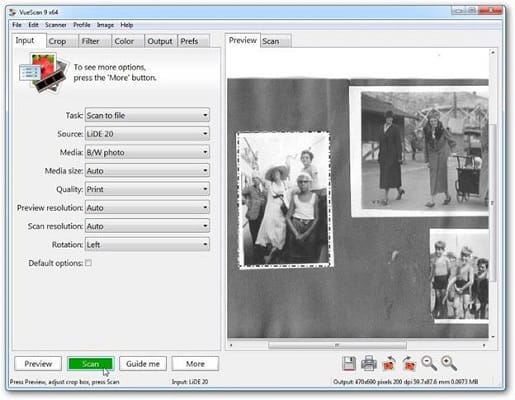 13. Boxoft Free OCR
Boxoft Free OCR is one of the most downloaded best OCR software for free. It can be downloaded and installed for free of any cost. This OCR can extract data from images of different formats. One of the best features of the software is that it is provided to the user in multiple languages. The interface of the software can support over a dozen different languages for people with different backgrounds.
Features of Boxoft Free OCR
Supports over a dozen different languages
Supports images of different formats
Converts images into editable text
Can be connected to different types of scanners
Allows the user to save the text as TXT or ZIP file
Pros of Boxoft Free OCR
Very easy to use for all
Multiple language support
Quick extraction of text
Supports different file formats
Cons of Boxoft Free OCR
Absence of a cross-platform
Not open-sourced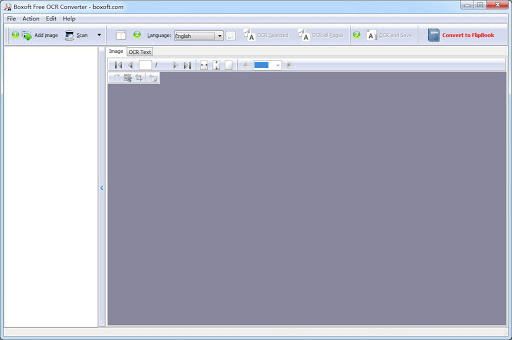 14. Free OCR to Word
Free OCR to Word is another example of free downloadable OCR software for Windows 10. Free OCR to Word allows the user to extract data from images and convert it into other formats. It can extract data from different kinds of images with different formats and resolutions. Another attractive property of the software is that it can be connected to different scanners to extract data. The user can save the extracted data in Word format. The OCR software provides an unbeatable accuracy of up to 98%. The following are the features of good OCR software.
Features of Free OCR to Word
Can be connected to scanners
Extracts text and converts it into a Word file
Extracts text from different image formats including IMG, JPG, JPEG, etc.
High rate of scanning accuracy
Pros of Free OCR to Word
High rate of accuracy of up to 08%
Supports different formats
Connects with all the major scanners
Cons of Free OCR to Word
Can be inaccurate at times
Poor interface
Limited options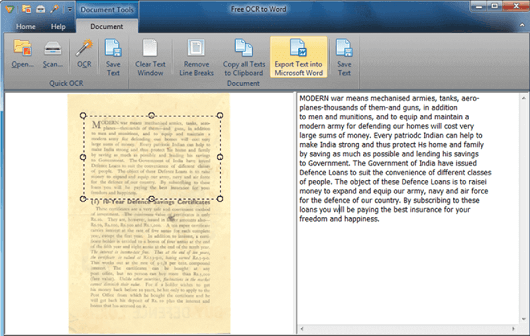 Frequently Asked Questions (FAQs) about Best Free OCR Software for Windows
Q.1 What is the best OCR software for Windows 10?
There are a lot of OCR software on the internet, but it is hard to find good OCR software. A good OCR software should be easy to work with, less time-consuming, comprehensible, and should be able to extract the text from different kinds of images and documents. We have listed the best OCR software for windows 10 above. The user can select one according to his desire.
Q.2 Is free OCR software safe?
Yes, despite popular beliefs, most OCR readers are very safe to use. Exceptional cases are there where the developers create malware software to access the data of the user. One may not always be aware of such software, so we have listed the best free downloadable OCR software which are 100% safe to use.
Q.3 How to choose good OCR software?
As described earlier, a good OCR software should have some basic properties like quick execution, multiple options to use extracted text, should be able to extract data from different files, etc. Check out the list of best OCR programs for PC and download the ones that deem fit.
Q.4 Is OCR software reliable to use?
Yes, OCR software is completely reliable. Such best OCR software free can help the user in extracting text from images precisely so that it can be used as per the requirements of the user.
Q.5 How to use OCR with Google Docs?
Users can also extract text with the help of Google Docs very easily. Before converting an image or PDF to text, the user has to ensure that some of the requirements are fulfilled by the document. The file should be less than 2 MB in size. It should have at least 10 pixels. The file should be upright and the image quality should not be poor.
Follow these steps to extract text from images or PDFs with the help of Google Docs:
Run Google Drive
Right-click on the file
Select Open With- Google Docs
An editable file will open in Google Docs which can be used to procure data from the document.
Change your Piece of Paper by a Revolutionary method and being digital
The following were some of the best free OCR software for Windows 10. OCR technology helps to convert our books, documents, files into PDFs. With the help of OCR technology, we can conserve our ancient text like manuscripts, Taambpatra, etc, into digital documents and so they can be read by all people even if their original copy is destroyed by nature, or by a human.
By using the above tools you can turn your documents into PDFs and save a lot of space and you can easily convert, edit, protect, sort, organize these PDFs with the help of the tools that are mentioned above.
Subscribe to Our Newsletter
Keep yourself updated with the latest technology and trends with Innovana Thinklabs Limited.