Know the Best Free Offline Dictionary for PC to find out a word's meaning even without the internet
The world has a myriad of words. Each day, you may learn many new expressions. However, since each word has its unique meaning and context of use, words may also be quite mysterious. If ever you come across such a  puzzling word, the first thought is to search it on the web. But what if there is no internet available? In such a situation, the best free offline dictionary for PC comes to your rescue.
If the best free offline dictionary software for Windows were not available, then you'd battle with the tough words and make all sorts of assumptions about their meaning. Therefore, to protect you from such tough situations, here we talk about the offline dictionary apps that let you know a word's meaning quickly without an Internet connection.
13 Best Free Offline Dictionary Software for your PC 2021 [100% Working]
There's an ocean of English dictionary apps in the marketplace and all of them claim to be the best. But, many of them do not even describe the meanings correctly. Therefore, here are the most trusted and authentic free dictionary apps that we've handpicked especially for you.
1. Perfect Dictionary
This comprehensive and free dictionary app is perfect for all inquisitive humans who want to know the meaning of every mysterious word they come across.
The app lets you look for the word in multiple dictionaries. It has an enormous database of dictionaries in 50 different languages.
Along with this, here are the features that make this the best free offline dictionary for PC stand out from the other offline and free dictionary apps in this list.
Features:
Automatically shows suggested words while typing
Lets you view and clear the history of searched words
You can mark your favorite words and pin them
Although it's not a new thing, still it has the much-needed audio pronunciation of each word
Boasts premium dictionaries like MacMillan, Cambridge, etc. in the paid version
Modern & well-segregated interface
It would be great if you try this app to make your vocabulary perfect.
Easy to use.
Doubles up as a translator
Compact offline dictionary
No option to change the font size.
UI may seem a bit confusing at the beginning.
It would be great if you try this one of the best Cambridge dictionary software to make your vocabulary perfect.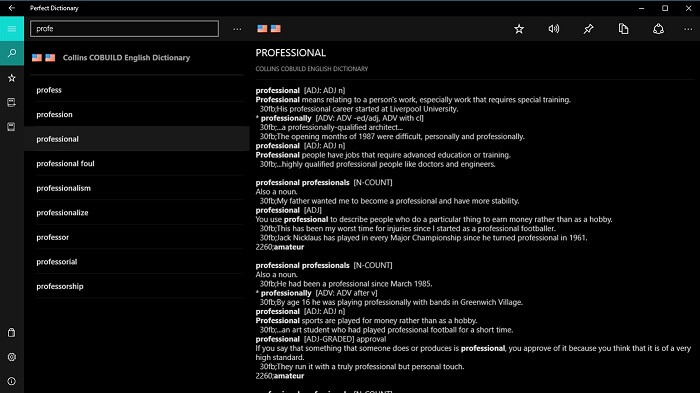 Read More: Best Find and Replace Software to Replace All Text in Bulk
2. WordBook
This free offline dictionary app claims to have won several accolades for unique features such as pronunciations in real human voices.
Apart from this, WordBook has more than 150,000 entries, along with over 220,000 definitions.
Here are some other key characteristics that brought it to the list of the best free offline dictionary software for Windows.
Features
30000 etymologies
In-built word links and thesaurus
Seamless content navigation
Approximately 70000 usage samples
120,000 IPA pronunciation directories
Human voice pronunciation audios with over 150,000 real human voices
You can tap on a word to view its definition
You can add new words to the dictionary.
Seamless integration with five online dictionaries.
Words of the day
In-built spell checker
Dull and boring interface.
In our view, this fast, well-designed, and intuitive free offline dictionary from TranCreative LLC is one of the must-try apps.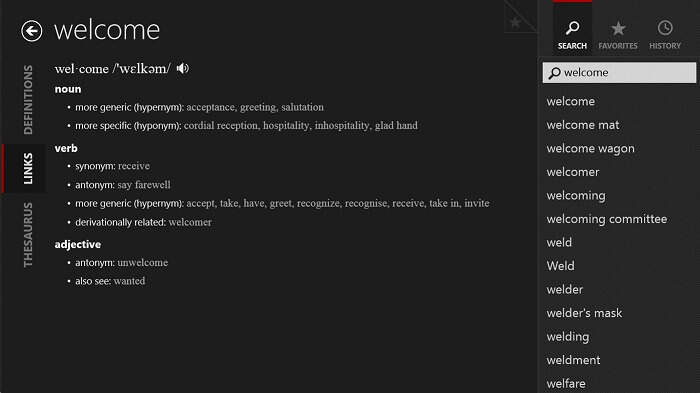 3. The Oxford Dictionary
Here comes another perfect free dictionary app to add to this list of the best offline dictionary apps for Windows. Here're the features that make The Oxford Dictionary feature in this post.
Features
Frequently updated with new words, presently has approximately 350000 words, phrases, and their meanings
Autocomplete functionality that predicts the word as you type in the search box
Keyword lookup to help search for the compound phrases and words.
Dictionary with plenty regionally specific entries
Offers latest vocabulary & highlights the global adaptability of English, along with extensive search experience
You can tap on a word to view its definition
Gigantic database of words.
Beginners can use it easily.
A bit complicated definitions and unclear explanations.
After going through the features and pros, we feel that Oxford is one of the best English dictionary apps that you can download on your PC to build word power.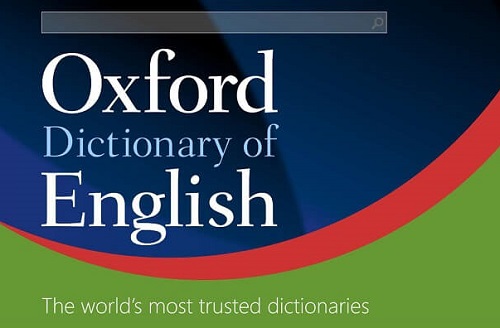 4. Advanced English Dictionary
Advanced English Dictionary is one of the best offline dictionaries for PC. It is correctly named as 'advanced' as it has some of the most incredible & unique features and a clean interface. Here they are.
Features:
A huge database of approximately 400000 words
Audio pronunciation (UK and US accents), along with the word's etymology
Automatic suggestions while typing a word in the search bar
A clipboard search feature to copy and find the meaning of the whole content
Image gallery especially for nouns
Along with the meaning, it offers word relations
Also allows you to bookmark the words
There is a live tile for the top 2 starred and recent words.
You can initiate a new search by typing from anywhere within the app.
Clean and friendly interface.
Clear definitions.
Clickable links to learn further.
Supports only English.
Ads in the free version.
The above pros and features make it a must-try and one of the best free offline dictionary software for Windows. However, you must also not ignore the cons before trying it.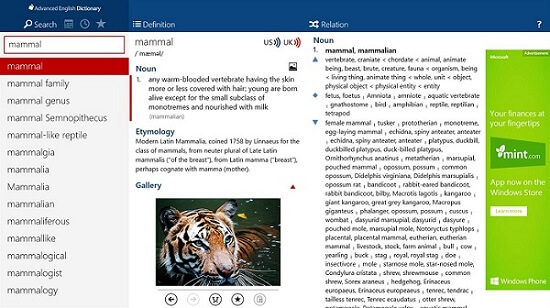 Read More: Best eBook Management Software
5. Sidebar Dictionary
This is the must-have and best free offline dictionary for PC for all those who want a side-by-side app to look for word meanings while reading or editing a document.
Making the correct word choice is crucial while you edit or write documents, and with Sidebar Dictionary, you can choose the right words with ease.
Apart from this, here are its other fantastic features.
Features:
Multi-language support
Lets you copy the text and know its meaning
You need just one click to find the definition of a word
It boasts easy-to-use pronunciation and translation options.
Sidebar Dictionary walks you through the process when you use it for the first time.
It allows you to add copied words.
You can change the theme, switch the interface, and delete the search history.
Fast and easy-to-use translator.
Search charm integration
Thesaurus
History and favorite word list
Fullscreen and snapped mode
Beginners may find it a bit difficult to use.
We would recommend this app if you are searching for the best offline dictionary apps to find out the most appropriate words for your document.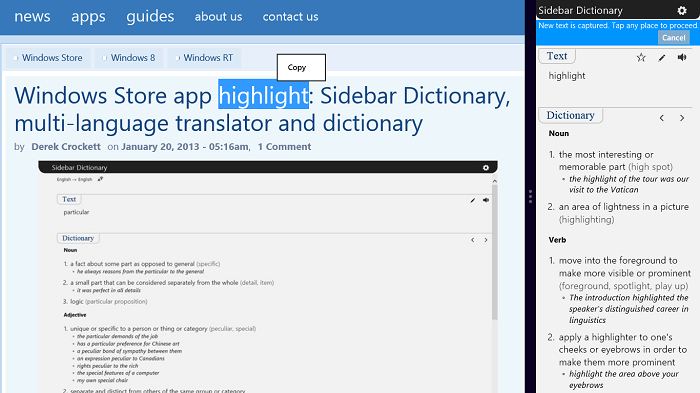 6. Dictionary
Next, we have Dictionary on our list of the best free-to-download dictionary apps for Windows 10 PC. The app is as simple as its name sounds. Everyone, no matter whether he/she is a native English speaker, English learner, or a student of the English language, can use this app comfortably.
It has a database of over 200,000 words. Apart from this, there are many other useful features to satisfy the logophile in you. We share them below.
Features 
You can search for words alphabetically or use wildcard expressions.
There are word games, such as finding anagrams, spellings, etc.
You can view the synonyms and antonyms of a word.
There is a speech function to help you learn the correct pronunciation of a word.
Its homepage has a randomly picked word cloud to help you brush up your vocabulary.
It shows the most interesting and entertaining words as "word of the day."
Availability of word history and option to revisit definitions
Option to add words to your list of favorites
User-friendly interface
Ad-free
Clickable links to get more word definitions
Quite a small database than other offline dictionary apps for PC
Thus, in our humble opinion, Dictionary is among the best English dictionary apps for PC for both expert and casual English users.
7. English Dictionary – Offline
As the name suggests, the English Dictionary – Offline helps you to find the meanings and definitions of the words & phrases without using any internet connection on your PC.
It is among the best free offline dictionary software to know the meaning of words without downloading any additional resources.
Along with this benefit, English Dictionary – Offline also has quite a straightforward and clean interface, making it one of the most easy-to-use dictionary applications.
Features 
Along with the meaning, also provides audio pronunciation & related words
Offers useful suggestions with its Auto-suggest feature
Teaches a couple of new words daily by giving 'Word of the day' notification
Provides grammatical information such as parts of speech, antonyms, synonyms, and hyponyms
Algorithm to check spellings
Gives you examples for the uses of words
Also shows the recent searches and allows you to make the searches as favorite
Audio pronunciation in UK accent
You get thousands of idioms and word puzzles to boost your vocabulary.
Its interface is customizable with options to change the fonts, background color, and other settings.
A plethora of features.
Easy to use.
A bit outmoded interface.
In total, English Dictionary – Offline is a great choice if you are looking for an easy to use & complete offline solution to enhance your vocabulary.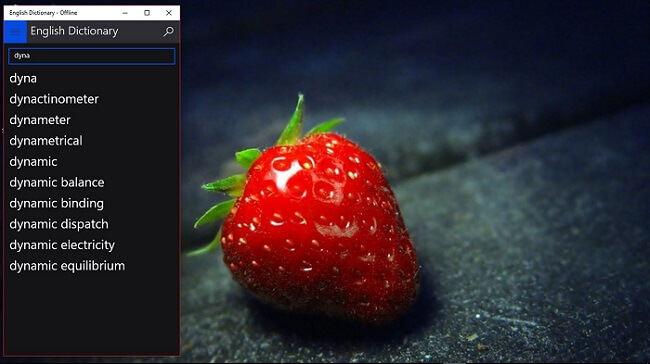 Read More: How to Convert PDF to Word Online/Offline
8. WordWeb Dictionary
WordWeb Dictionary is a massive ocean of words where you can find meanings of approximately 85000 mysterious words.
It also comes embedded in MS Word and offers several customizable hotkeys. For instance, you can press Ctrl and right-click on a word to view its meaning and synonyms effortlessly. Below we have listed several unique features of this free online dictionary that caught our attention.
Features:
Not just displays the meaning of words, but also its synonyms, antonyms, and parts of speech
Familiar and user-friendly interface
Along with American & British English, WordWeb Dictionary supports plenty of other languages as well
Lets you access words and phrases in just a click
Gives you examples for the uses of words
Allows you to effortlessly integrate dictionaries such as Oxford
Offers Online & Offline resources both
Feature to bookmark certain words for future
It offers 5000 audio pronunciations, 160 000 root words, and 230 000 word senses for free.
Translator to view the world translation with one click.
WordWeb is effortlessly accessible from a word file.
Huge word database of over 15000 words.
Familiar and user-friendly interface.
Ad-free.
Engaging crossword puzzles.
A few audio pronunciations are not accurate.
Somewhat unusual licensing terms.
After going through the features, pros, and cons, we feel this offline dictionary is worth trying. You get it in both free as well as paid versions. Although the free version is excellent, still if you spend a few bucks, then you get additional features such as approximately 70000 audio pronunciations, the freedom to add new words, and search for web references.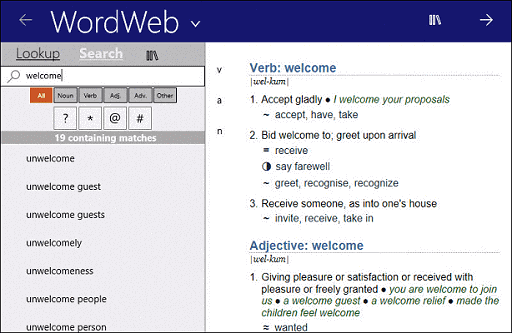 9. The Sage English Dictionary and Thesaurus
With a database of over 12.4 million words, 82000 etymologies, 1.9 million word relationships, 320,000 senses, 600,000 examples of use, and 170,000 phonetic transcriptions, The Sage English Dictionary and Thesaurus is undoubtedly one of the best free offline dictionary software for Windows. Here're some of its other notable features.
Features:
The freedom to choose from classic, retro, spell assistant, and e-paper
A rhyme assistant that suggests rhyming words
There's an in-built functionality to search for anagrams and other online searches.
Two way working, i.e., lets you search a word from its definition as well as find out the definition using the word
Gives practical definitions from several sources
Allows to search for multiple words simultaneously
It boasts over 140,000 links of synonyms, hypernyms, holonyms, antonyms, etc.
In addition to offline searches, you can also perform searches on sources like Google and Wikipedia.
Boasts a portable version of itself.
Lets you look up definitions through keyboard shortcuts.
Supports spoken previews, i.e., pronounces the words you search.
Wordlist manager
Its organization confuses users a bit.
The one-click feature is not well integrated.
There are certain cons, but after glancing at the features and pros, it seems like a fantastic free dictionary app that you may try.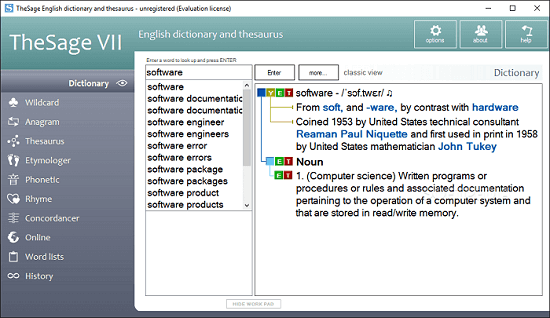 10. LingoPad
Here comes another great offline dictionary for Windows. LingoPad hosts dictionaries for multiple languages, including English, Italian, German, Spanish, Japanese, etc. And, it can be a great software for you if you are looking for a German to English dictionary or vice versa.
It is one of the best free dictionary programs for Windows with plenty of features such as an easy interface, wordlist editor, etc. Below we have discussed the other highlights of LingoPad.
Features:
Allows to import your dictionary & terminology
You can even search a word with its beginning, middle, or end part
Customizable hotkeys
IPA transcription available for English words
Option to search meanings of words on different search engines
Shows the recent searches
Clipboard search feature
Provides related words, or we can say collocations
Entirely free
There is an option to define a user dictionary.
Links directly to Wikipedia and search engines.
Its Chinese-English dictionary uses characters not available in the dictionary.
Slightly more useful for German-English/English-German dictionary users..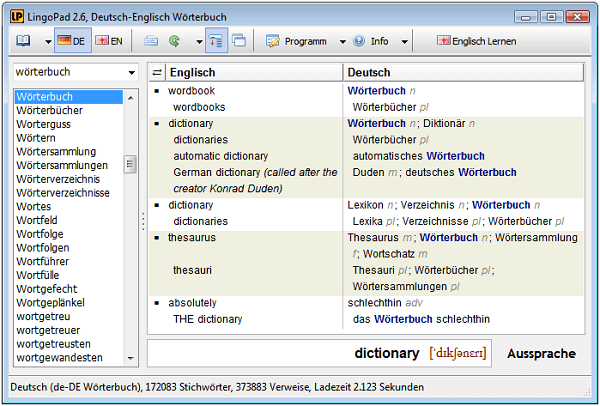 Read More: Best Free OCR Software for Windows 10
11. The Free Dictionary
The Free Dictionary is the most popular English dictionary app across the globe. Now, as it has come up with downloadable packs for offline use, its popularity has increased leaps and bounds. Here're some of the striking features that make it the best free offline dictionary for PC.
Features
Contains 13 homepage sections
Lets you view the dictionary in 14 languages.
Allows you to search a word in 4 different ways
Translates a word into 40 languages
You contribute to the welfare of the world as the badges you get while using the app can be exchanged for meals for the poor children.
It contains special dictionaries for meanings of words from various fields such as legal, medical, financial, etc.
The Free Dictionary online software also allows you to search a word on Google.
It lets you change the font size.
Interesting word games and cartoon graphics.
Distracting ads.
A bit overwhelming UI.
The bottom line is, it would be great if you try this app, sharpen your vocabulary, and get the blessings of the hungry children at the same time.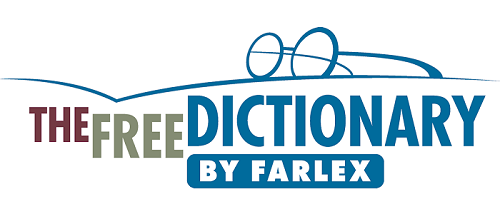 12. Goldendict
Goldendict is another free dictionary app available for Windows. What makes it one of the best offline dictionary apps is the option to search for meanings of words in Wikipedia. Apart from this, here are its other prominent features.
Features:
Compatibility with a multitude of dictionary formats
WebKit engine to show formatted articles
Hunspell to check the spellings
With the help of templated URL patterns, it employs arbitrary websites as dictionaries
Provides audio pronunciation from forvo.com
Also gives spelling suggestions
Comes with a popup functionality to provide meanings of the word selected from some other program
Compatible with global hotkeys
You get accurate search results even if you use incorrect cases, punctuation, or spaces.
Compatible with many dictionary file formats.
Allows complete text search in articles.
It displays articles in a web page-like format.
It only translates one word or short phrases.
In our view, this English dictionary app won't disappoint you if you try it.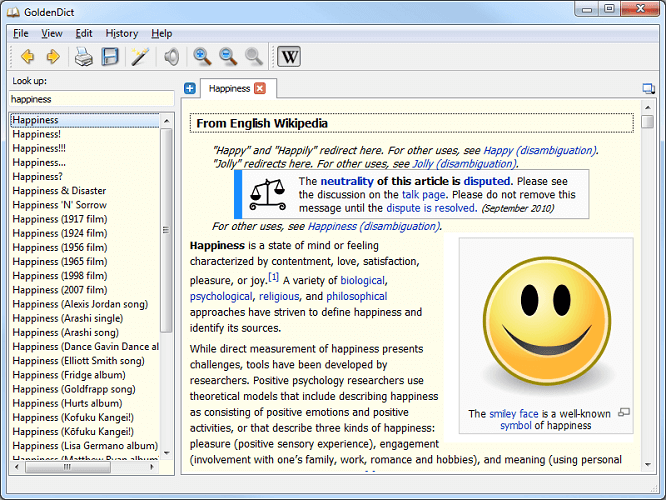 13. Ultimate Dictionary
Its collection of 61 dictionaries make it the go-to place for everyone who desires to build his/her word power. It contains all the information you may wish to know about a word. Apart from this, below are its unique features.
Features
Multilingual support, i.e., supports languages such as Polish, Spanish, and French.
Lets you find all the details about the word in a single click.
Displays the definitions sourced from all the 61 dictionaries
Contains tools to add, remove, and rearrange dictionaries
Supports the Stardict Dictionary format
It even starts showing the meaning and definitions of the word as soon as you start entering it with cues.
Facilitates easy comparison of different dictionary descriptions.
Unique scan mode for translating words below the mouse.
Fast search speed.
Clean and friendly interface.
Its installation file is quite large.
No option to add new dictionaries.
Despite the above cons, it is one of the high-rated English dictionary apps for its wonderful features and pros.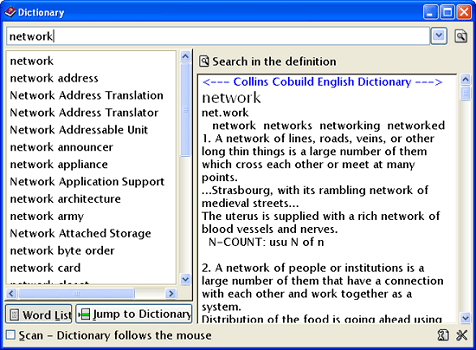 Now, let's address some common queries about the best free offline dictionary software to download on Windows 10 PC.
Frequently Asked Questions
Q1. Does Windows 10 have a dictionary?
Windows 10 comes with an in-built dictionary for its browser, i.e., Microsoft Edge. When using the browser, you can use this dictionary to listen to a word's pronunciation, view its meanings, synonyms, and more.
Q2. Is there a dictionary app for PC?
Numerous dictionaries are available for PCs. Above we have shared some of them for your convenience. However, if you still need recommendations, then below are the ones we like the most.
Perfect Dictionary
The Free Dictionary
The Oxford Dictionary
Q3. How do I download the dictionary on my Windows 10 laptop?
To get the best dictionary for your laptop, you can refer to the list shared above. Go to the download link of the dictionary you like and then follow the instructions on your screen to install it on your notebook PC.
Final Words On The Best Free Offline Dictionary Software For Windows
Hopefully, this post has helped you get the best free offline dictionary software for Windows to build your vocabulary. There's no end to the number of words and knowledge you can acquire. Keep learning with these apps and spreading the knowledge without letting Internet connectivity issues block your way. Lastly, before you go, subscribe to our newsletter for staying updated with more such knowledgeable apps.
Subscribe to Our Newsletter
Keep yourself updated with the latest technology and trends with Innovana Thinklabs Limited.