Play music on your Android and iOS smartphone without accessing Wi-Fi or data. Here's the list of 10 best free offline music apps!
Nowadays, the streaming service is quite cool enough, but at the same time, it is restricted too. Like you need an active internet connection all the time for streaming music. And it isn't quite possible to have an active internet network all the time. In that event, you've surely felt depressed, isn't it so? But, do you know these streaming services also provides offline access by so you can easily listen to your tracks without any sort of hindrance. So, now what you are looking for, go groove with your song tracks. Just to make your job much easier, we've brought up the list of best free offline music apps for both platforms i.e., Android and iOS. Plus, in the end, we've also suggested the best ones, so go with the post to know the best one. Without wasting a while, let's start the discussion!
List of Top 10 Best Free Offline Music Apps in 2021 for Android & iOS
Most of the streaming platforms let you listen to your music offline as well, so, if you do not have an active internet connection take advantage of it. Below is the list of best free offline music apps, have a look!
1. Apple Music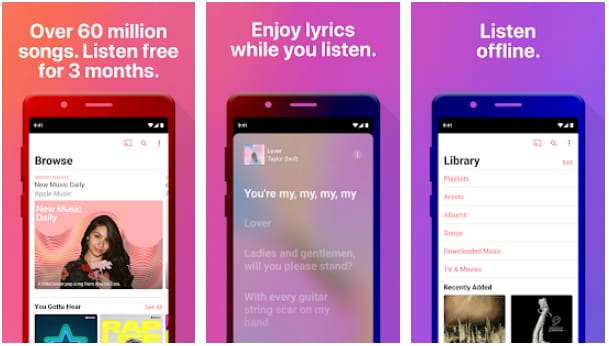 Apple Music lets you access unlimited songs, as it incorporates a huge music library. And what icing on the cake is that – all are ad-free, moreover, lets you access across all devices, Android, iOS, or PC. Apple Music offers a big music catalog that covers millions of songs from all popular artists all over the world. It is the best free offline music app available on Android and iOS.
Highlights
Doesn't require wi-fi or data to access the music.
Its huge music catalog includes almost 60 million songs.
Shows lyrics of the song while playing a song.
With this, you can also build up your own playlist.
Discovers around 100K radio stations.
2. Gaana
Gaana is one of the most high-rated music apps, and it is a made in India app, what's good than this. Gaana offers you infinite access to all your favorite tracks including, radio shows, regional, pop-songs, romantic, party tracks, and many more. Basically, it is the best offline music app that lets you access your playlist when you don't have an active network connection.
Highlights
Provides more than 45 million MP3 songs.
Ad-free music listening.
Offers more than 30 radio channels.
Lets you download music for offline listening.
Also incorporates India's podcasts.
Lyrics support also available.
3. Google Play Music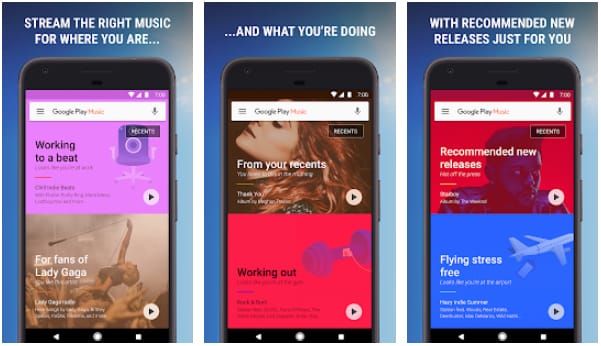 Want to listen to millions of songs offline? Then, fire it up with the Google Play Music app now. Most of the individuals are thinking that Google Play Music allows you to listen to music but online only. No, it also lets you hear out the millions of songs offline. You just need to download the song at once that you want to listen to. Then, you can listen to the songs for the rest of the time offline.
Highlights
Shows radio-based songs.
Offers thousand of the playlist.
Lets you listen to songs offline.
On-demand offers more than 40 million songs.
Display the lyrics of the song.
Also Read: Best Voice Recording Apps for iPhone to Record Your Favorite Conversations
4. Spotify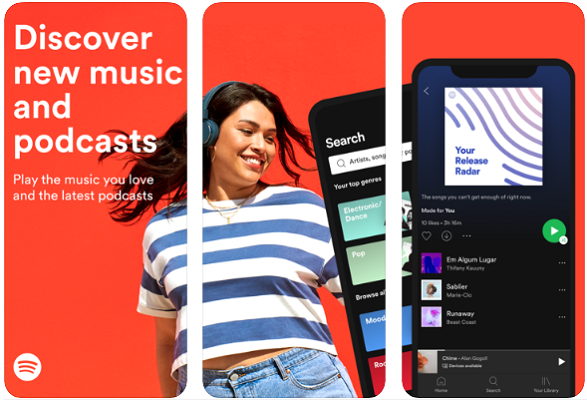 Spotify is the ideal way to listen to podcasts and music without any sort of hindrance. Significantly, when it comes to access the app offline then, Spotify completely fits in the bill. So, Spotify lets you listen to music and podcasts offline. With Spotify, you can make your own playlist and listen to any artists' tracks at no cost. What's more, Spotify is available for both the platforms i.e., Android and iOS.
Highlights
You can listen to music offline absolutely free.
Subscribe to its premium pack to enjoy ad-free music.
Better and advanced sound quality.
Offers shuffle mode.
5. Jio Saavn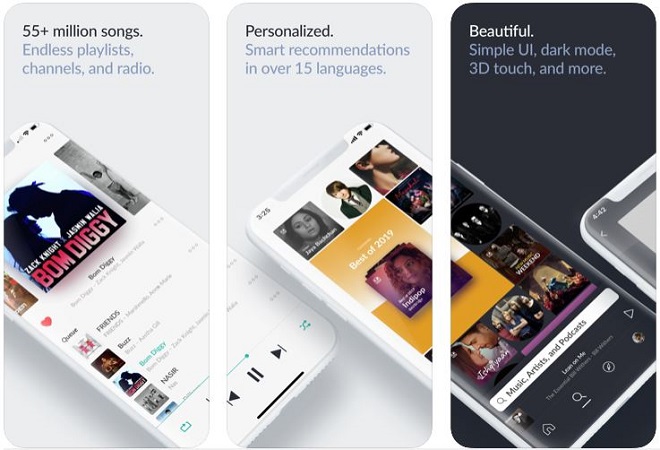 On this rundown, Jio Saavn is the ideal way to listen to music. It is the only best free offline music app which lets you listen to millions of music, and podcast at no cost. Especially, for Jio users it is the most convenient way to set-up a JIO caller tune from your curated playlist directly with minimal efforts.
Highlights
It has the accumulation of all the latest & retro hits in every stream, for instance, Bollywood, Tollywood, Hollywood, and many more.
Lets you customize your own curated list.
Offers unlimited music.
Provides lyrics with the facility of live sync.
Real shows, and podcasts.
6. Amazon Music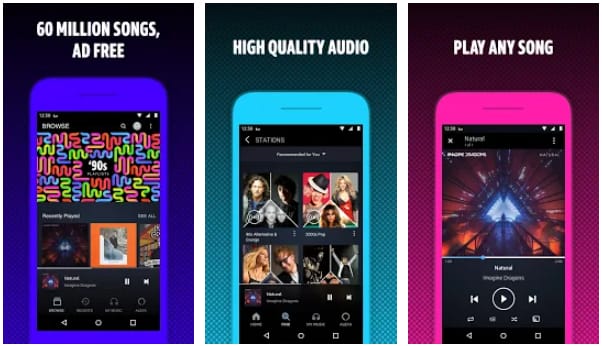 Amazon is changing the way constantly no matter whether it is for streaming service or e-commerce. In the way to listen to music and podcast, Amazon's Music service is leading one than others. Amazon Music is one of the best apps to listen to music offline as it permits users to download the songs for offline listening.
Highlights
Offers more than 60 million songs.
Completely ad-free.
HD quality audio.
Provides infinite skips.
Handy listening.
Offline access.
Thousands of radio stations.
Real podcasts streaming.
7. YouTube Music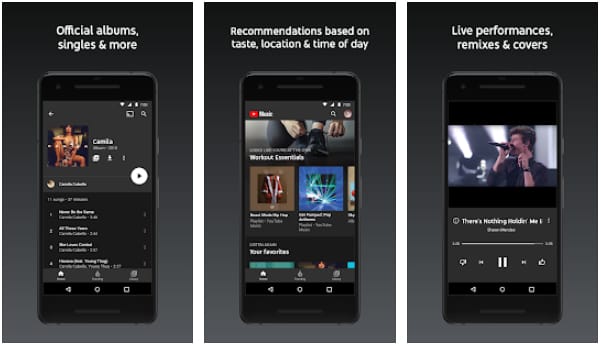 Of Course, you all have been aware of YouTube. There is a YouTube Music app that lets you listen to all your lovable tracks. It is the new music app where you can easily and quickly find whatever you are looking for. And according to your taste, it shows the recommendation list as well for quick access. Basically, it is the free android offline music player which is also available for iPhone users.
Highlights
Loaded with the millions of tracks from your favorite artists.
Quick access to the albums, live performance, songs, and more.
The Hotlist shows the trending songs.
Full ad-free listening.
Allows you to download your favorite tracks so you can listen to them offline as well.
Also Read: 14 Best Voice Changer Apps for Android and iPhone 
8. Wynk Music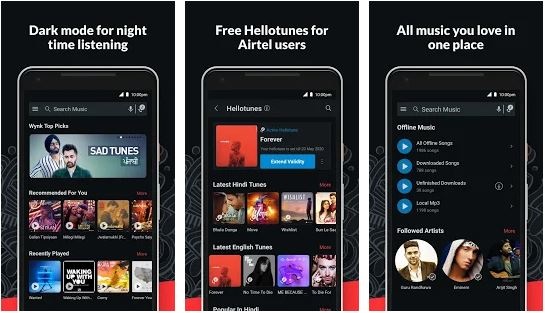 If you are a music lover, then you've arrived at the right place. Wynk is the best android music player. Though it also offers a streaming service, it allows you to download your most lovable tracks for listening to them offline. Wynk's music library is loaded with tons of latest as well as classic songs. In one blink with Wynk, you'll surely love it!
Highlights
Offers trending Bollywood songs and international songs as well.
High-quality music.
Does sync lyrics with the song.
Equipped with every mood playlists.
Compatible with the Chromecast.
Offline listen.
9. Deezer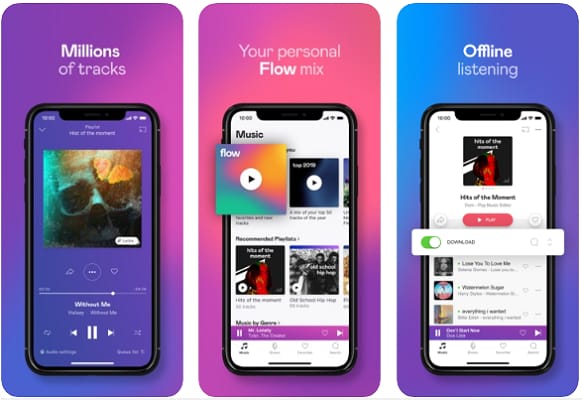 When it comes to passing time and avoiding the world or searching an escape from our world we prefer music, music makes us feel better, relaxed, and calm. Music is a very important aspect of our life because it represents our taste and soul. Deezer is an app that is loaded with more than 56 million multi-language music tracks which you can play according to your mood and mind. It is one of the best free offline music apps for the iPhone.This app provides you various ready-to-play playlists which can be altered by your preferences. Deezer also provides the facility of offline music and your personal collection.
Highlights
More than 56 million tracks.
Various playlists.
Regional and folk songs
Offline music playing facility.
Podcasts are also available.
10. TREBEL Music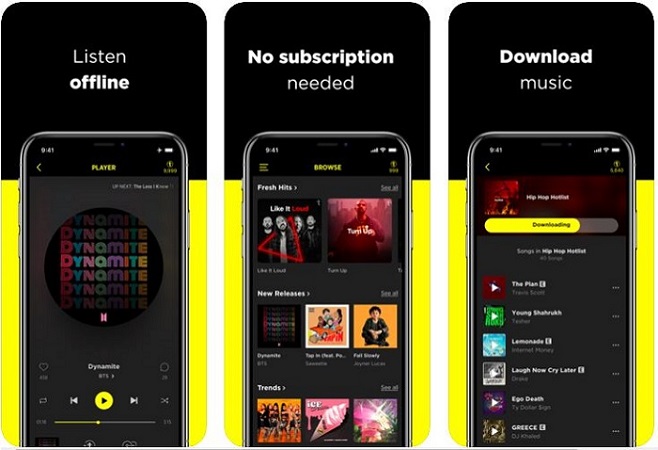 When it comes to music we don't want to be interrupted while listening to it because it is very annoying and it also breaks your flow. So, to resolve this problem of yours, we present you with this amazing and absolutely free app, TREBEL. This app is totally free and cool. You don't even have to worry about ads because it is totally ad-free too. This amazing app has only one purpose and that is to serve its users with great music according to their mood and feelings. This app is loaded with millions of international songs and music from which you can choose your favorite song and dance on it. This app also provides offline facilities to its users so they can enjoy music over the boundaries of the internet. TREBEL is one of the best iPhone apps to listen to music offline.
Highlights
Free of cost.
Ad-free.
Millions of songs.
Trusted and authentic.
Offline facility is available.
Bliss Your Ears All-Time through Best Free Offline Music Apps
Not many individuals know that paid music applications also provide the facility to access the music offline. If you are also one of them, then, no worries, because now you know about it. If you are seeking for our opinion, then we strongly recommend you to use Spotify and Google Play Music as they both come with extraordinary functions. So, that's all for the moment, we want to wrap up the list of best free offline music apps. Till then, stay tuned with us and do subscribe Innovana Blogs for the latest informative article. Do share your feedback with us in the below comment section, we'll glad to hear you out!
Subscribe to Our Newsletter
Keep yourself updated with the latest technology and trends with Innovana Thinklabs Limited.