Are you facing difficulties while emailing large PDFs or uploading them to cloud storage? If yes, then read on to know the best free PDF compressor software to share and upload the files effortlessly. 
Adobe Invented PDF, i.e., Portable Document Files to make safe storage of data easier. Moreover, PDF files are an ideal format for almost all official documents, such as forms. Further, these files remain the same on whatever device you use. And this also makes it one of the most preferred document file formats. However, the addition of images and other graphical content often makes it tough to share them as email attachments or upload them to virtual storage platforms, such as Google Drive. It is why the best free PDF compressor software comes into the picture.
If you are facing file sharing issues because of the large size of your PDF documents, then all you need is a free software to compress PDF files. Such software programs make PDFs shareable without playing with your data privacy or hampering the document quality.
The marketplace has a wide spectrum of PDF compressor software for both offline and online use. But not each of them is the best fit for your requirements. Therefore, through this article, we share the top 10 PDF compressor software, so you can choose the one that fits your needs perfectly.
Read More: Can't Print PDF File [Fixed In No Time]
Best Free PDF Compressor Software in 2021
Below are the best free PDF compressor software apps you can use to reduce the PDF size and make it easily shareable.
1. Smallpdf
Smallpdf boasts almost every tool you may need to manage the PDF files on your computer. And this is what brings it to our list of the best free PDF compressor software available currently. Available in both online and offline versions, it boasts quite a plethora of features, such as encrypting the PDF files, file conversion, and more. Let's take a quick look at what it has to offer.
Features of Smallpdf 
It does not compromise the quality of your file while compressing it.
You can use it to convert the PDF files from and to Word, PPT, Excel, and JPG format.
With this software, you can encrypt and decrypt PDF files to protect your data.
There is a PDF reader that lets you display, print, and share PDFs from the desktop effortlessly.
You can perform PDF organization tasks such as merging, splitting, editing, deleting, and rotating the pages.
It allows you to add or replace the PDF page numbers.

2. Adobe Acrobat
Adobe made PDFs a popular file format. And one of the renowned PDF compressors is also in its name. It might sound surprising to some. But the company also boasts software that is among the best programs you can use to compress PDFs, edit PDF files, and perform other such tasks. Although it only provides a free trial, still we included it in this post for its useful features.  Below we share the mesmerizing offerings of this application.
Features of Adobe Acrobat 
It allows you to convert almost all file types, such as Word, PPT, Excel, JPG to PDF.
There is an easy compression tool that lets you drag and drop PDF files to compress them.
Adobe Acrobat also boasts the option to convert web pages to PDFs.
It lets you edit text and images in the PDF.
You can add notes, highlights, and other annotations to the file.
With its OCR, you can edit the scanned text.
It is also possible to merge and split PDFs with this software.
There are options to reorder, rotate, delete, and crop pages.
It enables you to protect PFDs with a password and remove passwords from a protected PDF.
With this software, you can fill and sign PDF, prepare a PDF form, and request signatures from others.
This software also allows you to draw a comparison between two files.
3. PDF Compressor
This software is as straightforward as its name. It is among the best online PDF compressors for its ease of use. If you do not need many advanced features and only want simple PDF compression, then it is among our top picks. Below is why we are giving it a shoutout to it, i.e., its features.
Features of PDF Compressor 
You can upload up to 20 files at a time for compressing the file size.
It lets you download all the files as a ZIP archive.
With this software, you can convert PDF files to DOC, DOCX, Text, JPG, PNG, or SVG formats.
There is also an option to combine PDFs.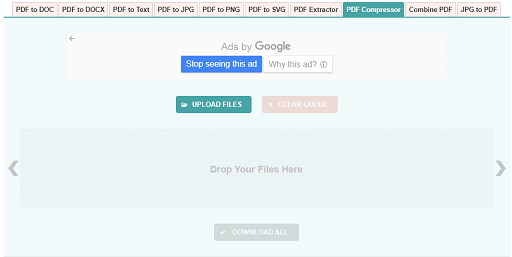 4. Soda PDF
Another easy-to-use, free, and best PDF compressor software you can use online is Soda PDF. You can perform quite a lot of tasks, such as merging the PDF files, adding comments, and more with the online version. However, if you are more comfortable with using the desktop app to compress PDFs, then get the paid edition of this compressor. Below are the top features of free to use Soda PDF.
Features of Soda PDF 
With Soda PDF Online, you can convert any Word document, Excel spreadsheet, or URL to PDF.
It also allows you to combine files into a single PDF.
You can add, highlight, underline, and strikethrough a comment.
It lets you perform various editing tasks, such as adding or removing text, images, links, and page marks.
You can insert, move, delete, rotate, extract the pages and change their background, size, and margin.
This software lets you password protect and redact PDFs.
It lets you fill and E-sign PDFs.
There is an option to merge and split PDF files.

5. HiPDF
Our next pick for the best free PDF compressor software programs is HiPDF. You can work with this application online or download its offline version for more options to play with the PDFs. Whatever choice you make, it is an amazing tool to cater to your PDF compression needs for its simple interface and useful features. Talking about the features, let's have a look at them.
Features of HiPDF
You can convert PDFs from and to formats such as HTML, Word, PPT, Excel, JPG, and more.
With its online editor, you can add text, images, and shapes to the PDF.
It also boasts a basic OCR, Optical Character Recognition option.
HiPDF lets you E-sign the PDFs and share them.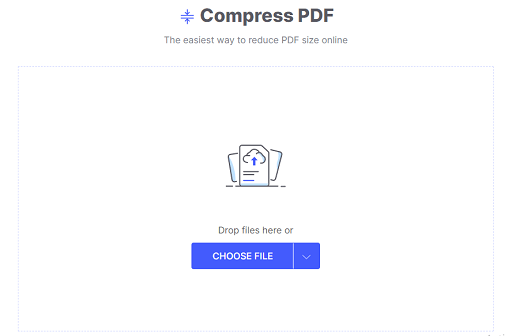 6. PhantomPDF
PhantomPDF lets you do a lot more than compressing the PDF files. Moreover, it is available in an offline downloadable version, as most of the users prefer. It boasts many outstanding features that make it a tough contender for other similar applications and one of the best free offline PDF compressor software. Here is a quick overview of its top features.
Features of Phantom PDF 
With this software, you can edit paragraphs and change the document layouts.
It also allows you to add stamps, watermarks, headers, footers, bates numbering, etc. to personalize the PDFs.
There are options to merge or split PDFs.
You can drag and drop pages to and from one document to another.
It lets you crop, delete, add, swap, flatten, and rotate PDF pages.
Phantom PDF comes with a lot of options to annotate, share, and collaborate with PDFs.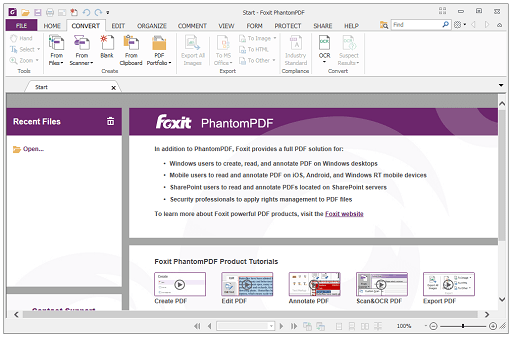 7. ORPALIS PDF Reducer Free
PDF Reducer from ORPALIS is also a great choice when it comes to select the best free compressor software to compress PDF files. It packs a multitude of features in a neat and easy-to-use interface. Some of them include the removal of unwanted objects, making the PDFs viewable fast, and more. Let's talk a bit more about its features.
Features of ORPALIS PDF Reducer 
With this software, you can remove additional or unwanted objects from the PDF.
It uses color detection and layout analysis to encode B&W documents as plain B&W, thus reducing the file size considerably.
This program decreases the unnecessarily high image resolution without affecting the image quality negatively.
There are segmentation options for embedded images.
It lets you separate texts, find similar bitmap sections, and make optimized recompressions.
You can make the large PDFs viewable on the web even before the PDF file gets downloaded.
In addition to compressing PDF, you can use this software to reduce the size of over 100 file formats.
It allows you to drag and drop files to compress them.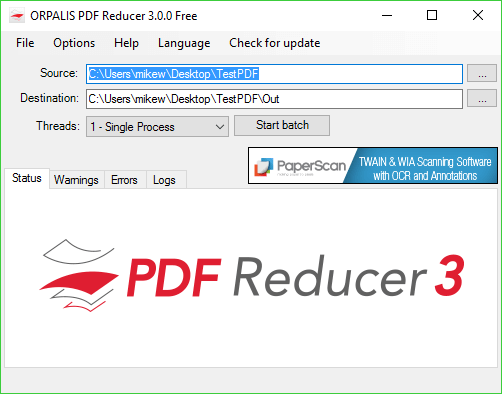 Read More: Best RAR File Extractor Software to Open RAR Files
8. Neevia PDFcompress
Here comes yet another free software to compress PDF files. It is among the best choices if you want to reduce the file size offline. Along with easy PDF compression, it also offers many additional tools, such as bookmark removal, text annotations, and more. Here is a quick glimpse of its features.
Features of Neevia PDFcompress
It supports JBIG2 lossless and lossy compression.
There is support for JPEG 2000 compression.
You can remove bookmarks, annotations, forms, page labels, layers, article threads.
It boasts support for object streams and batch processing.
Neevia PDFcompress is completely multi-threaded.
This software comes with linearization, i.e., Fast Web View support.
It uses RC4/AES encryption for securing PDFs.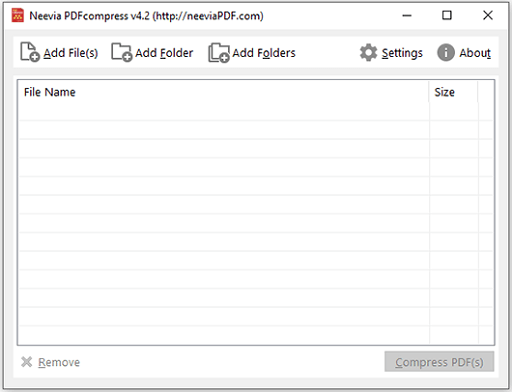 9. iLovePDF
Availability of both offline and online versions is what makes it one of the best PDF compressors. Although it offers advanced features for a paid subscription, still it is a decent software to compress PDF files for free. Let's take a quick overview of all its exciting features.
Features of iLovePDF 
It allows you to merge multiple files into a single PDF.
You can split a large PDF file by ranges or extract all the pages.
With iLovePDF, you can remove unneeded pages from the PDF.
It lets you convert DOC, DOCX, PNG, JPG, and TIFF files to PDF.
This software also enables you to convert PDF to Excel spreadsheets, PPT, and PPTX slideshows.
It comes with password protection for your PDF files.
You can check whether your document is PDF/A compliant or not.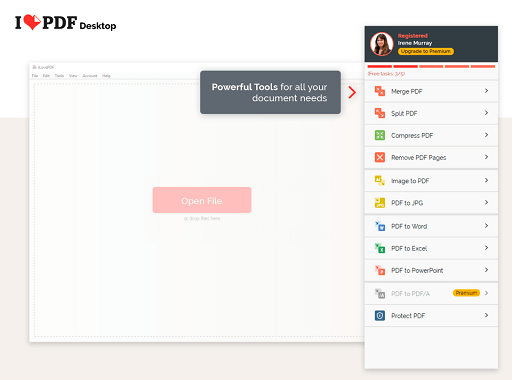 10. Nice PDF Compressor
As the name suggests, this software is a nice and convenient way to compress PDF files. Though it does not offer many advanced features, the ones it offers are quite enough for beginners. Below we enlist all its features.
Features of Nice PDF Compressor 
It uses Flate or RunLength algorithm to shrink the PDF file size.
You can set the compression level as per your requirement.
It lets you compress PDF files in bulk.
With this software, you can even decompress the file to its original size.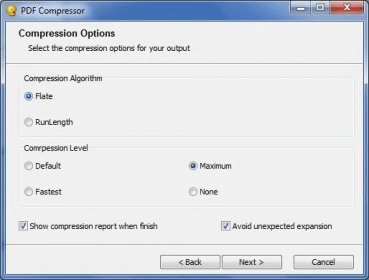 That's all folks!
This article walked you through the best free PDF compressor software available currently. You can download or use any of them depending on your needs. And if you think we have missed out on any program deserving to be a part of this list, then share it through the comments section.
Subscribe to Our Newsletter
Keep yourself updated with the latest technology and trends with Innovana Thinklabs Limited.